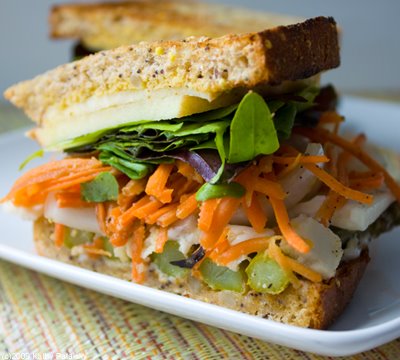 The fab thing about a "veggie" sandwich is that the flavor/ingredient combinations are endless! All you need is a little inspiration to break you out of your tomato, lettuce, onion and avocado cycle. My farm stand-inspired Veggie Stack Sandwich recipe includes crunchy sweet Fuji apples, fresh green grilled asparagus, a spicy carrot slaw and vegan Mozzarella cheese. I stacked it up super high. The sweet, salty and spicy flavors were like a burst of sunshine in my mouth. This is not a wimpy veggie sandwich. Here is my recipe and some inspiration for your next "Veggie Stack" sandwich….
Veggie Stack. The idea of a veggie stack sandwich has been around for decades. You simple pile on the veggies and even fruit and slice away! My favorite 'vegan sandwich' to-go in NYC is from Cafe Angelique in SoHo. They stack up the sandwich with so many layers that I always wonder how they manage to slice the bread! Back when I was a little California girl running around the beaches of Nor Cal, I fell in love with a Veggie Sandwich at a local beach side deli. It had pickles, lots of California avocados, romaine lettuce, spinach, tomato, artichokes, onion, peppers, olives, spicy mustard and Munster cheese – all between two soft layers of Santa Cruz Sourdough bread. I wasn't vegan back then, but I was addicted to it! Since I was still a food-exploring kid, it made me realize that a sandwich can be cravable and amazing-even without meat. And oh boy I loved that sourdough bread with the super soft insides and chewy firm crust outsides. Bliss!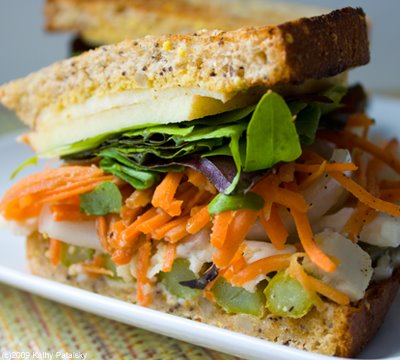 How to Stack. The key to stacking and slicing a big veggie sandwich is care, sturdy bread and toothpicks! I will usually add two toothpicks to my sandwiches for extra slice support. A firm, yet gentle palm will also help you slice a stacker. The two most important factors to a Veggie Stack sandwich are: good fresh sandwich bread and delicious fresh ingredients. My rule: if it tastes great on it own, it will be divine in a sandwich. If you don't like shredded carrot slaw on its own, don't stick it in your sandwich!
Banishes the Sandwich 'Blahs'. Get creative with your veggie sandwiches, use a variety of your favorite ingredients. Crazy combos can sometimes turn out to be new favorites! Beat sandwich boredom with a custom ingredient Veggie Stack Sandwich! Any great ideas? Let me know! But here is my recipe for today…
Veggie Stack Sandwich: Farm Stand Asparagus, Carrot, Fuji and 'Cheese'
vegan, makes one sandwich
2 slices of whole grain or multi-seed sandwich bread
*I used Whole Foods 365 brand Birdland Seeded Bread.
Mozzarella Cheese Slices, enough for one layer on bread
*I use Follow Your Heart Vegan Cheese
5 grilled or sauteed asparagus spears
3 tablespoon Spicy Carrot Slaw
*Recipe Below
3 thin slices Fuji apple
mixed greens, a handful
2 slices Vidalia or Sweet white onion
Optional:
1 tablespoon mustard
1 tablespoon Vegenaise
S & P
Carrot Slaw
1 cup shredded carrots
2 tablespoon apple Cider vinegar
1 dash cayenne powder
½ teaspoon black pepper
1 tablespoon grape seed or olive oil
1 tablespoon chopped flat parsley
Toss and chill in fridge for 10 minutes before adding to sandwich.
Stack Sandwich directions:

1) Lightly toast the bread.
2) Add any spread to bread.
3) Add the cheese first if you want to place the bread and cheese under a broiler for a few minutes to have a 'Melty' Stack sandwich. Otherwise add the cheese in order of its weight compared to the other ingredients.
4) Add the heavy veggies first: the asparagus.
5) Add the onions.
6) Add the carrot slaw.
7) Add the mixed greens.
8) Add the flat sliced apples on top-they will mesh well against the flat bread.
9) Add any optional salt, pepper, oil, vinegar to the top of apples.
10) Add the top layer of bread-a few toothpicks, and slice!
Enjoy!