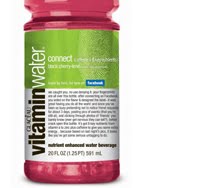 Flashback. College days, toting a Vitamin Water "Revive" in my backpack, watching the jocks chug an "Energy" in one sitting and hoping my purple-colored beverage would last me through my three hour Anatomy and Physiology lecture. Vitamin Water: I used to be a fan.
All about Vitamin Water's new Connect flavor, and find out how their bottle text gets a "social networking" spin from Facebook…

Connect. Vitamin Water's latest marketing ploy is it's new Facebook-inspired flavor: Connect. It's "made by fans, for fans." This black-cherry lime flavored water boasts "8 key nutrients" and added caffeine. Added caffeine? Haven't we passed that Red Bull, I need energy now, triple shot at Starbucks trend? I hope so. And as one Facebook commenter, Skipp, noted "I feel like the caffeine kind of goes against what vitamin water is all about…."

I agree Skipp. Vitamin Water's Facebook page describes their product as "healthy hydration for every occasion." So, VW is a health-minded (not just marketing-fluffy) beverage? Skipp has the question spot on: what is Vitamin Water all about? Vitamins? Health? A healthy alternative to artificial beverages? I thought so, but now I'm not so sure. And I'm thinking that someone in marketing better figure it our really fast before I start viewing Vitamin Water as just another florescent-colored sugar-water beverage. Or is it too late?…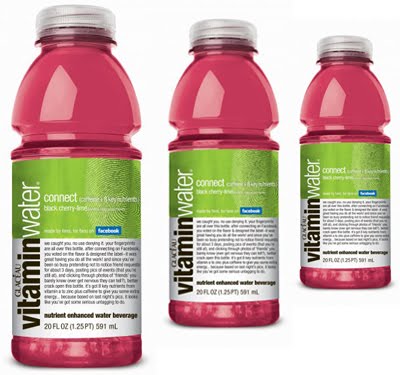 Connect. The Announcement on VW's Facebook page:
"Unlike the never-ending debate over whether it's rock-paper-scissors or paper-rock-scissors, based on your votes and your designs, the latest flavor of vitaminwater has FINALLY been decided… introducing the black cherry-lime flavored vitaminwater named… connect! check out this new package- flavor & ingredients, name & label design- all inspired by you- our fans. it's got 8 key nutrients plus caffeine. thanks for all your help- especially to the grand prize winner Sarah from Illinois and the four other finalist http://budurl.com/q27w. vitaminwater connect will be available in stores nationwide in march this year- so until then, stay hydrated- and keep your eyes here for news, updates and special offers for connect, including a possible sneak tasting opportunity. and btw… it's rochambeau!"
Connect. The bottle. After some serious enlarging and squinting at the first online photos of the new bottle I finally deciphered what it says. Here is what the bottle reads:

"We caught you. no denying it. your fingerprints are all over this bottle. after connecting on Facebook, you voted on the flavor & designed the label – it was great having you do all the work! and since you've been so busy pretending not to notice friend requests for about 3 days, posting pics of events that you're still at, and clicking through photos of 'friends' you barely know (ever get nervous they can tell?), better crack open this bottle. it's got 8 key nutrients from vitamin a to zinc plus caffeine to give you some extra energy…because based on last night's pics, it looks like you've got some serious untagging to do."

So the big question is: Does Vitamin Water's new Connect beverage "connect" with you? Or are you denying it's friend request, or better yet, unfriending it all together? (Sorry, I had to.)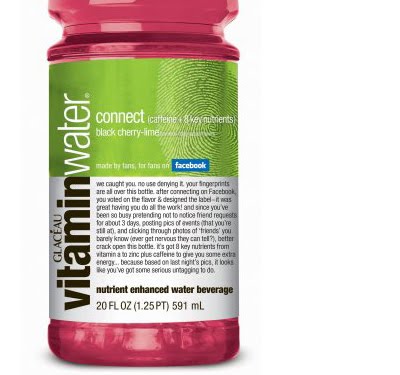 *images and bottle text from Vitamin Water's Facebook Page.
*Connect hits stores in March.