On the twelfth day of Vegan Treats, my true love gave to me, twelve Walnutcracker Cookies,
Eleven Cornballs popping,
Ten Muffins rising,
Nine Snowflakes Dancing,
Eight Snowman Crispies,
Seven Flutes of Cinnamon,
Six Soy Nogs swirling,
Five Gol-den Fuyus,
Four Coconut Snowballs,
Three French Toasts,
Two Cups of Cocoa,
and a North Pole Peppermint Chai (just for me.)
The Sugarplum Fairy will be Jealous. I saved the best for last guys. My Walnutcracker Spice Cookies are divine! Three types of walnut accents invade each moist, chewy crevice: raw walnuts, walnut oil and candied walnuts. Plus there is warm cinnamon, cayenne and fresh ginger spices speckled throughout. All doused in a fresh layer of snowy white powdered sugar. Make these cookies…

Act One. Walnuts. Lots of them. Walnuts are a great source of healthy fats (including those healthy omegas) and fiber. You should be able to find candied walnuts at most grocery stores. But if you can't find them simply pan toast some crushed walnut pieces in 1 tablespoon of canola oil and 1 tablespoon of maple syrup for a few minutes. Toss in a pinch of sea salt. Allow to cool before processing in food chopper. But really, the bagged candied walnuts are much easier. I used Trader Joe's brand of Candied Walnuts.
Intermission. These are the perfect morning time tea cookie. They are loaded with wake-you-up spices and the smell of cinnamon and orange zest will liven even the most groggy of eyes. Take a break from your busy day and make these sweet vegan treats.
The Finale. Like I said, I saved the best recipe for last. This one is a keeper! My suggestion: Turn up the volume on your Nutcracker Suite iPod music and get in the kitchen to make these spicy, nutty, powder-sugar embraced cookies. The Sugarplum Fairy will be jealous. Heavenly smells, flavors and giggles await you…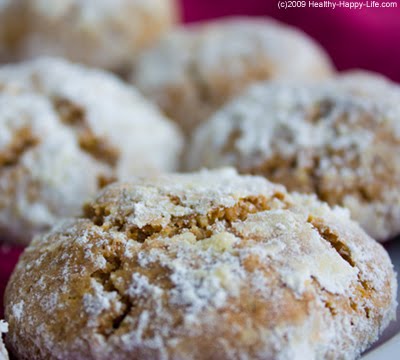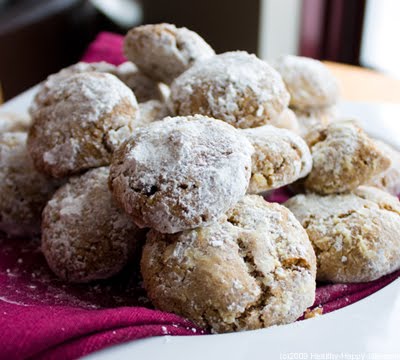 Walnutcracker Spice Cookies
vegan, makes 20 cookies
2 cups raw walnuts, processed into walnut meal
1 ½ cups candied walnuts, processed into candied walnut meal
*I used Trader Joe's brand candied walnuts (walnuts, sugar, canola oil, salt ingredients)
1 ½ + 1 tablespoon Spelt Flour
½ cup vegan sugar, organic evaporated cane juice crystals
2 teaspoon baking powder
1 ½ teaspoon cinnamon
7 dashes cayenne (about ⅛ tsp)
¾ teaspoon salt
1 teaspoon apple cider vinegar
½ cup vanilla soy milk
¼ cup raisins, processed into raisin meal
1 teaspoon vanilla extract
3 tablespoon walnut oil
½ teaspoon fresh ginger, grated
½ teaspoon fresh orange zest, grated
topping: bowl of powdered sugar for dipping
Directions:
1. Preheat your oven to 375 degrees.
2. Process your 2 cups of walnuts into a fine walnut meal (using a food processor or mini food chopper). Pour raw walnut meal into a large mixing bowl.
3. Add to the large bowl: sugar, salt, baking powder, spelt flour, cinnamon, cayenne. Mix until well blended.
4. In your food processor, blend your candied walnuts into a meal. Pour into a side bowl.
5. Then add your raisins to your food processor and mince those into fine little bits. They should become a bit 'wet'. Add the minced raisins to the candied walnut meal and set aside.
6. Add your liquids to your dry mix in the large bowl: vanilla extract, apple cider vinegar, soy milk, walnut oil. Blend with a spoon until you have a nice ball of damp dough.
7. Fold in the candied walnuts and raisins mixture. Blend well. Add in a pinch of extra spelt flour if you like to handle a drier dough.
8. Place your bowl of dough in the fridge for 20 minutes to firm up a bit. (This step isn't necessary, but will allow you to handle the dough better for rounder dough balls.)
9. Prepare a lightly greased or wax-paper lined cookie sheet. Using the palms of your hands, roll ½ golf ball sized sphere cookies, dunk in a bit of powdered sugar and place on the cookie sheets. Continue until all the dough is used.
10. Bake at 375 degrees for 18 minutes.
11. Remove sheets from oven and let cool for 1-2 minutes before dunking each warm cookie back into your powdered sugar bowl. Transfer sugared cookies to a baking wrack to cool for five-ten more minutes before serving.
Store in freezer or fridge for longer term eating. Store on counter for 1-2 days.