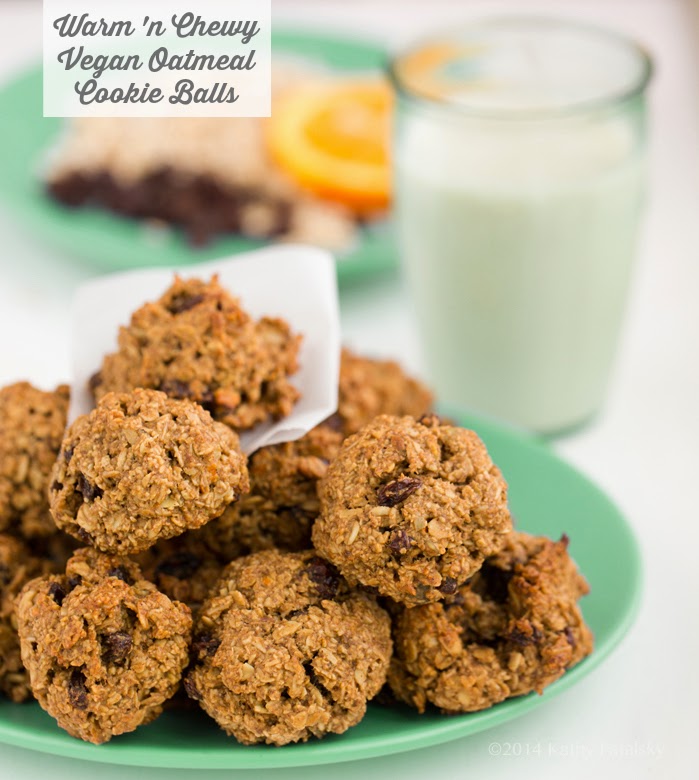 Sometimes I just crave oatmeal cookies. They remind me of coziness, childhood, warm sunbeams, glasses of dairy-free milk, movie nights, rainshowers, weekend mornings and hiking trips through the dusty-path hills. All that in one tiny, cute, cinnamon-infused cookie.
These cookies. Nutty rolled oat texture with intoxicating cinnamon and vanilla flavors throughout, chewy raisins, crumbly edges, coconut essence and warm and chewy texture at first (and last) bite…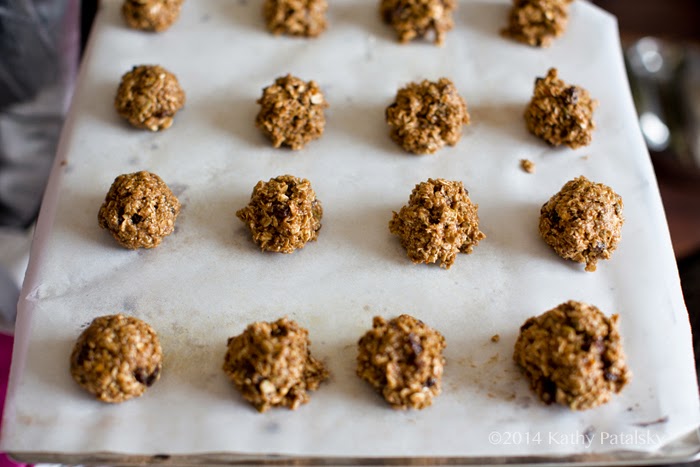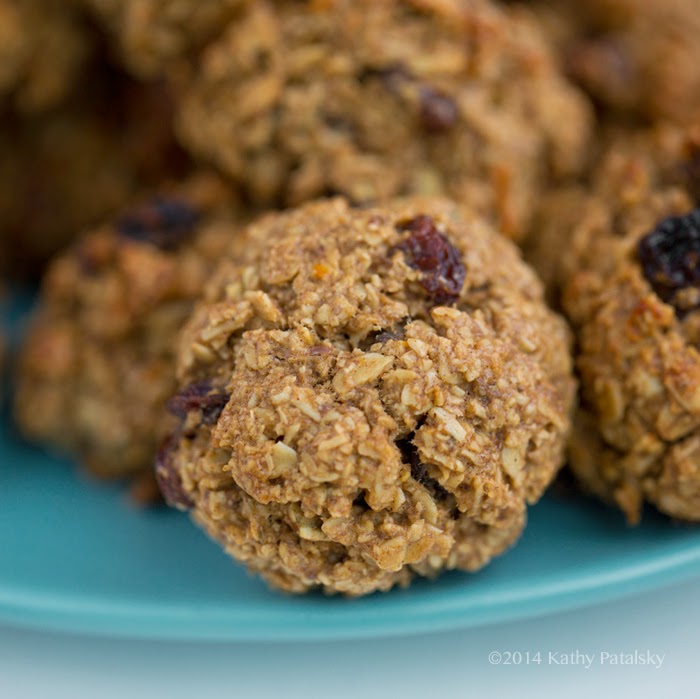 Flavors..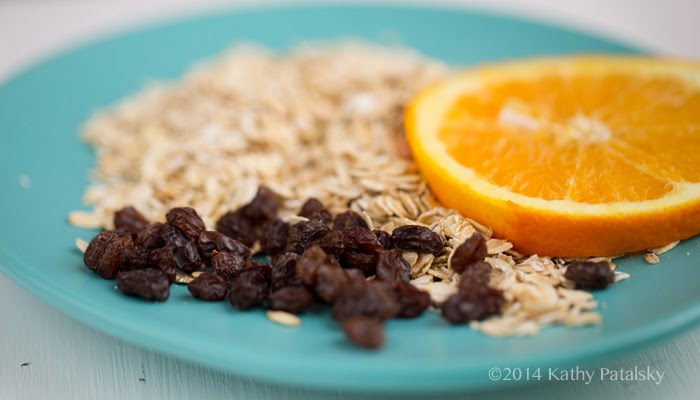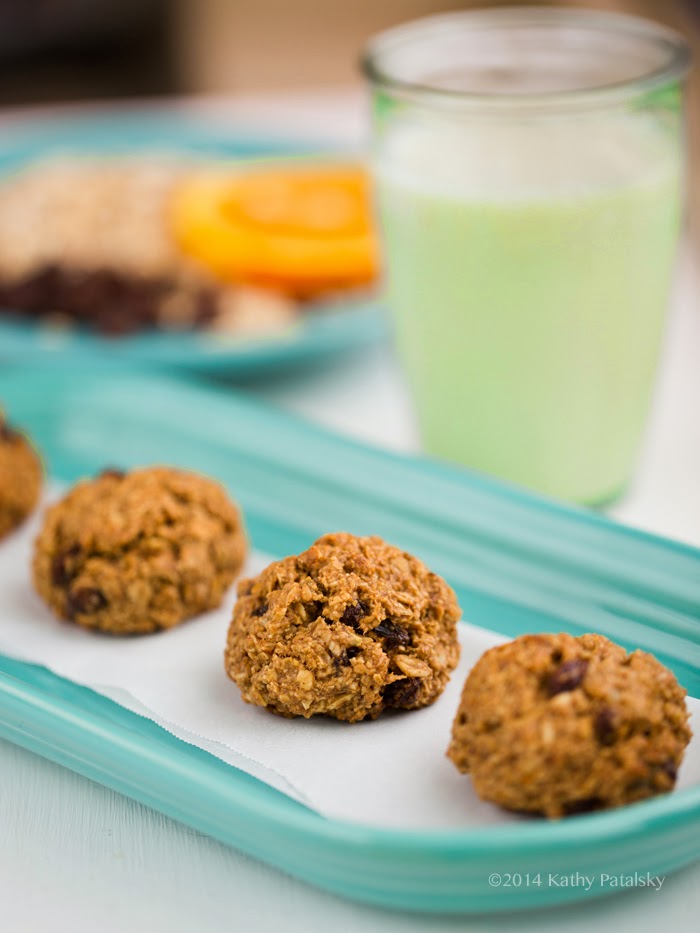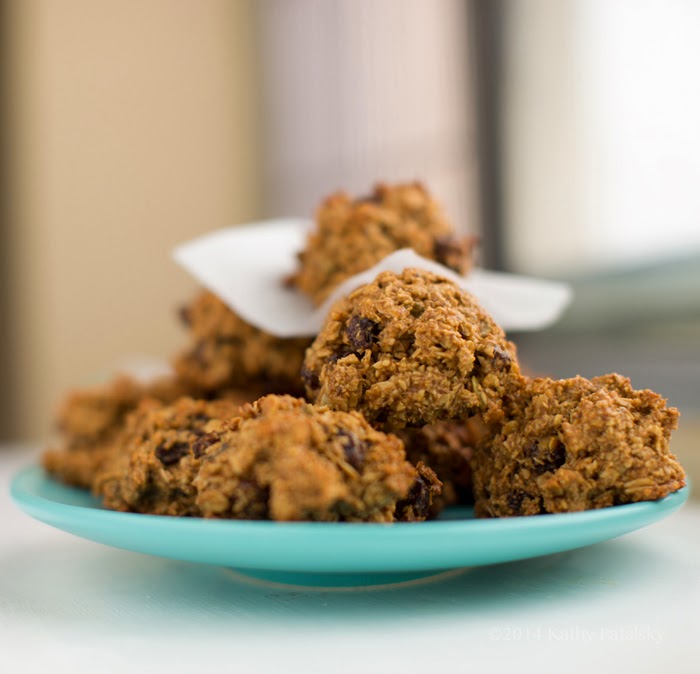 Inside the bliss..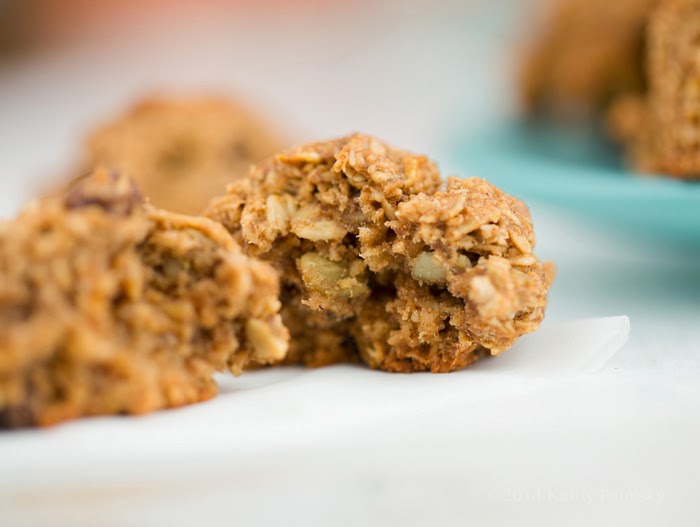 These easy vegan cookies are flour free, using only whole rolled oats and some homemade rolled oat flour as the base. The sweetener? Dreamy coconut sugar, paired with come extra virgin coconut oil to make things extra amazing. I added in some flax seeds and a banana to provide some gluten-free oomph. And my secret ingredient is a pinch of fresh orange zest. (And a dash of vegan love, a spoonful of smiles and a pinch of pizzazz doesn't hurt either.) These cozy cookies are waiting for you to make them!..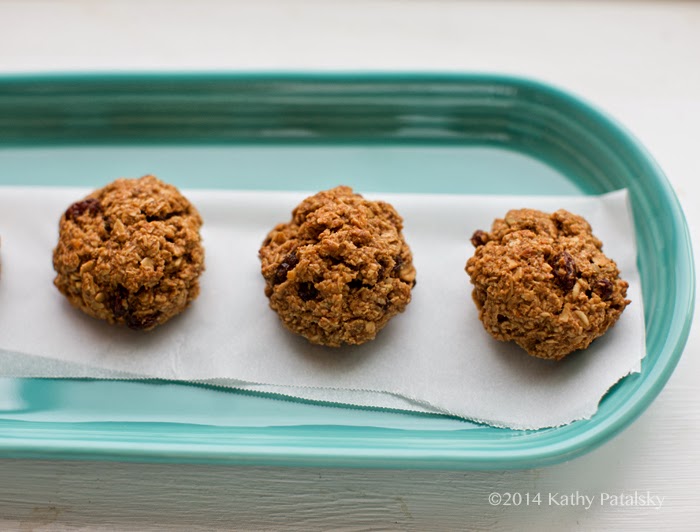 Cool photo trick I learned in PS today. So if you are using a plate that is bold in one color then you can change the color pretty easily. Maybe you bloggers already knew this, but I just discovered it and I love it! So you go into the enhance options for color/hue. Then you select a color to modify. If this case I chose cyan (dropdown menu) .. then you just slide the HUE scale over the color board to change colors. Super fun..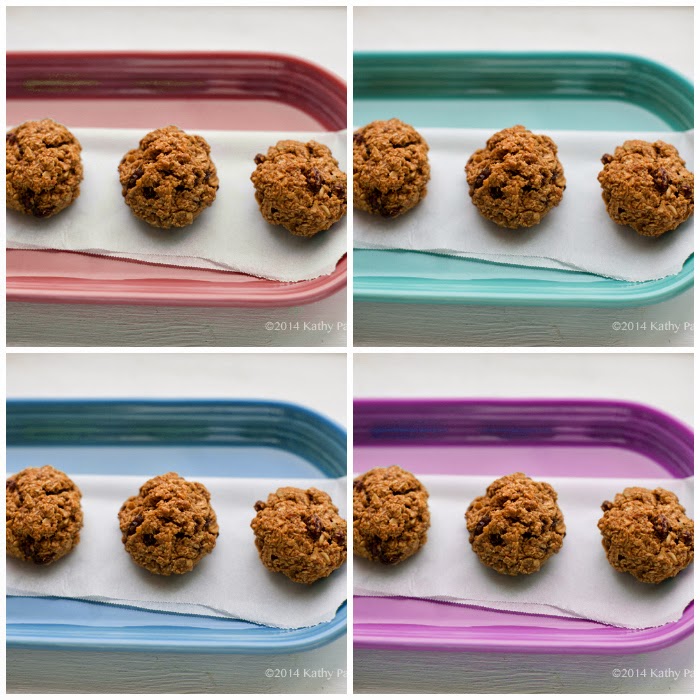 The cookies are so yummy on ANY color plate though 🙂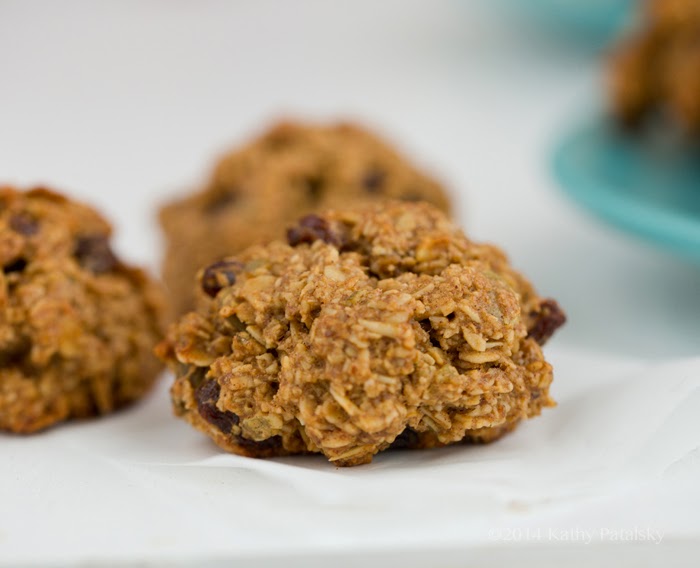 Warn 'n Chewy Oatmeal Cookie Balls
By Kathy Patalsky
Published 05/28/2014

War and chewy cookie balls made using rolled oats, coconut sugar, coconut oil and plenty of vegan love.
Ingredients
1 ½ cups whole rolled oats
1 ½ cups rolled oats, processed into oat flour
1 teaspoon baking powder
¾ cup coconut sugar
1 banana
1 tablespoon flax meal (ground flax seeds)
1 tablespoon cinnamon
⅓ cup extra virgin coconut oil
¼ cup non-dairy milk, room temperature or warmed
¾ teaspoon salt (pink salt used)
½ teaspoon fresh orange zest
½ teaspoon apple cider vinegar
⅓ cup organic raisins
optional: 2 tablespoon raw pumpkin seeds, chopped or processed into meal
Instructions
Preheat oven to 400 degrees. Line a baking sheet with parchment paper or grease.
You will have 3 cups total of rolled oats. Half of that amount will be kept whole and the other half processed in a blender or food processor into oat flour.
Add the non-dairy milk, banana and flax meal to a blender and blend until the banana is smooth.
Add all the ingredients to a large mixing bowl, including the oats, sugar, banana mixture and everything else. Fold this mixture very well for about 2-4 minutes. You want the oats to absorb a lot of the moisture and flavor. This will also thicken the dough.
When the dough has thickened a bit, place the dough bowl in the freezer for about five minutes to firm up the dough even more. This helps the dough keep a ball shape when baking.
Roll the dough into balls, place on baking sheet and bake at 400 degrees for five minutes. Then reduce heat to 375 and bake for another 12-15 minutes, or until the edges begin to turn golden brown and look a bit crisped. Cool at least five minutes before serving.
Yield: 12 cookies
Prep Time: 00 hrs. 15 mins.
Cook time: 00 hrs. 18 mins.
Total time: 33 mins.
Tags: dessert,vegan,cookies,oatmeal raisin