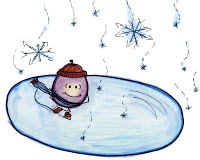 It's been a long week. You are so excited to come in from the cold to your warm cozy home. You snuggle under a blanket, catch up on your tivo, check up on your social networks and websites.
But after a few hours of being a
homebody
, you realize that the heater is making you sluggish and the pajamas attire has lost its charm. And if you have kids, they are running in circles and 'quiet time' is a foreign phrase.
Well I have the solution: Get out there are ice skate!

A day of ice skating and cocoa. Sounds simple? It is!
Its a nice half day activity for kids and adults of all ages to enjoy. Plus ice skating is an amazing way to get your blood flowing and your muscles working.
Ice skating at a leisurely pace burns around 350-600 calories per hour. Depending on your pace. If you try a bit of Olympic style speed skating at 9 mph, you can burn up to 950 calories an hour. Not bad. Plus if you are outdoors in the cold, your body is working extra hard to stay warm and toasty.
Here in my town of New York City, I have quite a few fun options. There is the holiday favorite of Rockefeller Center. The larger, family friendly Wollman Rink owned by Donald Trump, in Central Park. And there is the new 'The Pond' in Bryant Park. All are outdoors and all are fabulous. Chelsea Piers also offers a year-round indoor rink.
Now if you live outside NYC, no fear, there is probably a rink near you. And I doubt you will be paying the hefty price of $19 per skate rental…as I do peak hours at Rock Center. But gliding along the shimmering white ice under a twinkling Christmas tree….ahh its worth it.



Oh, and that 'cocoa' part. Can't forget the after-skating cocoa session! Starbucks has some delicious holiday themed cocoas. Or you can make it simple and head home for some microwaved hot cocoa and marshmallows. If you get really adventurous, you can have a cocoa tasting session. Get 2-4 different brands and have a family taste test. Its fun, and hey you might discover what your favorite cocoa actually is! Dark, mint, hazelnut, white, with whipped cream, spicy, frozen, and on and on.
Yum, the cocoa adventures you can have.

Here are a few skating links to get you started:
Rock Center Ice Skating, NYC
FABULOUS Directory of Ice Skating Rinks in the USA and Canada