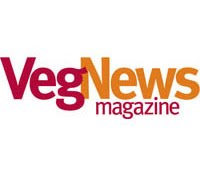 If you still haven't heard about this month's upcoming Veggie Conquest Cooking Competition in New York City, or if you just want a few more juicy details, check out this feature interview done by VegNews Magazine with event founder Jessica Mahady. Interview here at VegNews.com Why am I so excited for the upcoming August 22nd showdown? Well I'll be one of the three judges! I'm so excited for the secret ingredient announcement this weekend. I just hope it's NOT eggplant or okra. Not my most favorite veggies. Check out this judges blurb in the VegNews interview….
"VN: You have some pretty impressive judges for the first challenge: Joshua Katcher, Brian Preston-Campbell, and Kathy Patalsky. How did you get them involved?
JM: Yes, they're fantastic! I just sent each a nice e-mail explaining what we are doing and how we would love for them to be involved. They didn't need a lot of convincing. They share the love for good food and competition."

-VegNews Interview for Veggie Conquest NYC with Jessica Mahady.