Today I am sharing a fall recipe that is perfect for pairing with your favorite pumpkin spice latte or tea..
Read my guest blog post over on the Wild Blueberries website!

Today's recipe.. Wild Blueberry Donut Holes with an easy Wild Blueberry glaze.

Get excited about these Donut Holes! These perky little donut holes are fluffy, loaded with wild blueberries and bake up quickly. They are perfect paired with your favorite fall latte or herbal tea. I love them as a mid-mornng snack, paired with my matcha latte. I also love them in the afternoon around four o'clock when I need a pick-me-up.
Healthy Treat! Since these donut holes are baked, they are much healthier than a "fried" donut. Plus anything loaded with Wild Blueberries is going to be a nutrition boost to your day. The optional frosting adds a bit of decadence. I love when these chill in the fridge and the frosting glazes over firmly.
The frosting is optional, but totally dreamy and adds to the pretty presentation with a bright pop of purple-blue color.
So grab a warm mug of something yummy, and try this recipe!…
Disclosure: This post is sponsored by Wild Blueberries of North America, but all opinions are my own.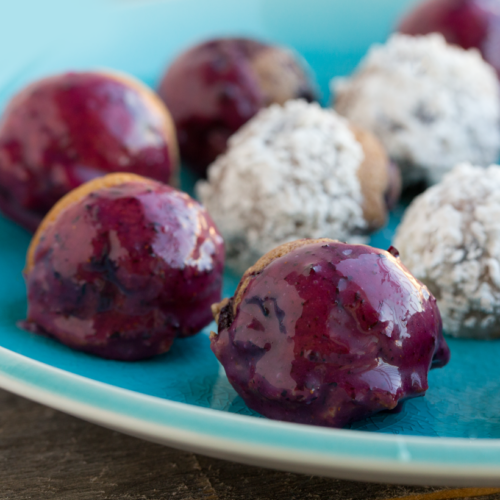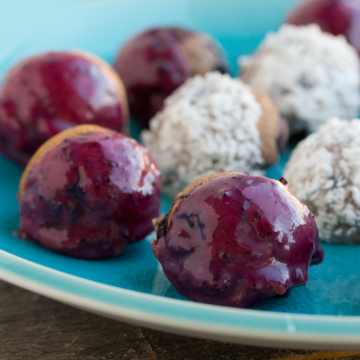 Vegan Wild Blueberry Muffin Donut Holes
These delicious wild blueberry donut holes are fluffy and filled with antioxidants.
Print
Pin
Ingredients
Dry:
1 cup oat flour

2 teaspoon baking powder

½ teaspoon salt

1 teaspoon ginger powder

1 teaspoon ground cinnamon
Wet:
¾ cup frozen Wild Blueberries

1 large ripe banana

1 ½ tablespoon raw cashews

¼ cup vegan butter, melted

2 teaspoon ground flax seeds

¾ teaspoon vanilla extract

1 small lemon, juiced

1 tablespoon coconut sugar
Glaze:
⅓ cup virgin coconut oil, melted

¾ cup confectioner's sugar, organic

¼ cup frozen Wild Blueberries, warmed to at least room temp

A few drops vanilla extract

For greasing pan: virgin coconut oil
Instructions
Preheat oven to 350 degrees. Generously grease either a mini muffin pan or donut hole pan with virgin coconut oil.

Add all dry ingredients to a large mixing bowl, whisk to combine.

Add all wet ingredients except the frozen Wild Blueberries to a blender and blend until smooth. Blend on lowest speed for at least 1-2 minutes to plump up the flax seeds.

Pour wet into dry bowl and stir to combine.

Fold in the frozen Wild Blueberries.

Bake at 350 for about 11 minutes. Allow donut holes to cool for at least two minutes before removing from pan.

To make glaze: Blend ingredients until the berries are smooth. Pour into a small bowl and place in fridge.

When donuts have cooled to at least room temperature, you can glaze them. Dip half the donut in frosting then place on a plate. Tip! I place my donut holes in the freezer just before dipping, so that the glaze sticks well and hardens upon contact. This helps for a prettier, cleaner presentation – and for a thicker glaze coating. If you want to double dip your glaze, place dipped donuts in freezer for a few minutes to chill and harden, then dip again.Once glazed you can serve right away or store in the fridge and enjoy later.. These donuts can be made up to two days ahead of time too!