This Wild Blueberry Pumpkin Seed Protein Smoothie has been a favorite of mine for a while now. Simple ingredients and loads of flavor, sweetness, a hint of salt, fiber and healthy fats and even plant-based protein from pumpkin seeds. Here is my recipe and specifics on which pumpkin seeds to use..
Sunshine weekend (And Smoothie Bowls)
So happy to see such gorgeous weather hitting Los Angeles. Of course my allergies are going crazy from the super bloom, but still, I'll take the clear blue skies, warm and perfectly dry air and fresh ocean breezes any day in exchange for a bit of flower and tree sourced pollen. This weather is so perfect for Blueberry Pumpkin Seed Smoothie.
Season Change: Add Smoothies!
April is usually the month when I start adding a daily smoothie to my diet. And this is probably one of my all time favorites. I started adding pumpkin seeds to my smoothies when I wrote 365 Vegan Smoothies. And since then, those salty, crunchy, buttery green specks have been my very favorite topping for smoothies and smoothie bowls. And this antioxidant-rich smoothie has them on top and blended right in.
Happy things: Hawaii + The Happy Newspaper mug..
And this smoothie…
Purple Smoothie.
I adore the color of this Blueberry Pumpkin Seed Smoothie. It is just beyond gorgeous. Those wild blueberries create this rich purple color – eye candy in every blend. Then a pop of yellow-green on top and spoon dive in.
More Blueberries Please…
Wild blueberries have twice the antioxidant capacity as conventional blueberries because of the surface area the have. Since they are smaller, they have more skin. And the skin is where all the goodness lies.
Plant-Protein.
Pumpkin seeds are one of my favorite sources of vegan protein.
In fact, over the past ten years, you will have noticed a great increase in vegan protein powders that use pumpkin seed protein as a main ingredient. Pumpkin seeds are such a great ingredient for both men and women – they contain protein, zinc, magnesium, iron, fiber and healthy fats. And this Blueberry Pumpkin Seed Smoothie includes 2-3 Tbsp of delicious pumpkin seeds. You can even add more as the topping if desired!
Fifty shades of purple. So many purple hues and always just gorgeous!
Pumpkin Seeds
One must for the pumpkin seeds, for maximum flavor is to NOT use basic unsalted pumpkin seeds. That means buying specific brands…
For max flavor, use a salted, raw pumpkin seed. So a straight up raw and unsalted seed will not do much for flavor, but you will still get the nutrition benefits.
The two brands I consistently buy:
– Go Raw Sprouted + Organic Raw Pumpkin Seeds, Amazon
And if you like a bit of heat, these word well too..
Eden Organic Dry-Roasted Spicy Pumpkin Seeds – Amazon
Using Raw Pumpkin Seeds
If you choose to use basic raw pumpkin seeds for this Blueberry Pumpkin Seed Smoothie recipe – add a pinch of salt yourself to boost that contrast of salty sweet flavor.
Plant Protein.
To maximize protein, I use soy or pea based milk in my smoothies. I find that almond or rice milks can be a bit too watery for smoothies.
And if you ant to boost protein even more, add in some hemp seeds, your fave unsweetened protein powder or simply add more pumpkin seeds.
Get more smoothie recipes here on the blog!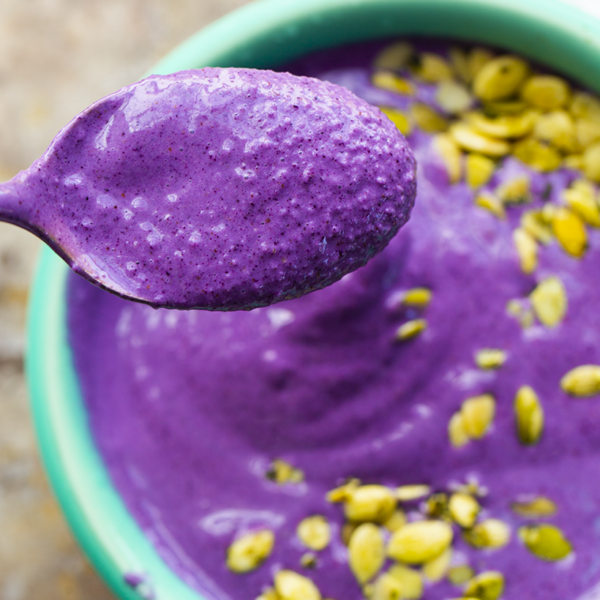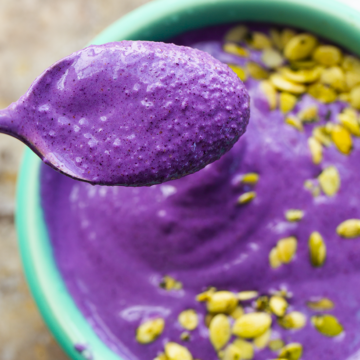 Wild Blueberry Smoothie with Pumpkin Seeds
This thick and frosty purple smoothie contains wild blueberries, pumpkin seeds and banana.
Print
Pin
Ingredients
2

bananas

,

frozen

1

cup

wild blueberries

,

frozen

1 ¼

cups

soy milk

2

tablespoon

raw sprouted pumpkin seeds

Topping: More pumpkin seeds
Instructions
Add the non-dairy milk and pumpkin seeds to a high speed blender. Blend until smooth.

Add in the blueberries and banana. Blend until thick and frosty. If needed, add a few additional splashes of non-dairy milk — or a few ice cubes for added frostiness.

Pour into a serving cup or bowl and add pumpkin seeds over top to serve.
nutrition estimate | per serving
Calories:
253
kcal
|
Carbohydrates:
41
g
|
Protein:
9
g
|
Fat:
8
g
|
Saturated Fat:
1
g
|
Sodium:
59
mg
|
Potassium:
743
mg
|
Fiber:
6
g
|
Sugar:
23
g
|
Vitamin A:
430
IU
|
Vitamin C:
17
mg
|
Calcium:
194
mg
|
Iron:
2
mg
Pin it for later!..


disclosure: this post contains Amazon affiliate links