My Winter Harvest Citrus Butternut Pasta combines the zesty-sweet flavor of winter citrus with warmer tones of rosemary, slivered almonds and maple. Chickpeas add protein and texture. Woody diced portobella mushrooms and extra virgin olive oil add depth. Garlic-mashed, vitamin A-rich butternut squash works as the base of this chunky 'sauce' and coats playful orcchiette pasta with a rustic layer of golden harvest goodness.
The aroma of this pasta is simply intoxicating…
This pasta is bursting with good stuff (no signs of post-pasta-eating guilty-sluggish-blues after this bowl!) – dive into your own bowl tonight!..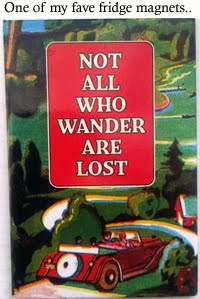 Kitchen Adventures. Back when I used to have a car (aka, lived in California and not New York City) – one of my favorite weekend activities was to hop in my Smurf-blue hatchback, roll down the windows (because you had to actually roll windows back then), pop in my favorite CD and just go.
I'd cruise down my street and around the corner, the ocean to my left, the Santa Cruz mountains to my far right, nothing but white puffy clouds and a blue sky ahead of me. I'd just drive. It was relaxing, exciting and peaceful. Sometimes it's good to not have a plan, route or destination.
So today I did that same adventure ride – via my kitchen. OK, so there was no ocean view or salty sea breeze in my apartment – but I can't have it all, right?
I'm sure you go on your very own 'kitchen adventure' every night at dinnertime. You pick an ingredient (usually something inspiring and readily available) and build a meal around it. Just start cooking. Easy. With no real idea of what to make. I had a bag of organic Butternut Squash cubes sitting in my freezer – that I have been aching to try out. But since I have never cooked with frozen butternut squash cubes before – I didn't know what to expect.
Lesson Learned: frozen butternut squash has lots of flavor, but its texture doesn't hold up the way fresh squash does. It easily gets mashed and tender – in a skillet it wilts into chunky, yet flavorful chunks. Perfect! ..well, for a chunky butternut squash pasta sauce that is.
So here is the recipe that evolved from a simple bag of organic frozen butternut squash. And let me say that I will be making this again!
Flavors: Cinnamon, citrus, maple, mushroom, chickpea, almond, garlic and rosemary sing in this creamy, yet hearty-textured pasta. It could easily be a brunch or lunch pasta with all the light citrus and cinnamon flavors.
Winter Harvest Citrus Butternut Pasta
vegan, makes about 6 servings
8 cups cooked pasta, orcchiette (about 16oz. dry)
Mashed Squash Sauce:
2 cups organic Butternut Squash cubes, frozen
1 teaspoon dried rosemary, crushed
1 teaspoon garlic powder
1 tablespoon maple syrup
2 tablespoon EVOO
dash of salt
½ teaspoon black pepper
¼ cup nutritional yeast
1 large orange, juiced
1 teaspoon orange zest
Chickpea Mixture:
1 tablespoon EVOO, to coat the skillet
1 cup slivered almonds (roasted, unsalted)
⅛ teaspoon cinnamon
1 can organic chickpeas, drained
1 tablespoon lemon juice
1 large portobella mushroom, diced
½ small white onion, diced
additional nutritional yeast and olive oil for tossing cooked pasta
Directions:
1. Start your squash 'sauce' in a skillet. You'll notice how the frozen squash easily softens into a lightly mashed mixture. Heat all ingredients until well combined – when adding dried rosemary be sure to crush into fine bits rather than large chunks. Mash lightly with a fork. Pour into a separate bowl and set aside.
2. You'll want to start on your pasta – so get a pot of salted water boiling and drop your pasta. While your pasta is cooking you can quickly saute your chickpea mixture.
3. To saute your chickpea mixture, add the oil and onions. Cook until onions become translucent. Then add in the remaining ingredients – except for the almonds. Cook until chickpeas become tender and start to brown – and portobellas absorb the excess liquid, also becoming tender.
4. Add in the almonds and saute for another minute. Turn off heat and go back to your pasta which should be just about done.
5. Drain your pasta. Toss with a few dashes of nutritional yeast and EVOO. Then toss with the warm butternut squash mixture. Fold until the pasta is nicely coated – yet still rustic and chunky. Fold in the chickpeas.
6. Serve in a bowl with fresh orange slices, a dash of orange zest and a drizzle of EVOO on top.