My husband and I were running errands yesterday morning just as the USA vs. England World Cup match was beginning. I was amused to see lines out the door at neighborhood bars and restaurants. There were drunken students, wide-eyed tourists and even a few face-painted, flag-toting fanatics – all clamoring to get inside and claim a seat for the big game. It was a diverse crowd – all seeking the same thing: midday soccer (football?) watching, drinks, snacks and a lot of loud laughs. Not really my scene, but here's my verdict: it's nearly impossible to not get sucked into all the World Cup excitement…
And a few moments after we returned home, I found myself glued to my television – watching the lime green field – the soccer/football players like little ants on a grassy knoll. I actually got slightly wrapped up in the loud horns and cheering fans who never seemed to ease up on their high-energy antics. Passionate people make me happy.
..although I will admit to blurting this out while watching the game, "I'm bored. This is like watching hockey, only much slower and less combative." Even still, I watched the entire game. Go figure.
Soccer Snacks. Every good sports game needs good snacks. So I pulled some of my favorite black and white themed recipes and created a list for your very own World Cup Game-Watching Feast. Get my recipes…
——————–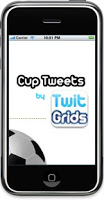 World Cup Frenzy. The web is a buzz with kicks and headbutts..
The Buzz: Twitter has a cute #WorldCup soccerball icon, ESPN has a trendy World Cup Food Truck in NYC and LA (follow the trucks on twitter) and Snazzy Cup Tweets IPhone Apps are in full swing. Buy the 99-cent Cup Tweets IPhone App. And while I love all the techno-buzz, I created this recipe list to let foodies get in on the soccer-ball action!…
Top 11 Black and White Eats! …for your World Cup Feast
11. BLACK-Strapped Molasses Ginger Snap Smoothie
OK, so this recipe has #11 status because it isn't exactly black and white to the eye – but the molasses ingredient sure is a deep dark black color! A fresh white ginger garnish on top. This ginger-cookie flavored sip has a drizzle of blackstrap molasses and a layer of white frothy smoothie foam/shaved ginger on top. Quick blend, and your refreshing World Cup smoothie is served. Here's why Blackstrap Molasses is good that's good for you. Ginger Smoothie Recipe.
10. Pure BLACK Olive Dip with WHITE Dipping Crackers
This easy to make dip has a savory creamy flavor that I love. Whip it up, pair it with some white crackers and your dip platter will be World Cup approved. Pure Black Olive Dip Recipe.
9. BLACK and WHITE Mocha
Brew some dark coffee, bland it with some quality cocoa and blend of some rich white soy foam. Build your glass and your black mocha meets white frothy foam bevie is complete! Chocolate sprinkles optional. Cocoa Recipe to inspire your Mocha.
8. Frozen BLACK Grapes and WHITE Jicama
Frozen grapes are super trendy and pack a refreshing fruity punch to your snack bowl. Gobble them up the same way you would cheese puffs – only these antioxidant rich delights are guilt free. Add in some chopped white jicama for a black and white spin on this frozen snack. Frozen Black Grapes Recipe.
7. BLACK Balsamic Shrooms over WHITE Crostini
I call this black and white bruschetta. Simply saute some mushrooms (shiitake or portobella work best for their black coloring) and slice up some baguette rounds. Toast the round with a brush of EVOO. Flavor the mushroom saute. Use the recipe here if you'd like. Then simply top the white bread rounds with black shrooms. Voila, World Cup bruschetta! Balsamic Mushrooms Saute Recipe.
6. BLACK and WHITE Cupcakes
I turned the classic black/white nyc cookie into a cupcake. Try this dessert treat for your World Cup dessert spread. Black and White Cookie Cupcakes Recipe.
5. WHITE Fruit Salad – with added BLACKberries
My Winter White Fruit Salad is easily morphed into WC fare. Simple add some blackberries on top and you're done! Super healthy for a WC brunch menu. White Fruit Salad Recipe.
4. Double BLACK Chocolate Mousse Pie w/ WHITE Soy Cream
Another dessert to knock their soccer socks off! Simply top this dark chocolate pie recipe with some white soy cream and your soccer ball bliss is complete. So good… rave reviews from even the non-vegans in the room. Double Chocolate Mousse Pie Recipe.
3. WHITE Sea Salt 'n Cracked BLACK Pepper Biscuits
I adore this salty biscuit recipe with a bold black pepper kick. Spelt flour and coconut oil give these biscuits a tender flaky crust that and sports fan would love. Salt 'n Pepper Biscuits Recipe.
2. BLACK Tea with WHITE Lychee and WHITE Coconut Milk Ice Cubes
Here's a b&w bevie idea: take deeply brewed black tea (sweeten as you like) add chopped canned lychees (3 per glass), chill well, then pour it all over frozen coconut milk ice cubes. Black and white iced tea! Note: Coconut Milk iced cubes can be tricky to remove from their cube trays – so allow time for them to 'thaw' OR freeze a mix of 1 part coconut milk to 1 part coconut water. All about lychees.
1. BLACK and WHITE Panini
Creamy white Daiya cheese, spicy white horseradish, black olive spread and a panini press or grill pan will have you munching on my B&W paninis in no time. This sandwich recipe is perfect for an afternoon World Cup snack. Maybe some white lychee black iced tea on the side. Black and White Panini Recipe.
Bonus! WHITE colored dips and spreads:
Micro Veggie Cream Cheese
Vegan Ranch Dressing
Creamy Chive Ricotta