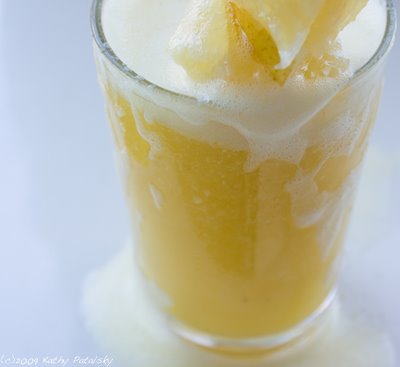 Thirsty for a light, hydrating and energy enzyme infused drink? I was. Today I skipped the smoothie and definitely skipped any pre-packaged juice and I made myself a frothy.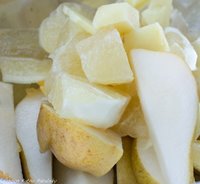 Yellow Fruity Frothy. My ingredients: tart white grapefruit, zingy lemon, sweet bosc pear, spicy ginger and a creamy ripe banana. But the secret to making a frothy is not just in what you put in it, but how you make it…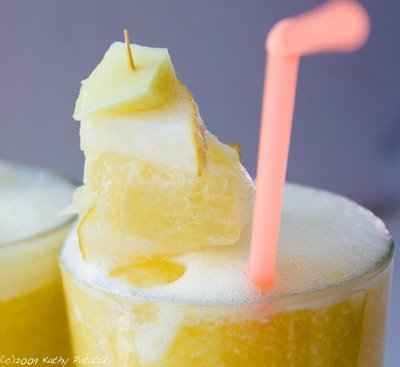 Frothy Secrets. A frothy is not a smoothie and it's not simply juice. It is somewhere in between. First, you choose a healthy blend of juicable ingredients. Juice the ingredients and pour them into a blender. Then here is the fun part. Add in a whole ripe banana (or another sweet mushy fruit like mango or papaya) add a few coconut water ice cubes and blend on low. Instant frothy gratification.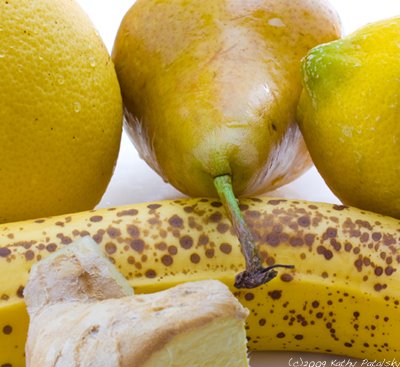 Yellow Fruity Frothy
serves two, vegan
1 white grapefruit, peeled, chopped
½ lemon, peeled, chopped, no seeds
1 bosc pear, chopped
3 tablespoon fresh ginger, peeled, chopped
1 ripe banana
5 coconut water ice cubes
1 small orange, peeled and chopped
To make:
Juice the grapefruit, lemon, ginger, orange and pear.
Pour the juice into a blender. Add in banana and ice cubes.
Serve immediately.
Garnish with fresh fruit and for extra spice add a dash of cayenne.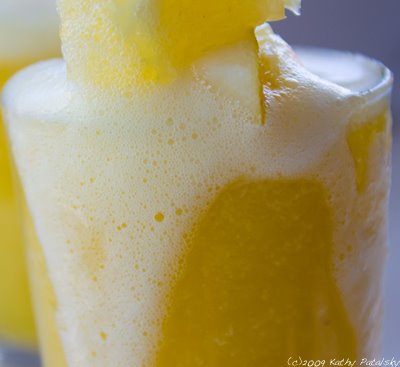 Health benefits and more frothy-licious pics below.
Frothy Health Benefits
Banana adds potassium and fiber
Citrus adds a lot of Vitamin C.
Ginger kick starts your body with it's spicy flavor and warming characteristics.
Pear adds an all-natural sweetness for immediate energy boost.
Coconut water ice cubes are hydrating and add additional potassium, magnesium, calcium and manganese nutrients.
*Plus juicing these foods fresh assures that you are drinking plenty of fresh enzymes and alive and active nutrients. Drink juice right away for the more nutrients.