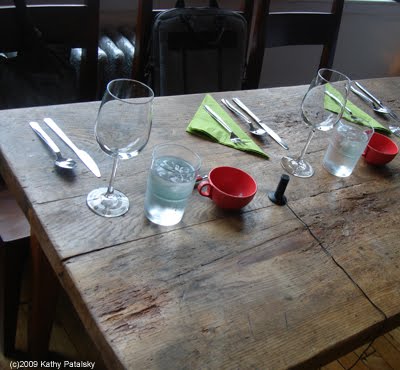 "I'm sorry, there's fish oil in the asparagus. And the daikon fries are not vegetarian." said my waiter at Double Crown NYC, all in one breath. I was a tad shocked, but didn't flinch.
"Oh, OK well what veggie side dish is vegan?" I heard the words come out of my mouth and it sounded so odd. A vegetable side dish, not vegan, not even vegetarian? Wow.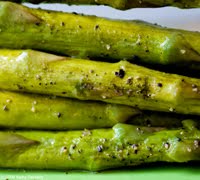 Veg*n Dining Out. This is Part one of today's two part post on "Dining Out Veg". Part One: Waiters and Kitchen Errors. Part Two: 'Hidden' Non-Vegan Ingredients List. Ingredients to watch out for in your 'vegan' food. I asked around to my chef and foodie friends – How do I ensure that my dining out meal will be vegan? Only a newbie veg diner would think that the simple words "I'm vegan." would do the trick. Wrong. That's not enough. There is a plethora of misunderstandings and myths about what both vegetarians and vegans can and cannot eat. Let's chat about the three types kitchen errors and what you can do to prevent them. Order Up!…

Three Kinds of Faults. There are three kinds of restaurant errors that can be made in the process of ordering, receiving and eating your food. They can involve you, your waiter, the kitchen or a combo of all three.
1. It's your own fault. You didn't speak loud enough. You didn't say 'no dairy' more than once under your breath. And you didn't double check to ask just how those sauteed veggies were cooked. Then when you taste that distinctive buttery taste. You know you messed up. You know your should've double checked. It's not like every mainstream restaurant is going to have a cute carrot next to the 'vegan' items on the menu like Le Pain Quotidien does. When ordering out you must be clear to your waiter from the start! Don't be shy. It's your food, claim it, own it and then you'll be happy eating it.
2. It's the waiters fault. So you did your part. You shouted 'vegan' 'no dairy' 'no cheese' ' no sour cream' ' no butter' about a million times. A little obnoxious, but you'll do what you have to do. You may have had to modify a non-veg dish, but you were very clear on what you wanted. Vegan. No eggs. No dairy. No butter. Oil saute only. No chicken broth. No sour cream. Sorry for the repetition, but I'm so used to speaking that way when I order that I can't help myself. So the error comes when the waiter or waitress messes up. Sure, he or she told the chef you are vegan, but maybe the chef conveniently forgot that the veggies were sauteed in butter and there was a drizzle -just a drizzle- of fish oil on the rice. Your waiter should be lobbying for your meal. If it's not perfect and you did your job, he certainly won't get your vote when it comes tipping time. Oh, and if whoever messes up, you always have the right to send your food back.
3. It's "no one's" fault. You told the waiter, he heard you. He told the chef. The chef understood completely what was ordered and what 'vegan' means. However, the garnish guy who sprinkles the Parmesan cheese on all the dishes right before they come out of the kitchen didn't hear any of this, and somehow your perfectly vegan pasta got a light dash of cheesiness. Darn. Send it back. And hopefully you will get a correct order with a big bright "sorry about that" smile. Side note: It's always some one's fault, but this is more of a 'slipped through the cracks scenario'. Yes, cheese on your pasta is still the restaurant kitchen's fault, but to a lesser degree than kitchen error example #2. Again, a kitchen error as simple as a sprinkle of cheese – could kill somebody who is seriously allergic.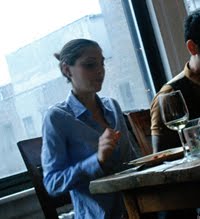 Your Waiter: Best Friend or Worst Enemy?
Your Waiter: Enemy.
I've had a few really bad waiters in my day. There was the one who was convinced that vegans were allowed to eat the cream of broccoli soup. Then there was the waiter who was sure to keep all the cheese off my pizza, but he was so focused on the cheese he forgot to tell the chef to hold the mini-pepperonis. Pepperoni in mouth, I sunk into my seat. Ugh. "Waiter!" Then there was the waiter who just didn't care. OK, the many waiters who just don't care. They don't even try to hide their annoyance towards vegetarians or people with special diet restrictions. I think they are all part time actors. At least in NY or LA they are. They really try to pretend to care, but no Oscar is won with the 'No, I do care about keeping the cheese off your pizza' role. And then there are the waiters who give me the 'oh you can't eat that, can you. Sad…' glare as they peruse the menu for items I might be able to order. The truth is, you really can't control your servers personality, so hope for a good apple. But if you get a nasty server who you suspect you can't trust, do this, hand them a tiny piece of paper with all the ingredient items that you cannot eat. Put it in writing. Heck, make it a page long if you have to. Sure, it might piss off or mildly annoy the staff, but really…it shouldn't.
Your Waiter: Best Friend.
Like I commented on in my intro-I recently dined at Blue Crown restaurant in NYC. My waitress rocked. I was all convinced about what I was going to order: pickled watermelon rind, daikon fries, side of asparagus, butternut squash curry and then some yummy bread to nibble. I figured I was in the clear with most of the items, but would have to double check on the curry being vegan-friendly. I gave her my order then told her I was vegan and wanted to make sure my order was vegan as well, she immediately did a 180 and said she'd double check on what I could order. Now this is how the asparagus is described on the menu: "GRILLED ASPARAGUS
sesame, scallion, sweet chili glaze". When she came back from the kitchen I was shocked to hear her inform me that the asparagus veggie side dish had fish oil in it and the daikon fries 'were not vegetarian'. I think it had something to do with bacon… She also told me my curry could be made vegan and that I could not eat one of the two types of bread. Nice. I was so appreciative of her thoroughness. Why can't more waiter be a vegans best friend and not their enemy???
In Part Two of this post I'll be posting a list of non-vegan ingredients to watch out for when dining out. Check back later today. This list is not to be missed.