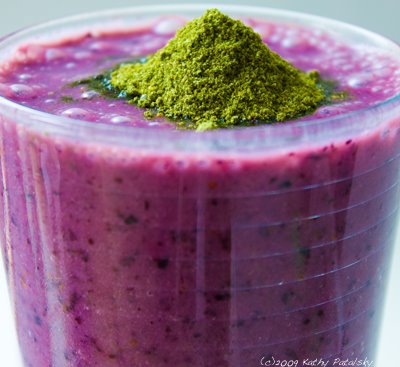 Does a yummy, good-tasting green superfood powder exist? If you're like me, you love the health and nutrition benefits of green superfoods like spirulina and wheatgrass, but you are a bit turned off by the 'green powder' taste.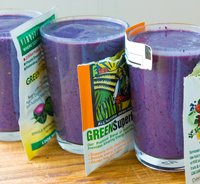 Quest for Green. So on my quest to find a great tasting and easy to love green nutrition smoothie powder, I pulled three random brands of sample-sized green food powder packets off the shelf of my Whole Foods and decided to do a side to side taste test comparison. And because to me, it doesn't matter how healthy something is, if it doesn't taste good, I'm not going to use it. Click ahead to see my taste test of the three brands (and my winning brand)….
Green Nutrition Powder Taste Test
For the taste test, I blended up a classic Soymilk Acai smoothie. Here's the recipe:
Acai Soy Smoothie
1 frozen acai smoothie pack by Sambazon
1 cup soy milk
1 raw banana, ripe
1 cup blueberries
6 coconut water ice cubes
½ cup acai juice
Blend.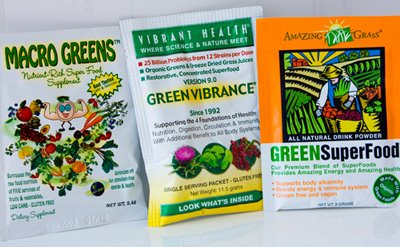 The Brands
The three random Green Powder brands I chose and their main health claims and ingredients:

1. Amazing Grass Green Super Food.
Premium blend of Superfoods. Supports body alkalinity, boosts energy and immune system, gluten free and vegan.
Main ingredients of interest: 5722mg Green Food Blend includes organic spirulina and organic wheat grass, among others.
30 calories. 100% RDA Vitamin A. 50% RDA Vitamin K. 25% RDA Vitamin B12.
Other ingredients: energizing herbs, digestive enzyme and active culture blend, fiber blend and antioxidant blend.
2. Macro Greens Nutrient Rich Super Food Supplement.
Surpasses the raw food nutrition of five servings of fruits and veggies.
Main ingredients of interest: 600mg of Spirulina.
Other ingredients: Nutrient rich superfoods, barley grass powder, antioxidants, probiotic cultures, adaptogenic and metabolic herbs, fibers, harmonizing and supporting herbs, plant enzymes.
667% RDA Vitamin C. 334% RDA Vitamin E.
3. Vibrant Health Green Vibrance.
Probiotics (25 billion) organic greens, restorative, concentrated superfood, version 9.0.
Main ingredients of interest: 1500mg of spirulina and wheat grass. 25 billion probiotic cultures from 12 strains.
Other ingredients: nutrient dense greens, cell and membrane support ingredients, high fiber foods and probiotics, antioxidants, adaptogens, immune support, sea veggie complex, probiotic blend, enzyme complex, phyto-minerals, tonics, sketetal support, flavor enhancer: mango.
Vegan, gluten-free.
Low carb, gluten free. 50 calories.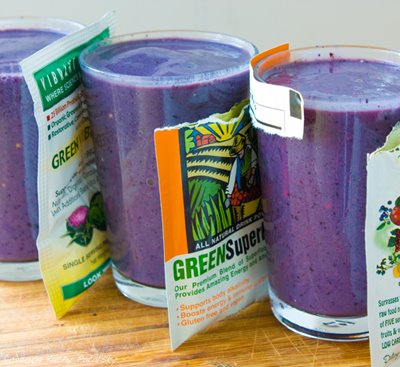 So I mixed a sample of each powder into three separate cups of the same Acai smoothie. Here are my tasting notes…
TASTING NOTES for Green Superfood Powders:
1. Amazing Grass Green Superfood:
Dark green color. Thin powder. Taste essence of hay, oats, slightly milky. Grassy. Perky flavor assists in palpability. Zesty yet milky taste overpowers any grassy bitterness.
TASTE RATING: 7/10
NUTRITION RATING: 6/10
Notes: Love that every ingredient is organic. Easily dissolves in smoothie.
2. Macro Greens Nutrient Rich Superfood:
Light colored powder. Very fine powder. Taste essence of mango, very fruity, citrus. Tastes like a children's vitamin pill. Nice and zesty, no bitterness.
TASTE RATING: 9/10
NUTRITION RATING: 8/10
Notes: This tastes pretty great! I love the fruity rather than overly-grassy flavor. Actually enhances the flavor of the smoothie. I wish it had a bit more spirulina, but the taste is so light and yummy that I an pleased.
3. Vibrant Health Green Vibrance:
Dark powder. Dark green and a bit grainy. Thickest powder out of the three. Taste essence is less astringent than the other. Grassy bitterness is overpowering. Deep, strong 'green' flavor. Milky undertones.
TASTE RATING: 6/10
NUTRITION RATING: 10/10
Notes: Darn! This stuff is packed with a lot of excellent nutrients including a nice 1500mg of spirulina. But the taste is not as palpable as the others. The grainy texture even effects the smoothie a bit. But the nutrient label is very impressive.

Taste Test Results Overview: So I can definitely say that the best tasting powder is the one by Macro Greens brand. The worst tasting was the Vibrant Health. Although, the best nutrition rating also went to vibrant health. Tricky! So it depends what you can stomach I guess. If you are all in it for the nutrition, try Vibrant Health. If you need the best tasting, like me, go for the Macro Greens and give Amazing Grass a try. If you don't like a fruity flavor, try the Amazing Grass brand. However, I must say I was impressed with all three brands. Not nearly as ill-tasting as green powder's I remember using say five years ago.
My rankings:
BEST TASTE: Macro Greens brand
BEST NUTRITION: Vibrant Health

Ranked:
First Place: Macro Greens
Second Place: Amazing Grass
Third Place: Vibrant Health
…I love the nutrition in Vibrant Health, but for me personally, it has to taste good. However, I know a lot of you love the green food taste and might contest y personal rankings.
If you have another green food brand you love please leave a comment! I'd love to taste test more.
Websites:
www.macrogreens.com
www.amazinggrass.com
www.vibranthealth.us
Read more about the green superfood spirulina.