This just makes me happy. Mark-Paul Gosselaar returns to Jimmy Fallon's show dressed and acting like Zack Morris, from Saved by the Bell. If you are a kid of the late 80's/early 90's you'll appreciate this clip. Otherwise, you'll just have to bear with me as I laugh and giggle all the way to Bayside High.
…No recipe. No super food tip. Just something that makes me giggle with giddiness (laughing is really good for your health, FYI). Photo ahead…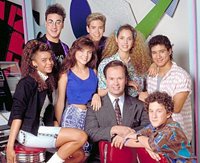 …oh and he signed on for the Saved by the Bell show reunion. That also makes my little heart happy.
Oh, my favorite Saved by the Bell episode…"I'm so Excited.." You know the one.
Zack Morris and Kelly Kapowski forever. Just kidding. Sort've..
Gotta love the Saved the Bell reruns.
And Zack even played "Friends Forever" as Zack Attack.
Saved by the Bell reunion. Fun.