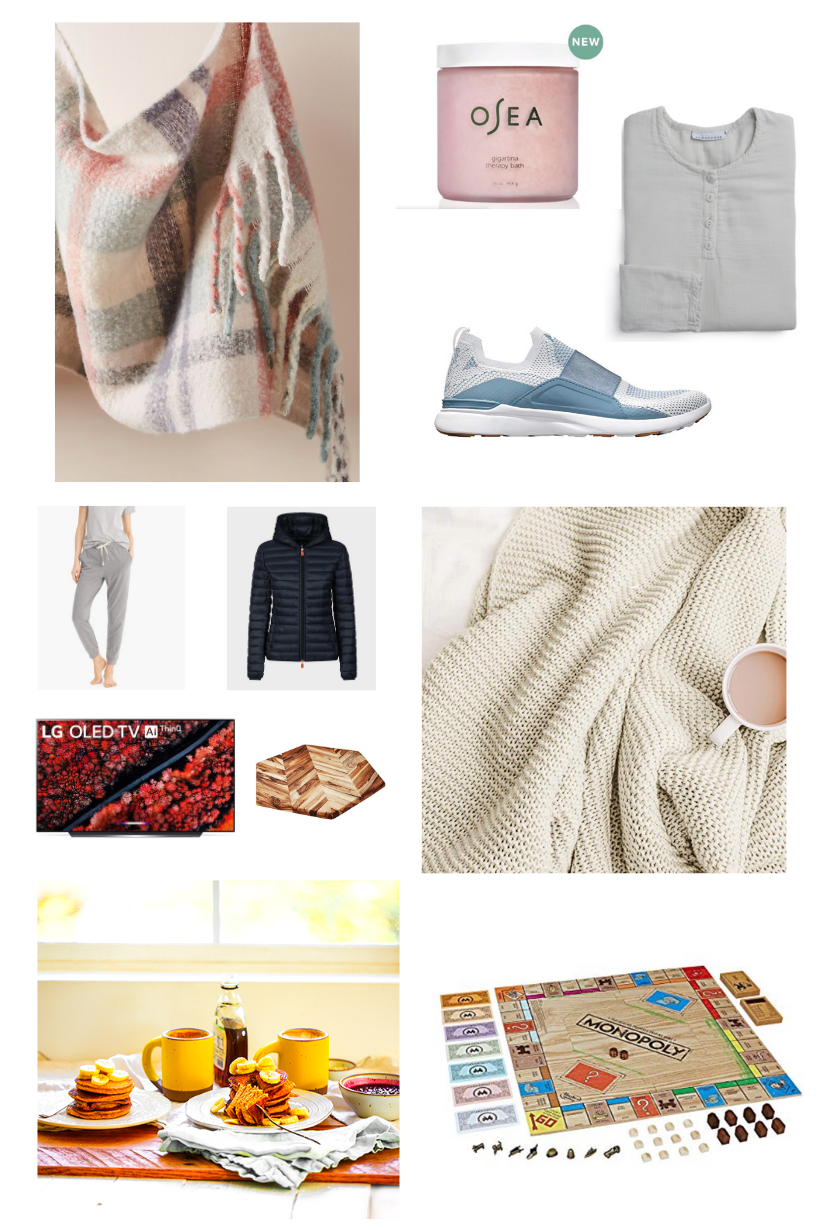 Today I'm sharing 10+ Cozy Christmas Gifts (You May Want to gift yourself).
With all the sales flying around it's impossible for a few deals and marketing ploys to not catch your internet-browsing eye. Well, if you're anything like me, you absolutely end up gifting yourself a few new things before Christmas even arrives! Well here are a few items that indeed, YES, I already bought myself. And wanted to pass on my finds to you…
Staying in this holiday season? Enjoying your twinkling tree, a mug of cocoa, holiday baking, holiday movies and your family and pets? Well me too! Yup. And you don't even have to be an introvert to enjoy a good cozy night in. Some basics are in order: PJs, a good movie, maybe a hot bath, snacks and a few other goodies. Looking for cozy? Or have some cozy-loving friends on your gift list? Here are my picks!…
10 Cozy Christmas Gifts
1 – PJs + Sleepwear
Every cozy night in needs cozy PJs. One of my favorite home and living brands, Parachute, recently started selling goodies like sleep shirts and PJs. This Gauze Sleep Shirt in Fog, Surplus or Slate, retails for $99 and looks classically divine. "With a button down crew neck, long sleeves and above-the-knee cut – our soft and airy nightshirt is a timeless staple piece."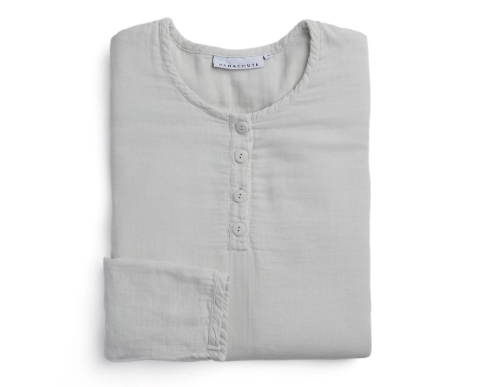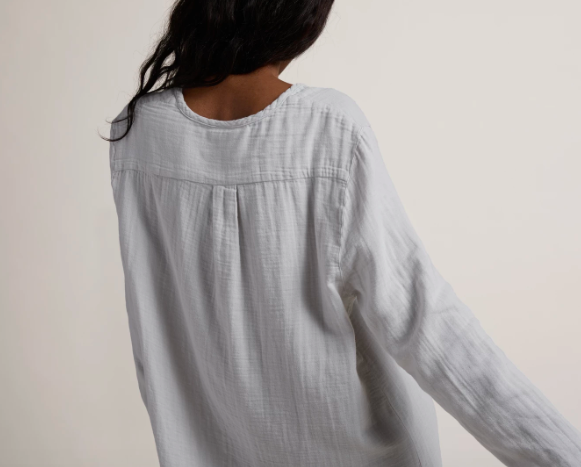 I also love basically all the Pjs at Jcrew and Anthro.
2. OSEA Bath + Body Products
I love this vegan brand for both bath, face and body products. Some of my faves are the algae masks (white and red and my faves) and I love all their body oils. this Gigartina Bath Soak would be perfect on a cozy winter night in. Shop OSEA goodies.
3. Lighting – Salt Lamps
I put these on my Gift Lists like every year for good reason, I love them so much! I have them all around my house, like in every room and I just adore the soft pink-orange sunset flow that they give off. Levoit Salt Lamp with the bamboo base is my fave for gifting and for a large-sized salt lamp.
4. Mug of Cocoa or Tea
Every cozy event needs a warm mug. And my absolute fave mugs are by East Fork. We have them in pollen (yellow) and prune (deep purple). If you think spending $40+ on one mug is nuts, then ok. But seriously, these are forever mugs. Handmade and loaded with charm and coziness. I bought two and just bought two more because we use them nonstop for tea. They make perfect cocoa mugs too.
As for the cocoa or tea. Try this pretty tin of Relaxed Tea (a fave of mine). Or snag this recipe for my Cloud Coca.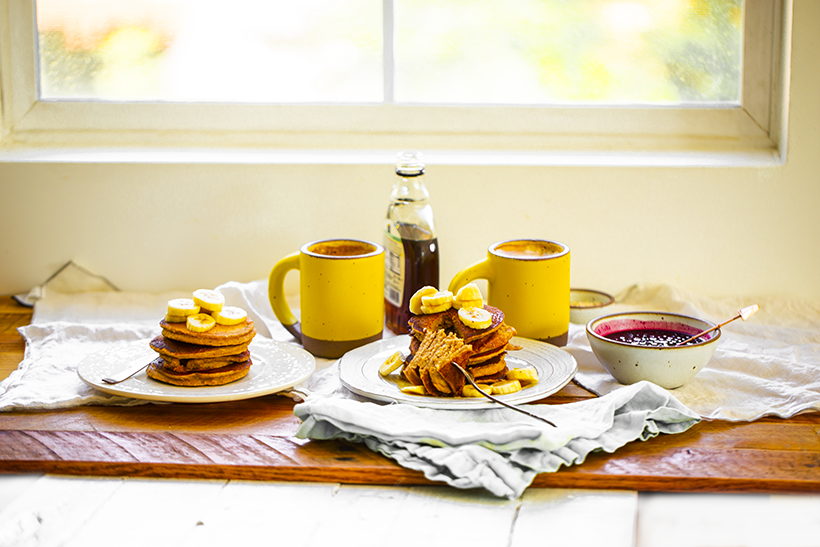 5. Buffy Bed Products
I discovered Buffy about a year ago when I tried their comforter. I fell in love. We currently use their duvet cover and loooooove it. The fibers they use are 100% vegan, made using eucalyptus trees. The material is super soft and environment-friendly.
How is eucalyptus fiber more earth-friendly than cotton?
"Eucalyptus is a renewable resource because it is cut when harvested instead of uprooted. This means the trees can regenerate naturally. Our eucalyptus comes from responsible forests in Austria. It consumes 10x less water than cotton to grow and is transformed into fiber through a closed-loop system that reuses 99% of solvents—meaning it's made with virtually zero waste." – Buffy.com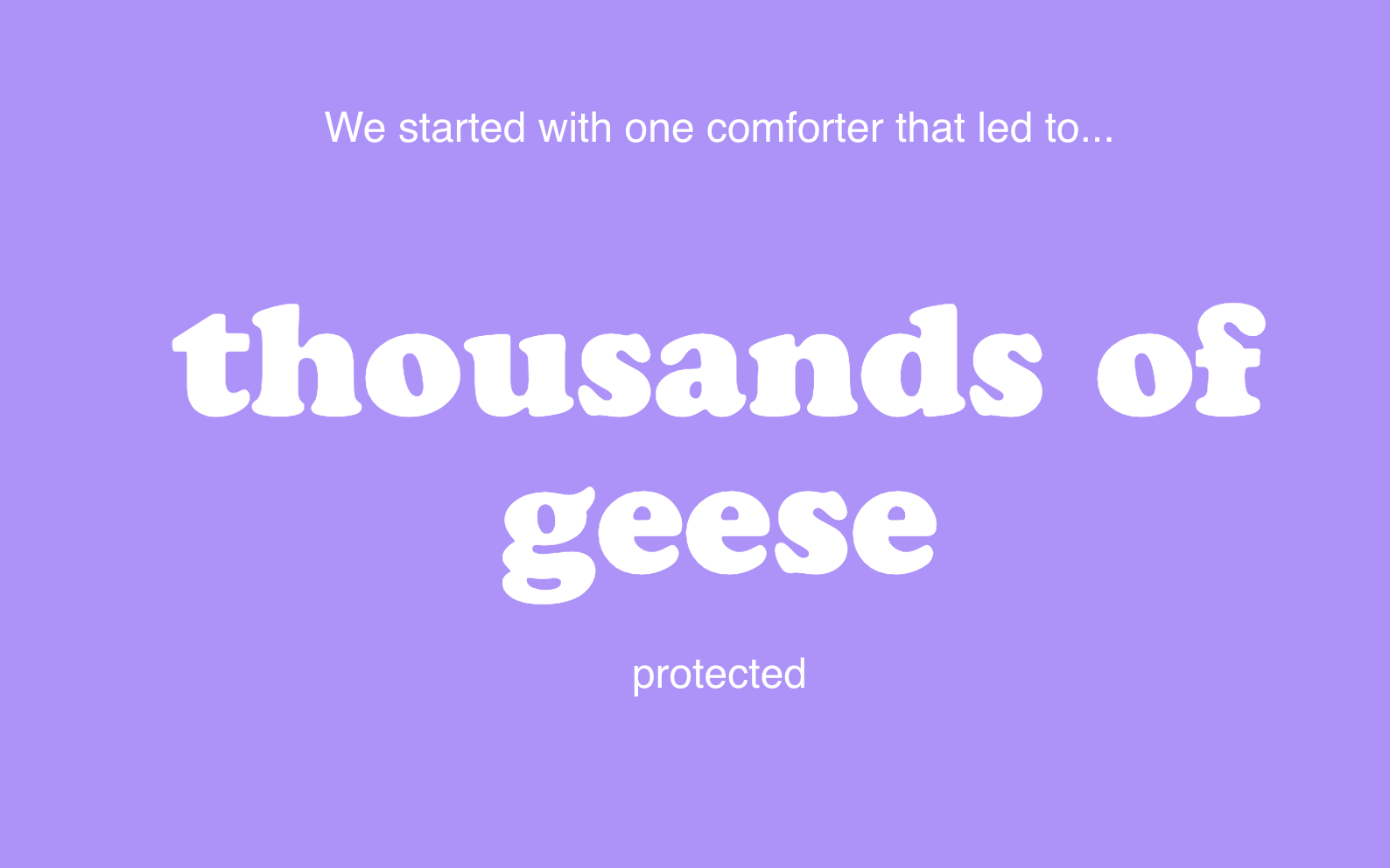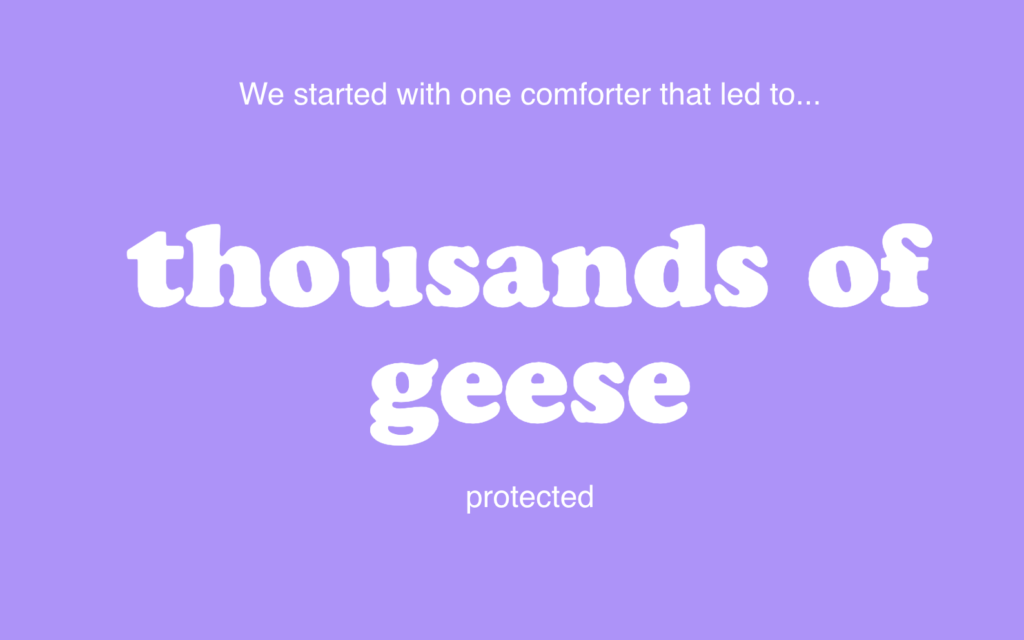 6. Cozy Lounge Wear
One of my fave leggings: the space-dyed high-waisted leggings from Beyond Yoga. Tip: Order them like two sizes up! Seriously, they still fit, and they have an ultra cozy feel. Not too tight and perfect for lounging.
I also adore my Dreamy pants from J. Crew. They make a variety of them. But anything with 'dreamy' in the name will be cozy.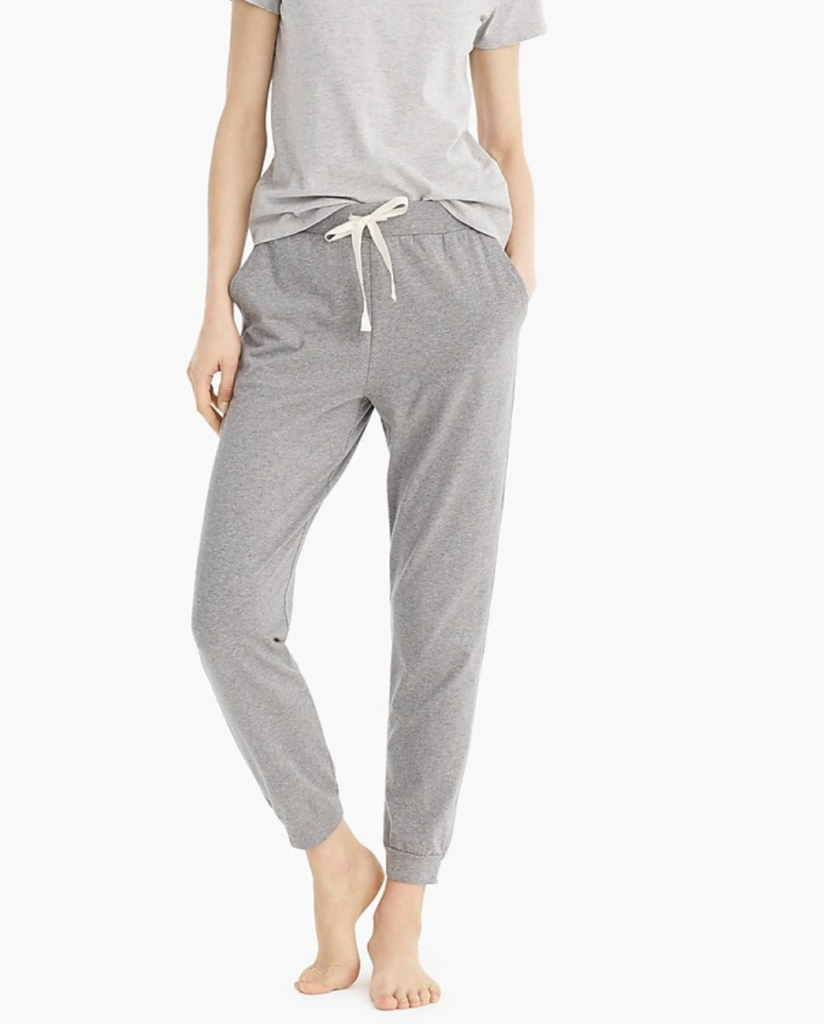 7. Cuddly Throw
Must have Cozy Christmas Gift: a cozy blanket to cuddle under. There are so many on the market. We have a few by Parachute – the waffle blankies – and we adore them. If you want a throw size, just buy the "baby blankie!"
And I love this Make Me Organics Chunky Knit Cotton Throw. It is one of the few ones that seems to be organic, non-toxic and chemical free…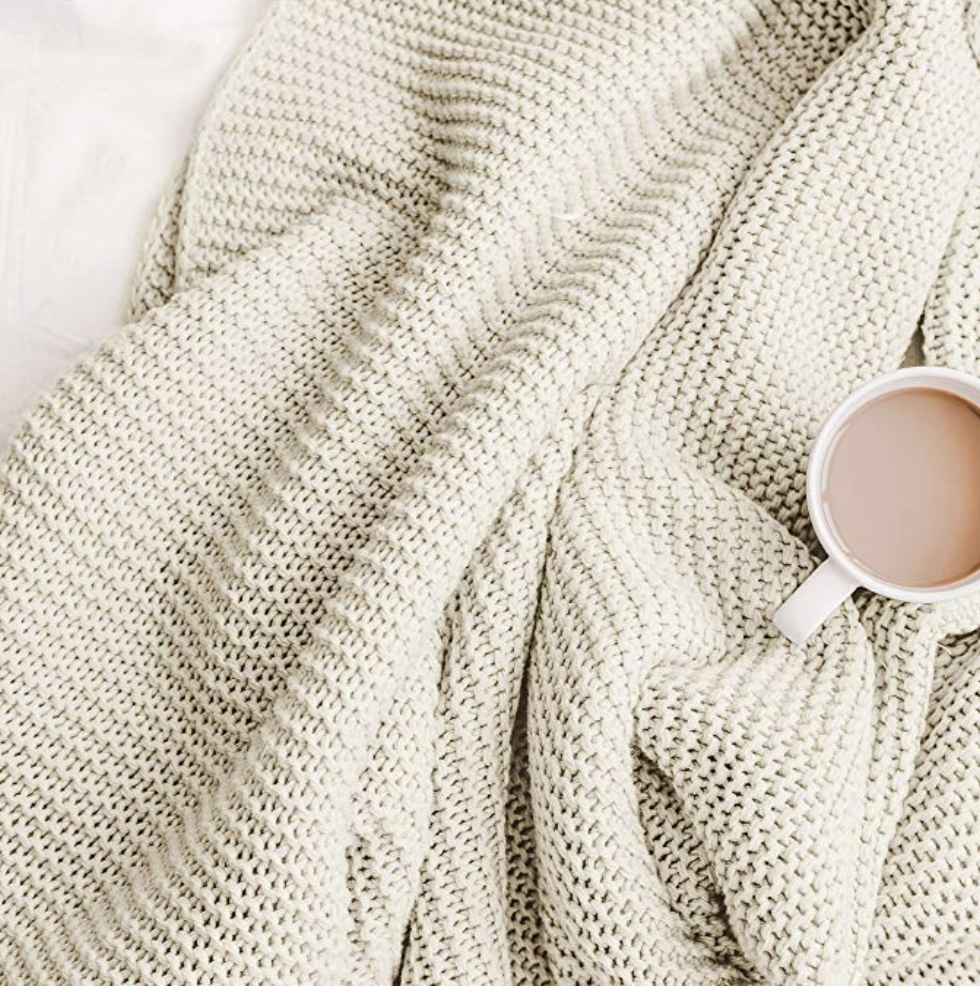 8. Out and About
Cozy Christmas Gifts can also be for heading out in the world. If you absolutely need to leave the house, here are two of my favorite clothing items. Save the Duck puffer and my APL sneakers. Both vegan and super comfy, so you can stay cozy even out and about!
I also love a good scarf this time of year! Anthro has a bunch of cute ones, especially this Delaney scarf that's on sale.
And if you want some cozy, vegan lighter shoes, try vegan Rothy's flats. And for super premium coats and goodies, check out Vaute NYC. Like a Vaute Cardigan, oozing coziness.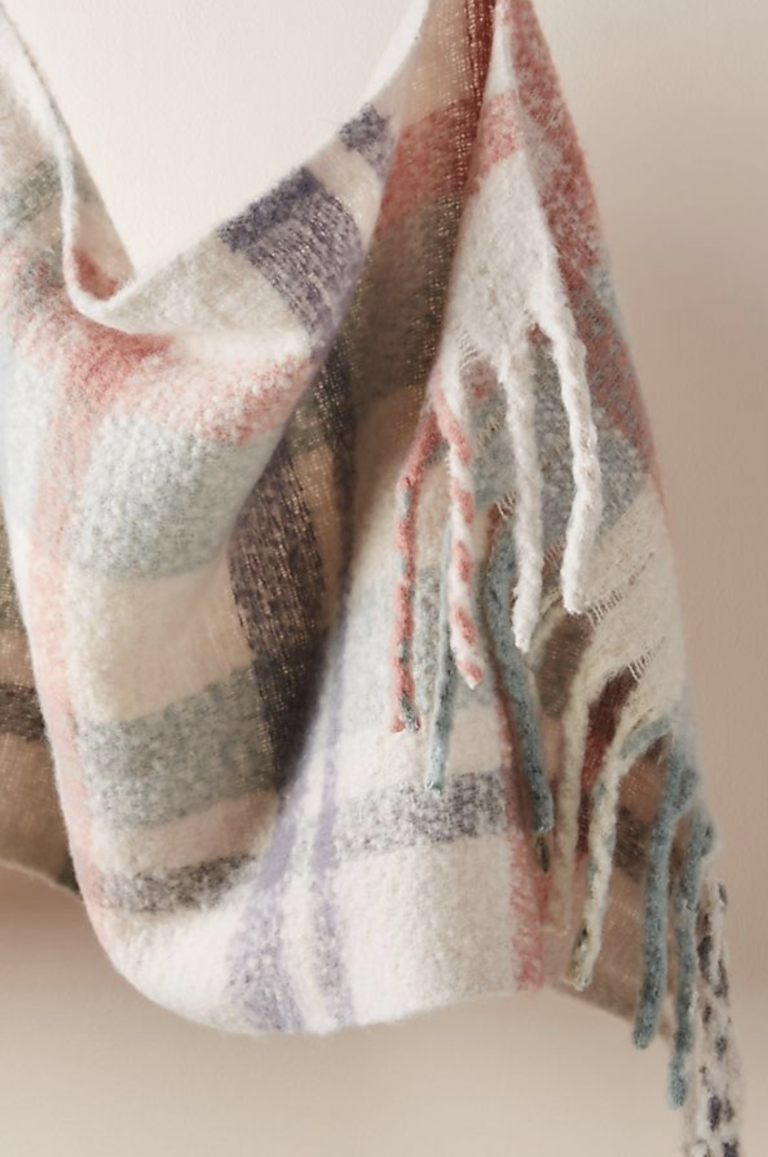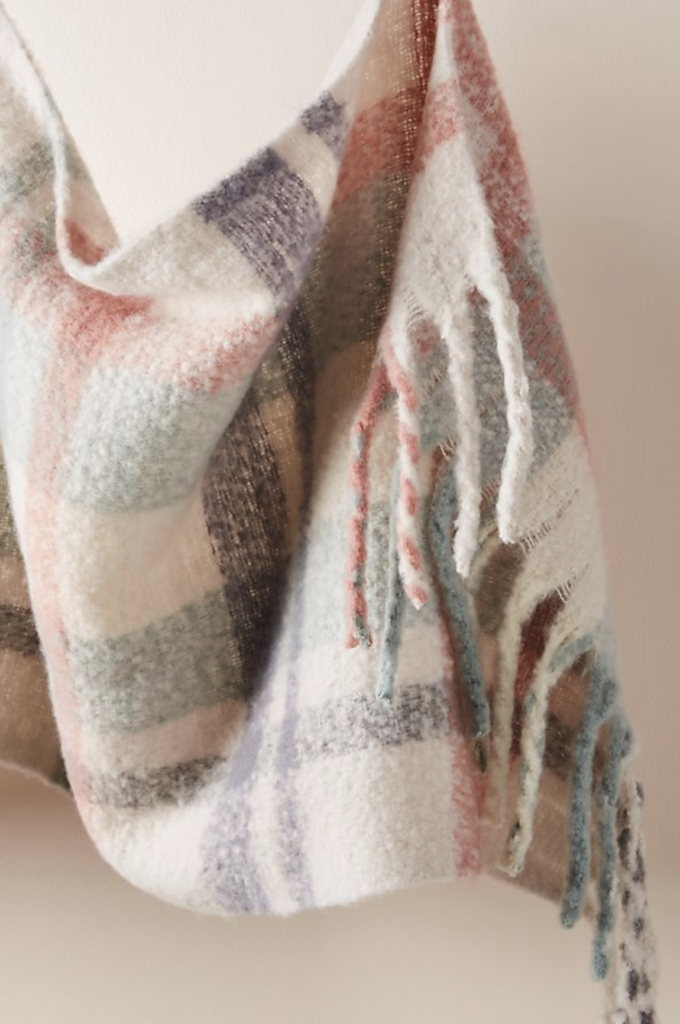 9. Tv Upgrade? Go OLED!
Ok, so for the past ten years we have been watching TV on what I would describe as very average TVs. Our last flatscreen always looked a bit blurry! So finally, since there is just so much great television out there today, we upgraded to this LG OLED 55 C9. We were really cautious about spending so much on a TV. But oh my gosh, this thing is ah-mazing. Every movie we watch is like being in a movie theater. And even TV shows that I am re-watching seem brand new because of the amazing picture and sound. It's also super thin which is great if you hang it on a wall.
We kept saying "If we hate it, we'll just return it!" But of course, we love it. It stays.
And for all those TV watching snacks, snag a giant round (or hexagon) cutting board. And we just got Disney+ and I am loving it! We have already watched a few holiday movies, re-watched plenty of animated classics and National Geographic specials like the Titanic special. I also loved the Imagineering documentary.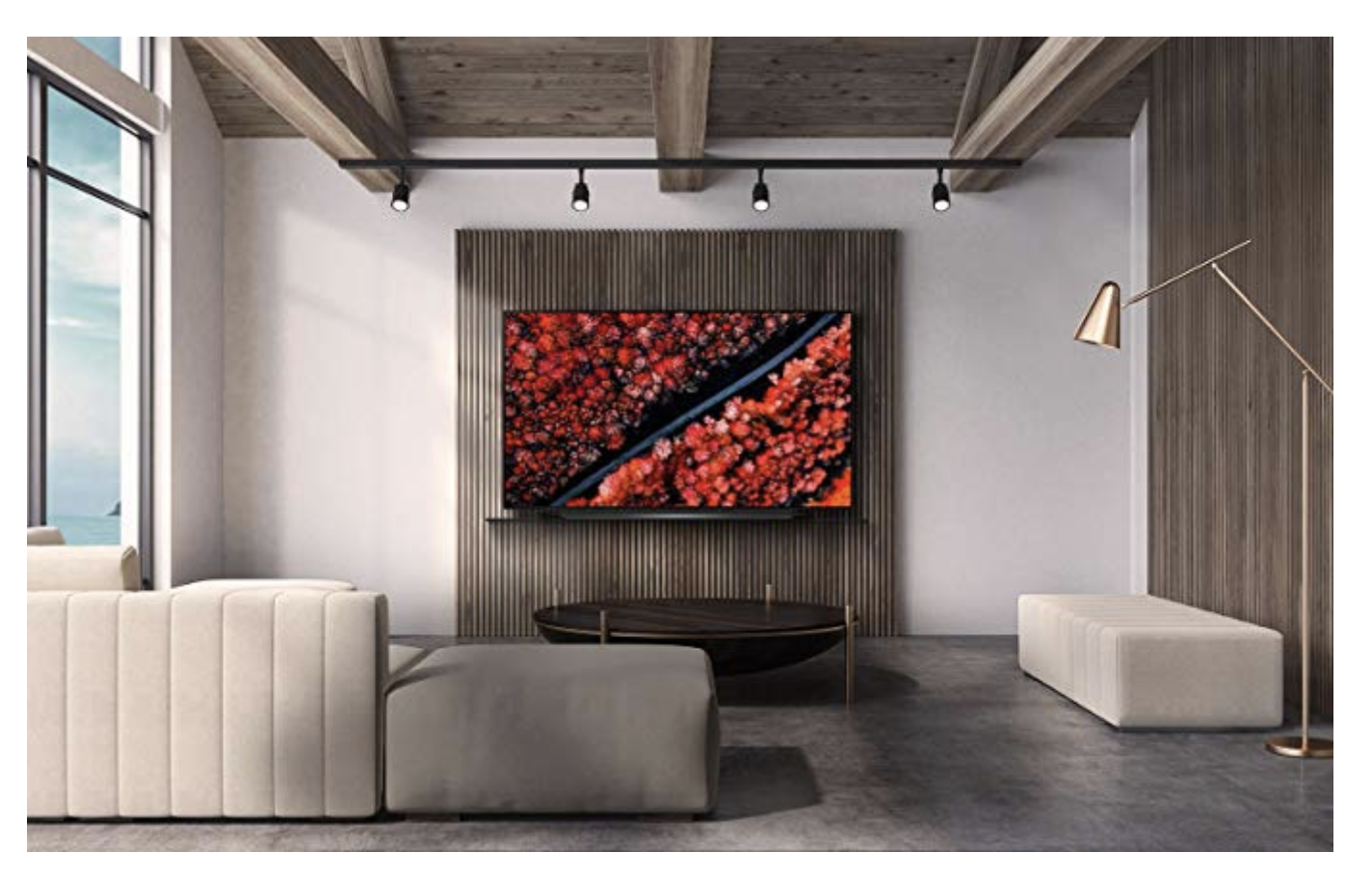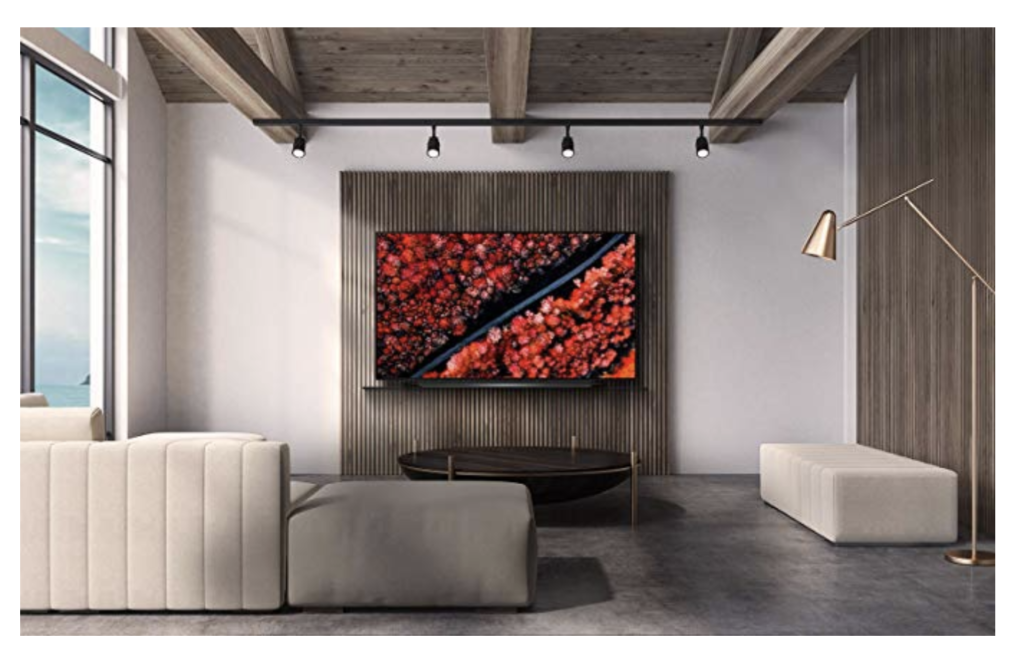 10. Monopoly (Board Games!)
Call me old fashioned, but I always break out a board game during the holidays. Cozy Christmas Gifts include all sorts of board games, but this Rustic Monopoly looks particularly fun. Oh and for the Disney folks, Frozen 2 Monopoly (for just $14.99 right now).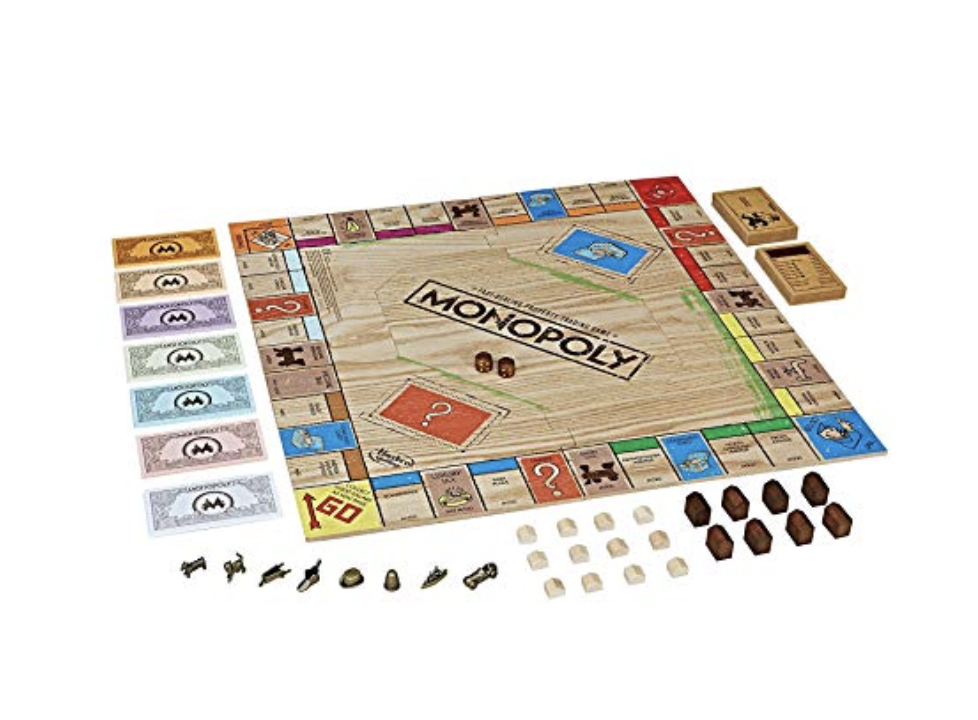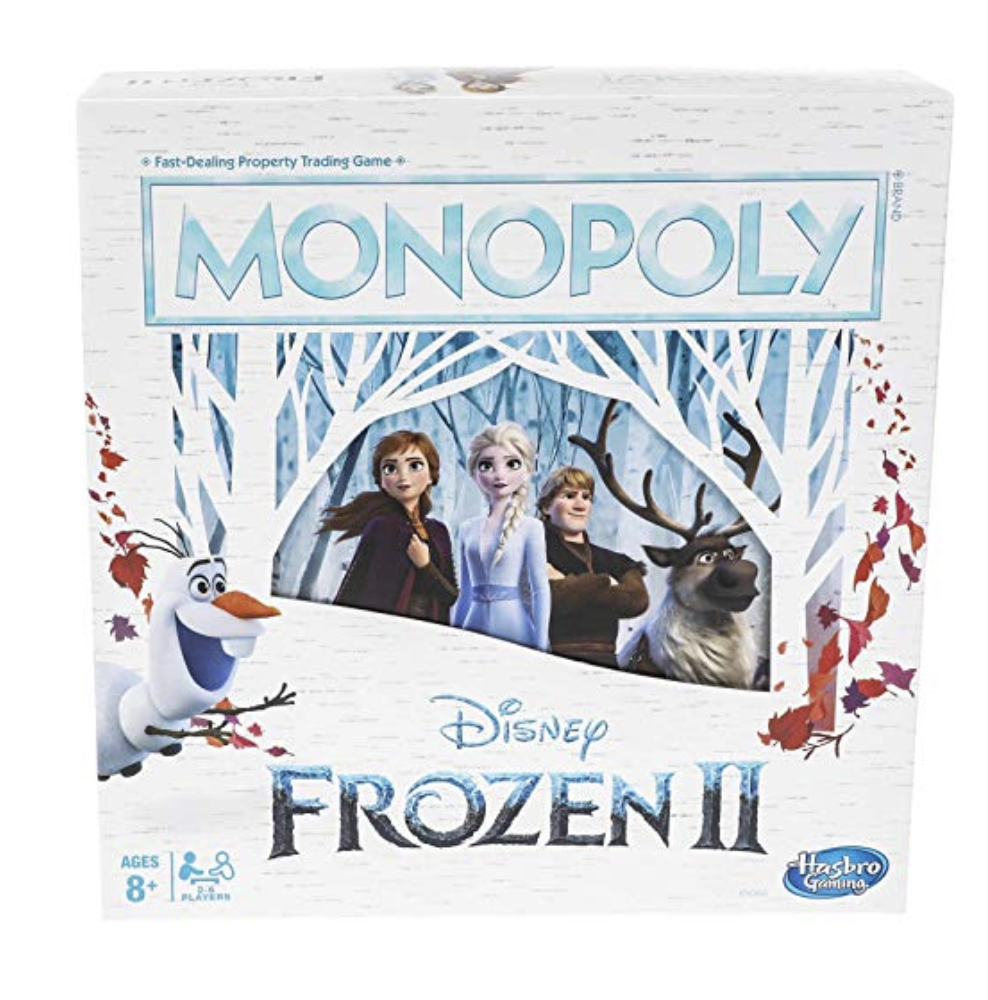 Cozy Christmas Gift ideas?
What do you love to give and receive this time of year for a cozy sort of mood?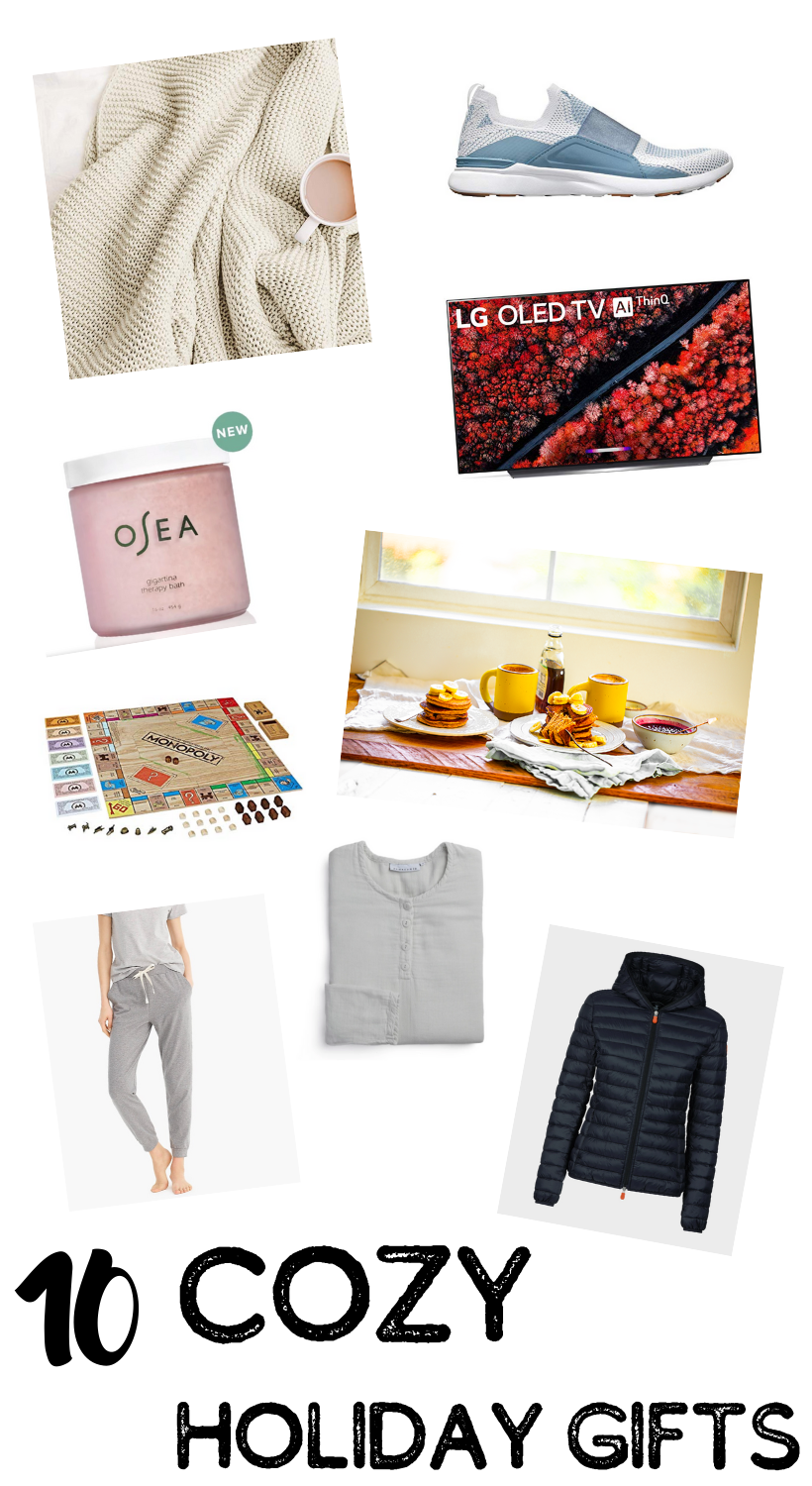 disclosure: contains some affiliate links. Product photos are copyright the website featuring the product.