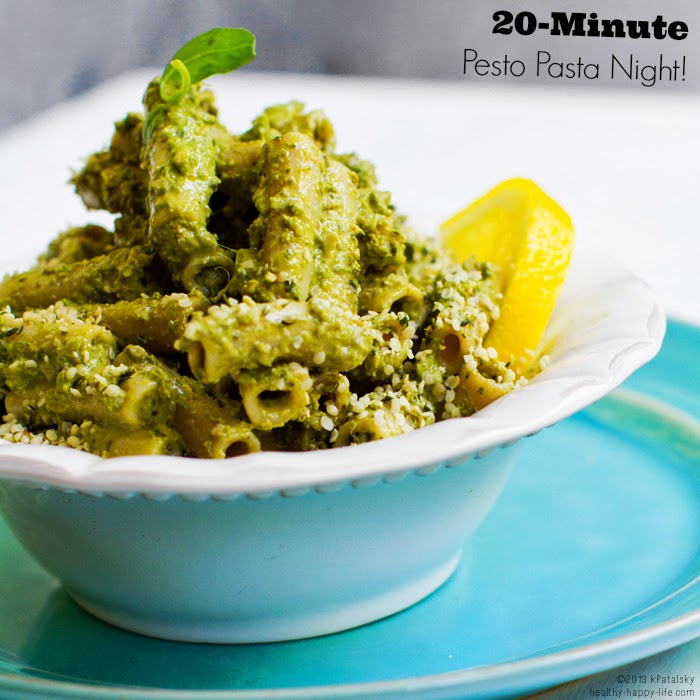 Mondays call for homemade, easy recipe dinners. This 20-Minute Vegan Pesto Pasta recipe is just the thing for a comfort-food infused dinner. Lively lemon blends with fragrant fresh basil, extra virgin olive oil and a few vegan ingredients like nutritional yeast, nuts and seeds that make this pesto nutty, rich, mildly spicy and creamy.
Pair this pasta with an easy salad for a complete dinner. Recipe pairing ideas + links ahead too. Have your cozy homemade "pesto pasta night" dinner ready in a flash..
Do you have twenty minutes tonight? Then you have a homemade dinner! How it breaks down..
1-2 minutes: grab pot, fill with water, bring water to boil over high heat (drop pasta)
6-12 minutes: while pasta is boiling/cooking you can grab all your pesto ingredients, prep them (rinse basil, juice lemons) – drop pesto ingredients in the blender and process until you have fresh, creamy dreamy pesto sauce.
Last 5-7 minutes: your are tossing the pasta and plating with garnishes.
(And if you are on the quick end of the spectrum, you can easily toss some salad with your fave dressing to add a salad on the side. Toast some bread, slather it in Vegenaise, EVOO or vegan butter if you'd like. Pour some drinks and serve!)
Ah, fresh basil. I love it. And it inspires many of my fave recipes…
Pesto Pasta Primavera with Avocado Pesto: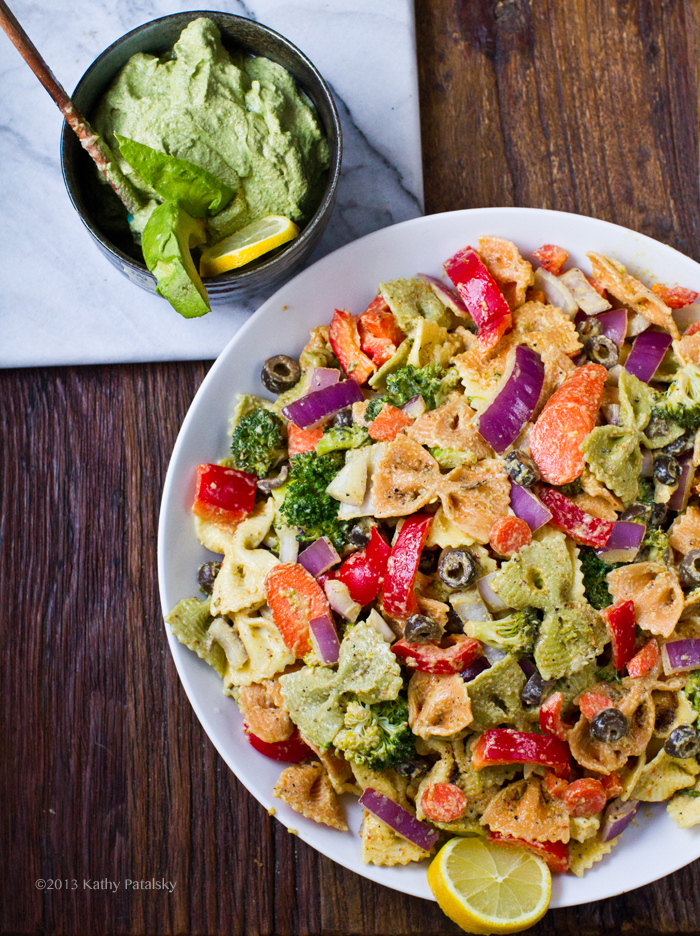 Basil-infused Pepperjack basil grilled cheese sandwich..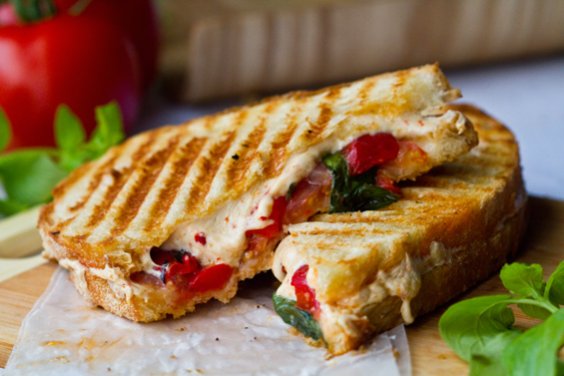 Basil-tastic Pesto "Ricotta" Pizza Night..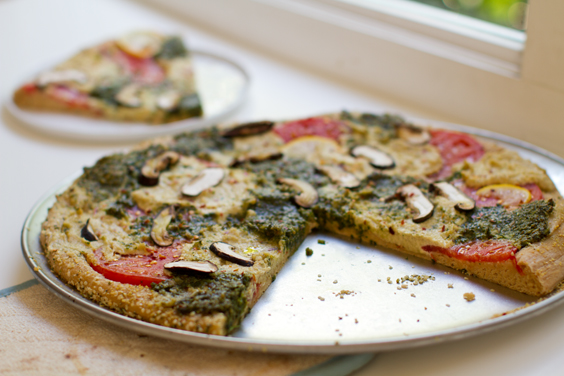 Or this pesto-paired avocado toast..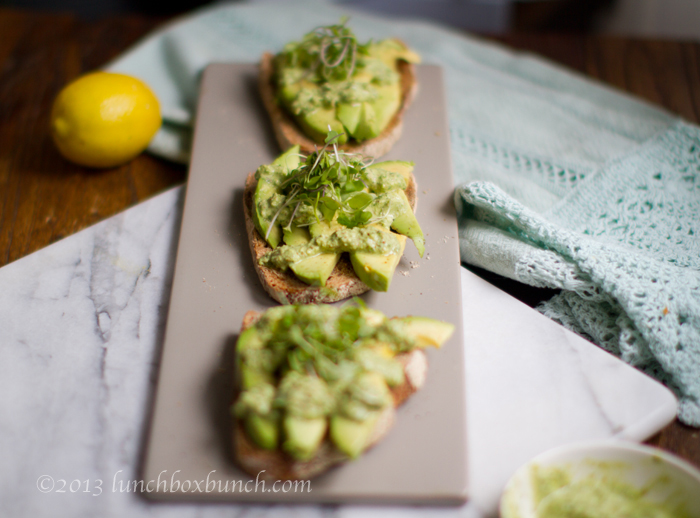 Refreshing Tofu Feta Watermelon Basil Salad..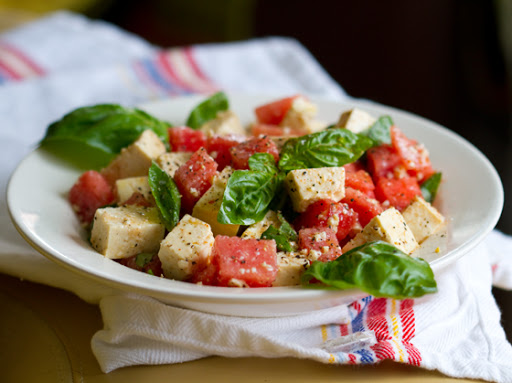 Lemon leek Pesto Penne Pasta with spring peas: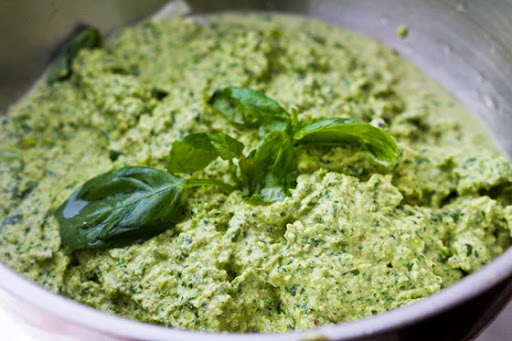 But for today .. lets stick with this 20-minute pesto pasta dish. Oh it is yummy..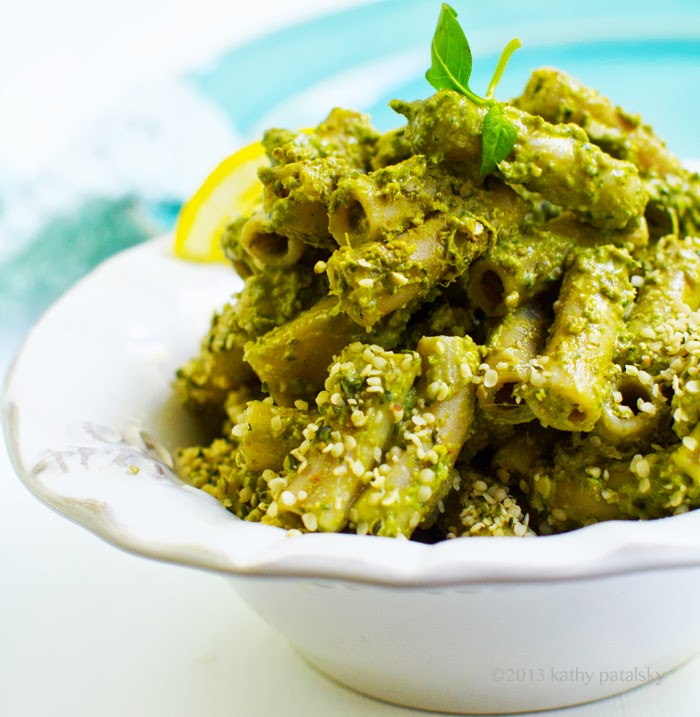 20-Minute Pesto Pasta Night Recipe
vegan, serves 2-4
Pesto Sauce:
1 large bunch of fresh basil, keep fluffy leaves and small stems – remove/discard thick stems and any black or browned leaves
¼ cup raw pumpkin seeds OR pistachio nuts
⅓ cup raw walnuts
2-3 tablespoon extra virgin olive oil
2 tablespoon white miso paste
pinch of salt and black pepper
2-3 cloves of raw garlic
¼ cup nutritional yeast
⅓ cup "pasta water"
2 large lemons, juiced + pinch of fresh lemon zest
1 tablespoon maple syrup (or sub dark agave syrup)
optional: 1 teaspoon red pepper flakes for extra spiciness
5-6 cups cooked pasta (any variety works)
(reserve ⅓ cup pasta water .. starchy water that the pasta is cooked in)
1-2 tablespoon raw hemp seeds on top + fresh basil leaves + lemon slices
Directions:
1. I like to grind my pumpkin seeds first. (You can just process in your blend, but I like mine extra fine.) Set aside.
*time saver* you can use the pasta water about 2-3 minutes into the boil to save time. While the pasta is cooking you can be doing the pesto blend with the pasta water.
2. (Use time saver above or wait until pasta is cooked to do pesto .. either way works) – Boil water for pasta – I always add a pinch of salt to my pasta water. When boiling, drop pasta and cook according to package or until desired pasta texture is achieved. Drain pasta and reserve about 1 cup of pasta water. The pasta water should be a cloudy white color from the pasta.
3. Add (ground or whole) raw pumpkin seeds, basil, miso, walnuts, EVOO, garlic, pinch of salt and pepper, nutritional yeast, lemon juice and zest, sweetener and optional red pepper flakes to a high speed blender or food procesor. Add ¼ cup of the pasta water and start blending on low. Add ¼-1/3 cup more pasta water as needed to thin your pesto. I like my pesto quite thick like a watery hummus .. but if you like a thinner pesto just add a few more spoonfuls of pasta water. If you like your pesto extra zesty, you can even add in some additional lemon juice. Extra rich? Add more EVOO. Extra cheesy? Add more nutritional yeast. Extra spicy? More red pepper flakes, garlic or cayenne.
4. Now simply toss your warm pasta with the fresh pesto sauce. The pesto will warm slightly from the hot pasta. Serve right away for best "fresh pesto pasta" flavor and green color. If making ahead of time, note that the pesto will begin to fade in color a bit as it cools and marinates the pasta. This pasta is delicious same day or next day for leftovers.
Serving.. Pasta garnish: hemp seeds and basil leaves. I usually add a drizzle of EVOO or pumpkin seed oil too. And some extra nooch on top. Plenty of fresh lemon slices on the table for the pasta and for water served with dinner.
Pairing ideas! Want a full meal? Pair with these salad options..

Roasted Beet Balsamic Salad
Shredded Raw Carrot Salad
Fully Loaded Kale Salad or my Easy 5-Step Raw Kale Salad
Simple "Pizza Salad"

To drink? Try a fizzy blood orange spritzer – use any citrus you'd like, or even fresh cherries and oranges!