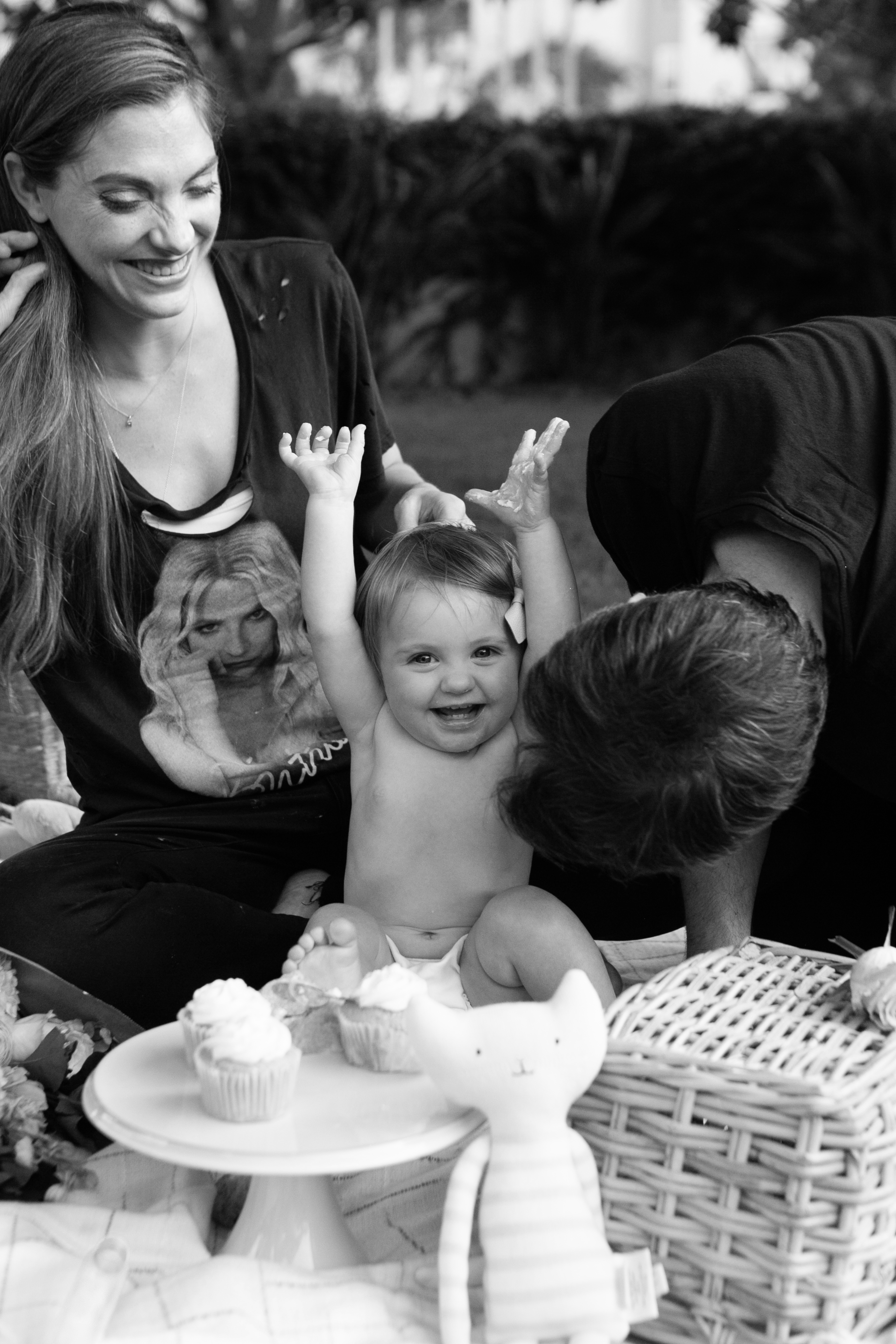 Today, I am bouncing off of my "First Birthday Party" blogpost and sharing more of Caroline's amazing photos, plus my photoshoot picnic planning tips.
Here is How to Plan a 1st Birthday Picnic Photoshoot – my five tips!…
Professional Photos for Rosalie's First Birthday
Hiring a professional photographer to take photos of our family was the one "must do" thing I had planned for Rosalie's birthday. Oh, and an epic cake. I like to think I nailed both those tasks. (Take that COVID era!)
Really, I am so glad I didn't flake on my photoshoot plan! Even though my initial "big party" plan got the boot due to COVID, I still felt that we fully celebrated this little girl — and our milestone of becoming parents and surviving the first year.
(We also happened to celebrate our 15th wedding anniversary about two weeks before, so that was another big milestone too!)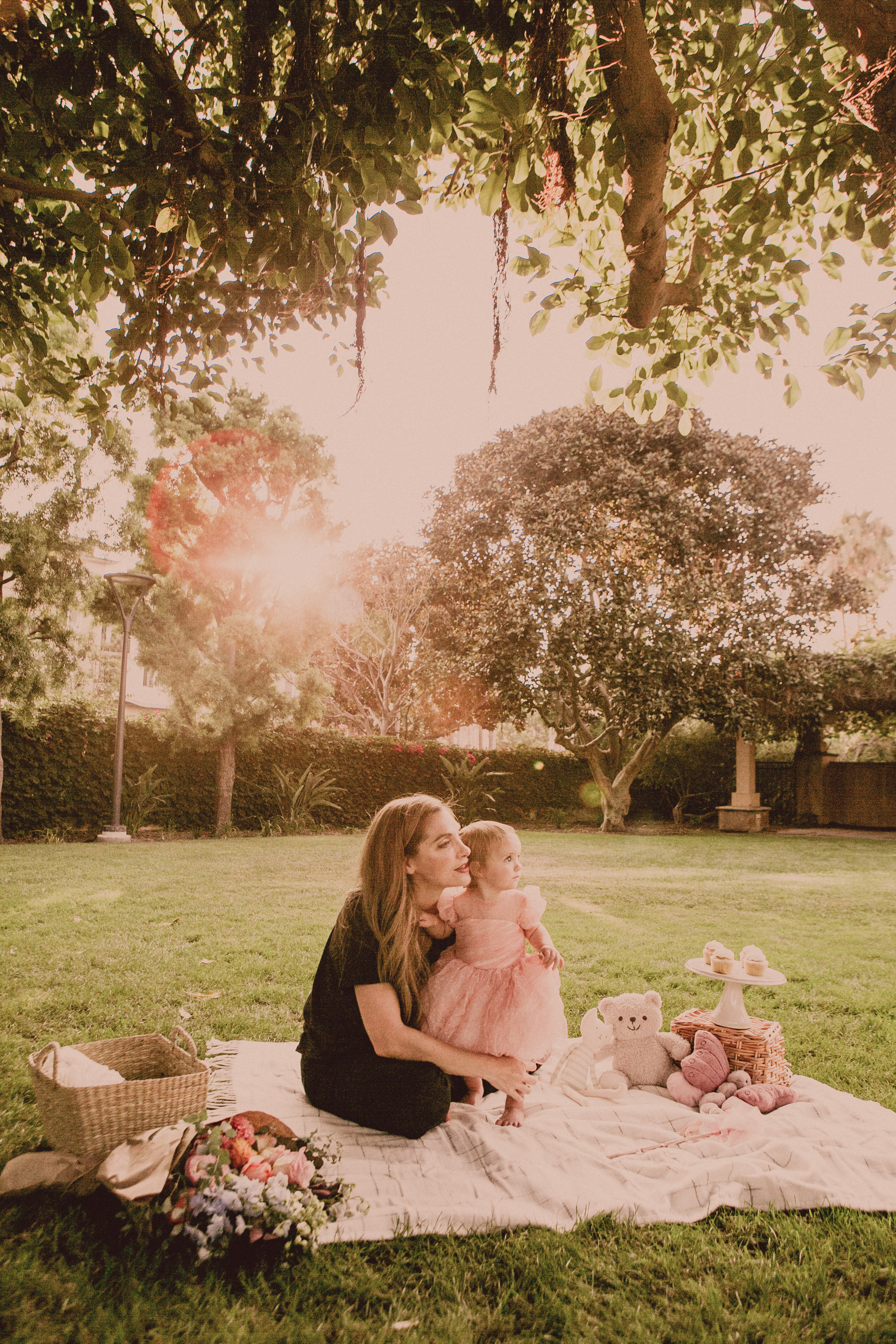 Professional Photographer: Caroline White
Just like with my maternity photos, for this Birthday Picnic Photoshoot, I reached out to the one and only Caroline White.
Caroline is one of the most amazing photographers ever. Shoutout to her for capturing this moment in time with grace, fun and love — and going with the flow through a poofy scratchy dress that mom picked out, teething tears, one of the hottest days all year, a broken bubble blower, my last-minute outfit drama, a few teens who tried to takeover our grassy picnic spot — and a lot of impromptu silly monkey sounds.
You are a photoshoot queen Caroline! (And a most amazing human too. Which always helps.)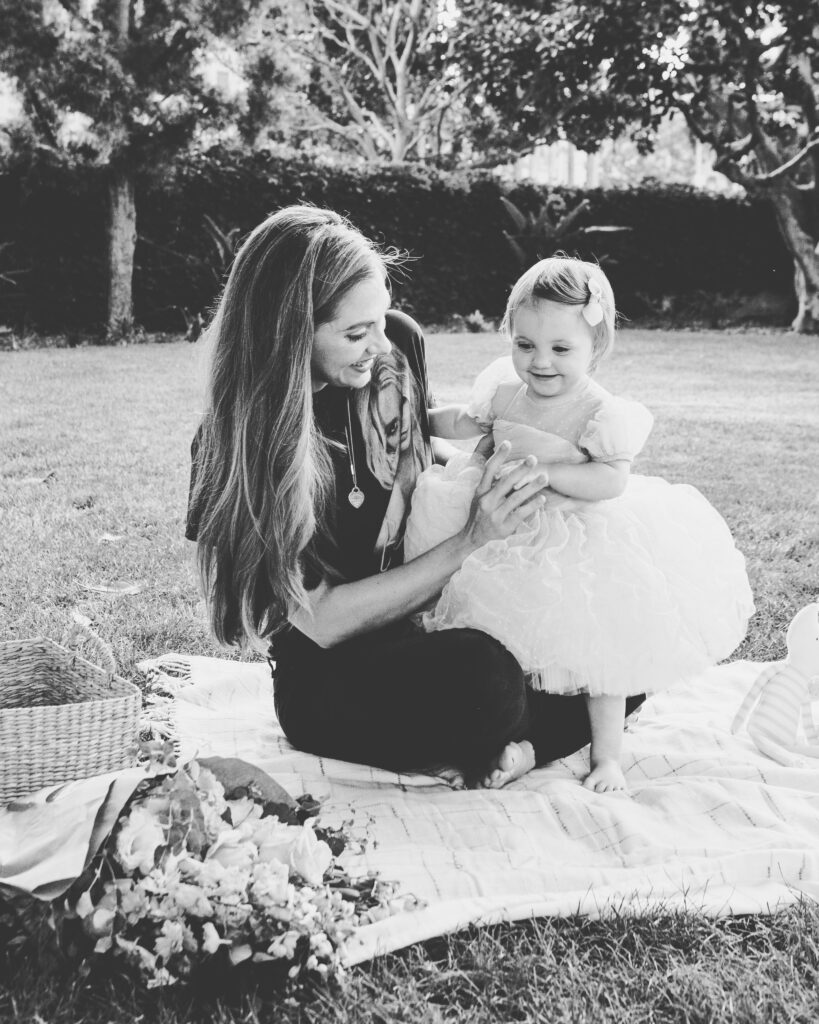 How I Planned the Photoshoot – Five Tips
I had so much fun planning this garden party, birthday picnic photoshoot. Granted the time that went into planning was much more than the actual photoshoot itself, and I kinda failed at preparations because with about ten minutes until "go time" I still had not figured out what I was going to wear. Whoops. But overall it worked out perfectly, and I will treasure these photos forever.
Here are my five tips…
1 – Pick Out the Mood and Go From There
I'm not really a details person, guys. I am more a big picture, overall tone and mood girl. So I dove into my gut and pulled out sweet secret garden party vibes. I wanted Rosalie to be in a fancy birthday dress and contrast that with us in casual outfits – jeans, etc. I wanted cute and sweet. So I added some feminine elements like florals and bubbles and a soft picnic blanket in white and light black. And then the addition of cupcakes and cute stuffed animals. I wanted all those light pastel colors – nothing bold or primary-colored. I wanted Rosalie to stand out and embrace all the fun props and just enjoy the cute setup.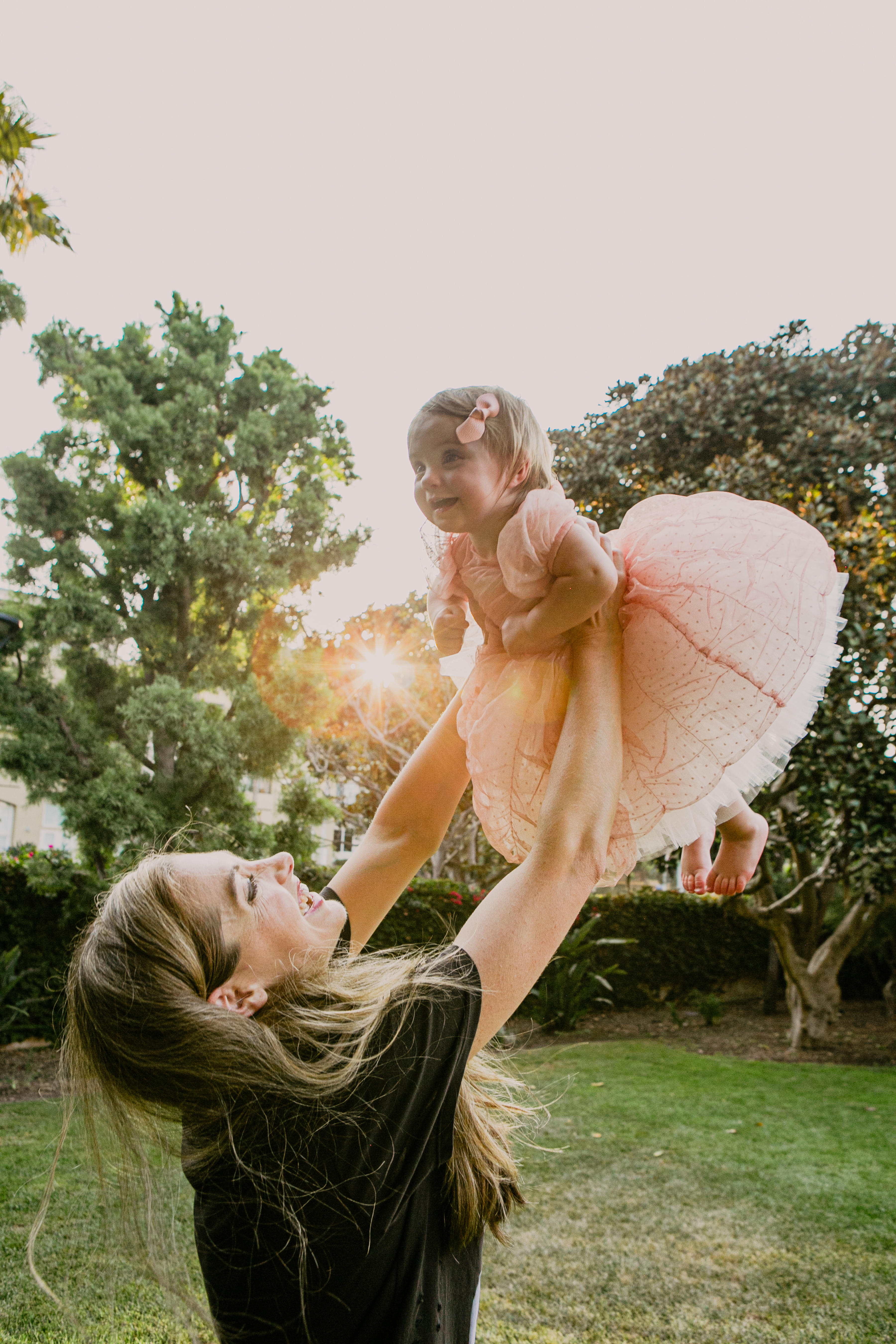 So yeah, the mood was classic, sweet, pastel-colored, garden party, girly, casual meets fancy, fun and festive.
2 – Prop Shopping and Finding
I had a lot of the props for this photoshoot already in my home, which saved a lot of time and money. Items like the stuffed animals and bubble blowers and even some baskets.
For the remaining props, I shopped online at Target. Easy! There I found a perfect throw blanket that matched the picnic blanket vibes I wanted, a cake stand, a picnic basket with thick wood, and that cake topper that said "One" — that Rosalie destroyed in about five seconds — was from Amazon.
Carrying the props over to the park, I felt like I had gone overboard and brought too much stuff. But the props actually turned out so well in the actual photos and they also gave Rosalie elements to interact with.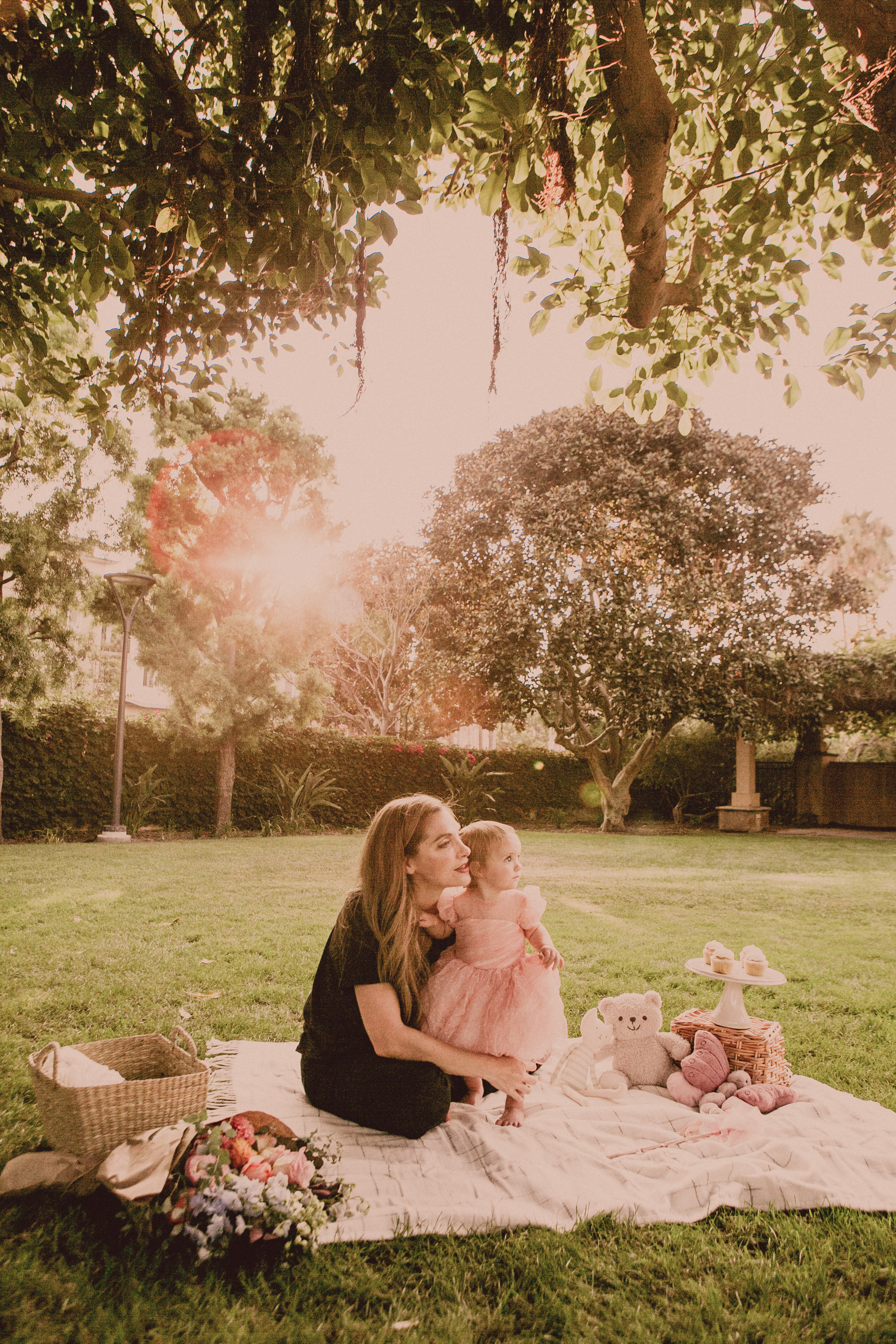 3 – Outfits
I just knew that I wanted us to be casual in contrast with her being super fancy. It was her birthday, and that's also how we live our life these days. Everything is for Rosalie! We love this little princess so much.
So the day of the photoshoot I started to freak out and worry that we would look too casual. I started pulling out piles of dresses from my closet, wondering if I should wear something that matched Rosalie a big more. But I still ended up in black skinny jeans and a Britney tee. My husband all in black too. And I loved the contrast. I am so glad I stuck to my original vision.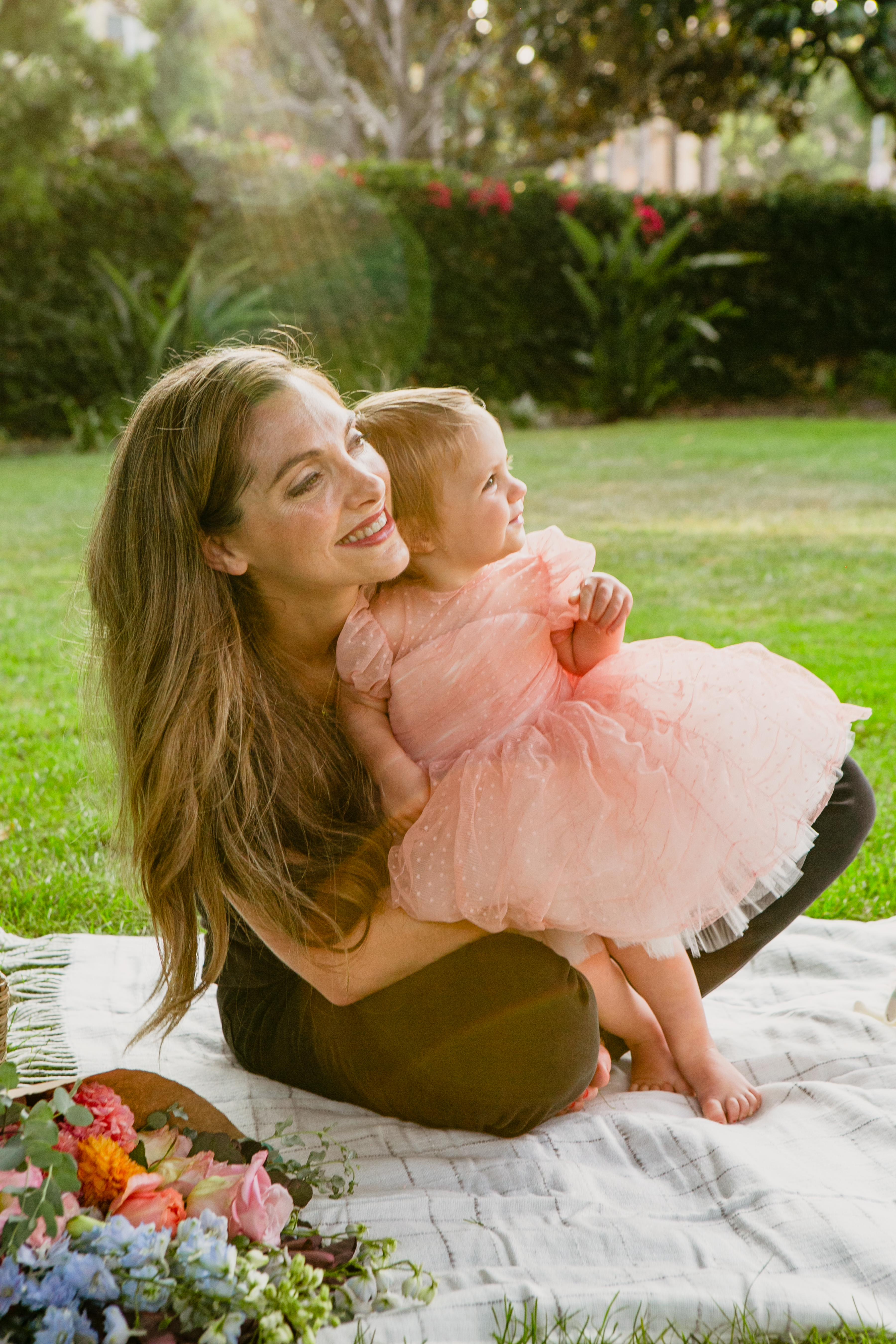 However, Rosalie hated her big, expensive dress – ha! So about halfway through the shoot, the dress came off. Good thing I had some cute diaper cover undies over top her diaper!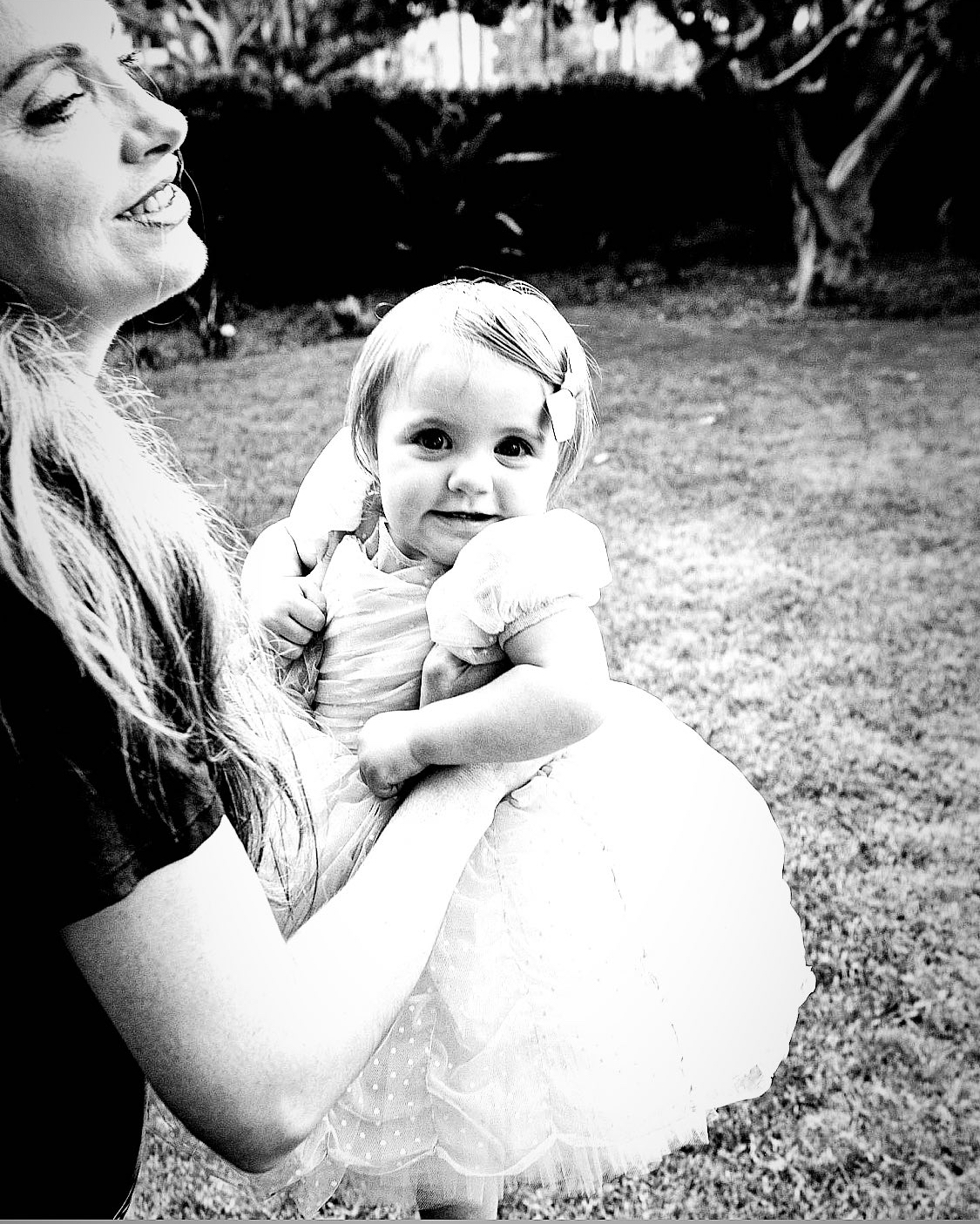 4 – Location …. And Timing the Nap Just Right (Or Attempting to..)
Location. My main tip is to stay local. Do it at home if possible. In your backyard. Under a pretty tree. Or if necessary, go to a local park. We were lucky enough to shoot these photos at the park just down the street from us, so we didn't even use our car!! Yes, I schlepped alllll this stuff. But Rosalie loved not being put in her car seat.
Stay local and try to nap right before the photoshoot. The baby that is. Or you too. If you are lucky.
Nap Timing
So, we didn't time the nap very well because as usual, we wanted the photoshoot at "golden hour" aka sunset. So by the time we went over to the picnic spot, Rosalie had been awake for about 5-6 hours and was tired. She just wasn't feeling an afternoon nap that day.
Oh well. We survived. A few extra fussy tears, but it was ok.
And when all else fails, give them a vegan cupcake and hope that perks them up, ha.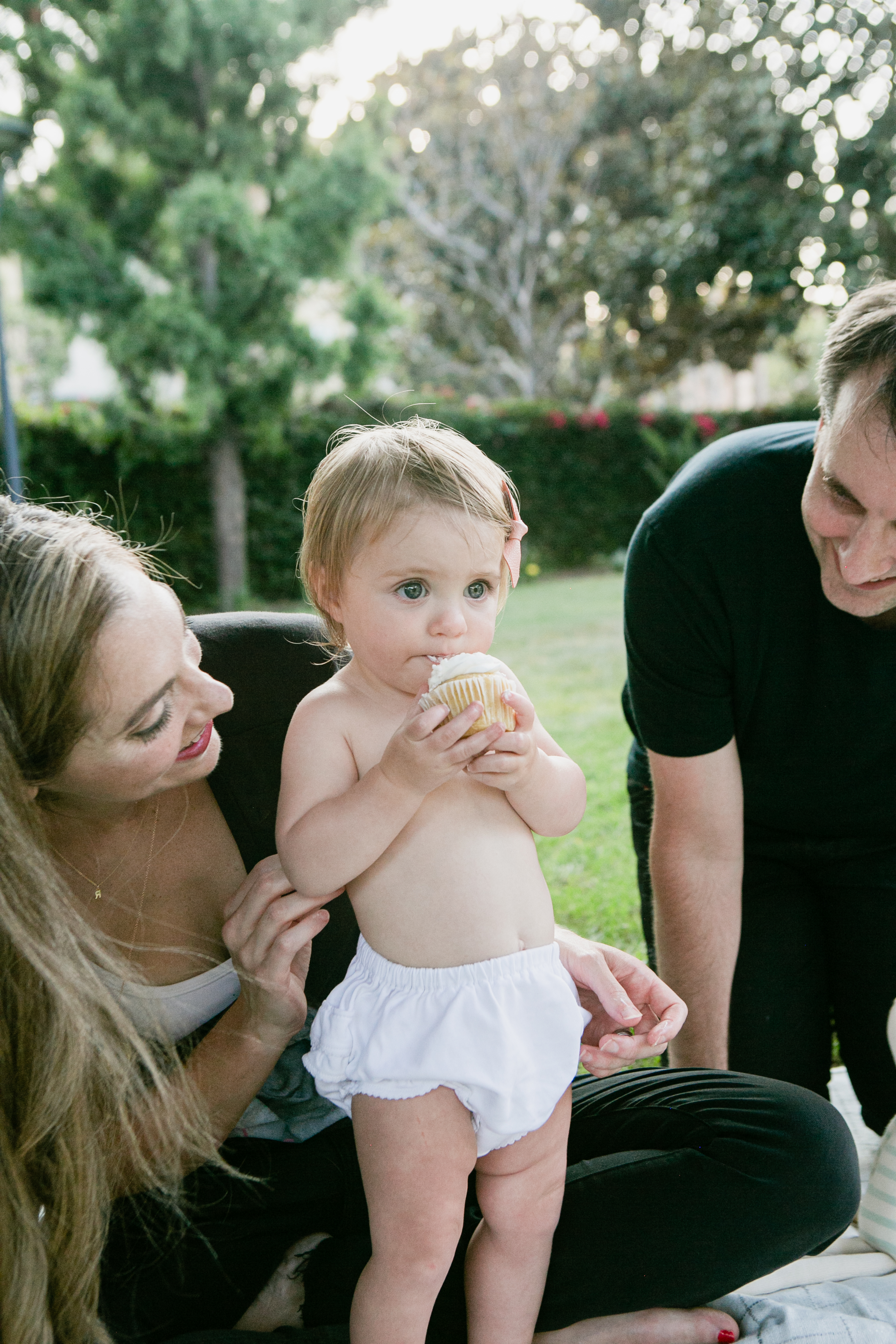 5 – Have Fun … Don't Stress .. Show Up
The great thing about planning even a tiny bit is that you really can just show up and have fun. Seriously, this is a kid's photoshoot, messiness is ok. A skilled photographer will be able to capture beautiful photos no matter how perfect your hair is coiffed or how elegantly you painted on your eyeliner.
Sure, makeup, hair and colorful or thoughtful outfits help a lot. But do not let any failure in those areas mess with your mood. The mood is the most important thing for a great photo! Remember that. So find something silly to giggle about and have fun.
I think Rosalie's favorite part of the whole shoot was when we put her fancy, sparkly, rose-gold "One" cake topper on a cupcake and she immediately ripped it off and tore it in half. My mouth gaped open and I cringed. I had been waiting to use that dainty thing for weeks now. Rosalie let it live for five seconds. LOL. Half of the topper in hand, she squealed in delight. And we got the great photo of her with both arms in the air out of that moment.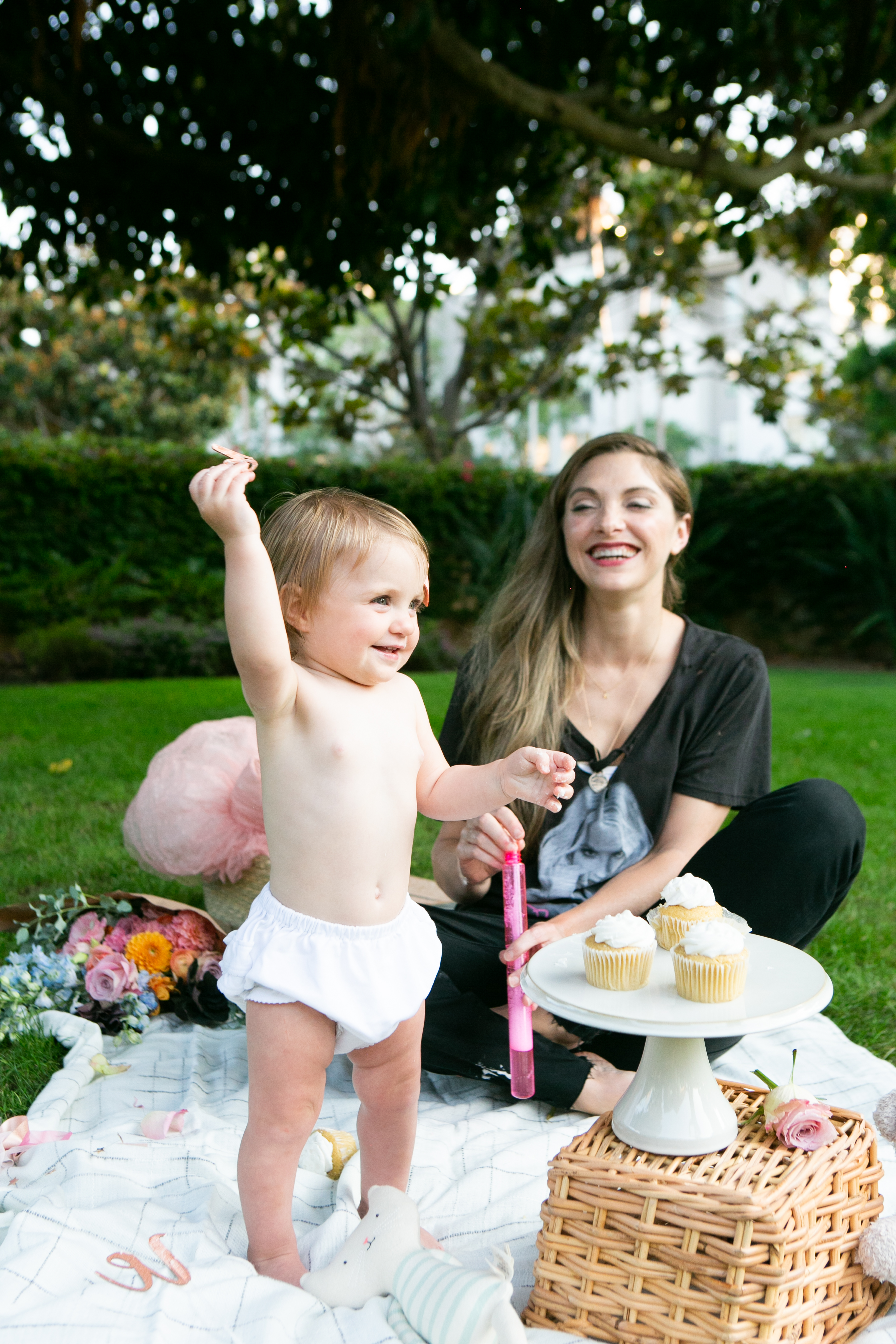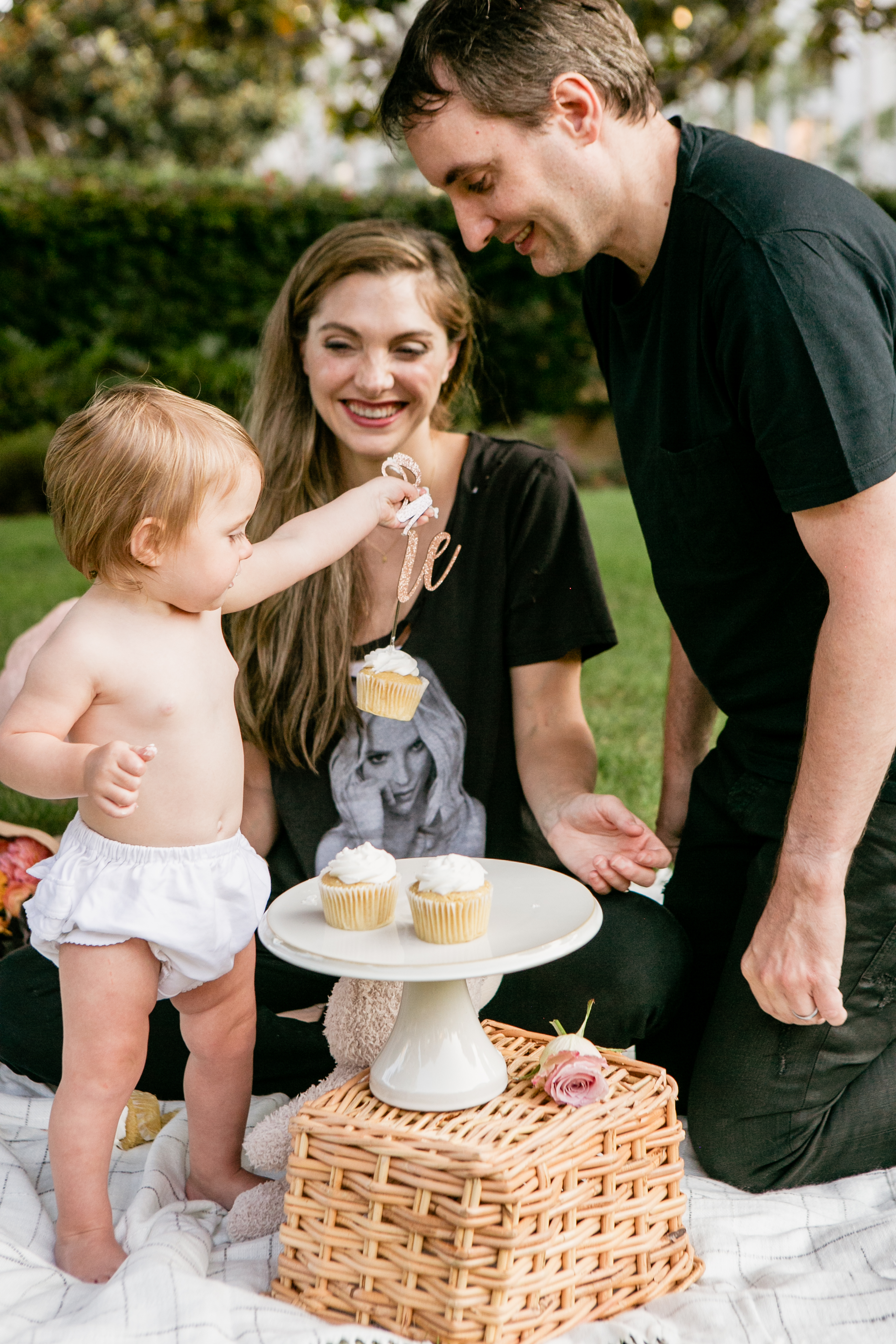 Have fun and happy photoshooting!!