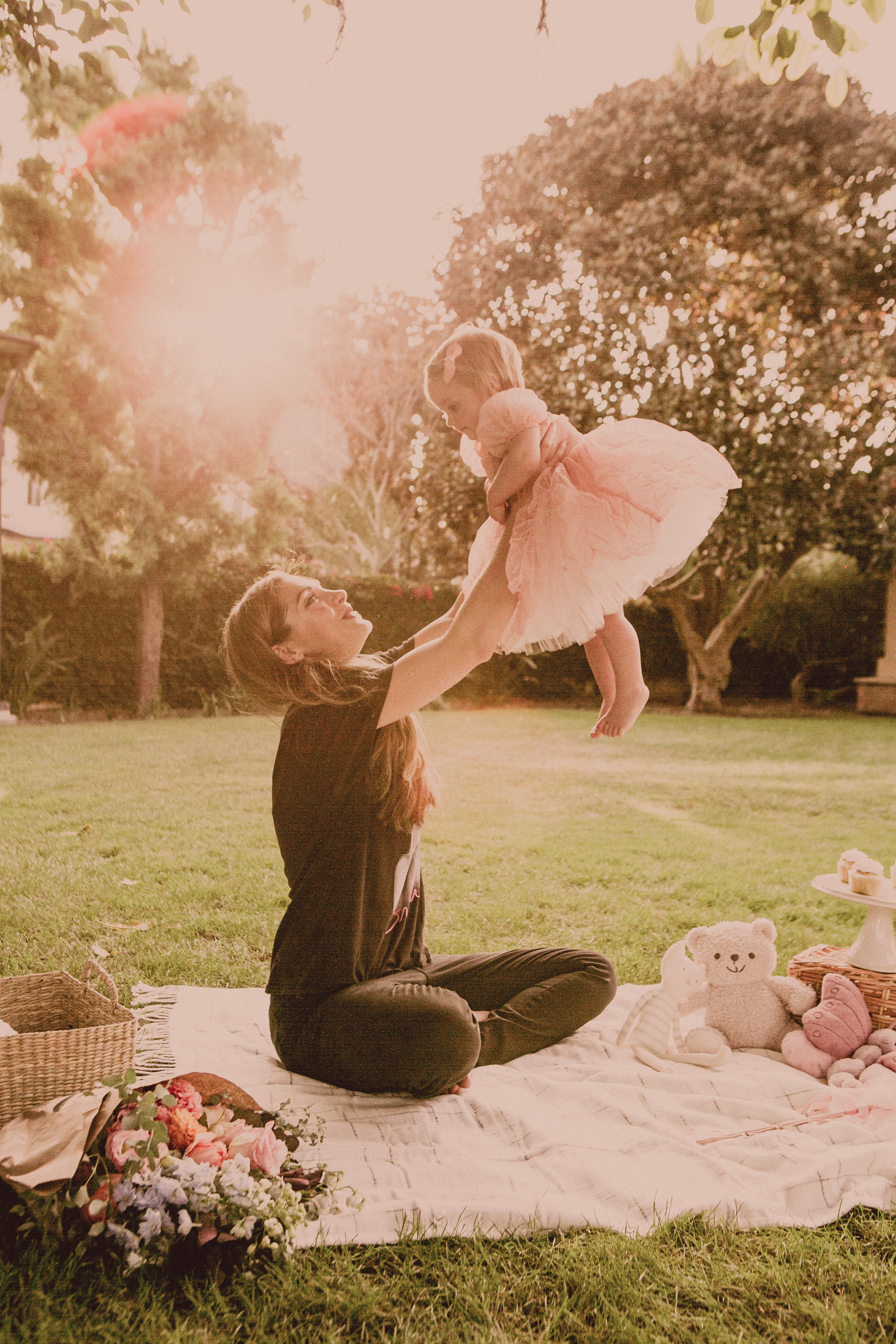 For months I had been agonizing over what to do for Rosalie's first birthday party. I had always said I would have a large party with all my friends and any of her new baby friends too, but the reality was that I just didn't feel comfortable throwing a large gathering with all the COVID news still floating around. Plus, I didn't want to plan something only to have to cancel it at the last minute.
And the truth is, I kinda just wanted to do something small anyway. No pressure and less planning. The other reality of life right now: I am tired! HA. No, but really. With Rosalie being a very active baby, and down to one nap, I am just pooped most days. Running on plenty of adrenalin and happy vibes, but still, tired from the inside out.
How to Celebrate a First Birthday?
Once I decided not to have a birthday party, I actually felt so much more at ease. Sure I have felt a bit envious when browsing social media for kids party ideas and seeing these big, beautiful blowouts with balloon arches, flowers galore and the cutest snack carts and decorations. I mean, whoa, kids parties have gotten so much more intense from when I was a kid. I remember one year I got a My Little Pony cake in my favorite colors with my name on it and I thought that was the TOPS for party amazingness.
So yeah, here is how we celebrated Rosalie's birthday, simple, cheerful and lovely….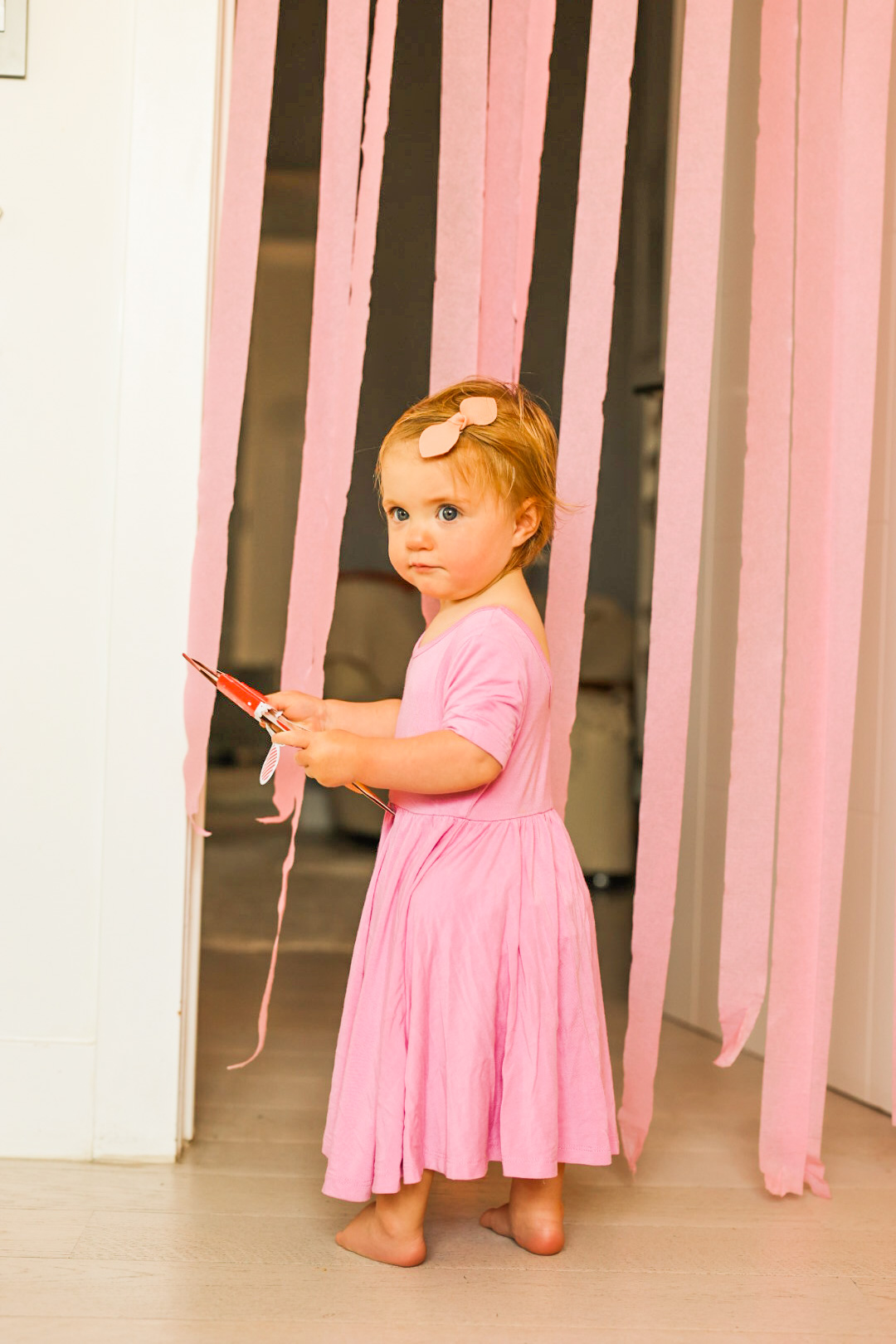 First Birthday Party Elements
the cake
flowers
decorations
gifts
music
activities
photography
food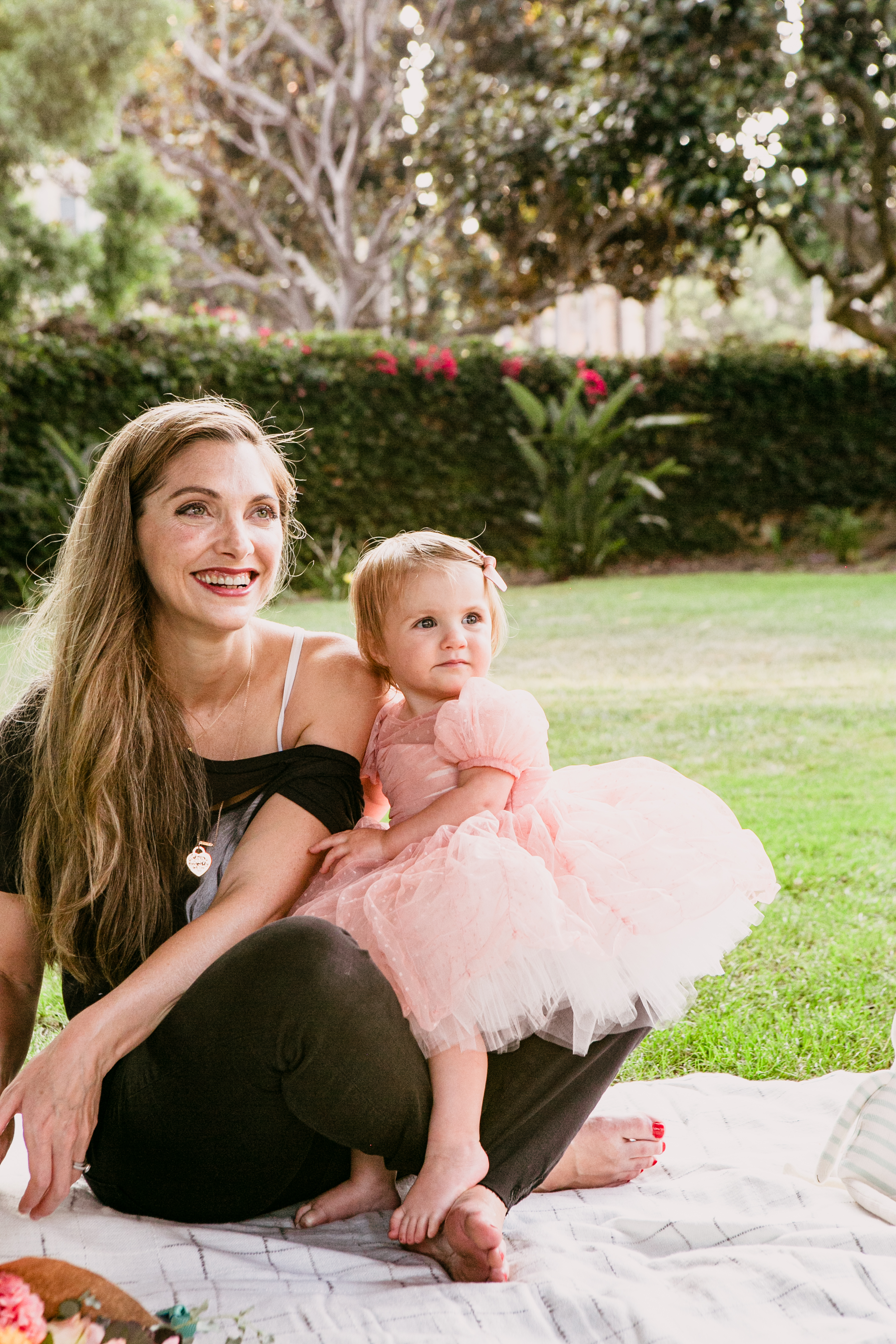 The Cake
Remember when I said I was tired, well yeah, I decided to skip making a cake and outsource to the professionals! This was a really good idea because not only was the cake gorgeous, but I didn't have to stress over baking with an almost one-year-old at my feet in the kitchen.
But where to find a vegan, kid-friendly, party cake in Los Angeles??
Enter Sweet E's Bakeshop! I randomly found this company while googling and I am so glad I did! Her cakes are gorgeous, super fun and FAST! I ordered mine 100% online just two days before it was hand-delivered to my front door. Easy peasy.
I also added on some balloons, a cake topper and candles that the shop sells. One stop shop.
We almost ordered the Monsters Inc cake since Rosalie loves those characters, but since it served I think 20 people, it was definitely too large for our celebration. So instead, I chose a Rosette Cake – perfect for Rosalie! I picked out a peach-colored frosting and a funfetti cake. All vegan! The cake was SO DELICIOUS. Best funfetti I have ever had.
So if you are planning a kids party and (even if you love to bake like me), don't feel guilty if you outsource the cake. You might thank me later.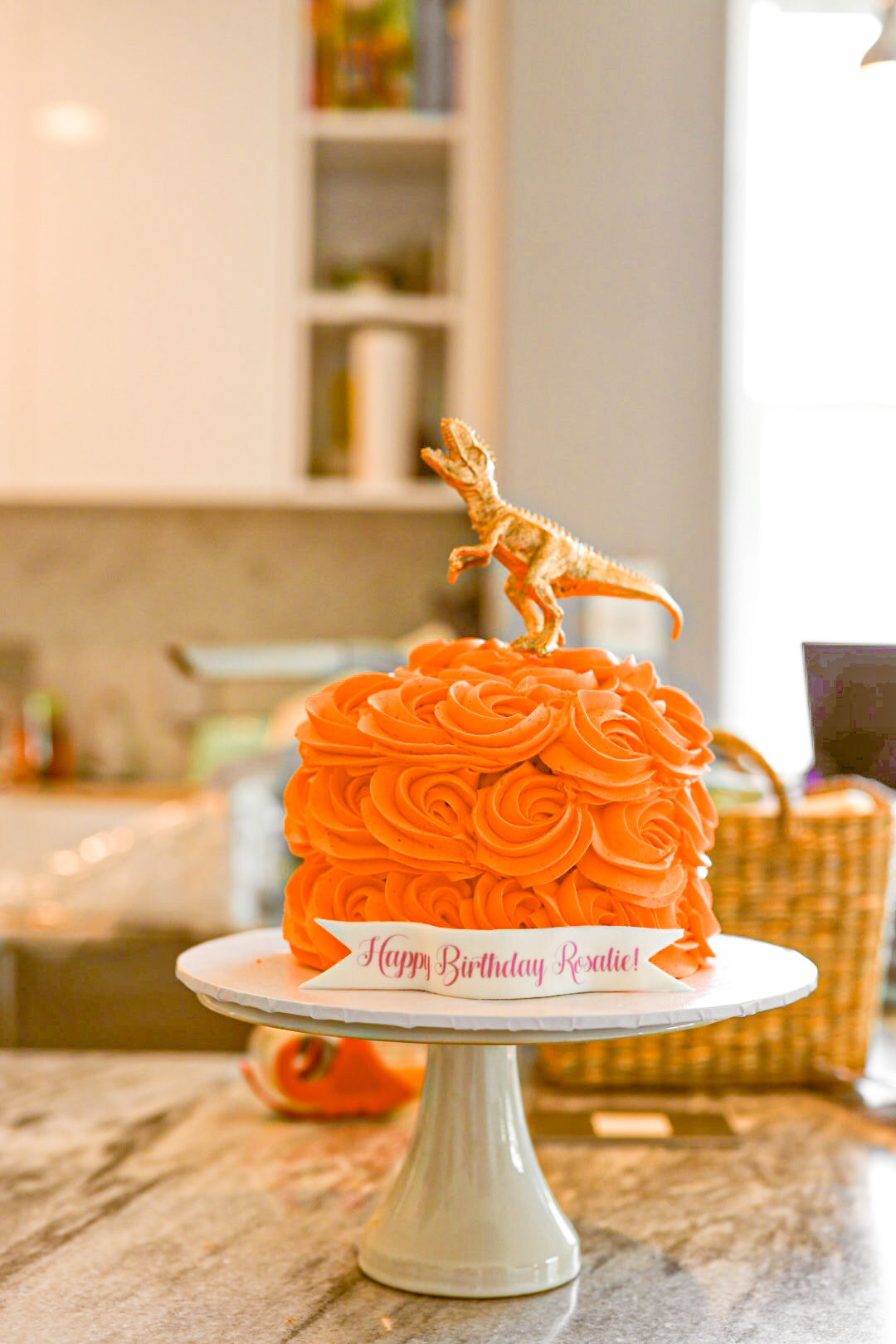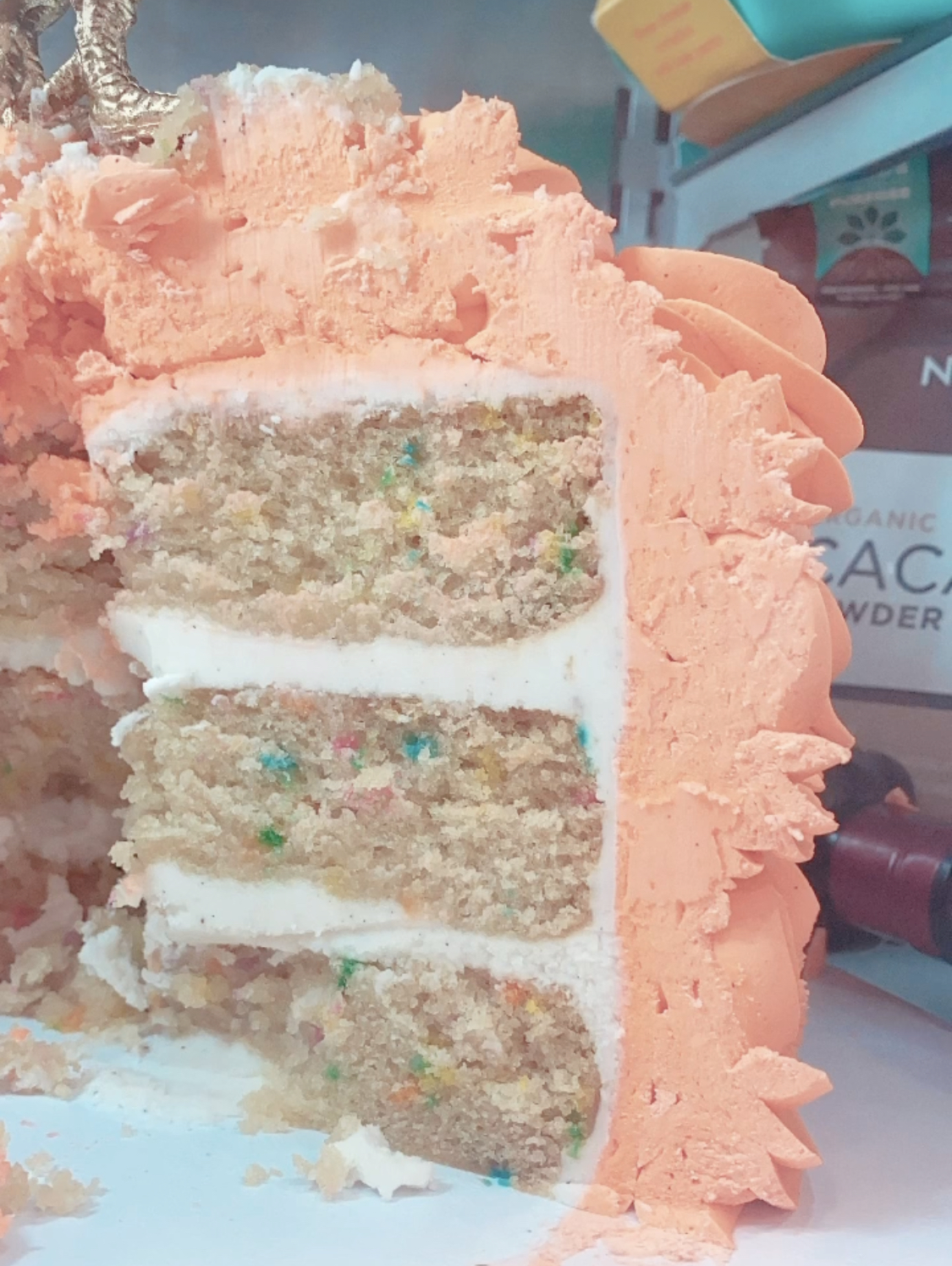 Flowers
For this first birthday party, I ordered a big, beautiful bunch of flowers a few days before her birthday. I ordered from a local shop called County Line Florals. The bouquet was gorgeous. So lovely. I used the flowers for our photoshoot and as ambiance for the party.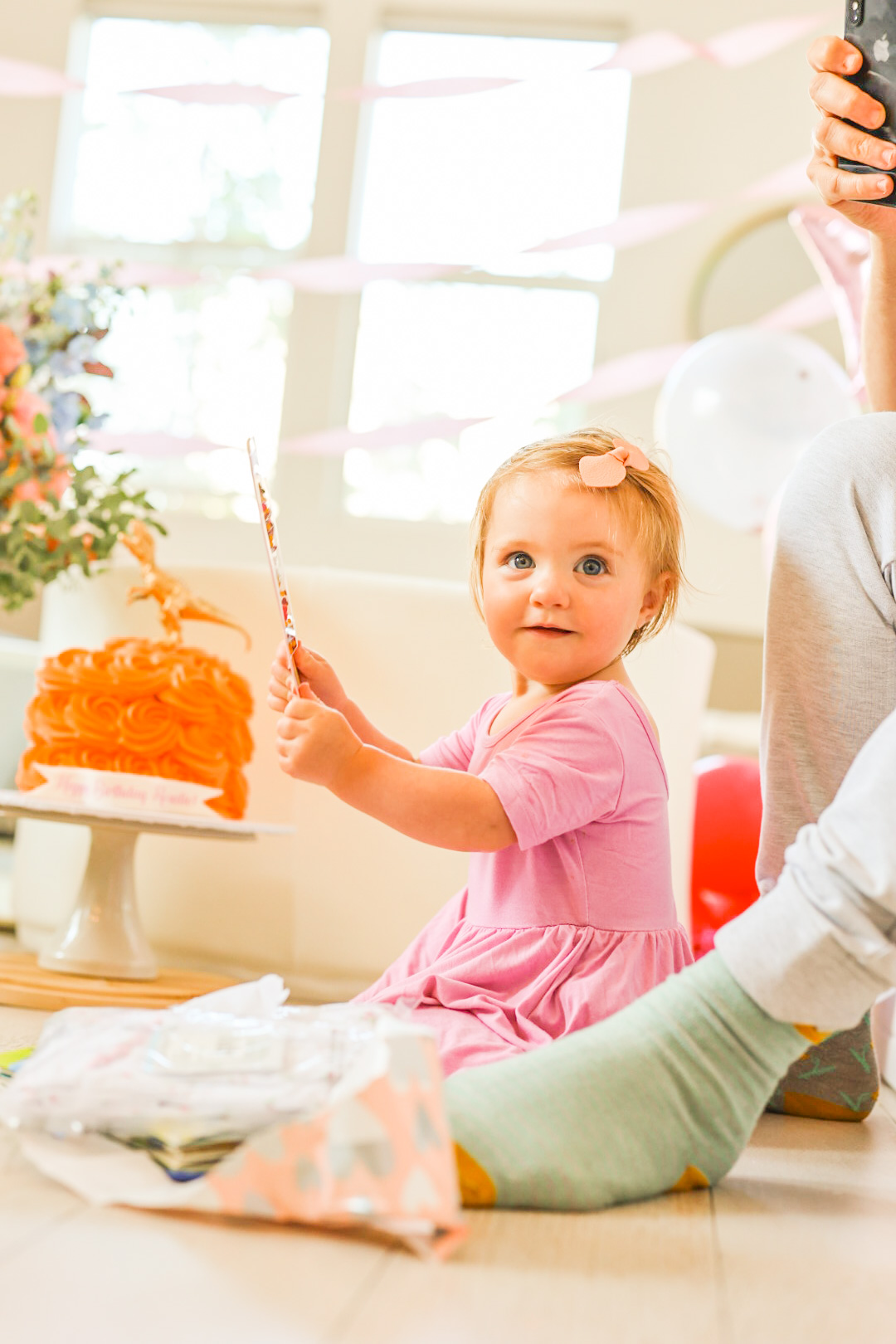 Decorations
My decorations…. um, you could say they were pretty simple. First birthday party approved. I used one roll of pink crepe paper for the doorway and ceiling. Then I bought a sparkly "Happy Birthday" sign. And finally, a few balloons. Talk about easy! I mean, for a one year old, the decorations were amazing.
I also sat a bunch of Rosalie's stuffed animals in her climbing arch so it looked like they were "attending" the party too! Happy first birthday party, Rosalie! Tah-dah!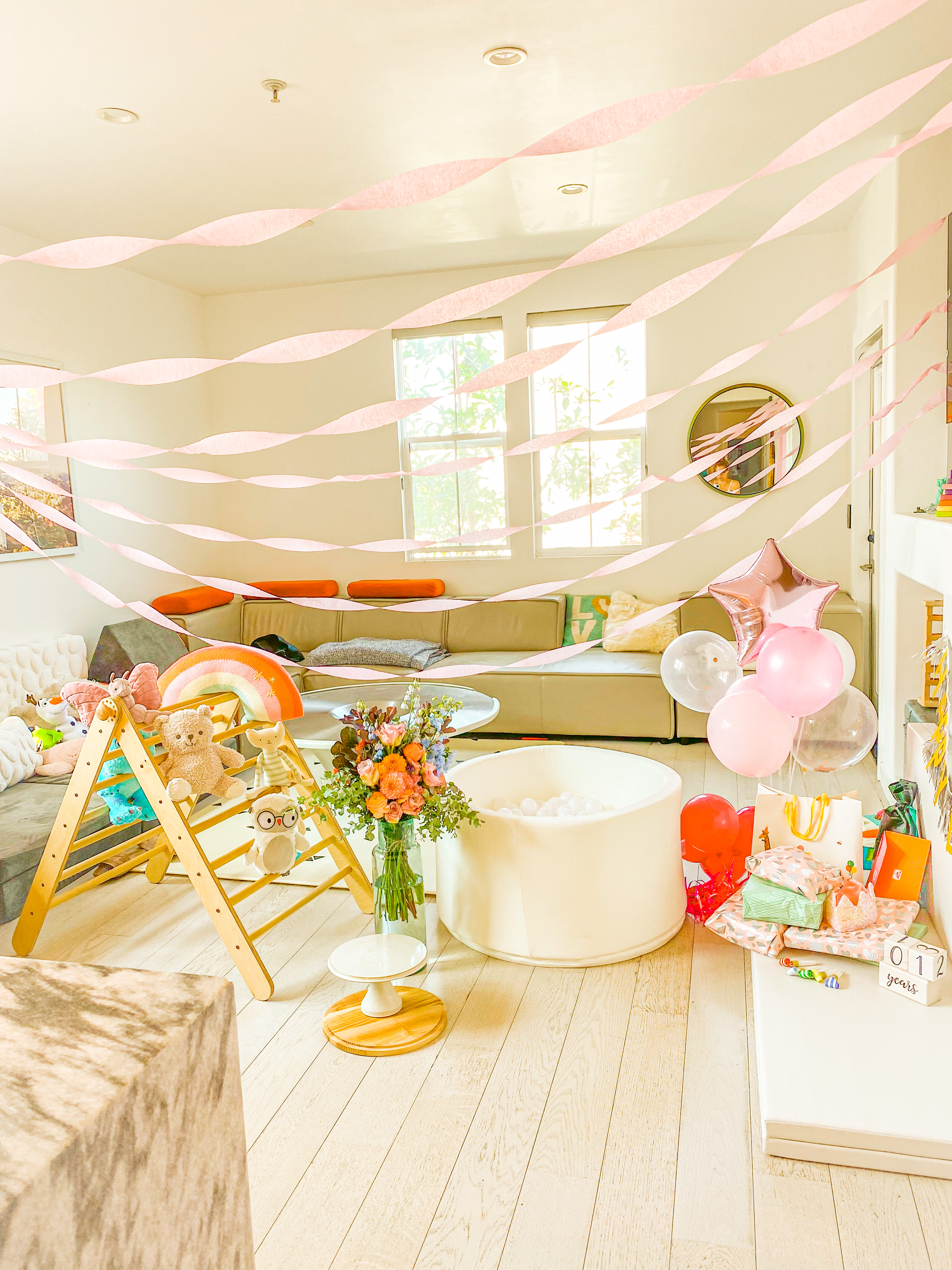 Gifts
Aside from a few gifts from family, for Rosalie's first birthday party, we mostly bought Rosalie some small toys. Here were a few of her favorites…
Grimm's wooden toys. Pastel Rainbow, Pebbles. Here's a tip.. This Pastel Rainbow Grimm's knock-off on Amazon is half the price..
TonieBox – Rosalie loves this thing! You play songs and stories by placing chracters on the top of the box.
Sound-Playing Books – Rosalie is really into pushing buttons right now. Any book or toy where you can push a button to hear a sound is her jam. So I bought this Campfire Songs book.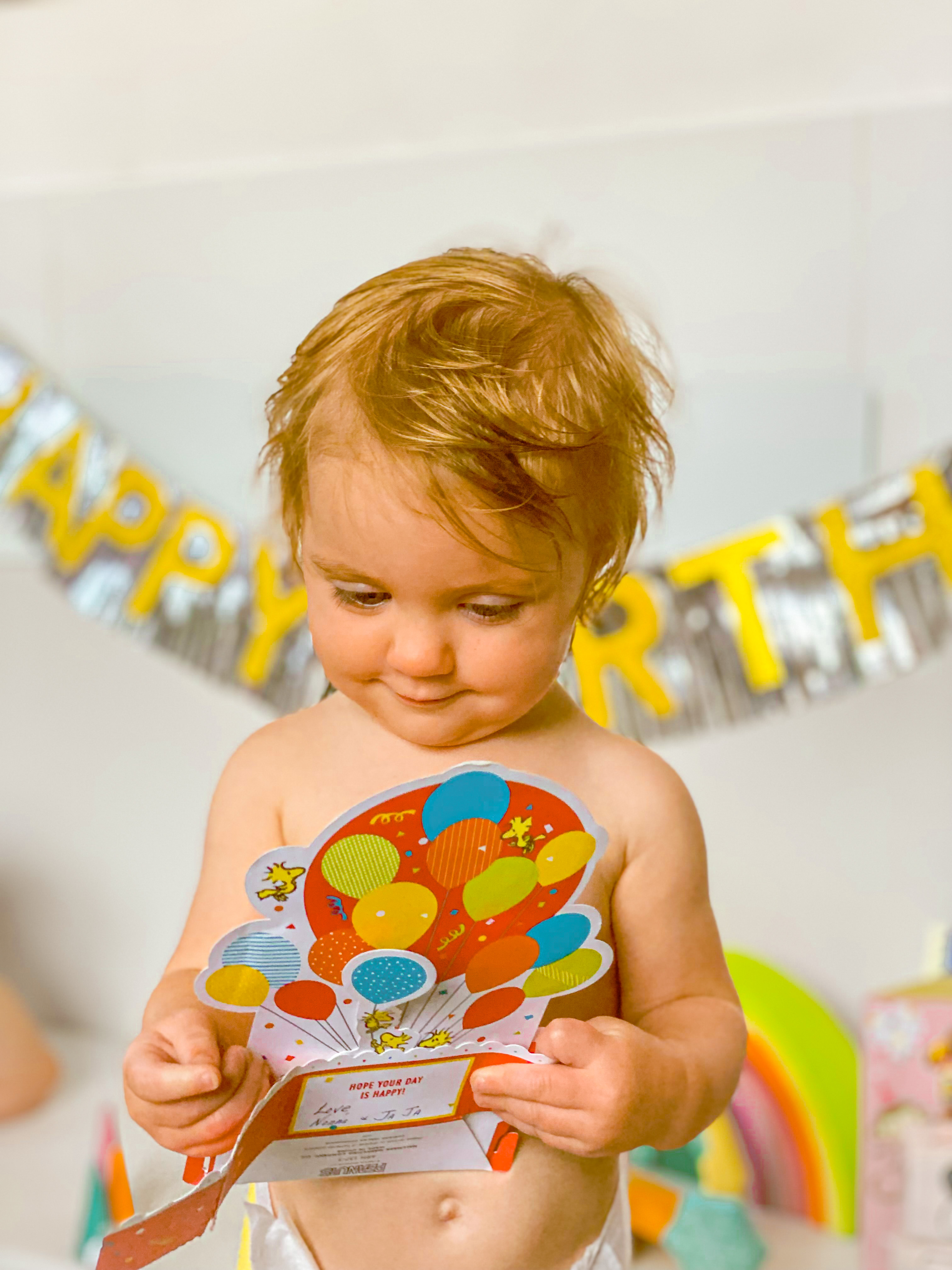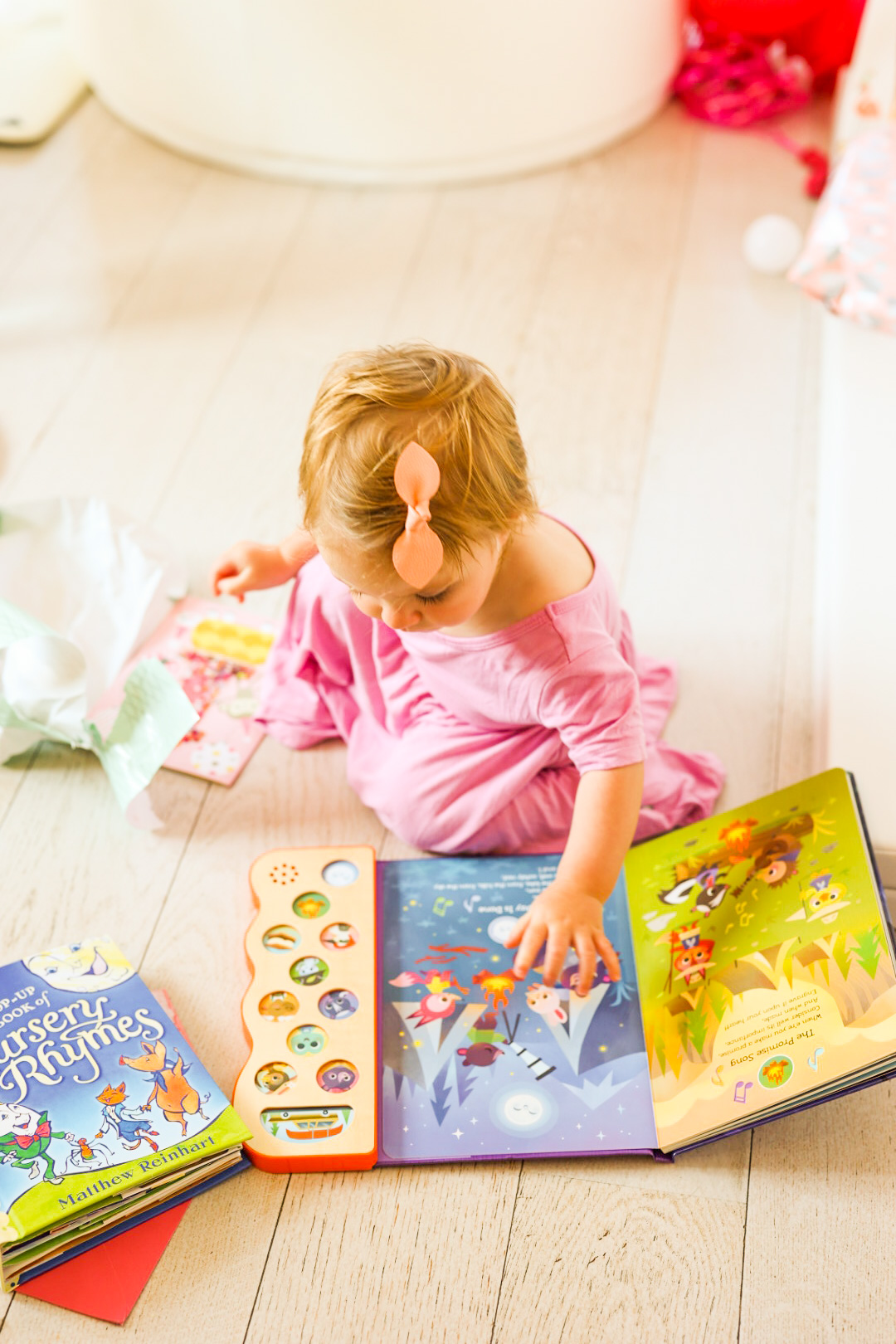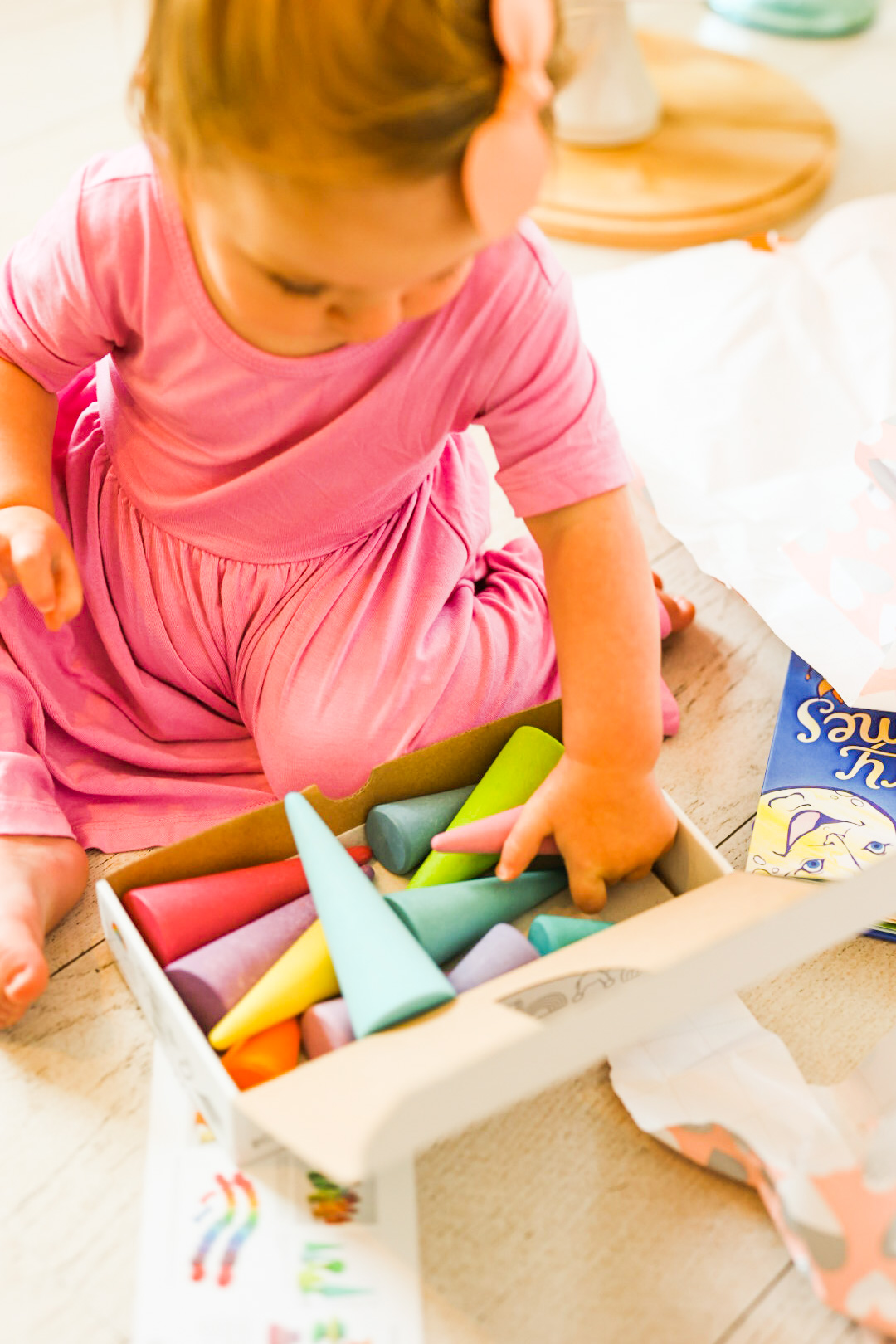 Music
I used my Alexa to play Disney music for the party. And now, Rosalie can use her new TonieBox too, to play DJ.
Activities
Big parties may have bouncy houses, well we had a ball pit. And not just any ball pit, an organic ball pit. I love this thing. I did a lot of research to find one with BPA-free balls and a super soft and sturdy pit. Ball Pit: BaluOrganics.
I bought a medium velvet pit in white with all opaque white balls.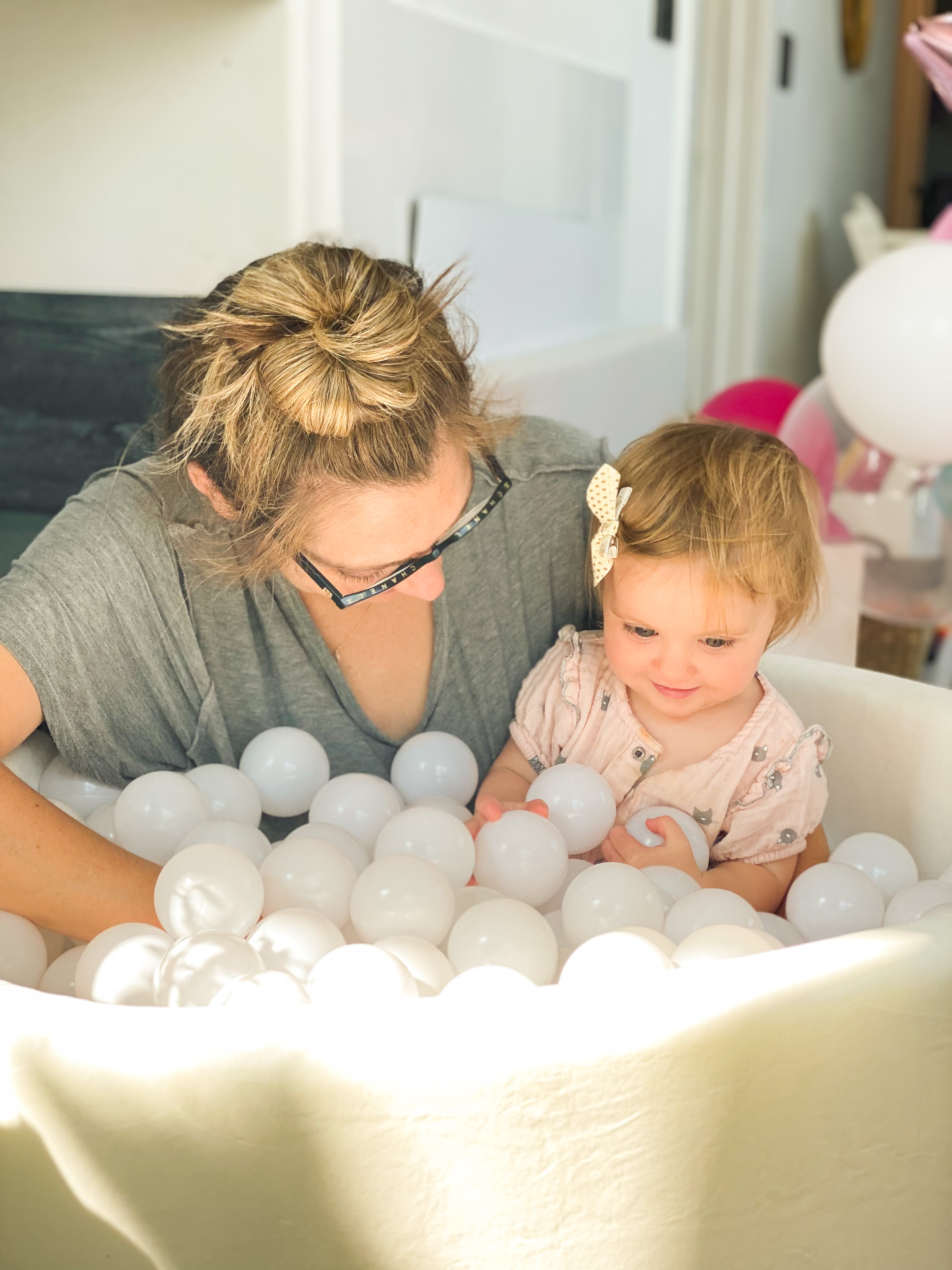 Photography
I did not want to spend Rosalie's birthday stressing over taking photos and getting "the shot" that would be framed and remembered etc. The day before Rosalie's birthday, we had a professional birthday photoshoot with my talented friend Caroline White. If you ever get a chance to shoot with Caroline – do it! She is seriously one of the best photographers and people I have had the pleasure to work with.
Pre-Party Photoshoot
I chose a nearby park as the photoshoot location and brought some picnic props like her stuffed animals, baskets, vegan cupcakes and flowers.
First Birthday Picnic
I put Rosalie in a big poofy pink dress and we staying in casual clothes. She was not very happy in the dress so it ended up coming off halfway through the shoot, ha. It didn't help that the weather turned out to be one of the hottest days of the year.
The photoshoot was so much fun and I felt so much less stressed the day of Rosalie's birthday because we already got all the photos out of the way. I didn't even put on makeup or get myself dressed up, I just felt very chill and happy to spend the day celebrating Rosalie – no cameras needed!
Honestly, if you do one thing to celebrate your little one, pay for a professional photoshoot. And do it the day before if you are having a more casual at-home party the day of.. You will be able to enjoy the actual birthday so much more.
My birthday picnic photoshoot tips here! (plus more photos..)
Lifestyle / Branding Photographer in Los Angeles!…
Caroline White Photography (Caroline is based in LA, but travels all over the world for shoots!)
Caroline also shot my maternity photos so I thought it would be a really nice synchronicity to have her do the first birthday photos too!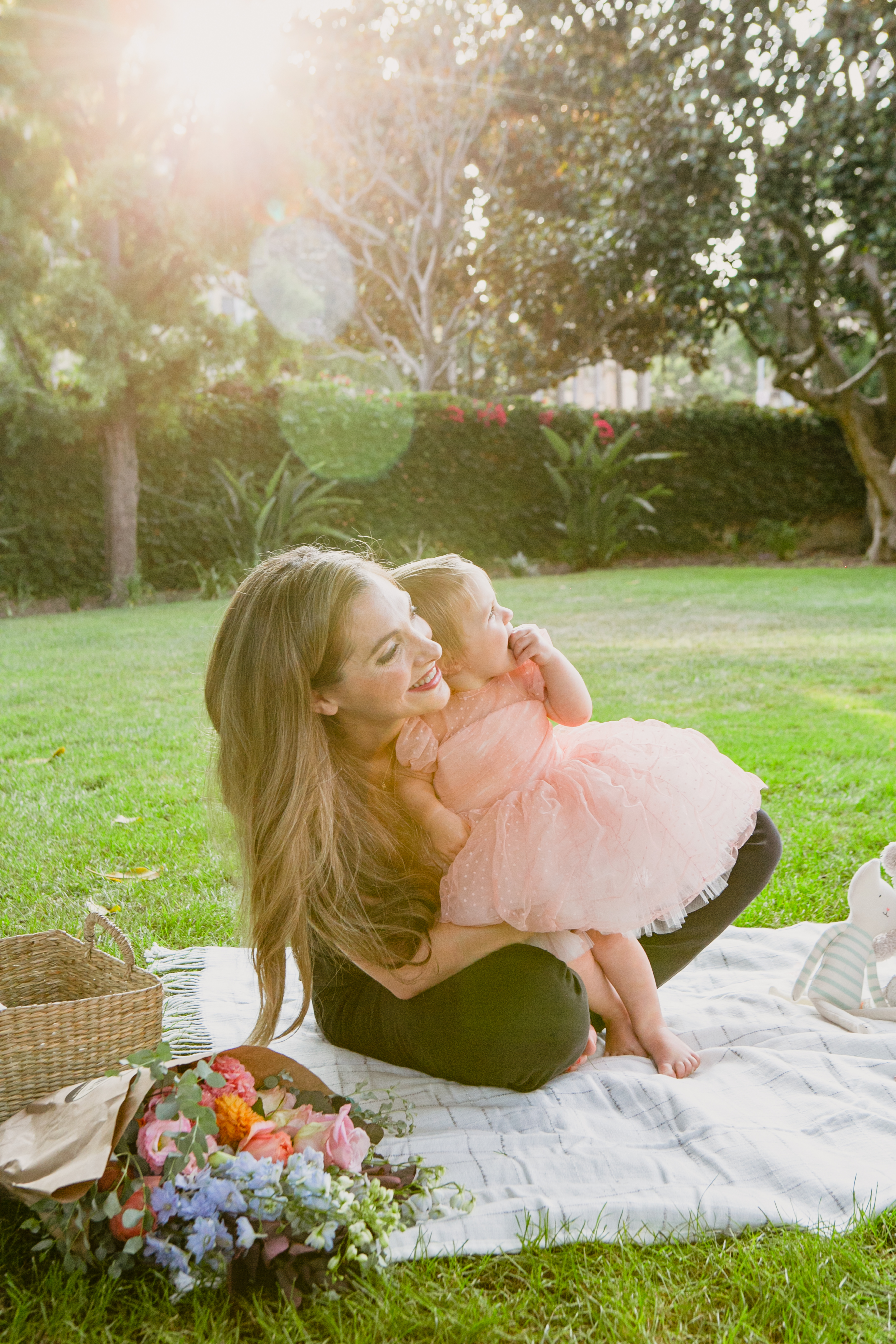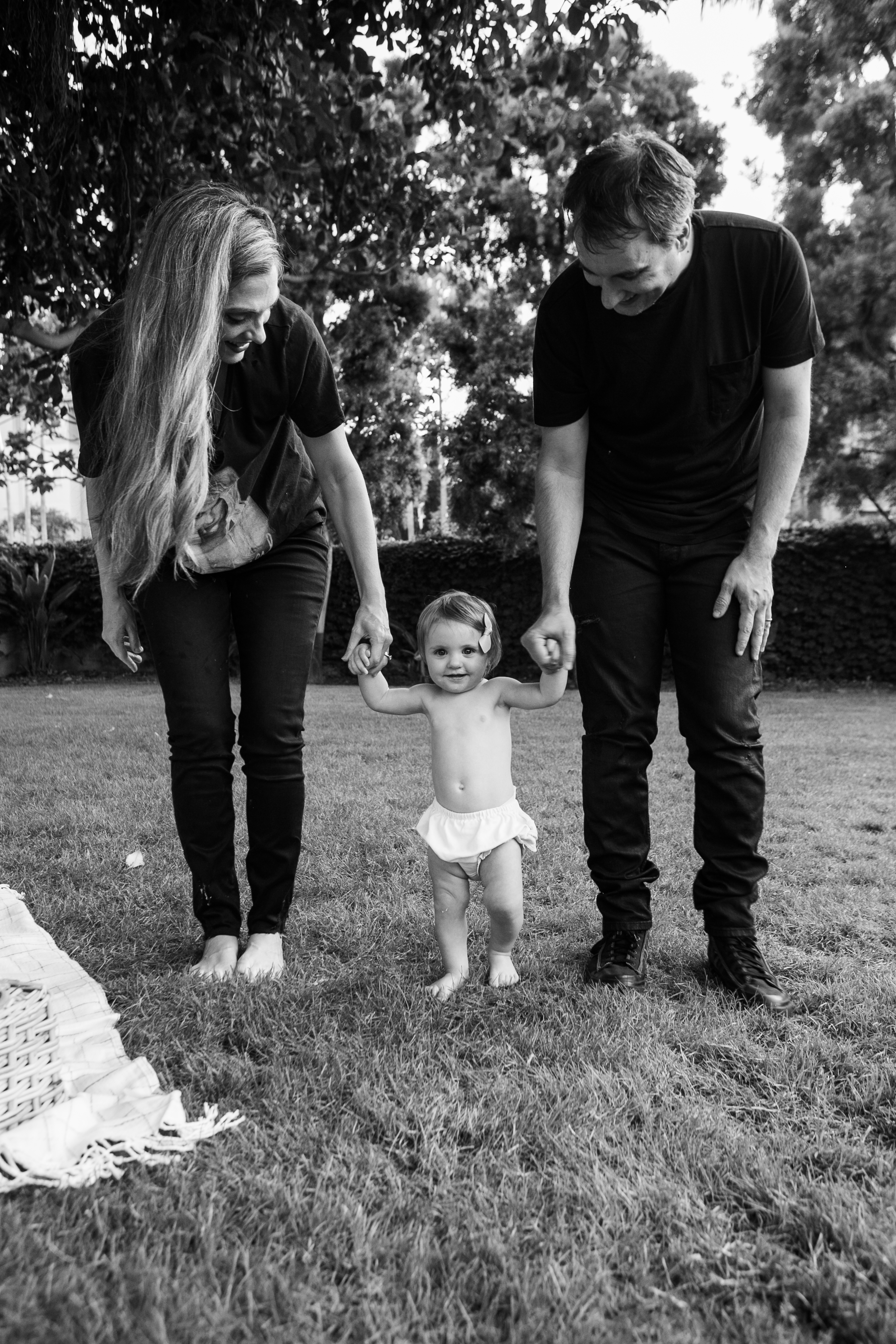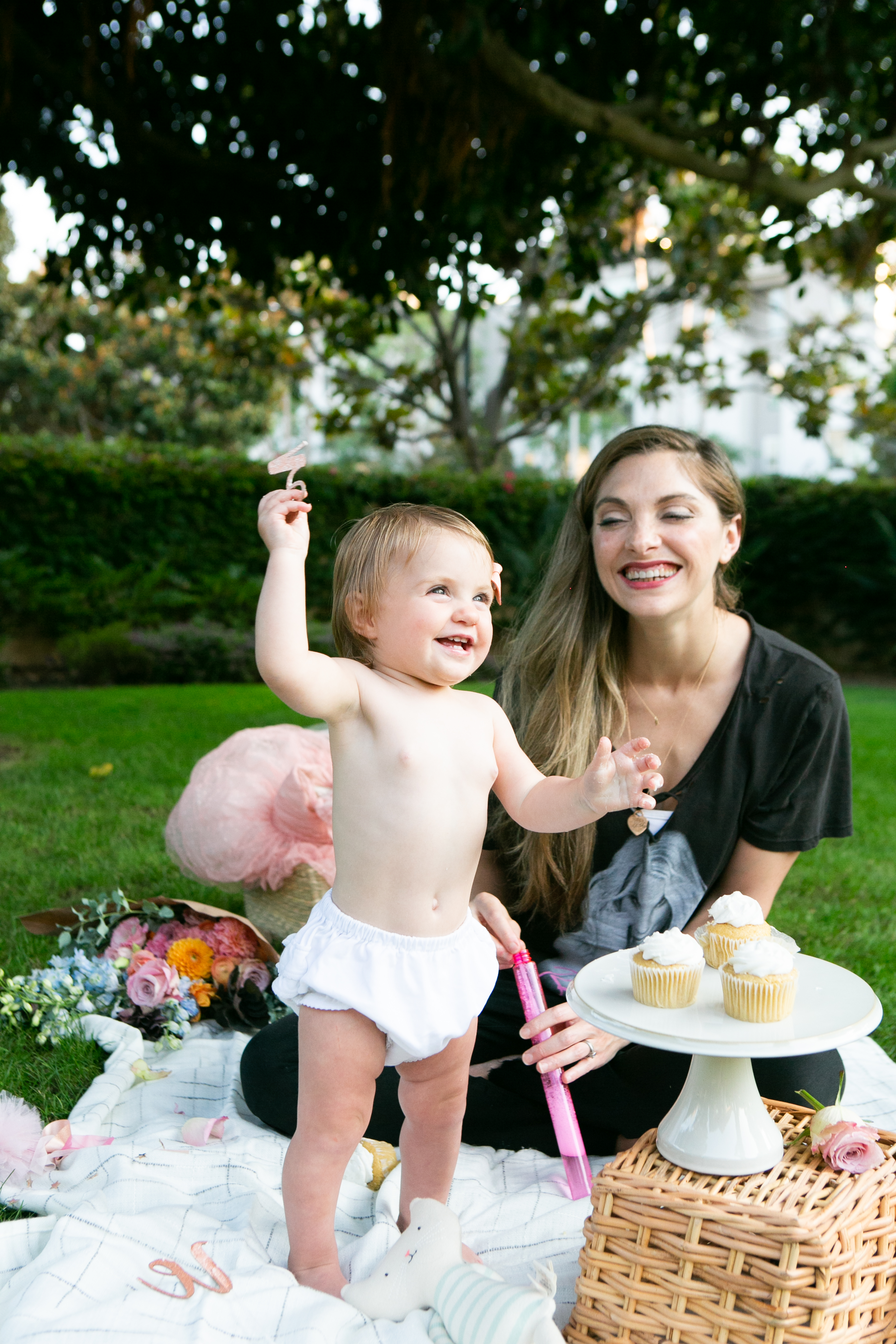 Food
So since it was literally just my husband and I and my mom, we ordered DoorDash sandwiches from one of our fave spots, Gjusta. Easy. Simple. And delicious. Outsource everything you can moms. I got the veggie sandwich, per usual.
That's it! The day was so lovely and I am so happy I didn't stress over a big party. We had the most amazing weekend celebrating Rosalie's first year. The best year of my life.
Other takeaways from a first birthday party…
Too Many Gifts – Don't do too many gifts. Seriously, Rosalie opened her card from one of her grandmas and it played music and lit up …. and that made her whole day. We could have stopped there! The other gifts were a bit overwhelming to her. At her age, she just didn't need them at all. If I were to do it over, I would probably only buy like 1-2 gifts for her.

Don't Expect All Smiles … That's Just Fine – Rosalie was teething really badly that whole week so she was a bit fussier than usual. And traditions like singing 'Happy Birthday' and cutting the cake were completely foreign to her. She just didn't really care. And sometimes the singing and loudness of our excitment overwhelmed her to tears. So yeah, take it slow. And don't do too much at once.

Soak it In – I think when I look back on Rosalie's first birthday party, I will remember dancing around in the living room in my jeans and messy bun, crepe paper messily hanging from the walls, kitty cats running around, Disney music playing, my mom on the couch and my husband smiling. I will remember Rosalie's big eyes and look of wonder at all the STUFF going on. And I will remember her face when we all said HAPPY BIRTHDAY over and over. I will remember holding her and snuggling while we blew out her candle together. I will remember the sunbeams and her long nap. Her messy hair and pink dress. I won't remember a fancy balloon arch. Not that there is anything wrong with those at all. But I guess, I just realized all I needed to celebrate was my sweet girl, some music and loved ones, and yeah, ok, a big fancy cake too.
Happy first birthday my sweet girl!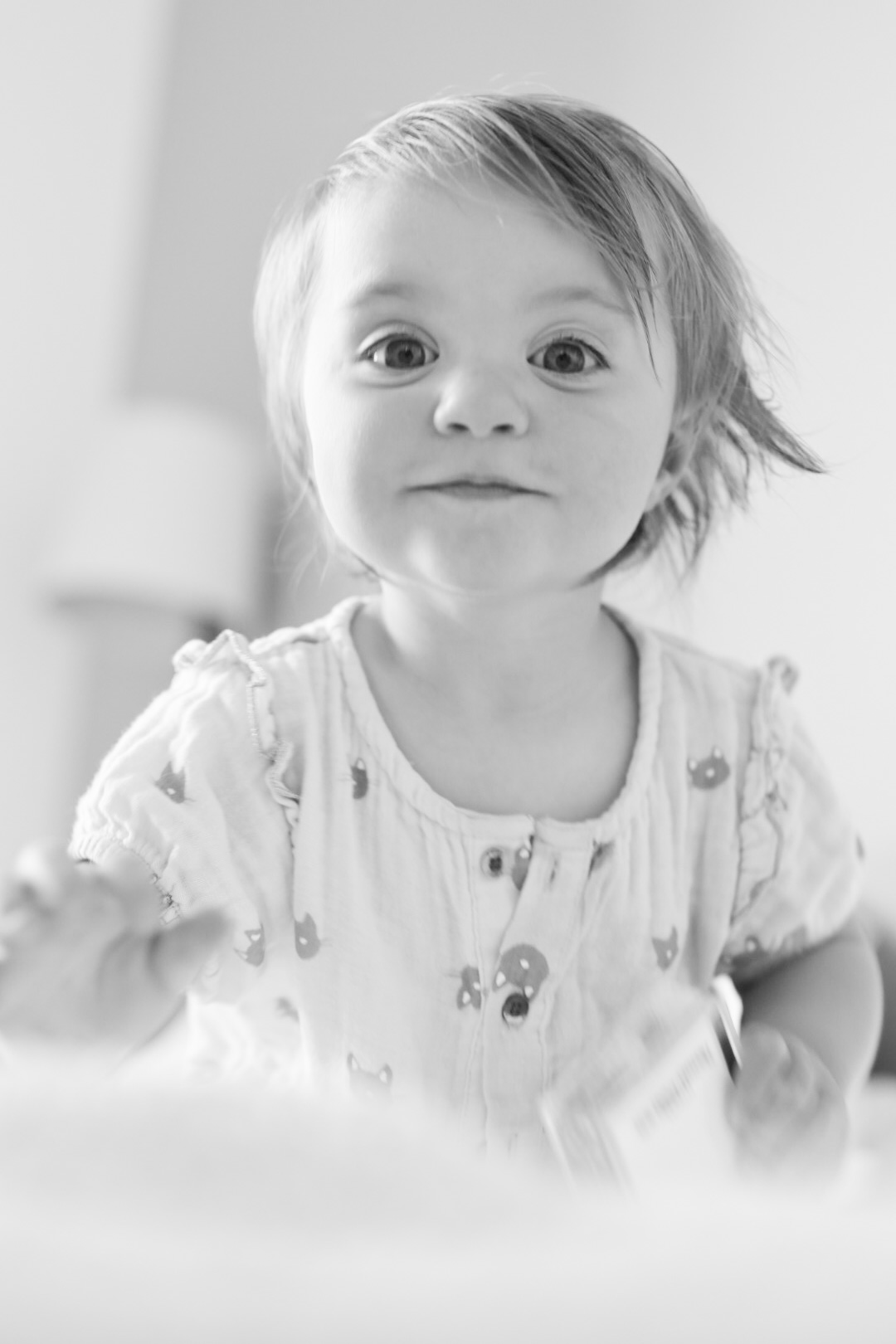 I love you more than you know.
And even though this was a simple part with a very small guest list, we still needed the rest of the weekend to recover. Sochi cat had the right idea…