This is the Avocado Sandwich of my dreams. Fully loaded and not holding anything back. I think the kicker is the layer of melty cheese! Dairy free + vegan. Plus, my homemade garlic aioli adds an awesome kick too. And sizzling onions add warmth and smokiness.
The Goods. Melty vegan gouda cheese, fresh tomato, leafy greens, sizzling skillet onions, sliced pickle, garlic aioli and a thick layer of buttery avocado. I served mine on rye bread, lightly toasted, but you can use any bread you'd like. Let this be your next lunchtime craving…
I have to blame my recent TTLA post for my 'sandwich kick' lately. While this sandwich looks kinda similar, the flavors are quite different. This recipe focuses on a crisp flavor from all the veggies and avocado. Then warms things up with sizzling onions and melted cheese. Because vegan cheese is so good lately, you should definitely be adding it to your sandwiches.
This sandwich is for those times when you are craving an avocado toast, but a basic avocado toast just isn't going to do it for you. So, you turn your avocado toast into an avocado sandwich. More goodies in each bite, with all that avocado you were craving…
The goodies:

– Garlic aioli. I had some leftover garlic aioli in the fridge and it really perks up every sandwich, so this was slathered on.
– Avocado. I used a whole avocado for this stacked sandwich. I used a fork to mash the avocado into the aioli-slathered side of the bread.
– Tomato. Juicy tomato is a light and lovely, colorful ingredient.
– Sizzling onions. This ingredient is a sandwich game changer! Sizzling onions only take a few minutes to whip up and they really tone down the spicy flavor of a raw onion, so you can actually add MORE onions to your sandwich. I love the purple color and blackened edges they get from the skillet. The flavor is slightly sweet and mellow, yet still loaded with flavor.
– Gouda. Vegan cheese lines the other inside of the bread. I use a simple technique to melt the cheese. You could also add it unmelted, but it is soooo much better all gooey and melty. Oh, and you can actually use whatever vegan cheese you want. If you do not have vegan cheese, hummus is a good replacement.
– Pickles. Add a bright acidic layer of flavor.
Greens. Load on those healthy leafy greens! Use your fave variety or whatever you have on hand.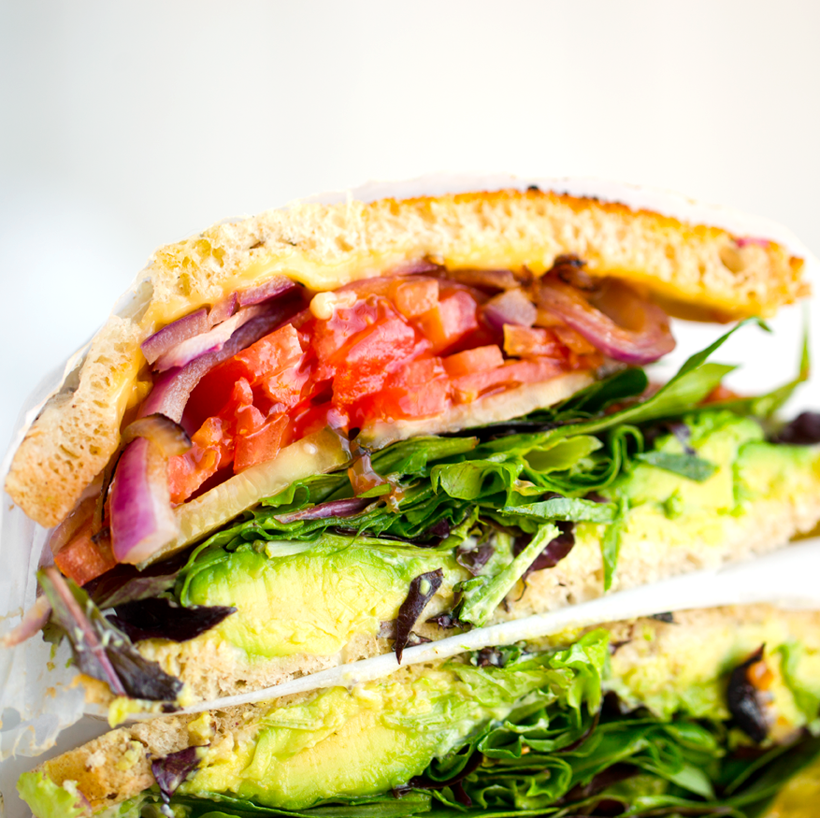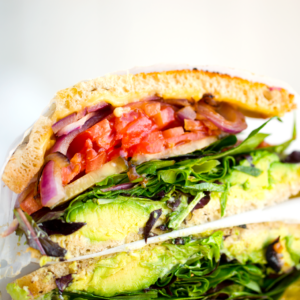 Avocado Sandwich
This fully loaded avocado sandwich is packed with veggies and loaded with flavor!
Print
Pin
Ingredients
2

slices

of bread, rye used

2

slices

of vegan cheese, vegan Gouda used

½

pickle, thinly sliced

1

small tomato, sliced

½

small red onion, thinly sliced

2

tsp

extra virgin olive oil

1

Tbsp

garlic aioli

1

avocado
Instructions
Slather one slice with tve vegan garlic aioli. Set aside.

Add the cheese to the other slice of bread. Warm up a small skillet. Add 1 teaspoon oil. When the oil is hot, add the bread, cheese side up. Then turn heat to low. Add one small ice cube and quickly cover the sandwich with a lid. The steam from the ice will melt the cheese. Lift lid, turn off heat. Transfer the bread with the melted cheese to a cutting board or assembly area.

Turn the heat back on to medium. Add another teaspoon oil. When the oil is hot, add in the red onion slices. Cover with lid and allow them to cook for a minute. Remove lid and keep cooking on medium-high until they soften and lightly blacken. When they are done, turn off the heat and transfer the onions to the bread with the cheese. Lay the onions right on top of the melted cheese.

Next, add the avocado to the bread with the aioli. Smash the avocado into the bread using a fork.

Add the tomato, pickle and leafy greens.

Close up the sandwich. Slice and serve.