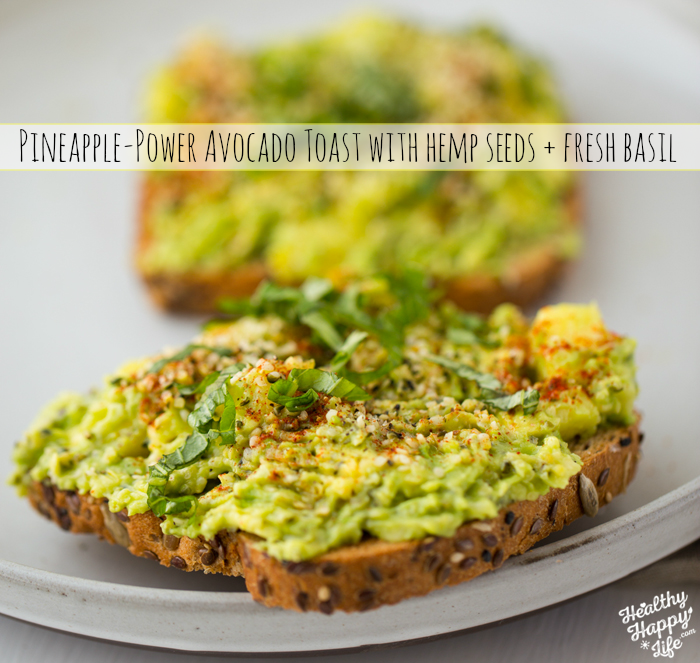 I have a confession to make. And I am sharing my most favorite avocado toast recipe…
Avocado + Pineapple = Love.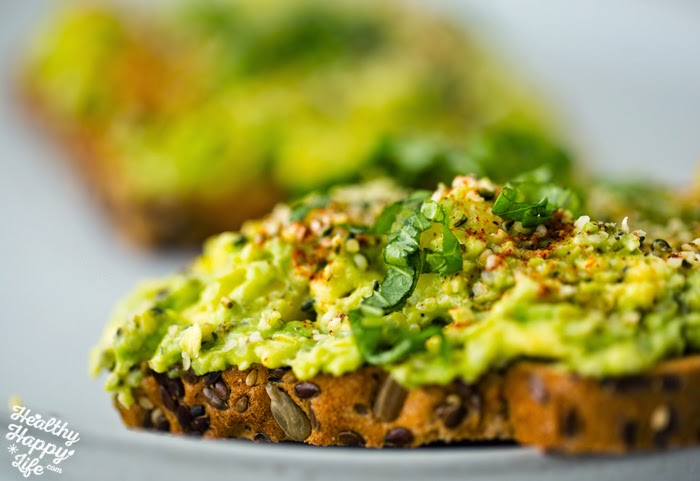 Crunchy toast. Creamy avocado. Buttery hemp seeds. Aromatic basil. Sweet zingy pineapple. I'm ALL in.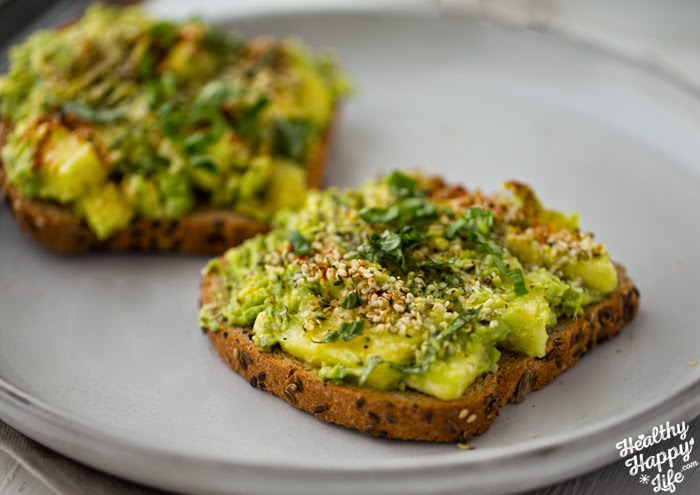 My confession is this. For the past three straight days I have consumed three pineapples AllByMyself. One pineapple a day.
OK maybe that is not really a dirty secret confession, but more of a proclamation, but it is true and it kinda makes me think that I am a weirdo, or I am a nutrition superstar. Fruit monster status. I will go with the positive thought and just feel very proud of myself for consuming so much pineapple.
At the very least, I feel like FullyRaw Kristina would be very proud of me, right? Love her.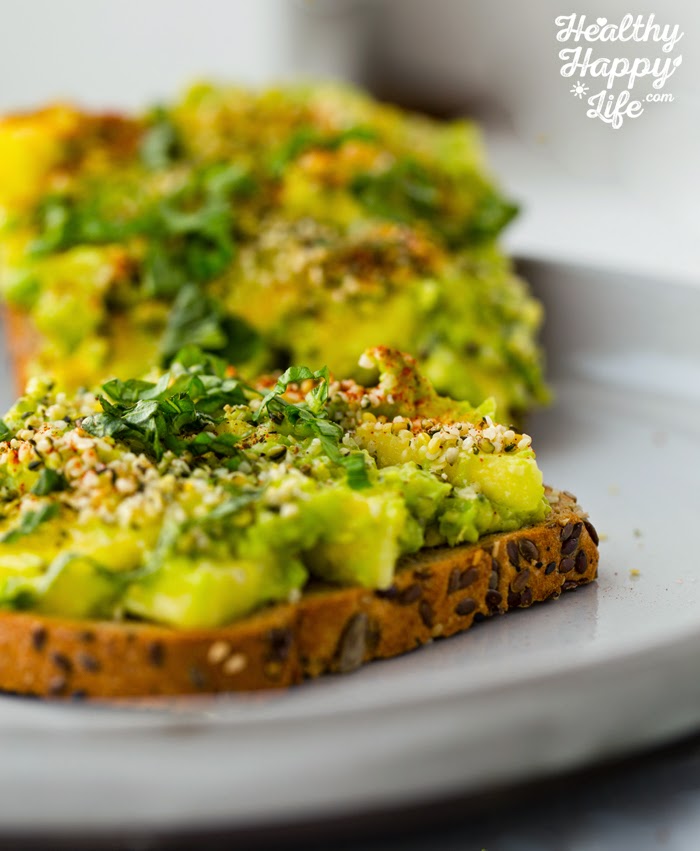 So why all the pineapple love? Not sure, exactly. I had been craving fresh cut pineapple, and then after one bowl for breakfast I just continued to nibble on it all. day. long. It felt good. Hydrating, Sweet. Rich in vitamin C and bromelain. So the whole pineapple it was.
Update: I actually drafted this post last week, and don't worry my pineapple obsession didn't continue through the week, but I am still buying more pineapples this week. Go on, load a few pineapples in your basket on your next grocery trip. Then slice them up, store them in a big container in the fridge and nibble as much as you'd like. It feels good. That fresh pineapple buzz.
Fun Fact: Did you know that the pineapple flesh towards the bottom of the fruit is usually sweeter than the pineapple towards the top (stem) of the fruit. This is something I observed then confirmed via several sources. DrDave on Yahoo answered the question too. And actually noted that the sugar develops from the bottom up in all fruits! So the bottom of most fruits tends to be sweeter. Hm, I am totally going to investigate this next time I bite into an apple or pear.
But really, bottom line guys, pineapple is an incredibly healthy fruit to add to your day…
Pineapple Nutrition Facts – One pineapple includes:
450 calories
721% RDA vitamin C
15% RDA iron
10% RDA vitamin A
12% RDA calcium
1g fat
119g carbs
13g fiber (51% RDA)
5g protein
..yup, PINEAPPLES contain protein. Like most plants. People sometimes forget that.
..and iron and calcium.
The myth that calcium comes only from milk and iron and protein comes only from meat it simply not true.
But anyways.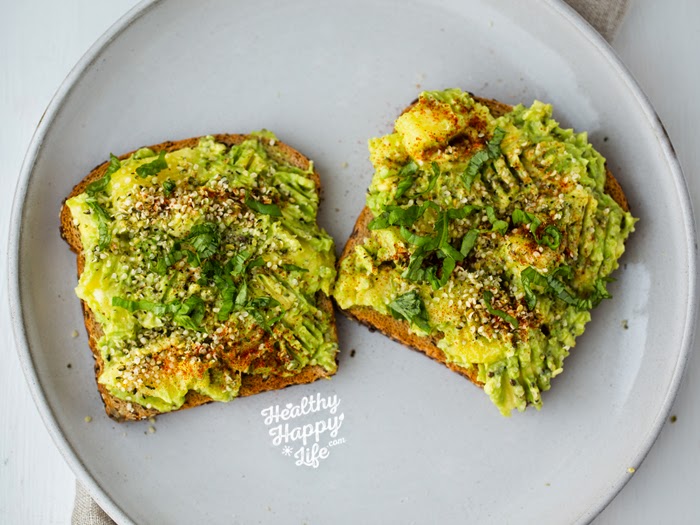 Some happy for your day… Mr White playing with his most favorite toy ever. A freeze-dried cranberry. 🙂 And get my recipe below!
Pineapple Power Avocado Toast. This toast ROCKS. It contains so many good things I do not know where to begin. That pineapple, see above. Plus healthy fat avocado and protein rich hemp seeds. And a hint of fresh basil makes it all seem dreamy. No wait, it really is very dreamy.
Make this toast for lunch, breakfast or even for a light dinner. I am a 24/7 avocado toast advocate. Now dive into your first bite and think of me.
And this revelation of mine, you can ponder while making your toast..
I feel like the subtle fork smash lines on avocado toast are just as important as the ones on peanut butter cookies.— Kathy Patalsky (@lunchboxbunch) January 9, 2015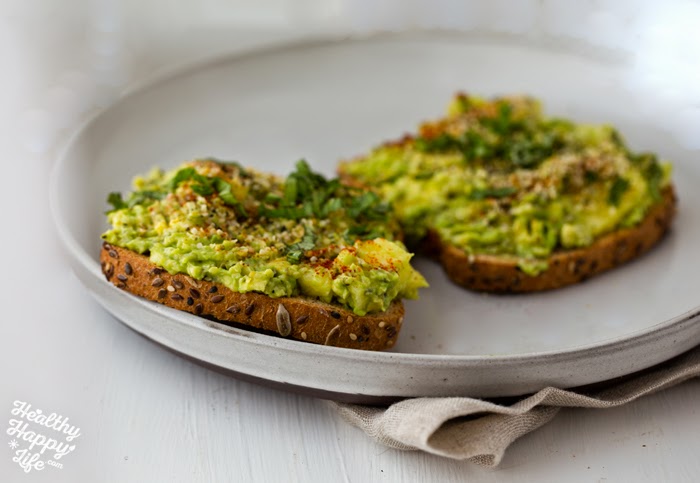 Pineapple Power Avocado Toast
By Kathy PatalskyPublished 01/14/2015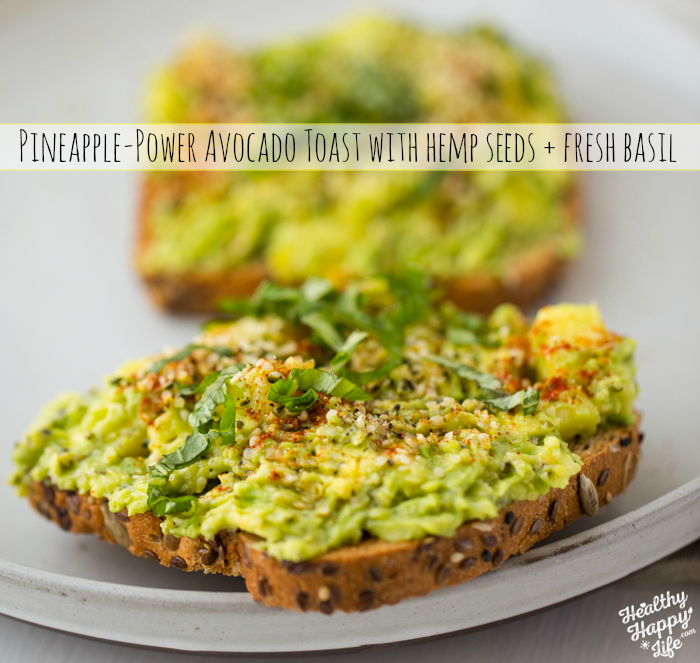 This healthy delicious avocado toast is rich in healthy fats, protein, vitamin C and fiber.
Ingredients
1 small avocado
1 cup fresh cut pineapple, sliced into thin cubes
1 tablespoon hemp seeds
1 teaspoon fresh basil, torn or chopped
pinch of cayenne or smoky paprika
salt and pepper to taste
2 slices of your favorite toast bread
Instructions
Add the avocado flesh to a small bowl along with the pineapple and a pinch of salt and pepper. Mash the avocado into the pineapple for a minute. Taste test and add more salt or pepper to taste.
Toast the bread and chop the basil.
Spread the avocado mixture on top of the toast and sprinkle hemp seeds over top. Add the basil and optional cayenne or paprika. Serve!
Yield: 2 slicesPrep Time: 00 hrs. 05 mins. Total time: 5 mins.
Nutrition
Calories:

480

Fat:

33g

Protein:

8g

Dietaryfiber:

13g

Totalcarbs:

44g
Tags: avocado toast,lunch,sandwich,snack,pineapple,avocado,vegan,hemp,basil
Another yummy pineapple-infused recipe: Pineapple Fried Quinoa Bowl