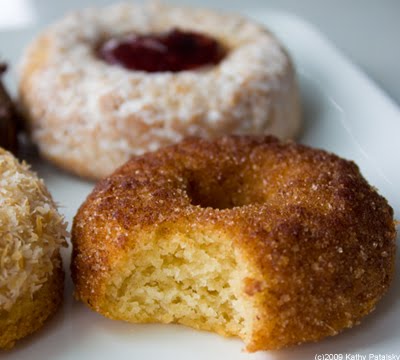 Bliss. Bliss is granted to all the doughnut lovers out there (vegan or not). All week I had been hearing the buzz about Babycakes NYC brand new vegan doughnuts. Thus, being the diligent foodie that I am, I skipped down to check them out this Saturday morning.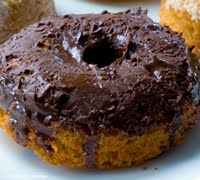 Vegan Doughnuts? If you expect vegan doughnuts to be bland, wimpy or hard-as-a-rock, think again. Moist-yet-crisply-coated, natural-flavor-infused and bouncy-textured are all phrases to describe these decadent gems. And FYI, they are indeed baked, not fried. Nice! Babycakes has put itself on the map as a doughnut destination location. But if you can't make it to NYC for a taste-test, here's the next best thing: my review and tons of doughnut photos….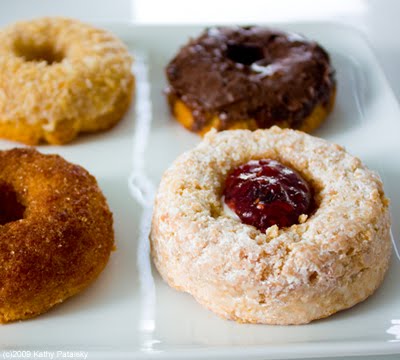 Doughnut Tweets. Here's what Babycakes has been tweeting about all week in regards to their new doughnuts:
"Doughnuts for today: Cinnamon Sugar, Powdered Sugar and Lemon Coconut Lil' Guys and Chocolate Dipped Big Guys!11:36 AM Aug 28th from web
"Doughnuts today… Raspberry Glazed, Toasted Coconut, Cinnamon Sugar, Powdered Sugar and Jelly! Mmmmm."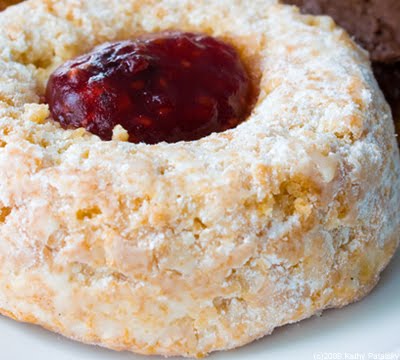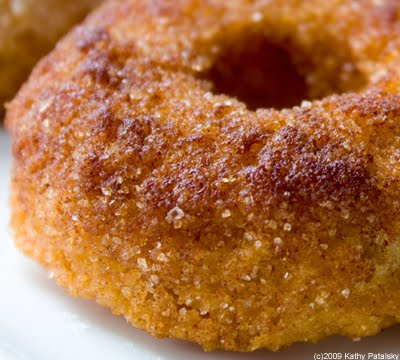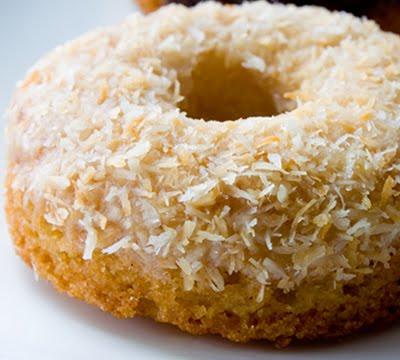 Vegan Foodie Excitement. You don't know how excited I get when I hear buzz about a new vegan treat in town. And when I hear that the new treat just happens to be 'vegan doughnuts' from Babycakes, I do cartwheels. (Well not really, my apartment is too small for that. Giddy jumps of joy will have to do.) Mind you, decadent vegan treats are not an everyday thing, but as a worthy sometimes treat: yipp-ee. Here's my review…
My Review: Babycakes NYC Vegan Doughnuts
Flavors: Cinnamon Sugar, Powdered Sugar with Jelly, Lemon Coconut, Chocolate Dipped.
Shelf Appeal: Well you've already read my review of Babycakes NYC adorable lil' shop on the lower east side. So you know I love everything about their branding, store setup and the decadently 'vanilla-cinnamon' store smell that knocks you over upon entering the bakery. Divine. The cute little donuts were all lined up happily on the shelf with inviting little flavor signs. "One of each please!" 🙂
Label Check: Vegan. Made with high quality ingredients, as is the Babycakes way. Ingredients like: extra virgin coconut oil, spelt and potato flours, xantham gum, agave syrup, and other vegan baking ingredients. So while I don't know the secret doughnut recipe, I can assure you, there's some good stuff in there. BUT, nothing low-fat or fat-free here. It is a doughnut. Decadence is a must. Vegan doughnuts. From Babycakes. That should tell you enough about the label.
Taste Test: Um, yum? Super yum. Spine-tingling, warm-feeling inside on a cool foggy morning yum. Let me give each flavor the attention it deserves. Cinnamon Sugar: super moist. Crusty fine-milled cinna-sugar outer layer. Reminds me of when I used to make cinnamon toast as a kid. Chocolate Glazed: Deep dark chocolate flavor. Melty. The chocolate was perfectly moist/sticky/shiny. Are you sure these are vegan!? Lemon Coconut: Exotically lovely. Bright, fresh lemon flavor shines through and screams 'natural flavorings!' Nothing artificial here. Light angel-like coconut coating. Lovely. Powdered-Jelly: Super decadent texture. The powder wasn't as fluffy and saturated as on a typical powdered-sugar doughnut. But that's quite OK with me. The jelly was gooey and sweet like a fresh raspberry jam. Again, natural flavors shine here. The moist doughnut cake was the perfect vessel to display the flavorful fresh-fruit, chocolaty, cinnamon-riffic brilliance of these pure flavors.
Price Check: $3-$3.50 The little ones were $2.95 I believe. So that's around $36 a dozen. Not cheap. But as a one or two doughnut treat-well worth it. And believe me, vegan baking ingredients can be quite pricey. And FYI, the very famous and popular Donut Plant just a few blocks from Babycakes sells their donuts for about the same price.
Last Word: Forget the Sex in the City themed NYC trips. I'm predicting Vegan Treats themed NYC trips in the forecast. Whole tourist buses, trolling the sights, smells and tastes of the vegan delights this great city has to offer. Book your trip today! First stop: Babycakes. Have a cinnamon-sugar doughnut for me.
Lots more Babycakes Doughnuts Photos: