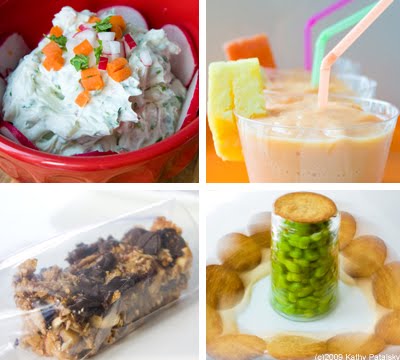 Newsflash: There's nothing wrong with a little in-between-meal snacking. Especially when you are a busy student with book reports, tests and teachers on the brain. In the world of a back-to-school, snacks are king!
Reality Check: Time for a sit-down dinner? No! Time for a study break snack? Yes! Here is my "Back to School" Series round-up of snack recipes…
"Back to School" Eats Series: Snacks
BONUS Tip: Classic Kid Snack Tip! Update "Ants on a Log" by using almond butter/dried cranberries – call it "Ladybugs on a Log"

1) Flying Saucer Edamame with "Space Sauce"
Can't seem to get your family to latch onto the idea of eating soy beans known as edamame? Try this! It's a space adventure with a healthy snack attached. Blast off for some maple cream space sauce and sweet protein-rich soy beans. Imagination not included…

2) Kitchen Sink Granola Bars
Granola bars: to-stay or to-go. You will never go back to store bought granola bars again. Customize my recipe to fit whatever ingredients you have lying around in your kitchen cupboards.

3) Micro Veggie Cream Cheese
Hiding veggies in your kids food is sooo last year. What's the new trend? My micro chop method! It's my new way to get kids to eat their veggies. It's not hiding, it's minimizing.

4) Easy Cheesy Party (or study) Tempeh
Simple (microwave-friendly), cheesy-goodness, high-protein study time or after school snack. Soy crisps, vegan cheese, tomatoes and a flavored tempeh is all you need for a high power 're-fuel your brain' snack.

5) Island Resort Papaya Bowl
Work-bound adults aren't the only people who need a vacation from time to time. Hard workers of all ages can crave the roar of some glossy aqua waves glistening off the sandy shore of a tropical island. Soft sand, a gardenia breeze and not a teacher in sight. OK, so maybe you can't send them to Tahiti every time a spelling test looms, but you can give them this papaya bowl and let their imagination do the rest!

6) Taste the Sunshine Study-Time "Fruit Plate"
Stuck inside studying? Sunshine-deprived? If you can't play in it, at least you can taste it! The classic fruit plate makes a perfect study time snack. The trick is to use high quality fruit and arrange it in an eye-pleasing way. Organic and locally grown fruit will get you extra credit. We eat with our eyes first, but the aroma of freshly chopped fruit will tickle your taste buds too…

7) Snack Smoothies
My go-to snack idea is a smoothie. So here are a few ideas to get your blender spinning! A large smoothie is a great snack to feed a hungry BUNCH of students!

8) Tomato-Free Mango Bruschetta
It's bruschetta, only it's tomato-free! Slightly sweeter to the palate, yet still rich in antioxidants and whole food nutrients. Even if your kids wouldn't dream of trying tomato bruschetta, give them this and they will be requesting it by name: "Mango Broo-sket-a" Please!

9) Toasty Chicks and Cashews
Turn boring, but healthy, garbanzo beans into a yummy bean and nut hand-to-mouth snack! You can customize the recipe to make it as sweet, salty or spicy as you'd like!
10) Another great link for you to check out: Healthier Snack Brands for "Junk Food"

And don't forget to check out Lunchbox Showstoppers in Part three of my Back to School Series…