These fluffy, vegan Banana Nut Muffins are a winner for the back to school fall season. The next time you have some over-ripe bananas on hand, whip these up for all to snack on..
I'm loving these muffins that I whipped up on sunday night. They are made using spelt flour, four ripe bananas and a giant scoop of chopped walnuts. Hints of maple, cinnamon, vanilla and rolled oats. But really, my favorite thing about these muffins: the vibrant banana flavor and moist, fluffy texture.
Banana Nut Muffin Tip: Ripe bananas!
I know you already know this, but making sure that you use over-ripe bananas is key for any banana bread or banana muffin recipe. I used two bananas that were very soft – lots of black spots all over. Then two more that were just a ripe – because that is what I had on hand. But making sure at least a few of your bananas have that bright (over-ripe) banana fragrance is key to flavoring your muffins.
Spelt or All Purpose Flour?
I used spelt flour because I like the nuttier flavor and texture that it has compared to an all-purpose flour, but you could sub with any flour you have. I have not tested this recipe yet using gluten free or all-purpose flour, but when I do I will update this post to confirm.
These fluffy, vegan Banana Nut Muffins are a winner for the back to school fall season. And I just love how fluffy they baked up!..
Baking Season.
I am so excited that it is baking season, aka cooler days of fall and later on, winter. And I actually dove in and bought my very first (ever) KitchenAid stand mixer! I am so excited about it. I have wanted one for years now, but just never felt the urge to really commit and buy one. Blame it on the Great British Baking Show I have been watching lately. I actually ordered a mini sized mixer first, but sent it back because it just looks way too small for the amount of baking I like to do. But if you need a one-batch mixer, the mini is super cute and looks very functional! I bought the 5-quart mixer. The mini is 3.5-quarts. Amazon has some great deals on KitchenAid stand mixers, so that's where I snagged mine. I can't wait to try these banana nut muffins using my mixer!
Anyways, I'll update you soon on how it goes. Any stand mixer recipe faves? Tips? Requests?
Banana Nut Muffins – Save the Day!
These are so perfect for the back to school season. You can pop a few in a lunchbox or bring them to work. I like to nibble them throughout the day at my desk. Usually with a mug of rooibos tea. they taste delicious straight from the fridge – chilled, or room temp – or warmed up with a pat of vegan butter on top.
One Dozen.
A dozen muffins should last you at least halfway through the week – depending on your family's muffin-eating capacity. You can always double the recipe, bake two dozen and pop one dozen in the freezer – to thaw and eat later. These muffins should freeze well.
Vegan Egg Replacer.
For the egg replacer, I simply used apple sauce. I like the subtle sweetness it adds and the fiber content too. The flavor doesn't interfere with the banana. If you need or want to try another egg replacer you could play around with silken tofu or flax eggs.
These fluffy vegan muffins are loaded with nutty banana flavor and include hints of vanilla, cinnamon, maple and oats.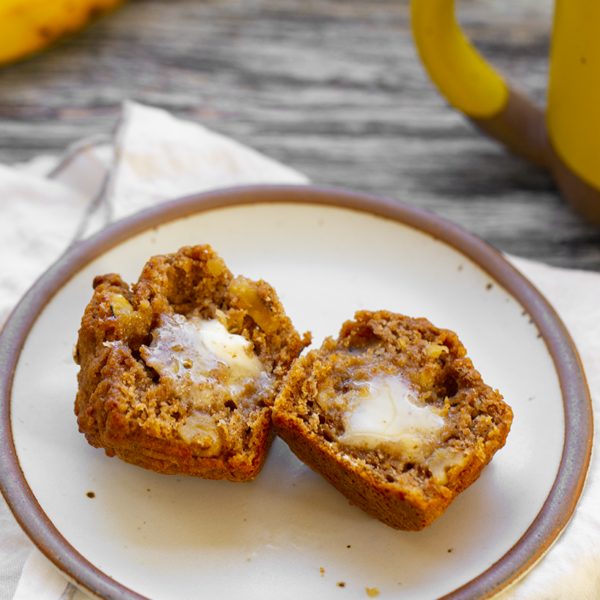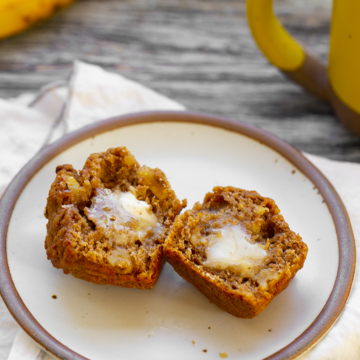 Banana Nut Muffins
These fluffy vegan muffins are loaded with nutty banana flavor and include hints of vanilla, cinnamon, maple and oats.
Print
Pin
Ingredients
Wet:
8

oz

apple sauce

,

or 'flax egg'

5

tablespoon

vegan butter

,

softened – or sub sunflower oil + ¼ teaspoon salt

4

bananas

,

extra ripe

2

teaspoon

vanilla extract

⅓

cup

maple syrup
Dry:
2

teaspoon

cinnamon

1

teaspoon

baking powder

½

teaspoon

baking soda

½

teaspoon

sea salt

3

tablespoon

rolled oats

2

cups

spelt flour
Fold in:
1

cup

raw walnuts

,

chopped
Instructions
Preheat oven to 350 degrees and line muffin tin with muffin liners – or grease and flour.

Combine all the wet ingredients in a large mixing bowl. Mash bananas and stir – or use a hand or stand mixer to beat until combined.

Add in the dry ingredients and beat until smooth.

Scoop batter into the muffin tins – fill generously. Top with a few sprinkles of rolled oats – optional.

Bake at 350 degrees for 32 minutes or until a toothpick comes out clean when inserted in center of a muffin. Muffins will be fluffy and golden browned on top.

Remove muffins from oven. Cool in the tin for ten minutes, then remove muffins and serve – or cool on the counter for another twenty minutes until covering and storing any leftovers.
Equipment
muffin tin

mixing bowl

hand of stand mixer
nutrition estimate | per serving
Calories:
254
kcal
|
Carbohydrates:
35
g
|
Protein:
5
g
|
Fat:
11
g
|
Saturated Fat:
2
g
|
Sodium:
190
mg
|
Potassium:
265
mg
|
Fiber:
5
g
|
Sugar:
12
g
|
Vitamin A:
253
IU
|
Vitamin C:
4
mg
|
Calcium:
44
mg
|
Iron:
2
mg
Pin for later..