Here is the last post in my Healthy Makeover Summer Series: Readers Choice! You guys voted and the winner was: Sticky and Sweet BBQ Tempeh and Tofu!

BBQ Sauce from Scratch. Oh Yes. Before today I was officially a BBQ Sauce virgin. I gazed from a distance at those mysterious pots of thick, sticky and smoky burnt red colored BBQ sauce. BBQ sauce was a mystery to me. Until now. After a day in my Healthy. Happy. Life. vegan test kitchen I've come up with an awesome recipe that I hope you will give a try. Here is my 'way better than bottled' Smoky, Sticky, Sweet Vegan BBQ Sauce recipe (with sweet BBQ peaches on the side)…

Thick BBQ Sauce. My number one condition for BBQ sauce was that it had to be thick! None of that watery dribble. I wanted it to be heavy, rich and thick.
Dark Burnt Red Sauce. The next condition was that it had to be dark red-purplish sticky burnt brown. I do like the lighter orange colored transluscent BBQ sauce, but I was going for that molasses-inspired opaque BBQ sauce. And I got my wish.

Less Sugar. More Flavor. After perusing the aisles of Whole Foods to get some BBQ sauce inspiration I noticed that most bottled sauces contain a lot of sugar and not a lot of good stuff. So I decided I would make my sauce with a thick tomato paste base and use half black strapped molasses and half agave syrup as my sweeteners. Molasses is rich in iron, manganese, calcium and copper. And it's so fun working with that thick black goo known as molassas. It's like tar. Only good for you. And tasty. I also use a lot of spices to add a depth of flavor that simple sugar just can't match.
OK, enough stalling, here is my recipe…
Kathy's Smoky, Sticky, Sweet BBQ Sauce
vegan, makes about 1 ½ cups
4 tablespoon apple cider vinegar
3 tablespoon Black strap Molasses
2 ½ tablespoon agave syrup
1 teaspoon lime or lemon juice
2 teaspoon Liquid Smoke
*I like Colgin brand. It says it's vegan on the bottle
2 teaspoon olive oil
1 teaspoon spicy mustard
2 teaspoon soy sauce
3 tablespoon organic tomato paste
1 ½ tablespoon Arrowroot Powder
*thickens the sauce like corn starch
½ teaspoon salt
1 teaspoon black pepper
1 teaspoon paprika
½ teaspoon cumin
1 tablespoon ketchup
1 teaspoon onion powder
¼ teaspoon cayenne (adjust for heat)
Optional Tweaks:
*For a sweeter sauce add more agave or 2 tablespoon brown sugar
*Taste test sauce and add more salt if you prefer
*For a zippy-er flavor replace the lime/lemon juice with 2 teaspoon orange juice
Directions:
Combine all liquid ingredients in a bowl. Stir in the remaining ingredients one at a time. Make sure to add the arrowroot powder slowly to avoid clumping.
Set aside until ready for use.
Store in fridge if you are not using immediately.
BBQ Sauce Uses:
Easy to use on an outdoor grill. Or you can use my indoor cooking preparation for tofu and tempeh below.
BBQ Tofu and Tempeh
vegan, makes 3-4 servings of BBQ tofu or tempeh
1 cup Kathy's Smoky Sweet and Sticky BBQ Sauce
2 Cups of tofu or tempeh, cup into ½ thick triangles
olive oil (for pan)
1 teaspoon salt
1 teaspoon pepper
1 teaspoon lemon juice
Directions:
Heat a saute pan to med-high.
Add 3 tablespoon olive oil and 1 teaspoon lemon juice.
Add enough of the tofu or tempeh to fill the saute pan.
Coat both side of the protein with some of the pan oil.
Add 1 tablespoon water-for steam, and quickly cover with lid to braise.
Allow to cook for 2-4 minutes, depending on tofu or tempeh cuts.
Remove lid, and flip the triangles.
The flipped side should be well-browned and slightly crisp.
Sprinkle the salt and pepper over the cooked side up of the tofu/tempeh.
Cover with lid and allow to cook for another minute.
Next, reduce heat and brush each triangle with about 1 teaspoon BBQ sauce.
Flip triangles.
Coat top side with about 2 tablespoon of BBQ sauce.
Add 1 teaspoon water and cover with lid again.
Steam for about a minute.
At this point you can allow the sauce to simmer and marinate on the triangles covered or uncovered. Covered softens everything up, while uncovered leaves a hint of crispness to the proteins and sauce.
When the pan starts to really brown up, turn heat to super low and prepare to plate the dish.
For a stickier sauce you will want to let it burn a bit in the pan. Just a bit though!
Garnish: BBQ peaches. Peaches preparation follows photos.
Tofu: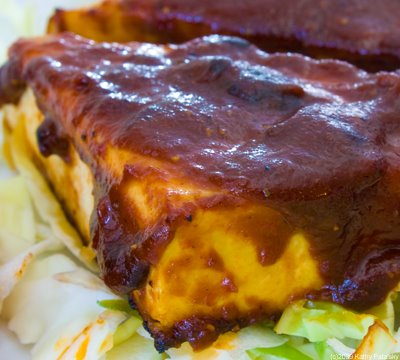 Tempeh: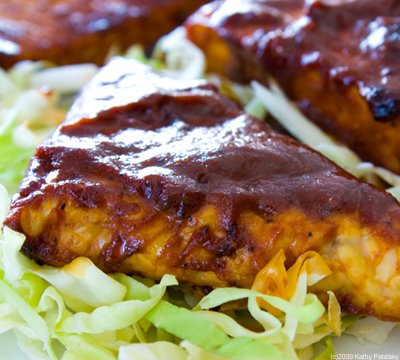 BBQ Peaches Recipe
1 cup sliced peaches
*I like white peaches best for this
BBQ sauce cooked pan.
Directions:
Simple drag the peaches across the bottom of your just-used BBQ sauced pan.
The cooked sauce remains will stick to the peaches perfectly and slightly warm the outer sides of the peach. Just be careful and use a fork. Don't burn your fingers on the still-hot pan.
Peaches: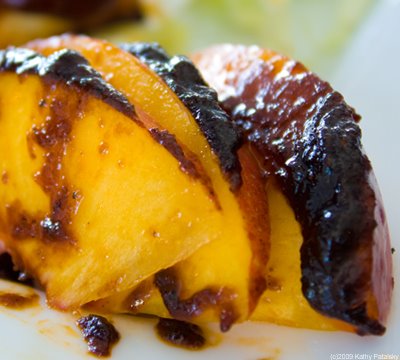 More sticky, sweet, gooey good photos below: