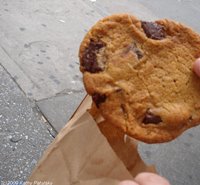 This past weekend I trekked out to Birdbath-Build a Green Bakery, in the East Village. Isn't Birdbath a great name? They supposedly had the best vegan chocolate chip cookies -ever! Well here's my review of the cookies and of this tiny, but proud Eco-friendly green NYC bakery…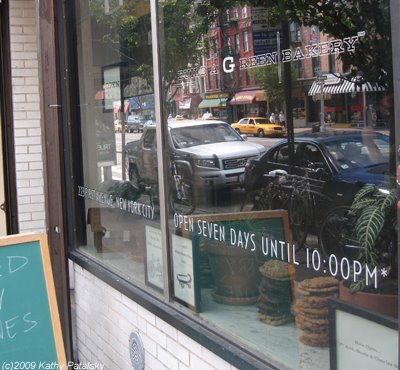 My Review of Birdbath: Build a Green Bakery:

Pretty delicious. But not as vegan-friendly as I thought. I went twice and both times they didn't have any signs of their 'famous' vegan cornbread. Darn. The only vegan options were the sesame seed muffin and the vegan chocolate chip cookies. The cookie was delicious, but not the best I've ever had. It actually tasted exactly like Mrs. Fields chocolate chip cookies-only Birdbath's are vegan.
My non-veg hubby loved the pretzel croissant. And yes, it looked tasty. Birdbath is a must try for Eco-green, non-vegan foodies. And vegan foodies- if you're into cookies.

Customer Service: The first time I went the counter girl was a bit stand-offish. But the second visit-an older woman was incredibly nice. I might be back, but I probably won't crave to be. A less-than-stellar customer service experience can dig deep.
Now here is my official Review…Breakdown Review: Birdbath

Shelf Appeal: Awesome little 'green store' everything is made from recycled, and truly re-used materials. The floor is cork and the table is bamboo with recycled fiber as the base. Learn more here: Birdbath Construction. The bakery goods are not enclosed in a case though-not so appealing. They give discounts to customers who arrive on bikes or skateboards. Cool.
Label Check: We're talking cookies and muffins here, so the nutrition level won't win any awards. But, like all vegan baked goods, lower in saturated fat and other animal product 'bad' stuff. Plus vegan means these are cruelty-free cookies. The sesame seed muffin-bread thingy (honestly, I forget the name) tasted pretty healthy. Lots of good-for-you sesame seeds and bananas I recall.
Taste Test: The 'famous' vegan chocolate chip cookie was excellent. Not the best ever, but very good. However, by the time I got home to do an official photo shoot, the cookies had all crumbled up and soaked the paper bag with oil. Not the best travel cookies. The hubby loved loved loved his pretzel croissant-not vegan. He keeps asking if we can stop by Birdbath after our yummy Liquiteria smoothie/juice outings. It's kinda in the same neighborhood!
Price Check: Moderate. I think our 3 cookies, 1 croissant order came out to around $12 or so. Good gourmet green prices for green gourmet taste. Worth it.
Last Word: Excellent 'earthy' treats at Birdbath. But it's the non-vegan Eco-foodies who are the true winners here.
Birdbath First Avenue NYC Website