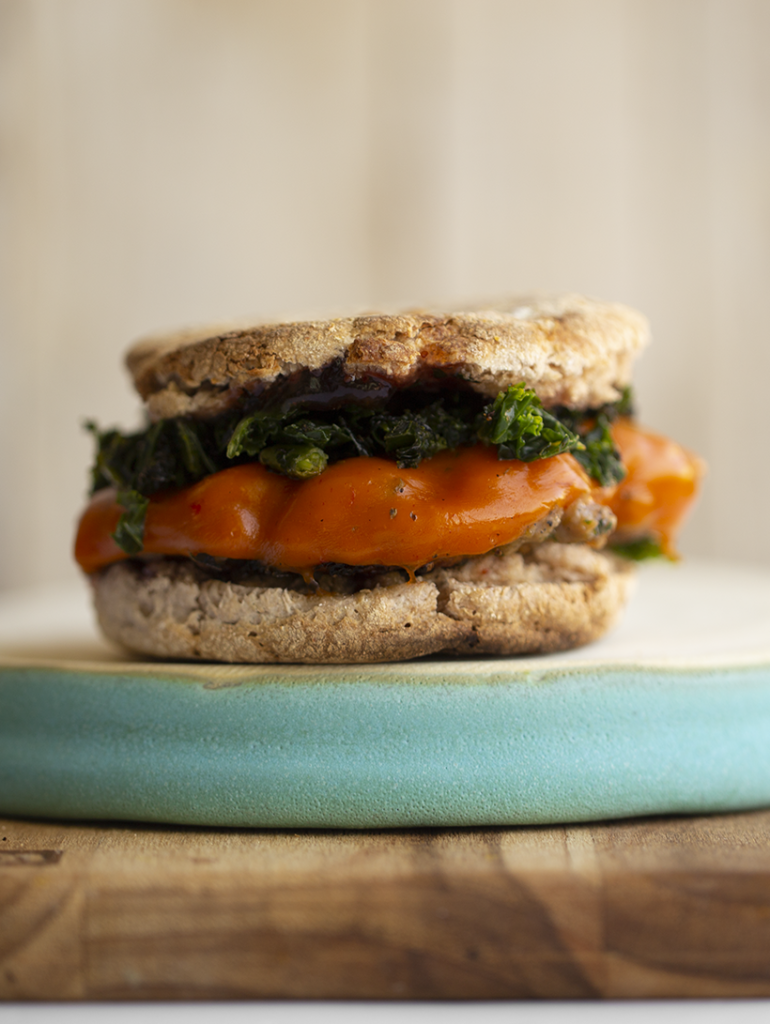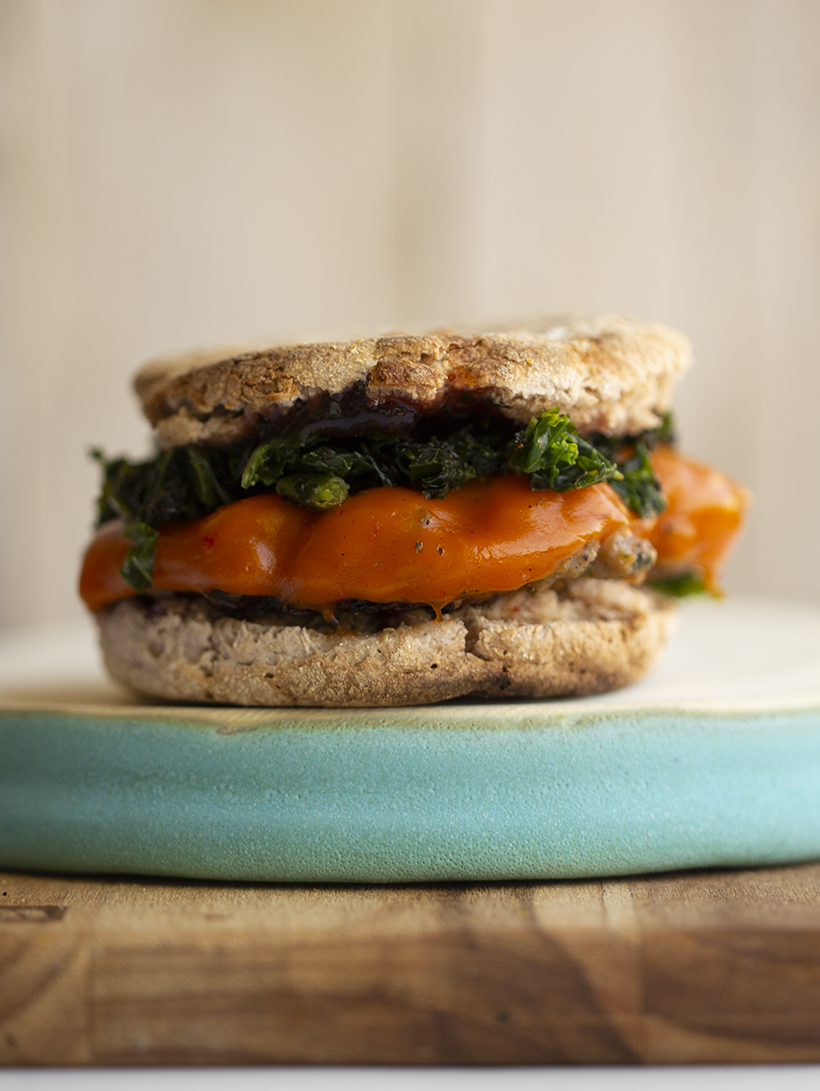 Breakfast Sandwiches are a mainstay in our household. We make them for breakfast and sometimes for lunch or an afternoon snack. My husband especially loved them. And these days they are so easy to make vegan! Check out my fave ways to craft a vegan breakfast sandwich in under fifteen minutes…
Vegan Breakfast Sandwich Basics.
The Bread. We go with an English muffin, but you could definitely use a vegan biscuit.
The Sausage. We like Lightlife GimmeLean vegan sausage the best, but Gardein also has some frozen patties which are pretty good. You could of course skip the sausage and use tempeh bacon or skillet mushrooms.
The Cheese. There are just so many vegan cheese brands on the market these days. It's kinda crazy. The last time I updated this post there were maybe one or two GOOD brands. Now, I could name at least five brands that I love. Chao, Follow Your Heart, Parmela, Daiya and even the 'generic' store brands you can find at stores like Trader Joe's and Whole Foods. As for flavor, I like a pepper jack or cheddar slice.
The Veggies. Veggies are optional, but usually a few leaves of spinach or kale will do it. Or try a quick mushroom saute.
Avocado. Avocado makes a breakfast sandwich a bit more filling and flavorful and loads you up on some added healthy fats. I like to smash ¼-1/2 avocado onto the English muffin.
Jam. My personal fave secret ingredient for the best breakfast sandwich ever is to add a hint of something sweet. For me, I love strawberry jam. Maple syrup can do it too, or even another flavor of jam.
Hot Sauce. And my final must-have ingredient is hot sauce. Just a tiny splash adds some heat and makes all the layers of flavor really come alive.
Of course you can just choose two or three of these components. You can absolutely make a sandwich with just sausage and cheese. Or just avocado and cheese and jam. Vegan sausage and avocado. Or mushrooms and avocado and cheese. So many options.
What about "Egg?"
Yup! Another fave ingredient to add to a breakfast sandwich is some vegan tofu, which can mimic the nutritional value and texture of egg. And there are a bunch of new "vegan egg" products coming out these days, so your 'egg, cheese, sausage' biscuit can totally be easily vegan very soon.
All the 'eggy' goodness can be made using tofu..
How to Make a Breakfast Sandwich in 15 Minutes.
1. Warm up a skillet over high heat. Add a splash of oil. (1 minute)
2. Pop your English muffin in the toaster. (while you cook)
3. Add your vegan sausage patty to the skillet. Cook for two minutes, then flip. (2 minutes)
4. Add the cheese to the patty. Cook long enough to melt the cheese – cover with a lid for a bit if that helps. (2-3 minutes)
5. Quickly saute any optional greens or veggies to soften. (1-2 minute)
6. Prep your avocado and/or grab your added toppings like jam and hot sauce. (1-3 minutes)
7. Slather jam and or smashed avocado on your English muffin. Add the patty, hot sauce and anything else and close. (1-2 minutes)
= around ten minutes, maybe a few more or less.

Serve warm!
Best paired with my fave foamy lattes.. matcha or espresso.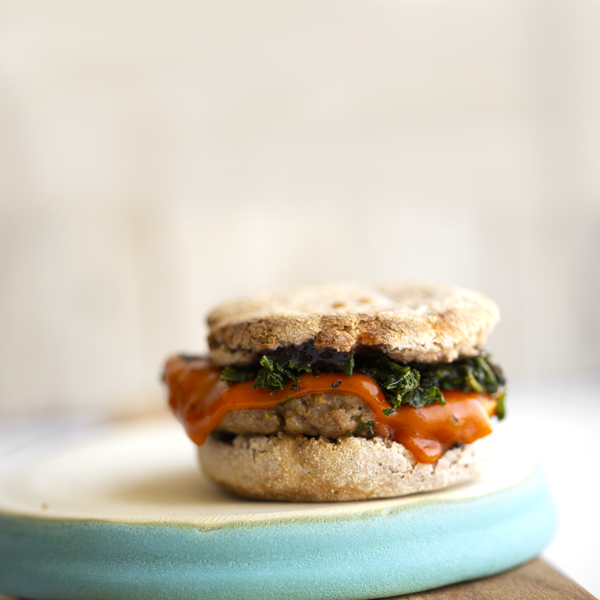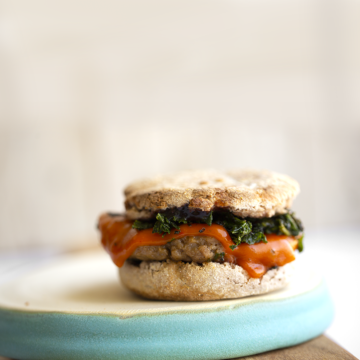 15-Minute Breakfast Sandwich
This super easy vegan breakfast sandwich can be whipped up in just 15 minutes! Super flavorful!
Print
Pin
Ingredients
1

English muffin

2

tablespoon

vegan sausage patty

,

any brand

leafy greens

,

kale, spinach – to taste – optional

1

slice

vegan cheese

1

teaspoon

hot sauce

,

optional

1

teaspoon

strawberry jam

1

teaspoon

extra virgin olive oil for coating the pan

,

optional

¼

avocado

,

optional
Instructions
Pop your English muffin in the toaster.

Grab your patty and cheese. If using microwave, cook patty one minute. Add cheese, heat another thirty seconds. If using skillet, add oil to pan. Warm skillet over high heat. Cook patty for one minute, flip and add cheese. Cook until cheese is melted. Turn off heat.

Slice open the English muffin. Add jam to toasted english muffin.

Add the patty and melted cheese. Add optional greens and avocado. Serve!
Equipment
skillet or microwave

toaster
nutrition estimate | per serving
Calories:
271
kcal
|
Carbohydrates:
38
g
|
Protein:
11
g
|
Fat:
7
g
|
Saturated Fat:
2
g
|
Sodium:
788
mg
|
Potassium:
75
mg
|
Fiber:
4
g
|
Sugar:
3
g
|
Vitamin C:
4
mg
|
Calcium:
44
mg
|
Iron:
7
mg
originally posted: 06/30/2010
Happy AM!
Pin it for later..


Photos from the original post..


To-Go Breakfast Sandwich:



Panini Pressed. I used my panini press to whip this baby up – but you can use a traditional stove-top skillet and spatula – or a stove top grill press. Buy my fave grilling tools here.
So many vegan breakfast sandwiches to try!..

Green Kale Breakfast Sandwich:

Vegan Sausage. I used Lightlife Gimme Lean SausageStyle ground soy. It comes in the thick tube. 60 calories per 2 oz – plus it is fat free! 7 g protein per serving as well. Soy based. vegan.
original post: Jun 30, 2010 | updated: May 31, 2019