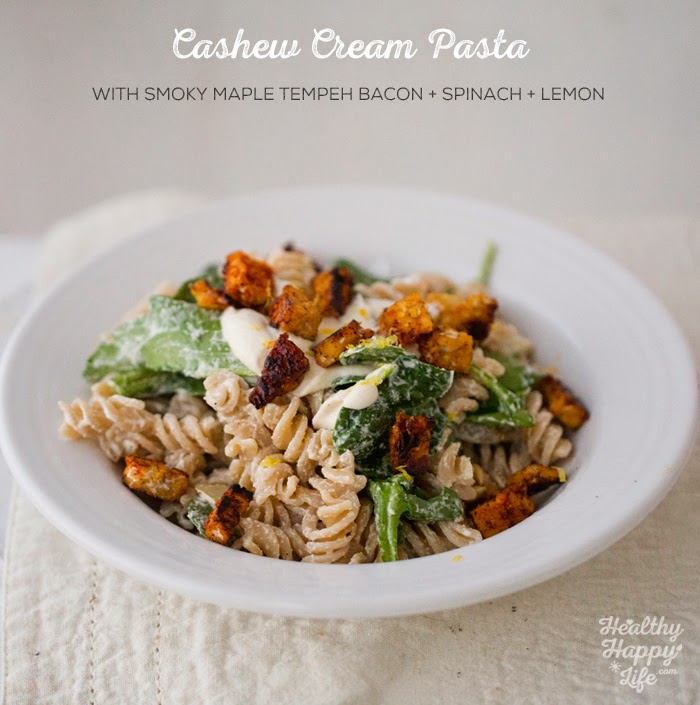 I love cashew cream pasta, aka Vegan Alfredo. But I wanted to lighten it up a bit, add the sauce to taste, add some greens and lemon and tons of flavorful crispy little bits. AND make it into a one bowl wonder meal. This Cashew Cream Pasta succeeded in all those things and more!
Pasta Night. Cashew cream pasta with lemon, organic spinach wilted in and smoky-maple tempeh bacon bits. What a winner for dinner! Yes, that rhymed. I must be on a roll here. The best part is how fancy yet easy this meal is. 30 minute meal approved. I did not even pre-soak my cashews. Have this fancy-casual, date-night-meets-family-dinner meal. I used a gluten free quinoa-brown rice pasta, but you can use any pasta you'd like! Pasta night awaits you..
Before adding the goodies..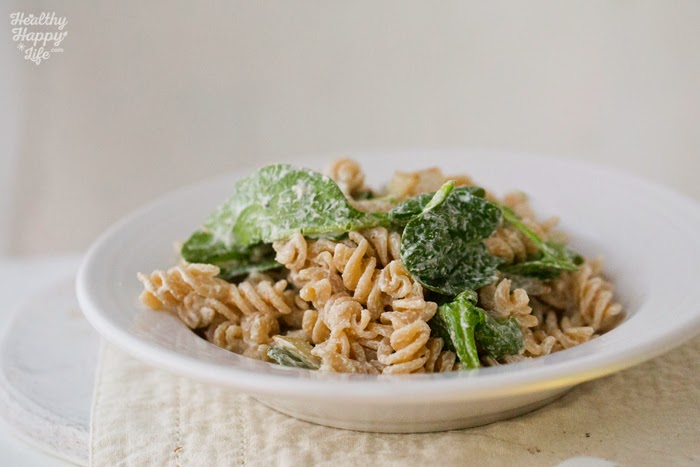 Goodies on top!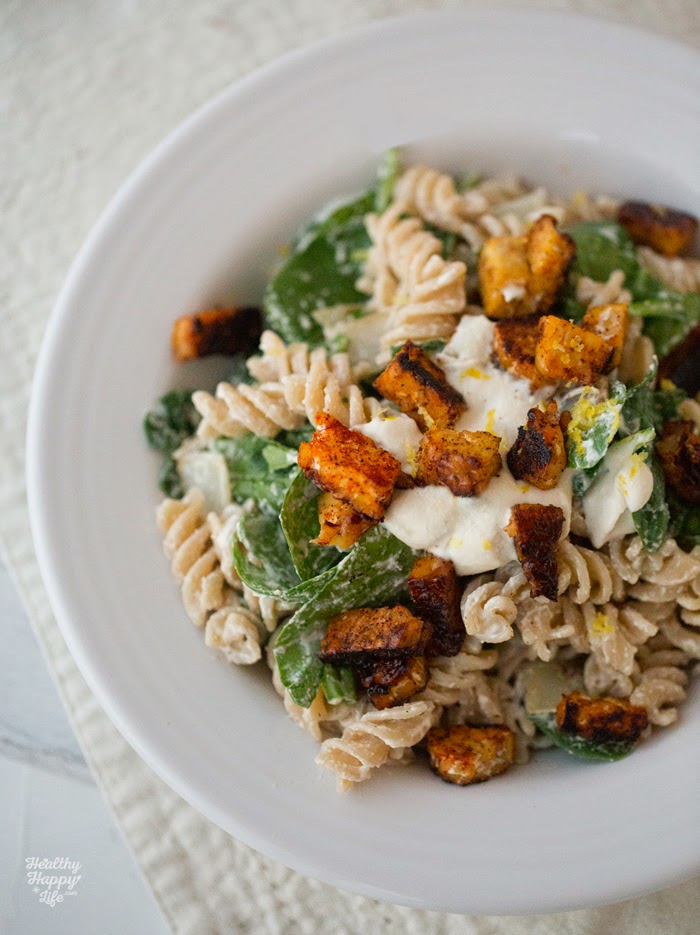 Dive in to a vegan pasta night..

This decadent, yet surprisingly light meal is loaded with healthy-delicious flavors. Lemon, spinach, garlic, cashew cream, black pepper, smoky maple and nutty quinoa-rice pasta. SO satisfying! Serve with a glass of vegan wine and toast to what a brilliant cook you are. I mean, YOU can totally have this for dinner tonight, I promise!.. #easy
Assembly of this dish in a video. Be sure to click the upper right hand corner to give this video a thumbs up without leaving HHL!..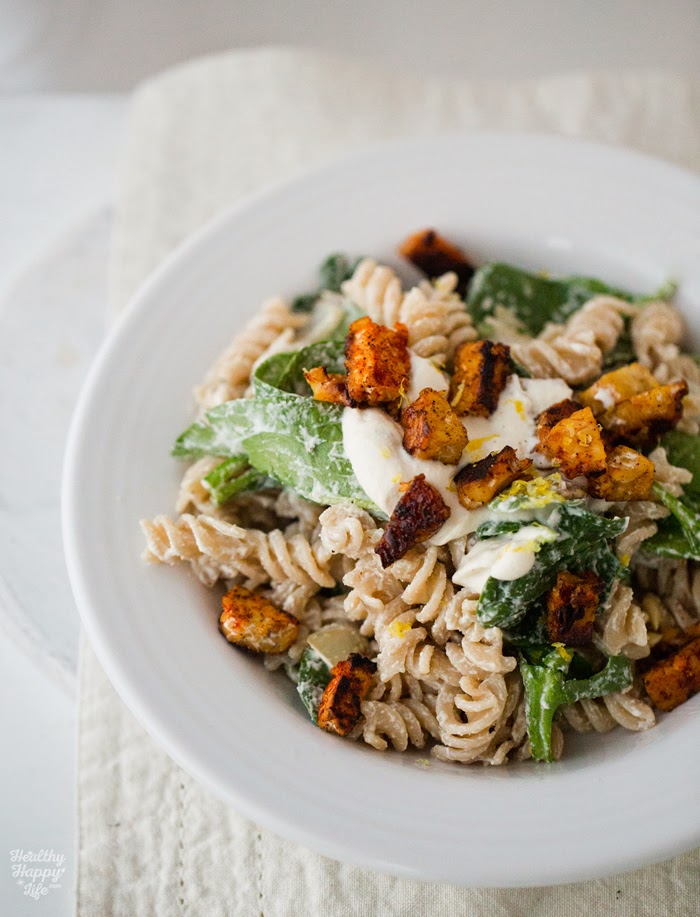 Cashew Cream Pasta with Lemon, Spinach, Tempeh Bacon Bits
By Kathy PatalskyPublished 03/30/2015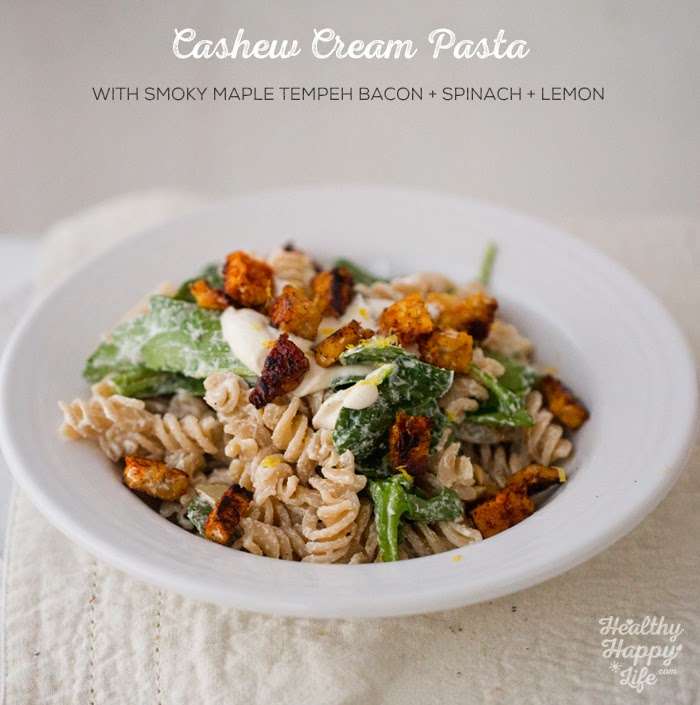 This delicious vegan cashew cream pasta has accents of garlic, lemon and black pepper. Spinach and smoky maple tempeh bacon bits. Pasta night worth craving and dreaming about!
Ingredients
1 cup white onion, diced
1 teaspoon extra virgin olive oil
—
cashew cream:
1 cup raw cashews (quick soaked)
¼ cup fresh lemon juice
2 garlic cloves
1 teaspoon extra virgin olive oil
¼ teaspoon freshly ground black pepper + pinch of salt
½ cup warm pasta waster (from cooking pasta)
—
Tempeh Bacon:
4oz. tempeh, diced
1 teaspoon maple syrup, grade B
½ teaspoon extra virgin olive oil
⅛ teaspoon smoked paprika (or a few drops liquid smoke)
To serve, garnish on top: fresh lemon zest and fresh black pepper to taste
⅛ teaspoon salt (or less – tiny pinch)
To serve, garnish on top: fresh lemon zest and fresh black pepper to taste
—
Pre-cooked: 3 cups freshly cooked pasta (quinoa-rice gluten-free spirals used)
2 cups fresh organic baby spinach
Instructions
About ten minutes before starting this recipe, soak 1 cup raw cashews in hot water — boiling works best, but the warmest setting on your tap will also work. Add a pinch of salt to the water and let the cashews sit for at least ten minutes — longer is even better, but ten minutes will work, as I tested.
Heat a skillet over high heat and add the 1 teaspoon EVOO. Then add the onions. Cook for 2-5 minutes until edges are very browned and caramelized. Pour onions into a bowl and set aside.
In the same skillet, add all the tempeh bacon ingredients and keep skillet on high heat. Toss bits around until well coated. Cook for 2-4 minutes, or until edges start to blacken and all liquid is absorbed. You want them to have crispy edges. Turn heat off skillet and set aside — or if you are worried about the bits burning, remove them from the skillet and set aside. (Best to keep them warm in the skillet though until needed.)
While you are skillet-ing, you can be bringing a large pot of salted water to a boil. When boiling, add dry pasta — cook according to package, until al dente in texture. (About 8-10 minutes on average) — drain pasta and place in a large mixing bowl. Reserve pasta water for step three!
Sauce: Drain cashews and add the cashews, and all cashew cream ingredients into a blender or food processor. High-speed blender is a must for smooth, silky cashew cream. Blend from low to high until silky smooth.
Assembly! (See my video above for the best big picture of this process.) Toss pasta with the onion. Then add the spinach. The warm pasta will wilt the spinach. Then add in two to three heaping spoonfuls of cashew cream. Toss. Pour pasta into serving bowls. Add a spoonful of sauce on top. Add tempeh bits and fresh lemon zest on top too. Serve warm.
Yield: 2-3 servingsPrep Time: 00 hrs. 10 mins. Cook time: 00 hrs. 20 mins. Total time: 30 mins. Tags: pasta,vegan,cashew cream.dinner,entree,lemon,tempeh,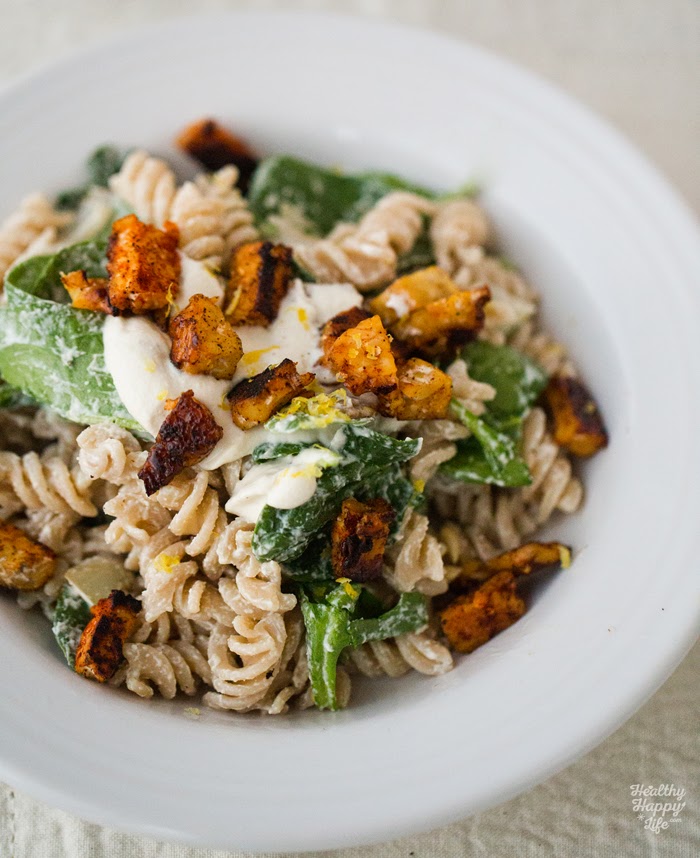 Oh those facon bits! love love love..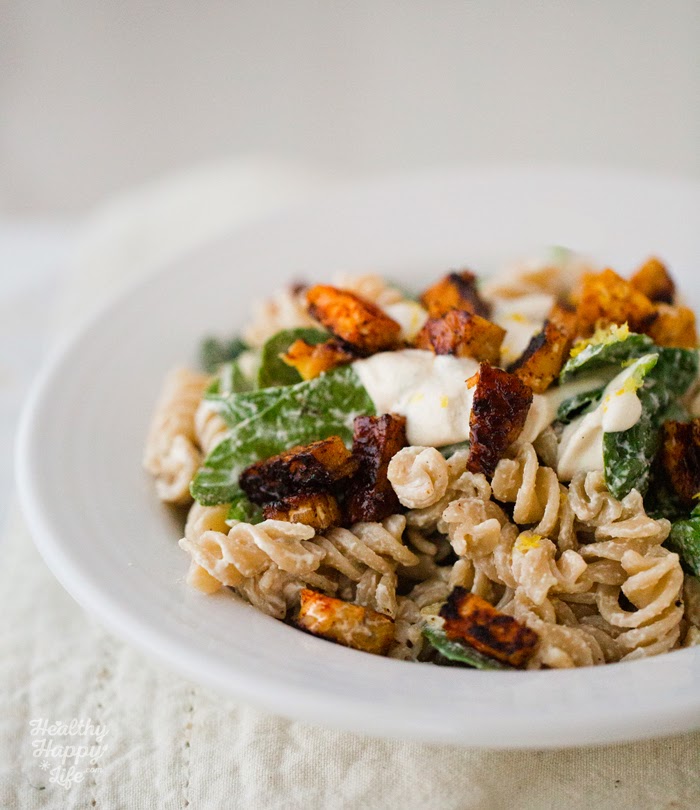 More fave ways to use cashew cream..
* On bagels! For a bagel feast.
* Pot Pie
* Enchiladas
* On Pizza!
* Nachos
* Topping for seven layer dip — or a seven layer dip bowl.