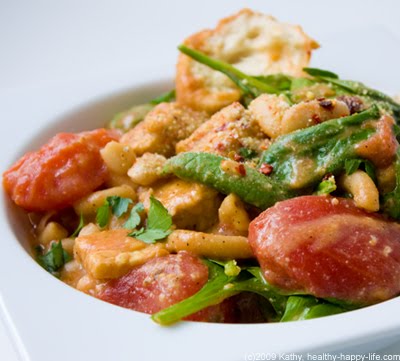 Simply cravable vegan comfort food, that's how I describe my "Cheesy" Chili Bread Bowl recipe. This is a go-to dinner or lunch recipe that you will love to have in your back pocket on a cold gloomy day. This recipe uses several grocery store items that you can easily store in your pantry. So it's "voila!" ready. The exotic flavor of San Marzano tomatoes gives this recipe that homemade taste. Packed with protein, antioxidants and flavor, this ready-in-thirty-minutes recipe is waiting for you. Get it…

RECIPE UPDATE Suggestions: My husband and I ate this last night for dinner and loved it. There are a few things you can do to make it dinnertime-ready in a flash, yet also 'jazz it up' a bit to make it a very special (cravable) dish.
*Oven-Love. I transferred my 'microwaved' entree to a large white corning ware bowl with glass lid. I stuck it in the oven at 300 degrees for about 20 minutes. This marinated all the flavors together and kept the dish piping hot while we ate out pre-chili salads. After the 20 minutes is up, I left it in a 170 degree oven, lid-on until it was ready to eat.
*Bubbly Cheese. I added about 4 strips of Follow Your Heart Monterey Jack cheese to the top of the dish. I broiled the cheese in my oven for about 5 minutes to get it nice and brown and a bit bubbly. Then I put the lid back on and allowed it to sit in the oven on warm until ready to eat.
*Creamy. I used a drizzle of soy creamer (about 1 Tbsp) over top the dish before placing it in the oven. It added a subtle yet decadent flavor to the recipe.
*Bean there, Done that. My husband despises beans. So sadly, I left out the beans for this dish and added in another 4 oz. of tempeh cubes. I have tried this with and without beans, and it is delicious either way. But me, I love those healthy fiber-rich beans!
*Shrooms. A great add-in I did last night was rosemary-roasted mushrooms. I roasted the shrooms in 1 teaspoon of crushed dried rosemary, garlic powder, apple cider vinegar and EVOO. I then added the shrooms to the dish right before serving. Yum!
*Snausages! Lastly, I added in a Field Roast spicy chipotle sausage (as I mention in my add-in's below). It was amazing. The sausage gave the entire dish a spicy flavor and it nicely soaked up the juices to become quite tender and succulent to eat. I simply tossed it into my pasta right before placing in the oven. The heat from the dish really cooked the sausage nicely!

San Marzano Tomatoes. For months I had been ignoring a can of San Marzano tomatoes that I had bought 'on sale' at Whole Foods one day. I had never opened a can of SM tomatoes before and really had no idea what they tasted like right out of the can (though I've had them on D.O.C pizza). I only knew that they make "the best pizza sauce" ever. So one day I finally did a taste test of my San Marz tomatoes and "whamo!" My taste buds were hit with perfectly flavored, acidic, bright and sweet tomatoes – a tender firm texture too. These tomatoes are so inspirational. I eventually used them in this recipe, and chili Italian-o bliss was created. Vegan style.
Get this go-to recipe…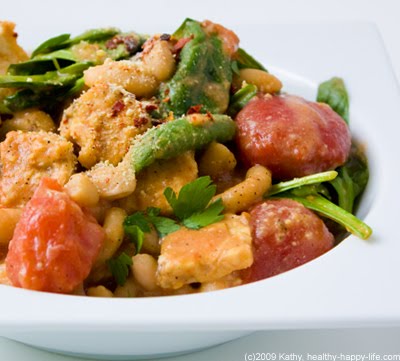 Cheesy Chili Bread Bowl
vegan, makes a really big pot of chili pasta
*will serve 3-5 or 2 (with leftovers)
1 box of Dairy Free Mac 'n Chreese, cheddar flavor
*by Road's End Organics/Edward and Son's brand, I prefer the gluten-free brown rice penne or the whole wheat elbow macaroni pasta.
¾ c. water
¾ c. veggie broth
1 cup soy milk, plain
2 tablespoon EVOO, extra virgin olive oil
½ teaspoon black pepper, fine
½ teaspoon garlic powder
1 teaspoon red pepper flakes
tempeh
6 oz. tempeh cubes
1 tablespoon maple syrup
1 teaspoon garlic powder
3 tablespoon Apple Cider Vinegar
a few dashes of fine black pepper
dash of salt
1 can (15oz.) cannellini beans
½ can (14-16 oz.) of San Marzano Tomatoes with liquid, whole
*I used Cento organic brand, packed with basil
¼ cup chopped parsley
1 cup baby spinach
Vegan Parmesan Cheese (2 Tbsp+)
2 large chunks of fresh french bread or a fluffy fresh bagel, any variety bread

Directions:
1. Chop your tempeh into cubes and set it in a marinade of the apple cider vinegar, garlic, maple syrup, dash of salt and pepper. Set aside.
2. Pour the mac pasta (from the Road's End box) into a large microwave-safe bowl. Add the packet of "chreese" mix to the bowl. Also add in the liquid: soy milk, veggie broth and water. Add in the EVOO as well. Stir a bit. Cover loosely with a lid.
3. Microwave pasta mixture for 5 min on high. Make sure it doesn't bubble over in the microwave.
4. When the 5 min cooking time is up, stir the pasta well. It should be softened, but not fully cooked. Add in your marinated tempeh mixture (all the liquid 'marinade' as well).
5. Leave the pasta bowl (with tempeh) uncovered and microwave for an additional 4-5 minutes.
6. Remove cooked pasta/tempeh bowl from microwave. Gently fold in your baby spinach and parsley. Cover, set aside.
7. Empty you cans of beans and tomatoes into a separate microwave safe dish. Heat them together in the microwave for about 2 minutes (just enough to warm them). Fold the heated beans and tomatoes into the pasta bowl. (You used a BIG bowl right?)
8. Place the entire bowl back in the microwave for about 1 minute. This will make everything steamy hot, but not overcooked.
9. Remove the bowl from the micro. Transfer your pasta chili into a serving bowl (or leave in prep bowl if need be. Sprinkle a generous layer of vegan Parmesan cheese on top of the pasta chili. About 2 tablespoon worth.
10. Grab your fluffy french bread or fresh bagel and rip it into big chunks about the size of a golf ball. Dab the bread into the top of the pasta bowl. The bread will nicely soak up some of the excess liquid, creating a perfect thick pasta leftover. Cover pasta chili and let sit for at least 2 minutes before serving.
11. Garnish with fresh parsley, red pepper flakes and more parm cheese.
Yum and yum. Leftovers are encouraged.
Optional Add-ins:
*Fold in a few rounds of Field Roast vegan sausage, in the Spicy Chipotle flavor.
*Artichoke hearts.
*Kalamata Olives.
*Another version of beans:kidney, navy, garbanzo.
*Diced jalapeno.
*Chopped onion.