I'm kicking off my "Veggie Girl Power" interview series with a bang! First up, I am thrilled to feature Amanda Cohen, Head Chef and Owner of Dirt Candy restaurant in NYC.

Inspiring Bite. I first came across Amanda's talent when I dined at her vegetarian (vegan-friendly) East Village NYC restaurant, Dirt Candy. It was an unforgettable meal. I left saying, "Oh, so this is where all the cool veggie kids eat!" I suggest you bring your non-veg friends, they'll never look at 'vegetarian dining' the same way again. Read my full Dirt Candy blog review here.
Amanda: Veggie Girl Power. Amanda recently won the Sustainability Award at the StarChefs Rising Stars Revue ceremony this past September in NYC. And the Dirt Candy blog, written by Amanda, recently won the 'funniest restaurant blog' award. Amanda's chef philosophy? Her famous quote says it all: "Anyone can cook a hamburger, but leave the vegetables to the professionals."
VGP interview. Amanda has some awesome words of wisdom about her veggie lifestyle (including a must-try Dirt Candy recipe). Read Amanda's answers to my Veggie Girl Power questions…

About The "Veggie Girl Power" Interview. This series celebrates female trailblazers who inspire us! Featured Ladies were chosen for their unstoppable "Veggie Girl Power", aka a female with experience, wisdom, creativity, skills, heart, worldliness, passion, grace, drive, dedication and personality! Each question is 'filed' under one of these VGP characteristics.
Veggie Girl Power Interview: Amanda Cohen
Q1. Name and 'title'?
Amanda Cohen, chef/owner of Dirt Candy


Q2. DRIVE: Yawn, sunrise, what is the first food/drink you reach for to start your "Veggie Girl Power" day?
Amanda: 
Cereal with orange juice on it. It sounds gross, but I love cereal and hate milk so it works for me.
Q
3. HEART: As a "Veggie Girl Power" trailblazer you inspire so many girls/women, who or what was your inspiration at the start of your journey to today?

Amanda: I'm not really sure. I started cooking professionally because I had hit a point in my life where I was just sort of lost and cooking was something I had always loved and so I grabbed onto it. What inspired me when I started were cookbooks mostly: Diana Kennedy, Mollie Katzen, Alice Waters, Julia Child – the usual suspects. And out of all of them, Julia Child was the one who spoke to me most directly, because I grew up watching her on TV.

Q4. EXPERIENCE: When people ask you why you 'went VEG' what is your usual answer?
Amanda: 
Peer pressure. When I was around 15 all my friends became vegetarian and vegan so I did, too. Unlike them, I stuck with it.

Q5. WORLDLINESS: Celebration dinner out, where do you go?

Amanda: There is no one place. I get to go out so rarely that every time I go to a restaurant I'm celebrating my freedom and I'm always trying somewhere new. But places I've been back to a lot or want to go back to more are any of the Mexican restaurants on East 116th Street. Sripraphai in Queens, Blue Smoke for their roasted peanuts and their cheese fries and Bloody Marys, and Grand Sichuan.


Q6. CREATIVITY: "You can judge a veggie girl by her beverage"…what are your favorite juice/smoothie recipes?


Amanda: I hate to say it, but I really don't have a favorite. When you work in a kitchen you're there for most of your waking hours and so you eat what you have on hand and we don't do juices at Dirt Candy so I don't really have them very often anymore. When I do have a smoothie I usually go for something with bananas for the stress-reduction and strawberries for the Vitamin C since I spend my days trapped in a kitchen.
Q
7. DEDICATION: Are there any foods or food brands that you simply couldn't live without?
Amanda: I had pretty much given up on fake meat before I came across Field Roast vegetarian sausages, which are hands-down the best vegetarian sausages out there. And if you love mayo, Vegenaise is better than real mayonnaise. I know lots of mayo connoisseurs who have been converted after tasting the wonders of Vegenaise. I love fresh pasta and anyone who likes pasta should try to make it fresh at least once. It's a lot easier than you think. And there's nothing on earth like a good tomato. This year's tomatoes were pretty weak, but last summer all you needed was a little salt and you could eat one like an apple.

Q8. WISDOM: What is a favorite life tip or quote of wisdom that you have shared with the world?
Amanda: I don't trust inspirational quotes, but I guess if I had to pick a mantra that's stuck with me over the years it's "Don't give up." I spent years working in kitchens where I dreamt of getting paid $10/hour, which seemed like a huge sum of money at the time. I worked on lines doing 200 covers a night with only one other person. And that entire time I just kept telling myself, "It's not going to kill you, so don't give up." If you're going to work in restaurants that's what you have to keep telling yourself, "You're not going to die, so don't give up."

Q9. SKILLS: And equally important, what is one of your yummiest recipes you have shared with the world?
Amanda:

Dirt Candy Greek Salad
Note to vegans: just leave out the feta and the recipe is still just as good and it's suddenly vegan. (note from Kathy: I've also seen a good vegan feta by Sunergia Soyfoods brand, at Whole Foods)
1 ½ cups diced Plum Tomatoes
1 ½ cups diced Hot House Cucumbers
¾ cup very thinly sliced Fennel
1 tablespoon chopped Dill
2 teaspoons chopped Oregano
1 ½ tablespoons chopped Parsley
1 cup sliced black olives
1 cup crumbled feta cheese
For the Salad:
1. In a bowl mix the tomatoes, cucumbers, fennel, herbs and olives.
2. Toss dressing lightly with the salad. Use however much dressing suits your taste. You will have dressing left over with this recipe.
3. Add the feta and adjust the salt levels
For The Dressing:
2 Tablespoons Lemon Juice
Zest of 1 Lemon
3 cups Extra Virgin Olive Oil
½ cup Red Wine Vinegar
1 tablespoon Dijon Mustard
2 teaspoons minced Garlic
½ cup fresh Oregano
Salt to taste
Black Pepper to taste
1. In a blender mix garlic, mustard, red wine vinegar, lemon juice, lemon zest, salt and black pepper
2. Slowly stream in the oil.
3. Add the fresh oregano and blend until the oregano is broken up into small pieces
For The Preserved Lemon Mayo
¼ cup chopped preserved lemons, seeds removed
1 cup Mayonnaise (vegan option: Amanda's fave, Vegenaise)
1. Blend everything together until very smooth
2. Put in a squeeze bottle
For the Pickled Onions
1 Red Onion, very thinly sliced
½ cup lime Juice
¼ cup Kosher Salt
1. Massage 1 Tablespoon of the salt into the onions. Keep massaging until liquid starts to seep out of the onions
2. Squeeze all of the liquid out
3. Wash the onions a few times.
4. Repeat the above
5. Add 1 tablespoon of the salt and ¼ cup of the lime juice. Let sit for a few hours
6. Squeeze all of the liquid out and repeat.
7. Onions should be bright pink. If not repeat again with lime juice.
For the Mushroom Rings
2 Trumpet Royal Mushrooms
1 can of Seltzer Water
2 cups of All Purpose Flour
1 cup Panko Crumbs
1 tablespoon Sumac
1 tablespoon Zaatar
2 teaspoons of Salt
8 cups of Canola Oil
1. Slice the Mushrooms into ¼" thick rings. Punch the centers out leaving about ¼" for an outer ring, so they should be a ring that's ¼" thick and ¼" wide.
2. Heat oil in a heavy bottomed pot till it reaches 375 degrees
3. Mix the flour and the seltzer in a bowl
4. In a separate bowl mix the panko, the salt, the sumac and zaatar
5. Dip the rings in the seltzer mixture first and then dip them in the panko mixture
6. Fry in batches for about 2-3 minutes. They should be golden brown on the outside
The Plate
1 teaspoon Sumac
1 teaspoon Zaatar
2 tablespoons crushed toasted pistachios
1. Divide the salad onto four plates
2. Place 4 rings on top of each salad
3. Squeeze a few lines of the preserved lemon mayo across the salad
4. Sprinkle with the sumac, zaatar and the pistachios
5. Place a tablespoon of the onions on the side.
Serve!


Q10. PASSION: What is the one message that you try to project to your fans and those you inspire?
Amanda: 
Have fun. Food should be about fun. Whether you're vegan, or lactose intolerant, or you eat meat, or you're vegetarian, we need to spend less time talking about what we can't eat, and more time having fun with what we can. There's so much pressure about what we "should" be eating and what foods are going to keep us young forever, and what's good for our skin, and what's going to save us from cancer, and what's going to keep our colons clean, and what's going to save the world. Food gets treated like a medicine cabinet, or a political essay, or a dangerous substance and at the end of the day you wind up with anorexic twelve-year-olds and people hiding behind a screen of allergies and diets and fads. The most important thing for people, and I think for young women especially, is to relax around food. To be comfortable with it. To have fun with it and enjoy it. I have a friend who is super-careful about what she eats and on her birthday I made her a cake and she was really appreciative but said, "I don't eat that. The processed sugar is really bad for me." And I just wanted to cry. Food is something we have that celebrates the fun times in our lives and the big occasions. It's a way that women have talked to each other for decades. Why do you think that the first thing people do when someone dies is bring over a casserole? Why do moms make soup for their kids when they're sick? And there are entire industries out there that are devoted to making women terrified of eating. To see this great girl I knew scared to celebrate her own birthday with a slice of cake because some idiot told her it would be bad for her is beyond frustrating, it's evil. So that's what I want to say to women over and over and over again: relax. It's just food. It's supposed to be fun.
Q
11. PERSONALITY: Who would you award the "Veggie Girl Power" label to? And what have you learned from them?
Amanda: I don't want to name any one person because there are a legion of women working in kitchens all over this country and they don't get much press, they don't get many awards and they're often treated pretty badly, but they're often the ones who keep a restaurant going. I've worked side-by-side with a lot of them and I have been in the weeds with them, have weathered crises with them, have gone through eleven kinds of restaurant hell with them and I would work with any of them again in a second. And what I've learned from all of them, the one thing that's been consistent, is that you don't have to be a bully to be strong, and you don't have to scream to run a kitchen.
Q
12. GRACE: How do you respond to negative comments from critics, in real life or on the web?
Amanda: 
First I cry, then I take what I can from it and ignore the rest. I can't pretend I'm not sensitive to it, but I can't let my sensitivity get in the way of running a business. Ultimately, I always wish that if someone had a problem with their meal at Dirt Candy they'd talk to me about it. If they eat their dinner and they're still hungry, I'll give them more food. If they feel slighted by something, I want to apologize. And if their meal wasn't what they wanted it to be, I want to know so I can do better next time.


Bonus Question: Yes or no-do you think veg*n diets will ever be the majority and not the minority?
Amanda: No – I don't think they'll be the majority, but I never thought so many people would be part time vegetarians now, and there are a ton of people out there who eat vegetarian for a significant portion of their week, so I could always be utterly and completely wrong.
Did You Know? Dirt Candy's blog is a winner! Dirt Candy just got an award from "Gourmet Magazine" for having the funniest restaurant blog. Amanda says: so it's official: the Dirt Candy blog is funny and if you don't think so then you're wrong. It's the place I get to show the warts-and-all of running a restaurant and I have a great time writing it.
Check out Amanda's Dirt Candy blog as well as the delicious menu and food pics on the Dirt Candy website. And if you are in NYC, Dirt Candy is a must-try foodie destination! (But trust me, reservations are hard to get, so book early!) Oh, and be sure to say hi to Amanda, she's super nice and even hand delivers a few of her amazing dishes to the tables herself!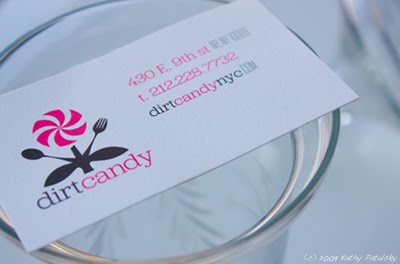 My next VGP interview is Chloe Jo Berman! Monday Oct 19th. Don't miss it…