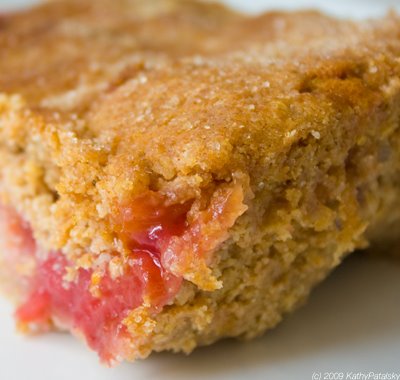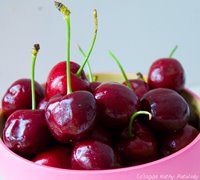 Fresh fruit pies are a dessert favorite in the summertime. But the fresh, healthy fruit is usually paired with a not-so-healthy butter, white-flour crust. So I've 'veganized it'. My Cherry-Apricot Pie Bars pair sweet fresh-picked cherries and apricots with a moist vegan spelt crust. Healthier ingredients, healthier dessert. Dessert dream: slice the 'pie' into square bars, warm it up and pair it with vanilla non-dairy ice cream. Here's the vegan recipe…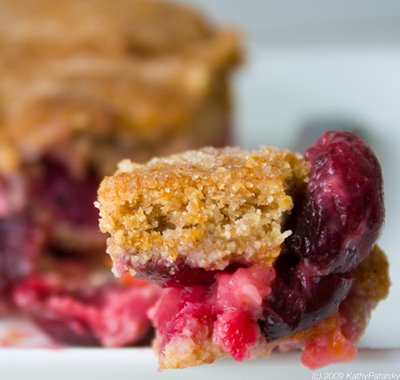 Summer Fruit Pie Stays Healthy. I always get frustrated when fresh fruit pies filled with healthy summer fruit end up in an all-butter, white flour crust. Pairing summer fruit with a bland white flour crust seems to make no sense. So this recipe takes that zing-y sweet summer fruit flavor and pairs it with a flaky, moist and flavorful spelt flour crust. There is even a bit of flax seed flour secretly mended in to up the nutrition benefits. All vegan. I am loving this crust!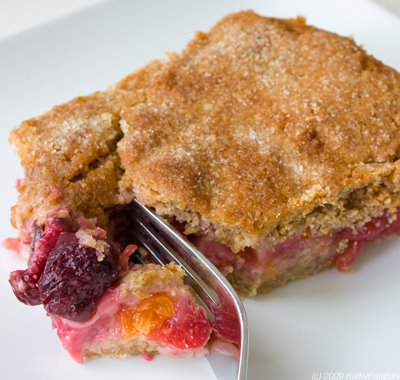 Cherries and Apricots. When summer rolls around, two of my favorite fruits are cherries and apricots. These two flavors don't often get put together, but I found that the sour-sweet cherries paired with the smooth sweetness of apricots makes for a delicious summer dessert.
Cherry-Apricot Pie Bars
vegan, makes one 8″ "pie"
3 cups fresh cherries, pitted and halved
4 small apricots, sliced thin
1 lemon, juiced
½ cup agave syrup
⅓ cup water
¼ cup + 1 teaspoon coconut oil or canola oil
¼ cup + 2 tablespoon dry organic sugar
⅓ cup arrowroot powder
1 ¾ cups spelt flour
3 tablespoon Flax seed Flour
1 tablespoon vanilla extract
1 tablespoon baking powder
½ teaspoon cinnamon
2 teaspoon salt
Topping:
1 teaspoon vegan butter
cinnamon/sugar mixture (¼ teaspoon cinnamon, 1 tablespoon sugar)
To make:
Combine spelt flour, baking powder, 1 teaspoon salt, ¼ cup dry sugar, cinnamon and flax seed flour in a bowl. Add water and oil. Mix into a dough. Add more liquid or flour if needed to attain a firm, yet moist dough.
Wrap dough ball in plastic wrap and place in fridge for 20 minutes.
Filling:
Add cherries, apricots, lemon juice, agave syrup, 2 tablespoon dry sugar, arrowroot powder, 1 tsp. salt and 1 teaspoon coconut or canola oil.
Mix well, without mushing fruit.
Arrowroot should turn into a nice jelly texture.
Set aside.
Remove chilled dough from fridge and split into two pieces.
Roll out both pieces into loose 8-9″ circles.
Prepare an 8″ cake pan by rubbing it with vegan butter and a pinch of flour.
Lay the first crust layer in the pan.
Create a loose crust border around the edge of pan.
Next, pour in the fruit mixture.
Then lay the second crust on top of the fruit mixture. Poke a few random holes in the top crust. If the crust breaks a bit-that is OK.
Topping: Drizzle melted vegan butter on top of crust.
Sprinkle with cinnamon/sugar mixture.
Bake for 30 minutes at 325 degrees.
Serve warm or store in fridge for a few days.
Yummy cold or warm.