Today's Vegan Chewy Chocolate Chip Cookies are crinkly, flat and oh so chewy.
They have a slightly underbaked texture which lends to that supreme chewiness. Studded with melty chocolate chips, a few rolled oats and crunchy, buttery walnuts to bring some texture contrast.
These cookies are decadent and easy to devour. So if you have a craving for some to-die-for crowd-pleasing vegan cookies, give these a spin…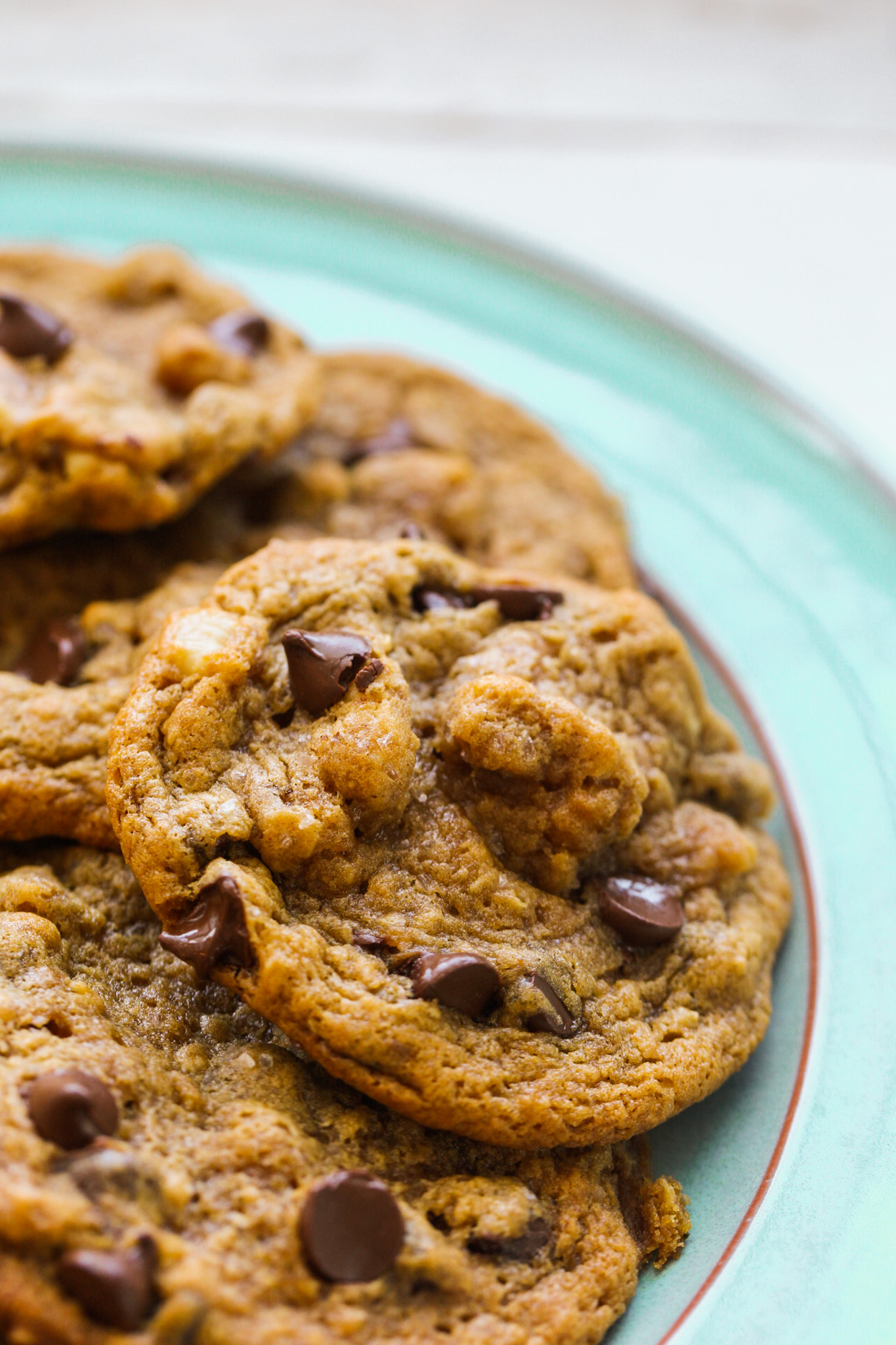 Chewy Crinkly Cookies
These are not my typical cookie. I actually prefer something fluffier, thicker, a bit more cake-like. I love a generously sized cookie with some real bite and fluff to it. Kinda like these fluffier Maple-Sweetened PB Chocolate Chip Cookies. Less butter and sugar – more flour and peanut butter.
But sometimes all that fluffy misses out on the chewiness.
And that fudgy, tender chewiness is a popular characteristic of a cookie!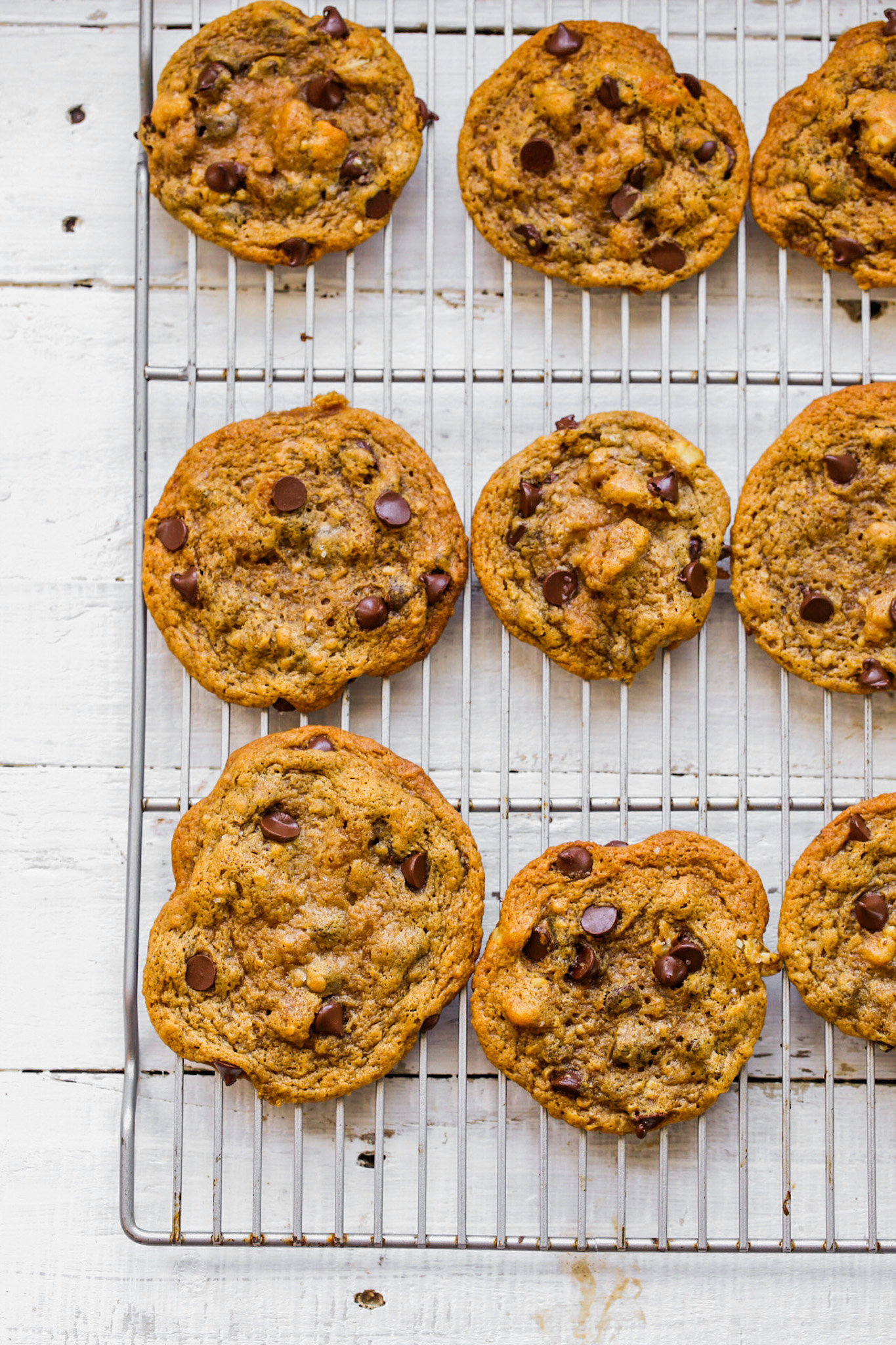 How Do You Make Cookies Chewy??
Well I found this article from Bob's Red Mill on the internet. And I actually by accident used a few of the tips! I added molasses, yes. And used coconut sugar which is similar to brown sugar. And a few other things on there.
Cravable Vegan Cookies
These Vegan Chewy Chocolate Chip Cookies are sweet and chewy, fudgy and underbaked in texture – yet they still absolutely hold their shape when you pick one up. The bottoms are caramel-colored and everything tastes like it is infused with vanilla beans and coconut sugar.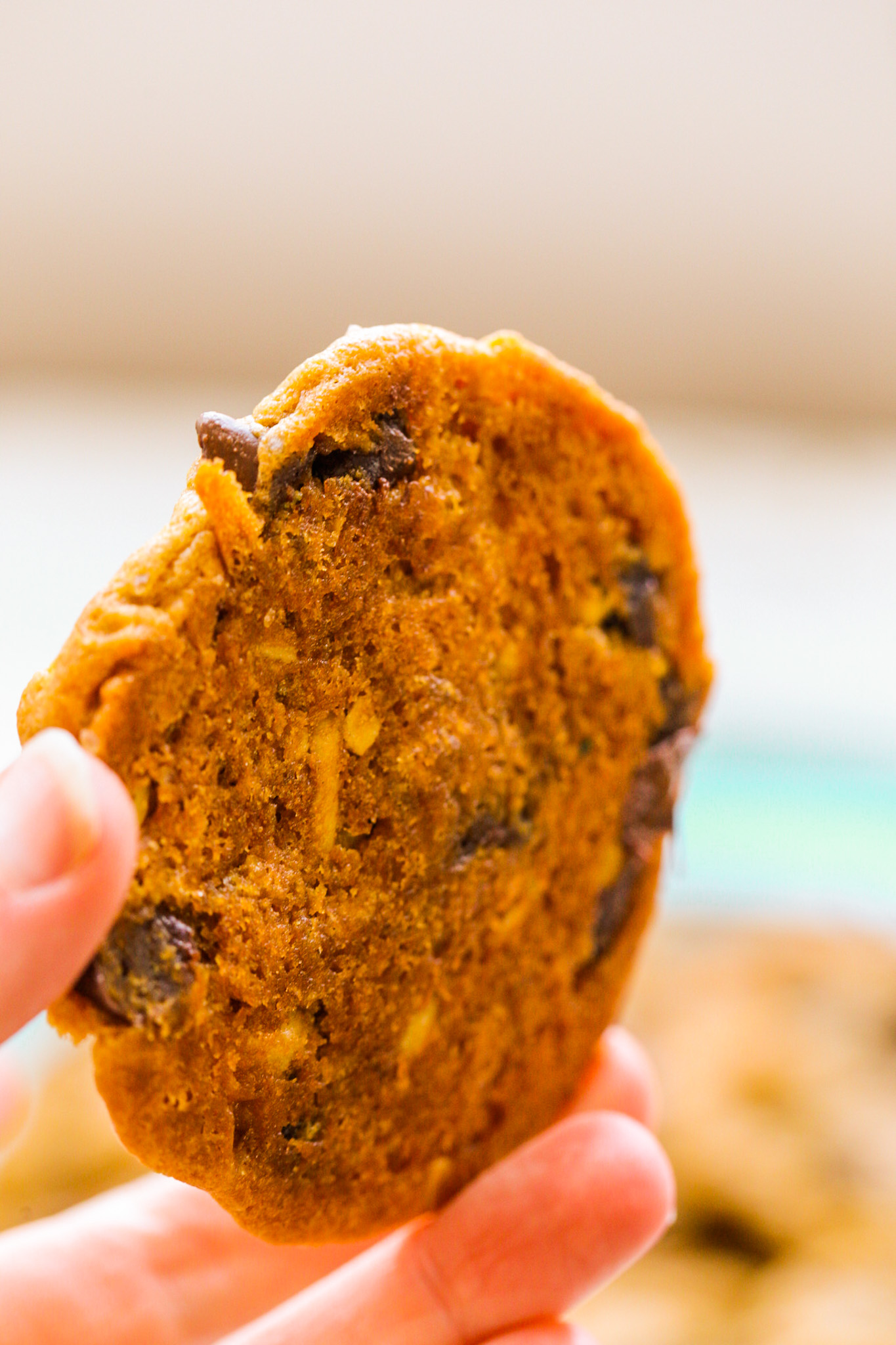 These are actually my husband's preference for a cookie, probably because you take one bite and absolutely want another. It's all that sweetness and butter and melty chocolate.
Chewy Cookie Baking Time
One way I give these chewy chocolate chip cookies their crinkly texture is to do a minimal cooking time 9-11 minutes. Ten minutes should do it. They will puff up when baking and then fall a bit as they cool – creating that lovely wrinkled, crinkly texture that so many people crave.
So set the oven to 375 – not 350 – and set the timer for about ten minutes. Pull them out and wait for the crinkles to emerge.
Love those crinkly, wrinkly edges!…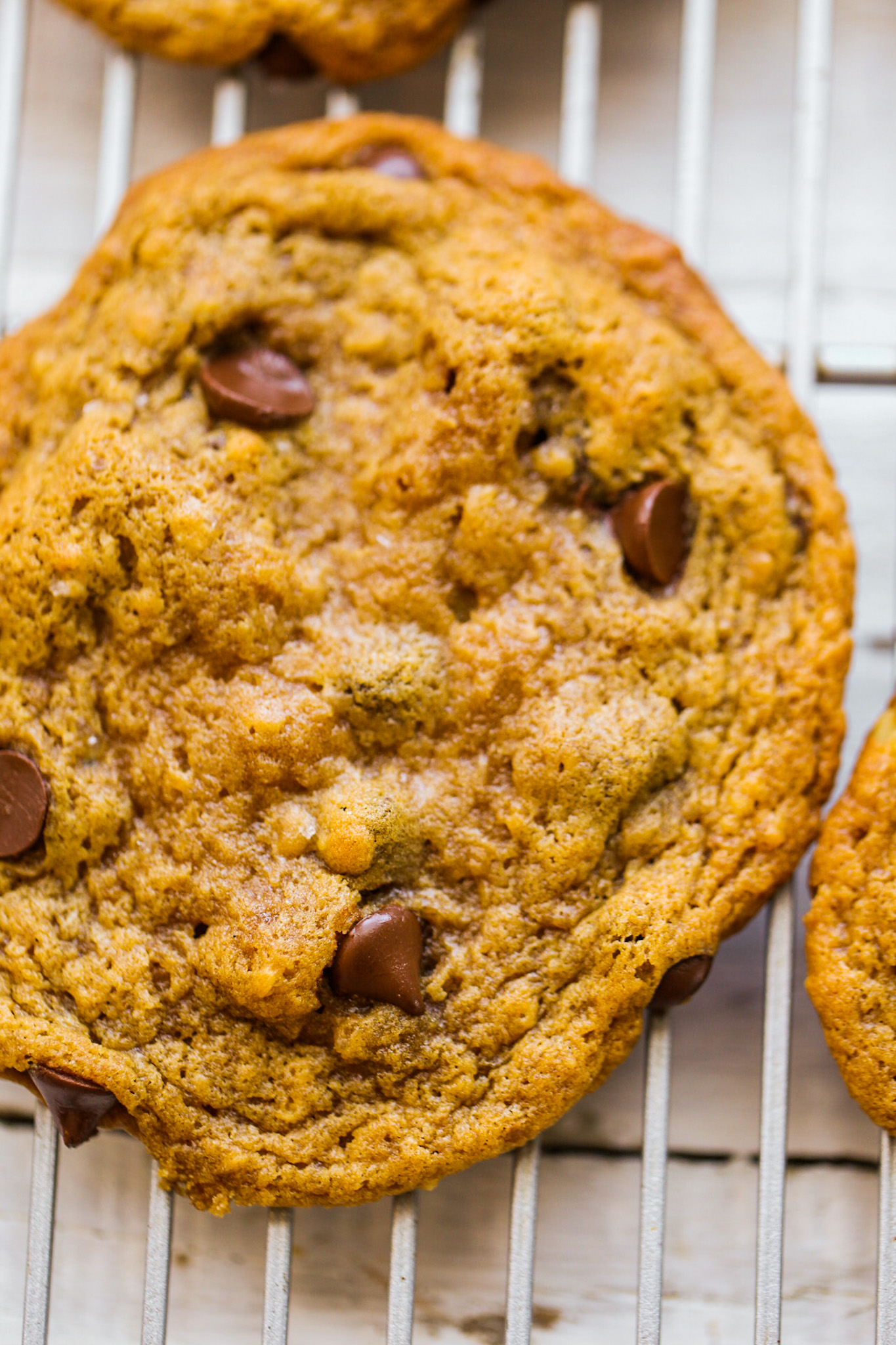 'Wet' Cookie Dough
This dough is actually prepared in a way that makes it super wet and runny for a cookie dough. I like hot the melted butter really liquifies the entire dough with it's subtle heat and warmth. you are left with a dough that almost feels like it won't hold it's shape for scooping. But it does. And if yours isn't quite there, wait 5-10 more minutes for the dough to firm up – oats and flour to hydrate – or quick fix, place it in the fridge for ten minutes.
USually my dough is so thick that you can easily roll it into a ball and easily scoop. But this dough is wet. Glossy. Thin even.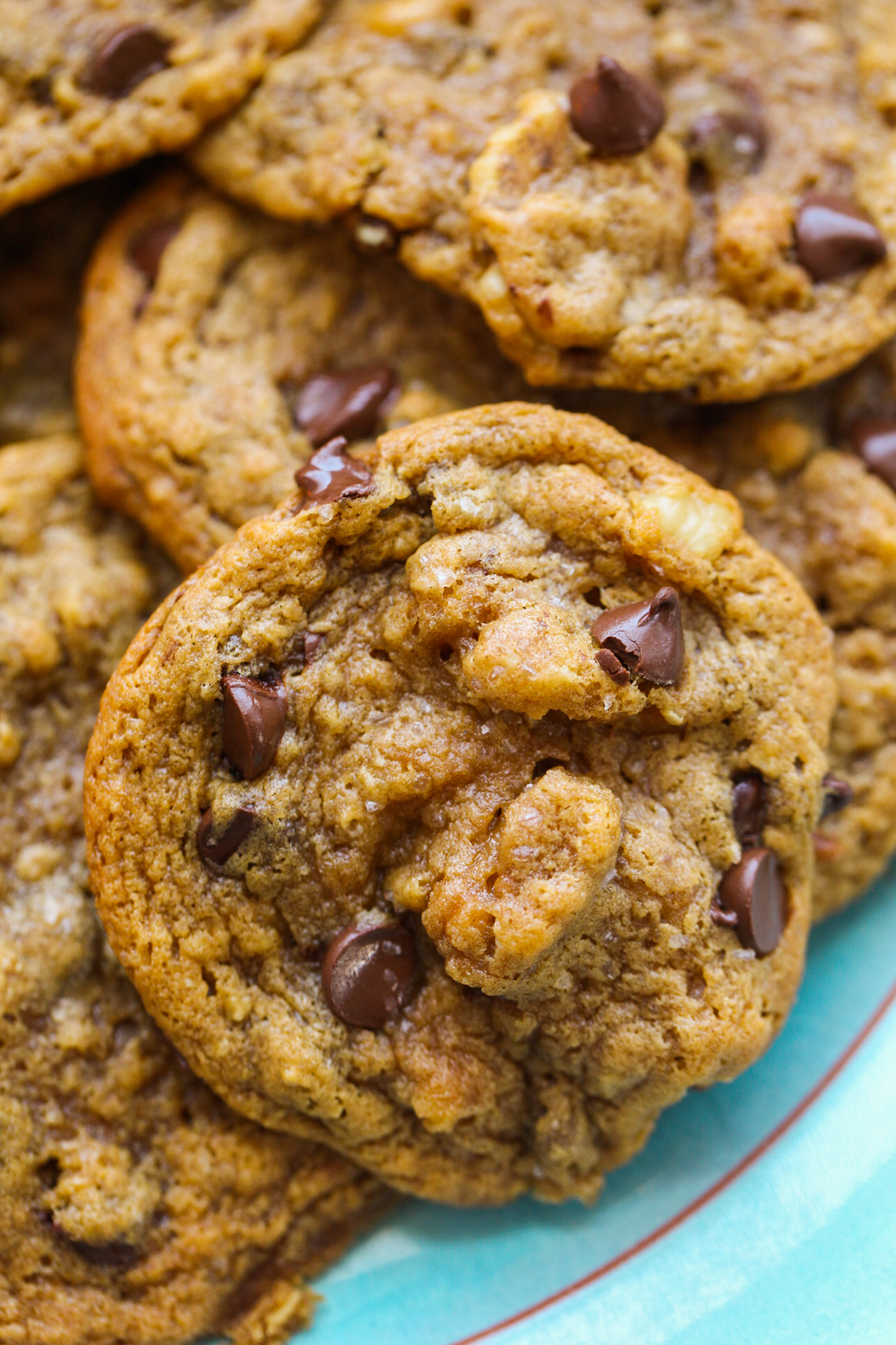 Sweet + Bold Cookies
I won't say that these are too sweet for the average palate. Actually, when you crave a decadent cookie, I'd say this sweetness level is perfection. It has a real bite to it and hits your taste buds with a "Wow! Yum! Omg." But again, it is slightly more sugar than I would usually add to a cookie.
Something else that is rich in these cookies – the salt. The sea salt on top is totally optional, but definitely makes the sweetness and buttery flavor POP even more.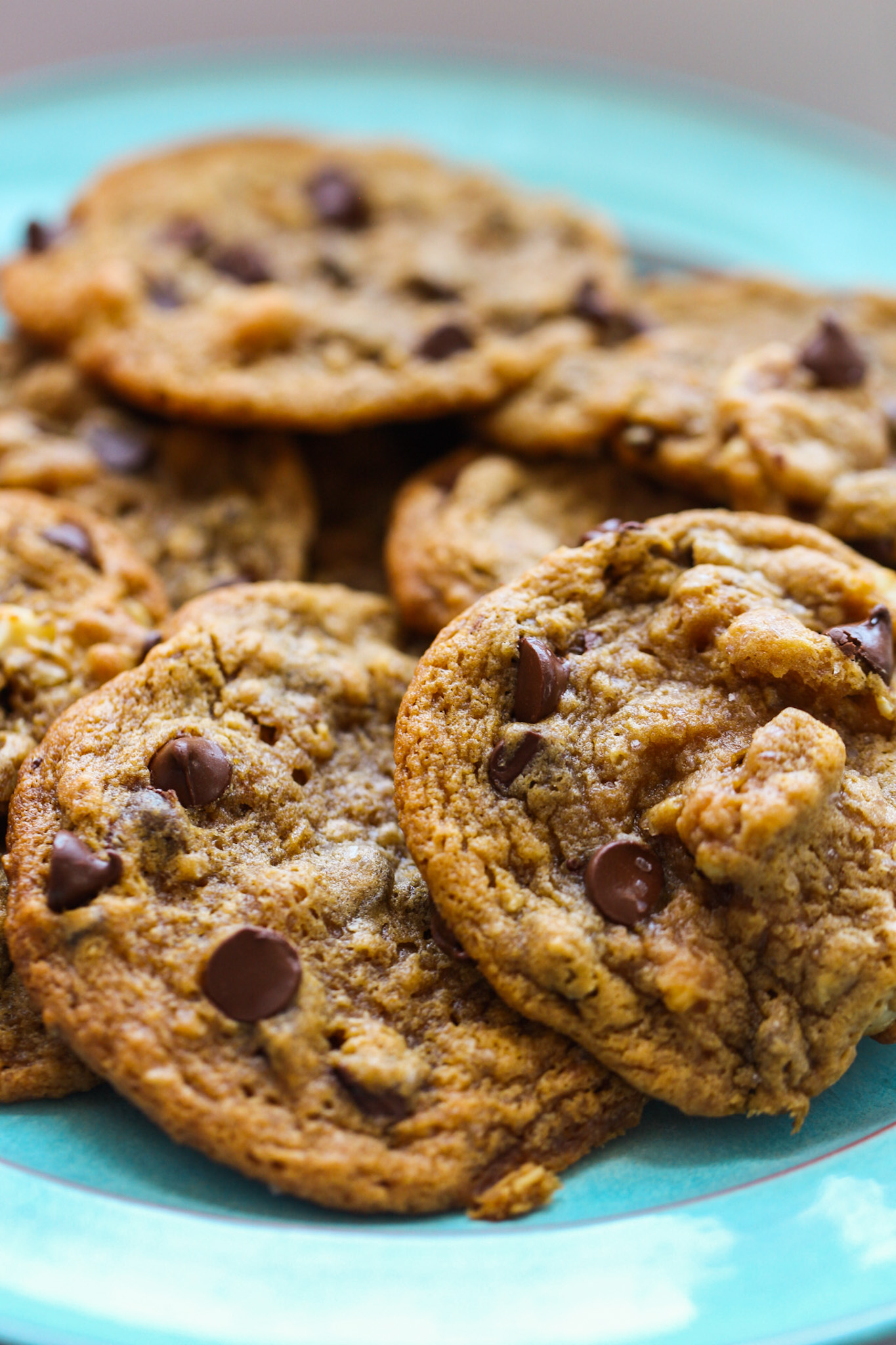 Texture in These Cookies
For some added texture, I added in some oats and loads of walnuts. The crunchy walnuts really cut through the sugar nicely and I'd say they are a must to add. The oats lend a nutty, earthy flavor and soak up some of that moisture quite nicely. If you don't want to add the oats, you could just add in a few extra tablespoons of flour instead.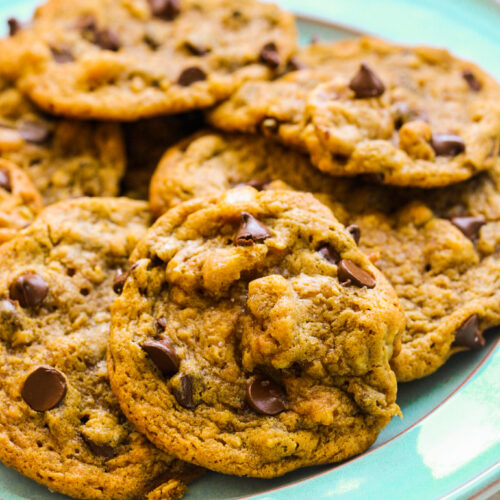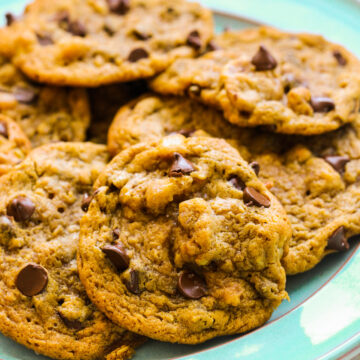 Chewy Vegan Chocolate Chip Cookies
These crinkly, chewy chocolate chip cookies are rich and sweet and buttery – with crunchy walnuts and melty chocolate chips in every vegan bite.
Print
Pin
Ingredients
½

cup

cane sugar

,

organic

¾

cup

coconut sugar

1

teaspoon

molasses

,

optional

½

cup

JUST Egg (vegan egg)

,

or silken tofu + ⅛ teaspoon salt

2

teaspoon

vanilla extract

¾

cup

vegan butter

,

melted

2

cups

flour

,

all purpose

1

teaspoon

baking soda

1

teaspoon

sea salt
Fold in:
1

cup

walnuts

,

raw

1

cup

vegan chocolate chips

,

or chunks

¼

cup

rolled oats
Topping:
added chips

pinch of coarse sea salt
Instructions
Preheat oven to 375 degrees and line a baking sheet with parchment paper.

Add the sugars, molasses, vegan egg, vegan butter and vanilla extract to a large mixing bowl. Whisk or beat until smooth.

Whisk or beat in the flour, baking soda and salt until smooth and creamy.

Fold in the oats, walnuts and chocolate chips.

Let dough sit for a few minutes to let oats absorb moisture. If you are not confidant that your dough will keep form when scooped, place in the fridge for ten minutes to chill.

Scoop dough onto cookie sheet. Top with optional added chips and salt.

Bake at 375 for 9-11 minutes.

Allow to cool on baking sheet for five minutes before transferring to cooling rack. As the cookies cool they will fall and crinkle.
Equipment
baking sheet

mixing bowl

whisk or mixer
nutrition estimate | per serving
Calories:
254
kcal
|
Carbohydrates:
30
g
|
Protein:
4
g
|
Fat:
14
g
|
Saturated Fat:
4
g
|
Sodium:
274
mg
|
Potassium:
56
mg
|
Fiber:
2
g
|
Sugar:
15
g
|
Vitamin A:
360
IU
|
Vitamin C:
1
mg
|
Calcium:
31
mg
|
Iron:
2
mg