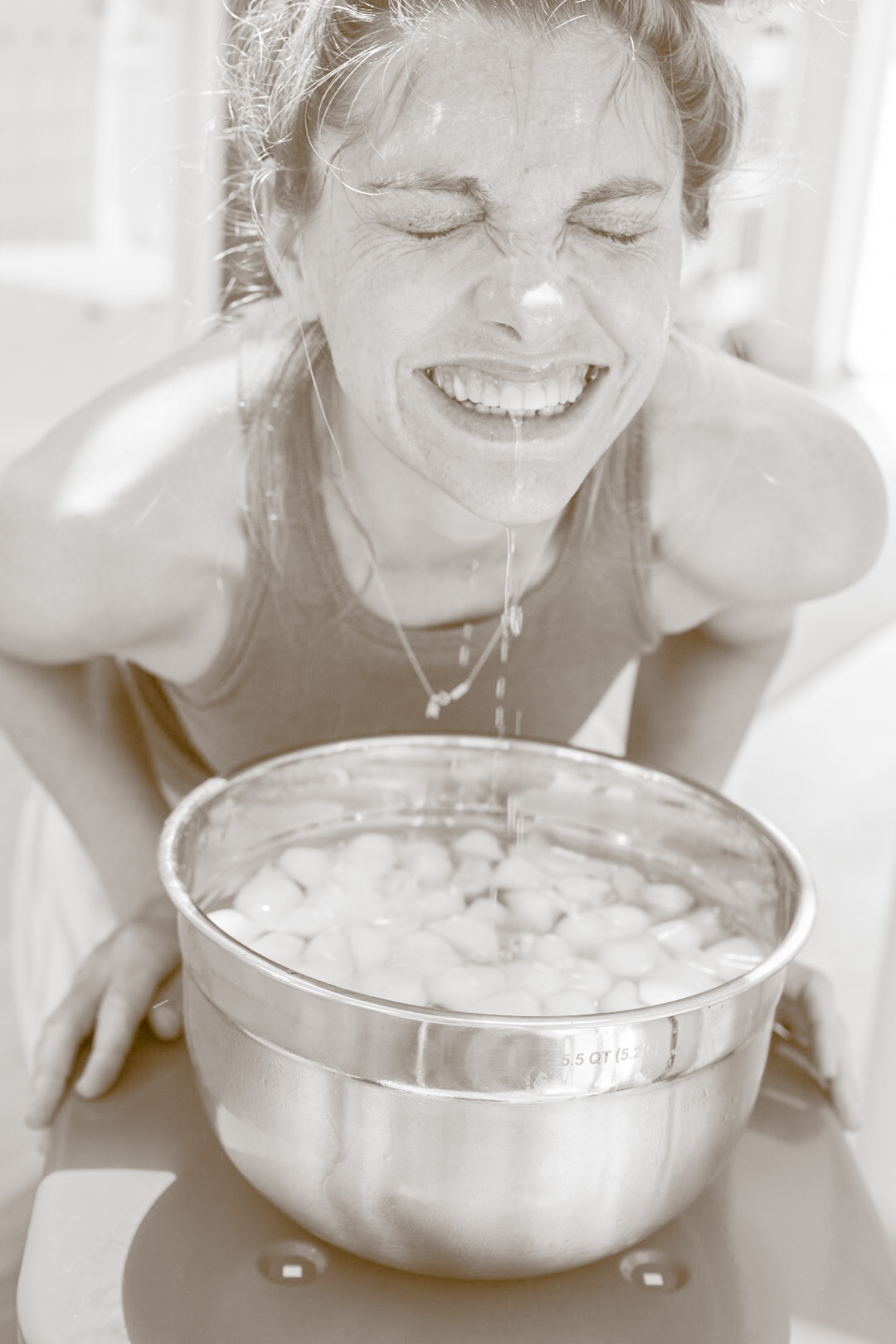 A wellness trend that makes its way into the headlines quite often is cold plunge therapy, also known as cold water therapy or just "cold plunging."
Today, I will take a deep dive at this wellness practice as well as share some research findings, consumer products, and my FREE method for getting that cold plunge glow without all the fuss.
So if you love to peruse wacky (or maybe not-so-wacky at all) wellness trends, give this post a dip…
I've Been Talking About This For a While
I first started chatting about cold water therapy, here on the blog, in 2009. This post about "hot-cold water therapy" is where I ramble and rave about it a bit. But today, I take a much more in-depth look at this wellness practice.
Is is worth the hype or just a lot of unbearable freezing water???
The Cold Plunge: A Novelty at Heart
What is it about cold water that elicits the sharp physiological response of recoiling in terror — as well as a sort of mental transport back to childhood?
It reminds me of cold sprinklers on a hot day. Prickly grass between my toes.
Cold Water Dousing = kid-like squeal. Yes?
The Cold Water Response
If I were to pour a bucket of cold water over your head right now, I can pretty much guarantee your reaction. Your body would tighten up, shoulders curl forward in shock, and you would gasp or shriek – and maybe suck in a quick breath. And lastly, I bet this too: you will laugh or at least smile.
Yes, really. Smile.
Try a tiny water bucket splash on your spouse, or joke-loving friend — outside on a hot day of course. Tell them it's for a personal experiment. Ha.
Cold Water on your skin, especially when quickly encountered, is a sort of novelty.
Happy Misery
Coldness, via water, is miserable, yet your body figures it out and adjusts to the temperature by wiggling or breathing faster or just enduring — or at the very least, your brain becomes the decision-maker, laughing it off and exiting to seek warmth.
I bet a water splash over your head would send you running in the other direction.
But still, it's funny. I swear, it is. Maybe because you know it's escapable. Temporary.
Can you really stay mad at a bit of cold water?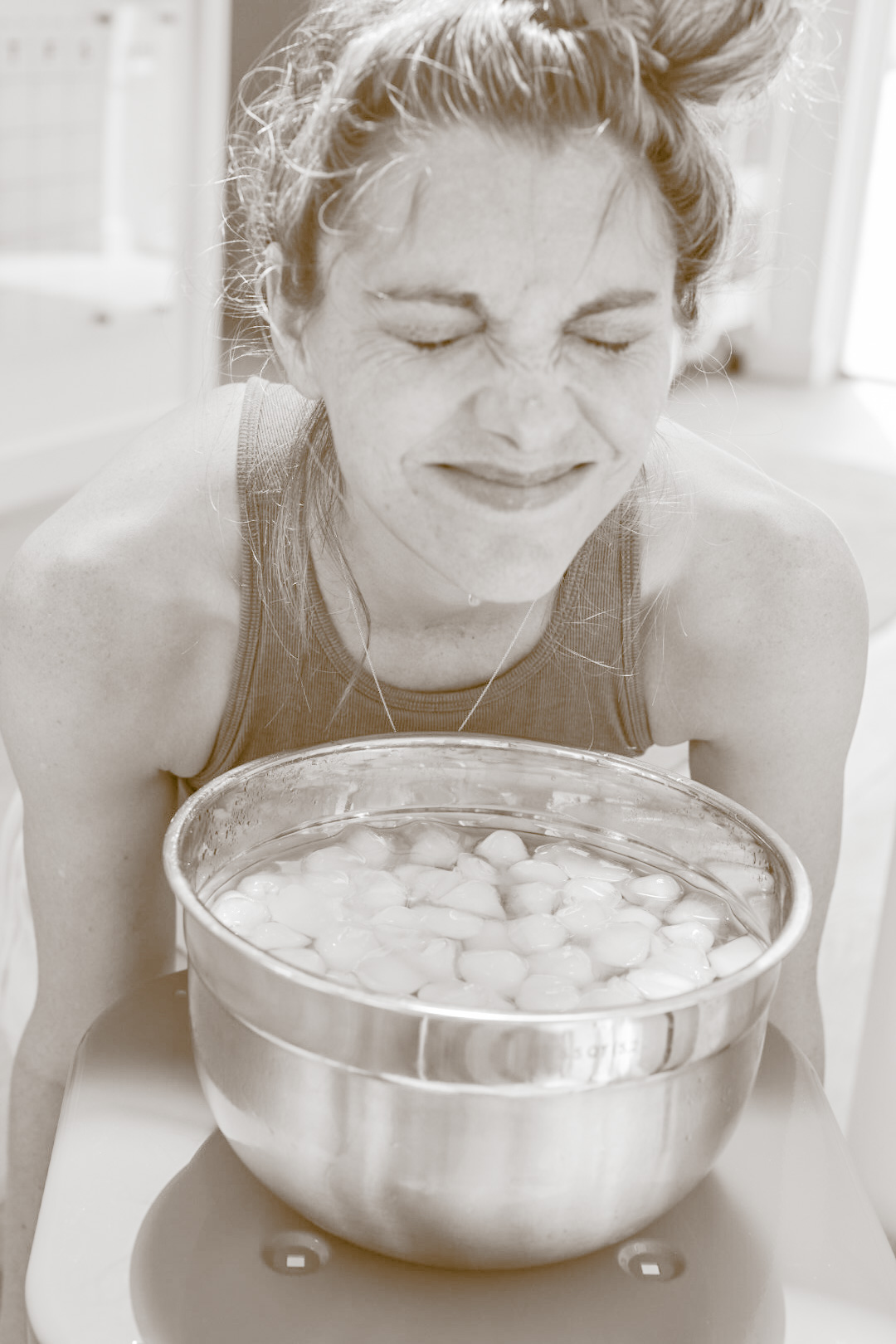 Misery That's Funny? And Endurable? And Always Temporary.
Cold Water Therapy isn't a long drawn-out thing. It's quick.
Seconds. Minutes. Even the professionals who do ocean water cold plunges don't linger out there for hours. It's called a "plunge" for a reason.
And it oddly makes us happy. Or at least invigorated. It's a unique feeling of disdain and pleasure.
Can you think of any other "miserable" feeling that makes you start to laugh? Maybe being tickled? That's the only one I can think of. Hm, is tickle therapy a thing yet?
I actually think I'd rather do cold plunging than tickle therapy.
But I digress.
Cold Water Response
Back to basics.
So what happens when your warm-blooded body encounters cold water? Via a cold plunge pool, or even a drenching from a garden water hose, or an unexpected push into a cold pool, some ice cubes down the back of your shirt or full-on bucket of water over your head?
The shock of cold water brings expression, humor and ache that you can see, and maybe hear.
"Eeeeeeesh!!" "Gasp!" "Aghhhhhhhhhh!"

– anyone doused in cold water
A Visual: Rose Rescues Jack
My brain immediately goes to a movie clip from Titanic. Rose wades into waist-deep ocean water, removes her elegant pink coat, places her ax aside, and submerges herself into the icy cold waters of the Atlantic, while attempting to rescue her handcuffed lover, Jack. She slowly slips into the bubbling blue ripples that fill the halls of the ship. And as the water hits her hips, waist and then her chest, she lets out a gasp of misery, her eyes rolling back in her head in pain.
Ah, the cold water plunge.
Why Do We Embrace Cold Water Agony??
We definitely are not plunging into the Atlantic on a cold winter's night, but still, it's a sort of agony to cold water plunge.
So really, why do people do this???
All in the name of wellness. Aka, all in the name of feeling better. Physically. Mentally. Those are the claims. Cold water therapy or cold plunge therapy is actually supposed to make us feel better from the inside out when we practice it regularly.
But the research is still muddled. Like most things involving "wellness." It can be very complex to sort out why our body likes or dislikes things like this. We are so complex! And what might feel good to one person could actually be quite negative or even dangerous for another person. Health is such a specific topic.
I'll say it here and for everything involving health, please communicate with a medical professional when it comes to your well-being. If you have a serious condition, please do not expect a cold plunge to cure it. I can't even believe I have to say that out loud. But if your body responds positively to cold water therapy, it will really just be one piece in your full body wellness puzzle. So many other factors are there.
I love referring to Hettler's Wellness model when I explain how diverse our wellness actually is. This is a concept I learned back in college, and it has always guided my beliefs surrounding what we determine to be a "well life."
Cold Water Plunge: "Scam or Not?," Asks the NY Times
In a New York Times article with the subcategory "scam or not," the publication's headline reads,
"Cold Water Plunges Are Trendy. Can They Really Reduce Anxiety and Depression?Early research suggests this age-old practice might benefit mental health, but more research is needed..

– NYT
You can read the entire article, linked above, but the headline basically says everything you need to know about the wellness claims. They are not certain.
Plenty of positive cold plunge therapy studies exist, and anecdotal accounts are rampant, but like most things in wellness, it's just never black and white. And everyone seems to want to sell you something, amiright?
Even I hesitated to include my "consumer products" section of this article (below), but I do think it is informative to see what's out there for at-home plunging.
And so many people love cold plunging! I am one of them!
I specifically loved them when I was suffering from daily migraines. Cold water seemed to be the only thing that brought me some relief. These days, my migraines are better – but I still love a good cold plunge when I can grab it! Spas with cold plunge pools always make me happy.
Cold Plunge Fans are Passionate
The public consensus seems to be that people are finding some sort of relief, joy or inspiration from cold water therapy.
In other words, people would not continue cold plunging if it didn't make them feel good in some way.
And there certainly wouldn't be an entire market for cold plunge products if people weren't loving the results. Check out all these consumer options…
(Don't worry, I share my FREE cold water therapy technique further down in this post…)
Consumer Products for Cold Plunging
If you have a few thousand bucks to spare, you can place a modern cold plunge pool in your backyard! If you have a tighter budget, like most of us, there are a few options to peruse. Plenty of ice-ready tubs on Amazon and even a few giant ice barrel-type products that will remind you or the wild west.
Cold Plunge Products:
The $100 Cold Plunge – Amazon has plenty of cheap options like this inflatable ice bath.
The Ice Pod – Staring at just over $120, this portable option seems to be backed by a dedicated cold plunge complaint, rather than just being a random product on Amazon.
Ice Barrel – I'm kinda obsessed with this company that somehow gets you to pay $1000+ for a plastic ice barrel. And I say that with love because I have almost purchased this product several times. It just looks really sturdy, yet maintains the upright positioning you want with an ice bath.
Renu Therapy – Gold standard plunging. This is a $10K pool guys. So if you want all the bells and whistles of a real pool – sleek look, water filtering, temperature control, etc and can afford it, check it out. It's so pretty.
PLUNGE – Another high end backyard pool with water filtering capabilities. This one is in the $5K range.
The $20 Cold Plunge – Buy 2-5 Bags of ice. Fill your bathtub. Add cold water. Plunge away. I have done this a few times and it works really well. The one drawback is that you have to flush all the cold water and ice each time you cold plunge. So this is great for maybe a weekly or monthly plunge, but less cost-effective and practical for a daily practice.
And check out my face-dunk method below for a fast and free cold water taste.
RESOURCE: Also check out this Rolling Stone article which reviews cold plunge pools: The Best Cold Plunge Pools (and Where to Buy One Online)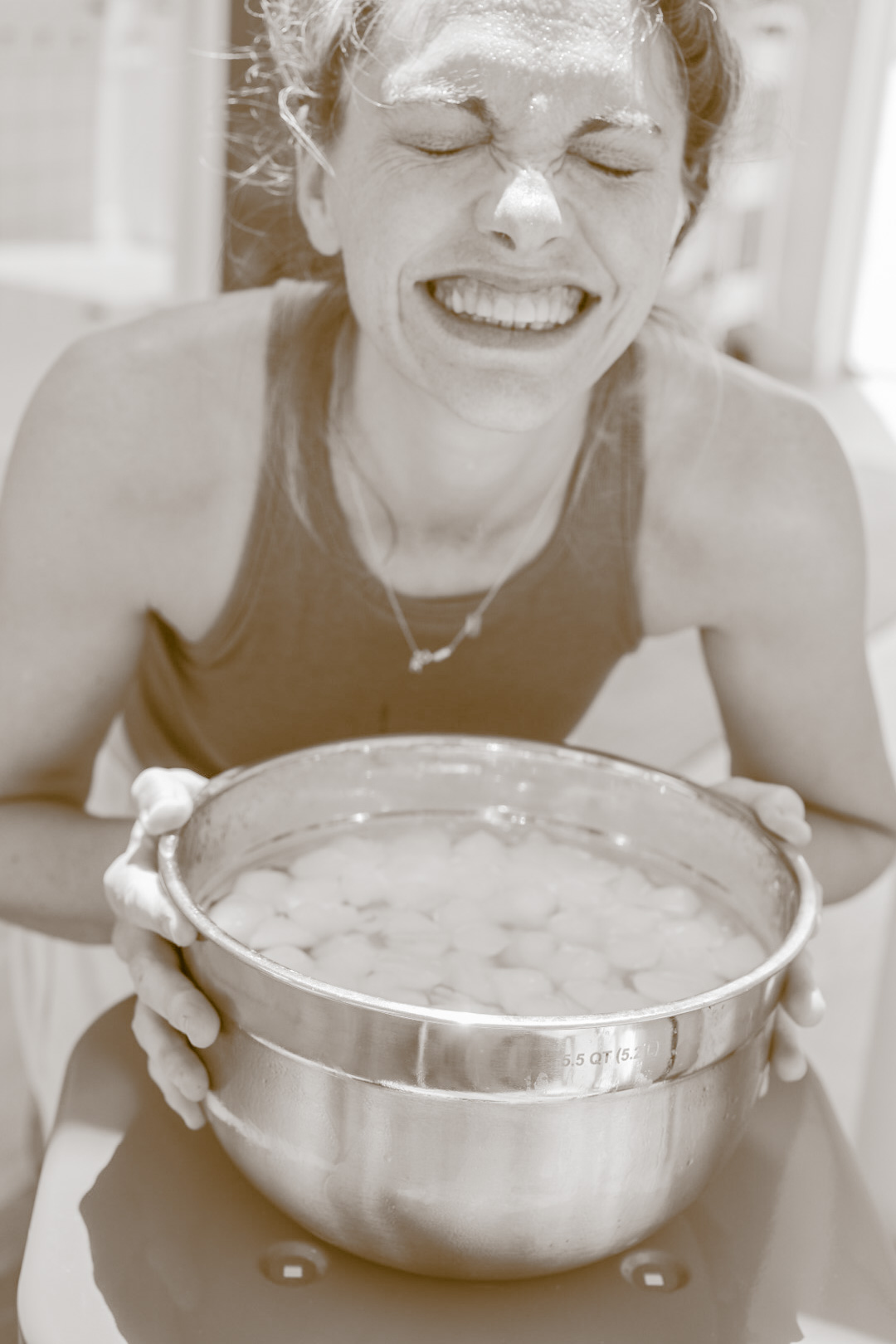 Cold Water Therapy Isn't Safe for Everyone – And Should Always Be Done with Caution
The shock of cold water can actually be dangerous for people with heart conditions. So please don't go blindly leaping into an ice bath without consulting your doctor first.
Also, do not do full-body cold plunges alone! Unless you are experienced and know exactly what to expect. Seriously. As someone who has done some very cold, cold plunge pools, I can attest that they can be intense. And actually hard to climb out of. Your limbs get very numb in cold water.
Saunas and Cool Pools
If you are a spa-lover like me, you have probably noticed how cold plunge pools are becoming more frequent at spas. You will see the sauna, the hot tub and now quite often, the cold plunge pool. I always get excited when a spa has a cold plunge pool.
My Free Method for Cold Plunge
So if you want to try cold water therapy on a small, less intense scale. Try my frozen face plunge! Here's how it works…
Fill a large mixing bowl with ice – about halfway. They add water until the bowl is just about filled to the top.
Plunge your entire face into the ice water. Don't forget the close your eyes and take a deep breath!
Lift your face and dry off. Feel the brisk chill and gasp with glee!
I have been doing this lately and love it. It is just enough "shock" to seemingly do something for my mental health. And I like the physical effect on my face. My face feels less puffy after an ice water dunk.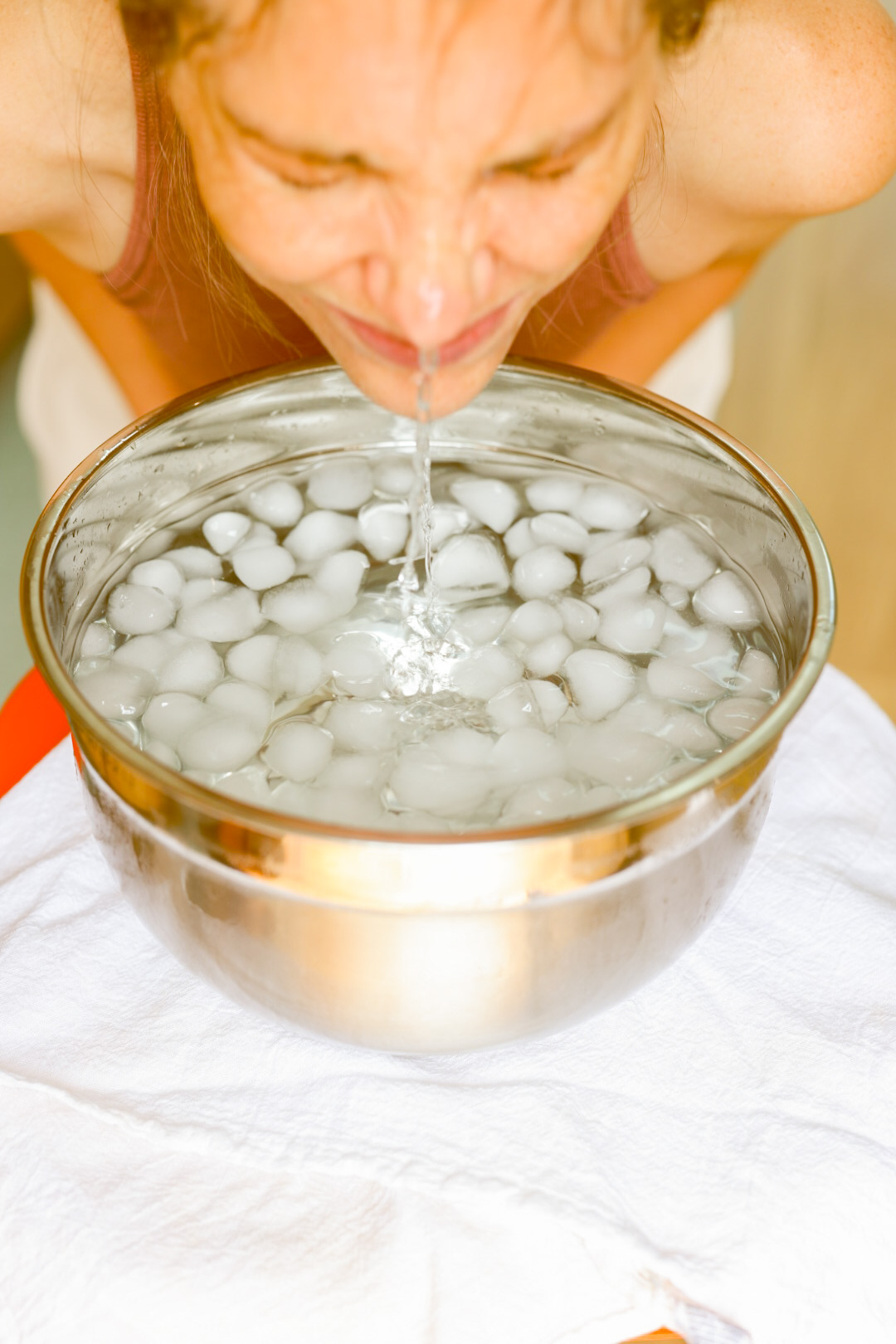 Do you have to do full-body submersion for a cold plunge?
When it comes to cold plunging, the typical practice involves immersing the entire body in cold water, rather than just the face. The aim is to expose the body to the cold temperature, which provides numerous physiological and psychological benefits. Cold water immersion can stimulate the body's natural response mechanisms, such as "vasoconstriction and increased heart rate, leading to improved circulation, reduced inflammation, and heightened alertness."
While splashing cold water on the face alone can offer some benefits, such as waking you up or refreshing your complexion, it is not as comprehensive or impactful as immersing your whole body.
The full-body experience of a cold plunge allows for deeper physiological responses and is commonly practiced in activities like cold showers, ice baths, or natural cold water dips.
So yeah, the face-plunge technique isn't as intense as full body, but it will give you a taste of the effects.
The First Time I Learned About Cold Plunge Therapy
Growing up we frequented our local tennis club that has a swimming pool and locker room. The locker room had a funny little sign in the sauna. It said something like,
"Get Fit! Do ten minutes in the sauna, then take a cold shower. Then repeat!"
Being a curious little girl, I tried it. It did feel good in a primal way. It seemed to get me energized and brighten my mood. And that little sign really stuck in my head.
Cold Shower Therapy?
Another age-old "feel good" practice: the cold shower. Used to wake up tired travelers and more for centuries and beyond.
I like to do a hot/cold shower. Turn the water to cold for a few minutes, then back to warm and repeat. Kinda like that little sauna sign, only in the comfort of your daily shower!
There is actually a term for this practice: contrast therapy. Other techniques include…
Techniques for a Successful Cold Plunge
Gradual Cold Exposure
Breath Control and Visualization
Wim Hof Method
Contrast Therapy
Wim Hof, aka The Iceman
Wim Hof is the "cold plunge" guy. If you want to learn techniques for how to truly acclimate to icy water conditions, this is your guy. His website provides tools and insight and science references. Highly suggested resource for anyone curious about cold plunge therapy. Among his many physical accomplishments involving cold temperatures, he swam underneath ice for 66 meters. Wow.
Research Findings for Cold Plunge Therapy
So to round things out, I want to share some cold plunge therapy research studies with you.
Basically, the studies below share that cold water therapy may aid your body in:
improved recovery after exercise
improved immune system
decreased depressive symptoms
Big claims, but interesting studies to peruse….
Study Number One: Recovery from Exercise
Title: The Effect of Cold Water Immersion on 48-Hour Performance Testing in Collegiate Males. Authors: Vaile J, Halson S, Gill N, Dawson B. Published in: Journal of Strength and Conditioning Research. 2008 Jul;22(4):1256-60.
Summary: This study investigated the effects of cold water immersion, also known as cold plunge therapy, on performance recovery in collegiate male athletes. The researchers aimed to determine if cold water immersion could enhance recovery following intense exercise by reducing muscle soreness and improving subsequent performance.
The key findings of the study were as follows:
Cold water immersion significantly reduced muscle soreness when compared to the passive recovery group.
Participants in the cold water immersion group demonstrated a significantly better performance in a 48-hour retest compared to the passive recovery group.
Cold water immersion did not negatively impact muscle strength or power in subsequent performance tests.
Based on these findings, the study suggests that cold water immersion, as a recovery strategy following intense exercise, can help reduce muscle soreness and potentially enhance subsequent performance.
Please keep in mind that if you are considering cold plunge therapy or any other form of therapy, it is important to consult with a healthcare professional or qualified therapist to ensure it is safe and suitable for your individual circumstances.
Study Number Two: Immune Response
Cold Water Therapy for Improved Immune System?
This study is another one of interest to me..
"Research Study Title: Cold Water Swimming Stimulates Antioxidant Response and Immune Function in Participants With Regular Physical Activity.
Authors: Kuchta A, Brzęk P, Kortas J, Prusik K, Prusik K, Ziemann E. Published in: Journal of Immunology Research. 2018 Mar 13;2018:1683212.
Summary: This study investigated the impact of cold water swimming on the antioxidant response and immune function in individuals who engage in regular physical activity. The researchers aimed to determine whether cold water exposure could elicit changes in immune parameters and antioxidant activity.
The study included 28 participants who regularly engaged in physical activity. They were divided into two groups: a cold water swimming group and a control group. The cold water swimming group performed 10 sessions of 30-second immersions in cold water (14°C/57°F) over a period of three weeks. The control group did not undergo any cold water exposure.
The key findings of the study were as follows:
The cold water swimming group demonstrated increased antioxidant enzyme activity, suggesting a stimulated antioxidant response.
Cold water exposure led to an increase in the number of immune cells, such as lymphocytes and neutrophils, indicating an immune system response.
The participants in the cold water swimming group showed decreased levels of pro-inflammatory cytokines, suggesting a modulation of immune function.
These findings suggest that cold water therapy, specifically cold water swimming, may have positive effects on the antioxidant response and immune function in individuals who engage in regular physical activity. However, it's important to note that further research is needed to explore the long-term effects and potential benefits in different populations."
Study Number Three: Mental Health
Cold Water Therapy for Depression?
I will leave you with one last study I found interesting. You know that cold water laughing thing? Well, let's just say it is really a mood-lifting thing…
"Research Study Title: Cold-Water Swimming as a Potential Treatment for Depression: An Exploratory Study.
Authors: Cowen VS, Adams TB. Published in: Issues in Mental Health Nursing. 2005 Sep;26(8):893-908.
Summary: This exploratory study investigated the potential therapeutic effects of cold-water swimming on depression symptoms. The researchers aimed to explore whether regular cold-water swimming could have an impact on depressive symptoms, overall well-being, and quality of life.
The study involved 12 participants diagnosed with depression who engaged in a 10-week intervention consisting of cold-water swimming sessions. The participants' depressive symptoms, overall well-being, and quality of life were assessed before and after the intervention using various standardized measurements.
The key findings of the study were as follows:
Participants reported a significant decrease in depression symptoms after the 10-week cold-water swimming intervention.
The intervention was associated with improvements in overall well-being and quality of life measures.
While this study suggests a potential positive impact of cold-water swimming on depression symptoms and well-being, it's important to note that this was a small exploratory study with a limited sample size. Further research with larger and more diverse populations is needed to better understand the specific mechanisms and benefits of cold-water therapy for mental health.
Remember that cold water therapy or any other alternative treatment should be discussed with a healthcare professional or mental health specialist as part of a comprehensive approach to mental health care."
Cold Water Therapy Conclusion
I hope you learned a bit about cold water therapy! And maybe even feel inspired to give my ice bowl face plunge trick a try — if not for wellness — maybe just for fun. It's a wacky practice that just makes me feel good when I do it, and I hope it does the same for you.
Will I be plunking down $10K for a backyard cold plunge tub anytime soon? Probably not. The ice barrel definitely looks kinda fun, but it's still an investment. And I actually think cold plunging is a very positive thing for my body – again, we are all different and have different health conditions and needs – but for me, I do love it. But some days I just cannot fathom dunking into a cold tank. I cringe at it. It's like working out. It's not easy! But always makes me feel good.
Now if I could add a sauna, hot tub AND a cold plunge to my backyard? Absolutely! Maybe in the future we will all have wellness backyards filled with well-being gadgets, instead of lawns and pools. Guess I will have to wait and see.
Happy cold plunging – of face dunking – or avoiding cold plunges completely!
Have a great week wellness-seekers. xo, Kathy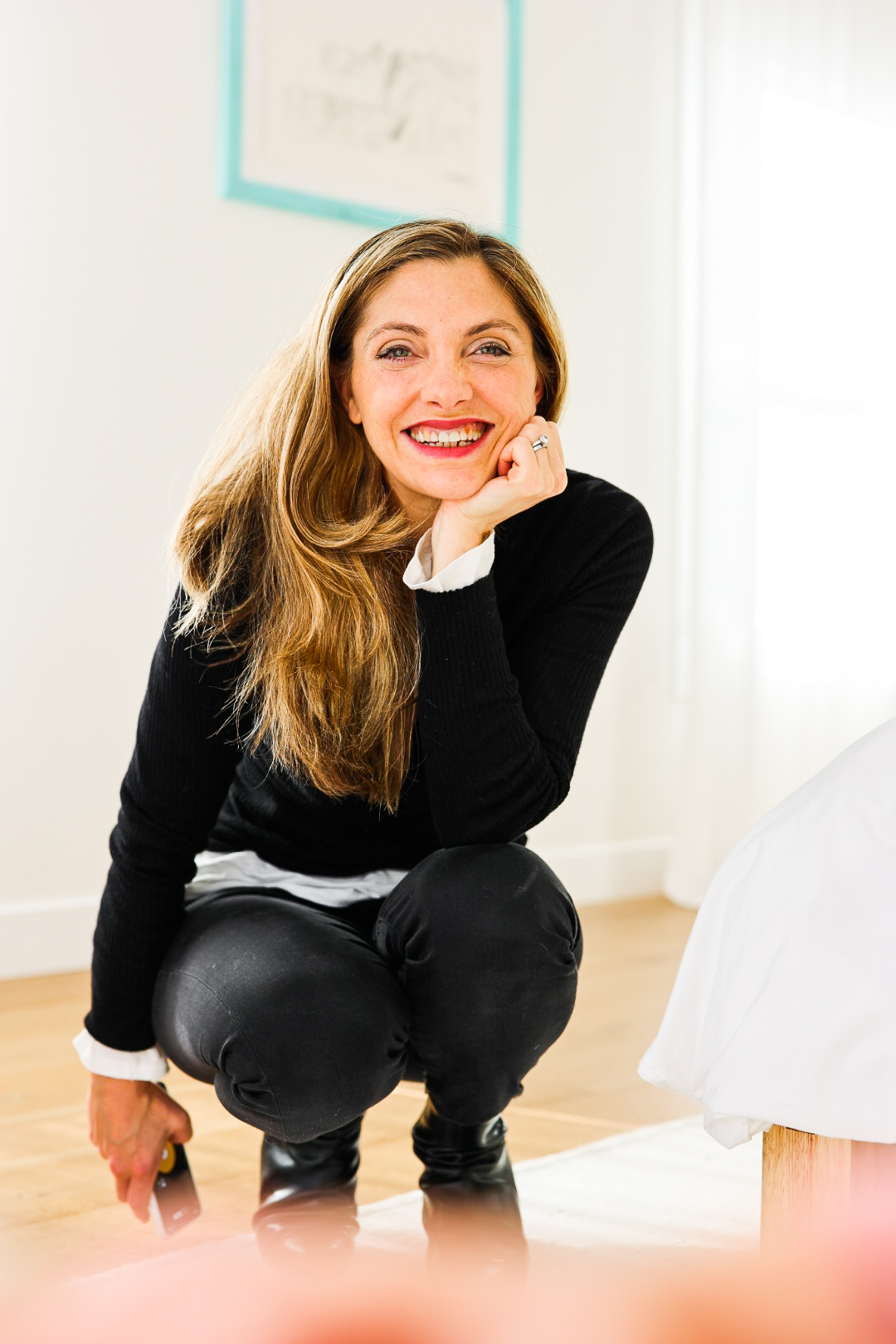 Affiliate Disclosure: This post contains affiliate links, just as many posts on my site. All opinions are authentically my own. I only link to products that I either love or that will bring something resourceful to the topic I am blogging about. Affiliate links have the possibility to help support the work I do to bring content to my blog and beyond. Thank you for being here and supporting my work and voice and recipes!