These Chipotle Maple Tofu Tacos with spinach and smashed avocado, fresh lime juice on top are an easy and satisfying plant-based, protein-rich meal. This spicy-sweet tofu is the perfect filling to mingle with buttery avocado and a light layer of healthy greens. I love to serve my tacos with hot sauce and vegan sour cream, ranch or mayo on top.

Get the recipe and make these tonight!..
Corn or flour. You can serve these tacos using any tortilla you'd like. These even fill a crunchy taco shell nicely. You could also use an extra large wrap for a burrito, or stuff a pita pocket with these fillings.
Simple Flavor. When it comes to "Mexican food" I can definitely go overboard with components. Beans. Rice. Guac. Salsa. Fresh cilantro. Cabbage. Jalapeños. Skillet veggies. Tofu. Cheese. Sour cream. There are so many possible toppings for tacos. But I really tried to restrain myself for this recipe and keep let the deliciousness of the tofu and avocado really shine through. Keeping things simple means that you can have you meal ready in a flash too! Which is always extremely helpful. Especially as we wind around to the fall season and school year.
To Nooch or not to Nooch? So one ingredient I left out of the recipe below: nutritional yeast. BUT, I have made this tofu about a billion times and love playing around with the spices and a beloved vegan fave: nooch, aka, nutritional yeast. It adds a savory, cheezy flavor that works very well with the Mexican spices and tofu. It even goes well with the hint of sweet from the maple. It also adds some texture. Tip: Nooch is great troubleshooting ingredient for correcting soggy tofu.

Sour Cream. The traditional white, creamy, lovely sauce on top of Mexican food: sour cream. Well vegans have a bunch of options for this! I looooove making my own cashew sour cream. I also love just adding vegan mayo, my fave is Vegenaise. Or vegan ranch. You can DIY vegan ranch or buy it. If you buy it, try the JUST or Follow Your Heart brands. I also love the JUST chipotle mayo. Hope that helps! Oh, and you can always add some vegan cheese shreds if you want..
In My Kitchen. I am personally in 'clean out my fridge and pantry' mode since we are moving very soon. Grocery shopping during moving week feels pointless, so getting through as many goodies as I can is my goal. I have a bunch of tortillas, sauces and more ready for me to get creative with.
I also love this recipe so much because you can really eat it any time of day. These tacos are great for lunch or dinner, but even breakfast! They would pair really well with some fruit juice or even a latte – breakfast burrito/taco style.
Hope you are feeling prepped, inspired and happy for September. And if you need some school-time recipe ideas, check out these posts..
– 99 Vegan "School Night" Dinner Recipes
– 105 Plant-Based After School snack recipes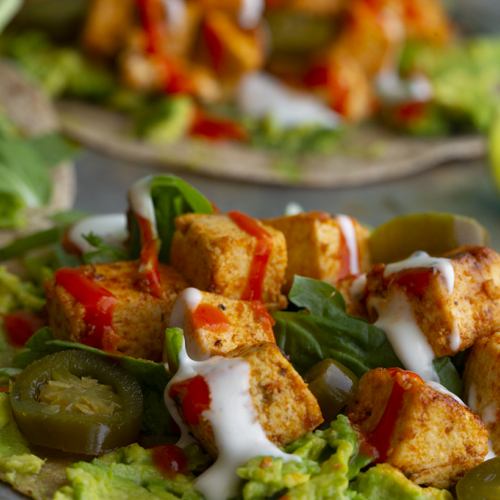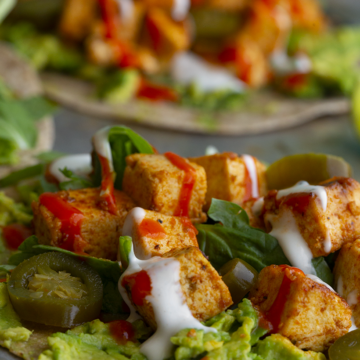 Chipotle Maple Tofu Tacos
These simple tofu tacos include chipotle-maple tofu cubes, spinach, smashed avocado and a few sauces over top. Pickled or fresh jalapeños too.
Print
Pin
Ingredients
CHIPTLE MAPLE TOFU
14

oz

extra firm tofu

2-3

teaspoon

ground cumin

¼

teaspoon

chipotle powder

3

tablespoon

maple syrup

2-3

tablespoon

hot sauce

extra virgin olive oil for the pan, as needed

salt and pepper to taste
OTHER
1

avocado

baby spinach

fresh or pickled jalapeños, optional

tortillas, 4 medium
ADDITIONAL SAUCES
your fave vegan ranch, vegan sour cream or chipotle mayo

hot sauce

limes – fresh lime juice from lime wedges
nutrition estimate | per serving
Calories:
180
kcal
|
Carbohydrates:
17
g
|
Protein:
9
g
|
Fat:
10
g
|
Saturated Fat:
1
g
|
Polyunsaturated Fat:
2
g
|
Monounsaturated Fat:
5
g
|
Sodium:
243
mg
|
Potassium:
460
mg
|
Fiber:
4
g
|
Sugar:
10
g
|
Vitamin A:
134
IU
|
Vitamin C:
10
mg
|
Calcium:
63
mg
|
Iron:
2
mg
Pin this recipe for later..