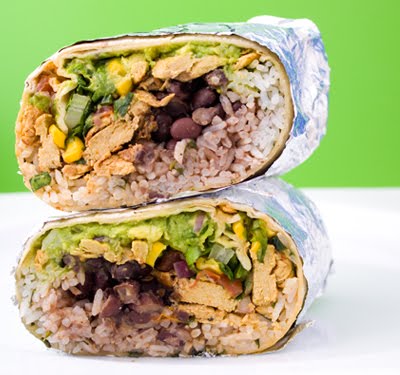 Ah to dream…one day, in a more harmonious world, factory farming will be outlawed, all animals will be treated with respect, and mainstream fast food restaurants will start serving legit, healthy vegan-branded menu items. A girl can dream, but this is a good start: Hooray to mainstream restaurant chain Chipotle for taking a big step in vegan fast food dining.
News Via Facebook. This morning I saw this status posted to Chipotle's Facebook account:
"Today at the Dupont Circle restaurant in Washington, D.C., we will start serving Garden Blend. Garden Blend is a vegan blend of plant proteins, grains and vegetables marinated in our chipotle adobo, then grilled. D.C., now you have breakfast at Dulles and Garden Blend at Dupont. Enjoy! – Colin"

Vegan Garden Blend? Yum! I just happen to be in Washington DC at the moment, so I knew I had to scurry over to Dupont Circle and see what all the vegan buzz was about. And a taste test was a must! Check out my pics, review, ingredients and what the Chipotle had to say about when other cities may get this new vegan option…
UPDATED 10/22/09: Nutrition Facts below.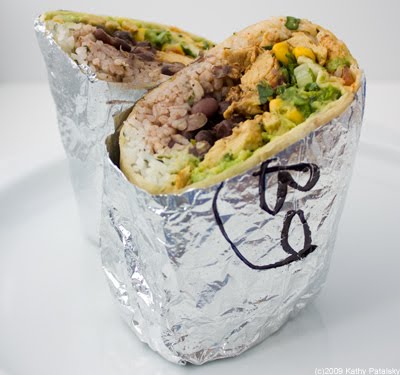 Chipotle's Response. I began an online conversation with the Chipotle folks, because I had a few questions, this is how it went:
Me: " LOVE the Garden Blend for Vegans. I couldn't find any nutritional info on your website about it. Can you tell us what the exact ingredients are. Nutrition facts-fat/calories/carbs? What 'plant proteins' are used? TVP? Is there soy in it? Gluten? Thanks!"

Chipotle: "Kathy, great question. Here is what I have on it.
Ingredients: Water, Soy Protein, Canadian Wheat Protein (also called vital wheat gluten), Fresh Carrots, Natural Flavors (from plant sources), Pea Protein, Carrot Fiber, Organic Beet Root Fiber, Organic Evaporated Cane Juice, Yeast Extract, and Sea Salt.
As for allergen info, it does contain Soy and Wheat….
As for nutrition facts, I don't have that information. For that I would have to direct you to our Customer Service team. Dawn, Lyn, Pat and Shannon would have more information on that as it is a brand new things we are starting. But, great question! They can be reached at www.chipotle.com/speak. Hope that helps! – Colin"
Me: "awesome thanks! I know so many vegans who love Chipotle, so a new "Garden Blend" would be an added bonus! I hope it does well in DC and pops up in LA, NYC and more soon too!"
Chipotle: "Glad you appreciate it! Who knows where we will go with this. I agree that it would probably do well in the larger cities and cities like Austin, Portland, etc. Stay tuned! If we expand it outside of DuPont Circle I will let you guys know. – Colin"
Vegan Buzz is in the Chipotle Air! So when I saw the "Garden Blend" signs sprawled across the Dupont Circle Chipotle, I was thrilled. There was a definite hum in the air about the new vegan Garden Blend. I ordered my burrito and the worker smiled at me and said, "Oh, you're going to love it!" Her eyes got big. The guy behind me in line shouted, "Hey this is great! I'm so excited about this new vegan meat. I'm getting four orders to bring back to my office. We're all so excited!" Wow. I knew DC was pretty welcoming to vegans, but this was great! I did a post on how to order healthier at Chipotle, but this would add a whole new ingredient to my vegan ingredients at Chipotle list! However, I was still a bit skeptical, I had to do my taste test before I getting too excited. Check out what I found…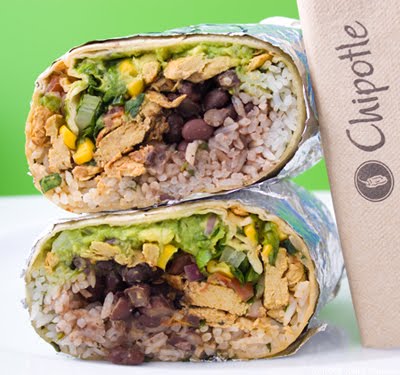 Product Review: Chipotle's New "Garden Blend Grill" Vegan Protein

Shelf-Appeal: I was expecting it to be a TVP style ground up meat with some veggies too. But I was wrong! It looks like thin strips of white 'chicken' marinated in the light orange Chipotle adobo sauce. A few specks of green as well. I'm normally not a huge fan of 'fake meat' but if it tastes good, I'll be sold!

Label Check: The protein comes from wheat gluten, soy and peas. I couldn't get the exact calorie count, but it appears (and tastes) to be pretty lean. I like that it has no added oils or fats and is sweetened with organic evaporated cane juice instead of 'sugar'. I love the added whole veggies which probably add more fiber and nutrition. Tastes hefty on the protein, which I like. Similar to a seitan texture. Ingredients: Water, Soy Protein, Canadian Wheat Protein (also called vital wheat gluten), Fresh Carrots, Natural Flavors (from plant sources), Pea Protein, Carrot Fiber, Organic Beet Root Fiber, Organic Evaporated Cane Juice, Yeast Extract, and Sea Salt.
UPDATE: Here are the Nutrition Facts for the Garden Blend:
Nutritional Information per 100 grams (3.5 oz.):
Cal 130
Calories from Fat 10
Protein 24g
Total Fat 1.5g
Total polyunsaturated fat 0g
Saturated fat 0g
Trans fatty acids 0g
Cholesterol 0mg
Total carbohydrates 4g
Sodium 350mg
Nice! 24 grams of protein and only 1.5 grams of fat, saturated fat free makes my day!

Taste Test: Pretty delicious! I actually really love it! I would definitely get this all the time if it was available nationwide. And honestly, I bet many meat-eaters would order it too! It tastes lean, yet is very moist and lightly seasoned. The adobo sauce is mild and has a savory-sweet flavor. I was afraid that it might not blend well with the rice, black beans, guac and salsa that I also stuck in my burrito…but it did. No flavor overload here. Just a delicious, fresh, fiber-rich and protein-rich vegan burrito. I love my rice/beans/guac burrito, but this is even better!

Price Check: Same price as traditional 'veggie' burrito in DC: $6.10.
Last Word: Letters. Write letters (or Facebook comments) to Chipotle…you definitely want the "Garden Blend" in your town!
Contact Chipotle on facebook or their website.
My post on ordering healthier at Chipotle.