This Chocolate Chip Banana Bread is light and fluffy and studded with so many melty vegan chocolate chips. This loaf is the perfect combo of warm and cozy meets decadent. Serve this loaf for breakfast, as a snack or even a dessert treat…
Baking is comfort food, not just for the end result, but just by way of the process. The meditative work of whisking and watching ingredients combine from the ground up, the hissing oven heating up to a warm golden-red glow, then of course the aromatherapy of vanilla, cinnamon and chocolate flavors all swirling through the air as you wait for your goodies to bake. And that final hug, pulling your baked goods from the oven, cradling them in a soft oven mitt and watching as the fluffy, delicate warmth cools just enough for you to dive into the still-oven-warm goodness.
..and add melty chocolate chips to the mix for maximum comfy-food goodness.
Banana bread always feels like that recipe you make when you have let your bananas go a bit too long in the fruit bowl. Those black spots spread and darken and suddenly your banana peel feels to squishy to peel for banana slicing and even too soft to pop in the freezer for banana smoothies. So, heck, in an attempt to not waste food…. banana bread! Right?
I actually rarely make banana bread in any other case than this. And I very rarely wait for my bananas to go mushy and black-spotted on purpose. So in that effect, banana bread feels like a magical, coincidental treat that the universe just stuck into your "to-do" list to give you a break from reality and a date with your oven.
A few other loaf recipes I love to make include:

– pumpkin chocolate chip loaf
– corn muffins – could totally be made into squares or a loaf
– cranberry sparkle loaf
– blueberry muffin loaf
– apple banana bread with almond butter drizzle
Any of these baked goods pair so well with a latte or coffee – or one of these "not coffee" lattes:
Happy baking everyone!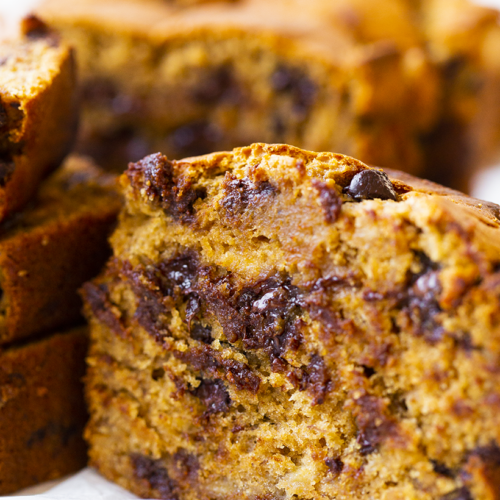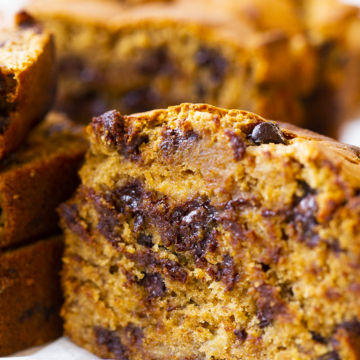 Chocolate Chip Banana Bread
Fluffy banana bread is studded with melty chocolate chips. Vegan baking recipe.
Print
Pin
Ingredients
DRY
2

cup

whole wheat flour

1

cup

coconut sugar

¼

teaspoon

cinnamon

,

optional

¾

teaspoon

baking soda

1

teaspoon

baking powder

¾

teaspoon

salt
WET
⅓

cup

virgin coconut oil

1

tablespoon

virgin coconut oil

1

cup

water

1

tablespoon

apple cider vinegar

2

teaspoon

vanilla extract

2

extra-ripe large bananas

,

mashed
FOLD IN
½-3/4

cup

vegan chocolate chips
Instructions
Preheat oven to 415 degrees. Grease a loaf baking dish very well with any oil.

Add all the dry ingredients to a large mixing bowl. stir well to combine.

Add the water, non-dairy milk and coconut oil to a small bowl. Place it in the microwave for about thirty seconds. Remove from microwave and stir until the coconut oil is just about fully melted.

Pour the oil mixture into the dry bowl and whisk for a few strokes. Then add in the vinegar and vanilla. Whisk again until smooth and fluffy. Finally, add the mashed bananas and stir well. Fold in the chocolate chips.

Pour the batter into your loaf pan.

Bake at 415 for 15 minutes. Then lower the temperature to 350 and bake for another 35 minutes until cooked through. Use the toothpick test to check for doneness.

Cool for at least twenty minutes before removing loaf from pan and slicing to serve.
nutrition estimate | per serving
Serving:
1
loaf
|
Calories:
2544
kcal
|
Carbohydrates:
370
g
|
Protein:
38
g
|
Fat:
122
g
|
Saturated Fat:
91
g
|
Polyunsaturated Fat:
4
g
|
Monounsaturated Fat:
6
g
|
Sodium:
2900
mg
|
Potassium:
1300
mg
|
Fiber:
32
g
|
Sugar:
149
g
|
Vitamin A:
23
IU
|
Vitamin C:
1
mg
|
Calcium:
388
mg
|
Iron:
16
mg
Browse thousands of recipes in my recipe index.
Snag meal plans, printables, 150+ recipe pages with photos, tips, shopping lists and so much more with the Finding Vegan Meals E-book.
Pin it for later: