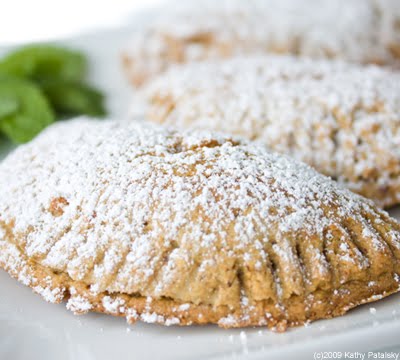 Remember those hand-held fruit pies that you ate as a kid? There was a chocolate flavor too. Well despite the pleasant childhood nostalgia, there's not much nice to say about those artificially flavored and colored pies. The Hostess 'Cherry Pie' ingredients tell it all: Red 40. 50% your RDA of saturated fat per pie. Yuck. So I decided to test out my own recipe for Vegan Chocolate Pudding Hand Pies. First I made some soy chocolate pudding. Then I made some hearty-grained biscuit-style dough. Put them together and my pies were born. The flavors were dreamy, although I do have a few tips for making them even better next time. Check out my recipe and what I'd do differently…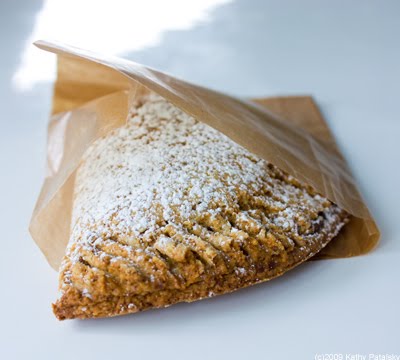 The Good. I love my crust. It had more of a biscuit flavor than a pie crust flavor, but I liked that. I loved the complex flavors of the dough. I put a lot of healthy ingredients in the dough, so the guilt factor of eating 'chocolate pie' goes way down. I also loved my filling. I've been making variations of this vegan chocolate pudding for a long time, so I knew it would turn out nicely. I added a pinch of cayenne which created a mild spiciness reminiscent of a Mexican hot chocolate.
The Bad. The ratio of crust to filling was a little off. I was rushing a bit and didn't roll my dough out thin enough. A thinner dough would've allowed me to pack more filling into each pocket. So thinner dough for a thinner crust is a big change I will make for next time. Also, I used all whole wheat flour in the dough. This made for a hearty, nutty flavor, but browned and heavied the crust a bit too much. I might change up the flour a bit and use half whole wheat and half white. Or perhaps use all spelt, or some garbanzo-fava flour. Experimentation is wide open for this recipe. I also over-baked these little pies a tad. Watch out for that. Ten minutes should do it.

Fruit or Savory Filling. Next time I will try a few of these hand pies with fresh fruit filling. Or maybe use a really good jam. Apricot. Peach. Plum. Raspberry. Strawberry. Yum. Actually, if you used peanut butter and jam this would make an interesting treat substitute for a pb&j sandwich. Also, a savory cheese or veggie 'pot pie' style filling would also be nice. This hand-pie is great for packing in school lunches. A high energy treat for a kid craving some healthy carbs. So many options, so little time. But for today it's chocolate pies and that's nothing to frown at.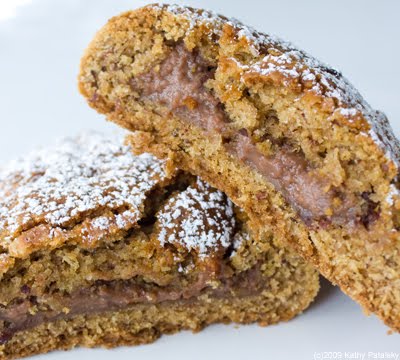 Nutrition Facts. Before I get to my recipe you must see the nutrition facts on one of those classic fruit pies:
Hostess Cherry Fruit Pie Ingredients: Enriched Wheat Flour [Flour, Ferrous Sulfate (Iron), B Vitamins (Niacin, Thiamine Mononitrate (B1), Riboflavin (B2), Folic Acid)], Cherries, Water, Vegetable Oil Shortening (Soybean, Palm, Partially Hydrogenated Cottonseed), Sugar, Corn Syrup, High Fructose Corn Syrup, Modified Corn Starch. Contains 2% or Less of: Soy Flour, Salt, Whey, Soy Protein Isolate, Calcium and Sodium Caseinate, Calcium Carbonate, Calcium Sulfate, Agar, Locust Bean Gum, Dextrose, Sodium Phosphate, Cornstarch, Partially Hydrogenated Vegetable and/or Animal Shortening (Soybean, Cottonseed and/or Canola Oil, Beef Fat), Natural and Artificial Flavors, Sodium Propionate and Sorbic Acid (to Retain Freshness), FD&C Red 40, Yellow 5, Blue 1.
Calories 480
Calories from Fat 180
Total Fat 20 g (31%)
Saturated Fat 10 g (50%)
OK, enough of the yuck, lets get to the yum!…
Chocolate Pudding Hand Pies
vegan, makes 7-8 medium sized hand pies
crust:
2 cups flour (mixture of whole wheat/white)
2 tablespoon organic sugar
¼ cup vanilla soy yogurt
⅓ cup water
¼ cup almond meal
1 tablespoon flax seed meal
1 tablespoon baking powder
1 ½ teaspoon salt
¼ cup canola oil
*extra flour for sprinkling
pudding:
1 black 16 ounces silken tofu
1 cup soy milk
1 box Dr.Oetker Chocolate Pudding Mix
3 tablespoon arrowroot powder
1 teaspoon cinnamon
¼ teaspoon cayenne powder
¼ cup dark chocolate bar pieces
¼ cup sugar
1 teaspoon vanilla extract
½ cup vanilla or plain soy yogurt
extras: organic powdered sugar.
Directions:
1. Make your pudding by combining all the pudding ingredients in a pot on the stove (except the soy yogurt). Heat on med-high, stirring constantly until a bubbly mixture forms.
2. Turn heat to low and continue stirring for a few minutes. You should have a nice lumpy thick mixture.
3. Transfer the mixture to your blender. Blend on low-medium until all the pudding runs smoothly. Be very careful when blending any heated substance. Vent lid and never aim blender towards your face.
4. Transfer the now smooth pudding to a large bowl.
5. Fold in the soy yogurt.
6. Transfer about 1 ¼ cups in a smaller bowl. This smaller amount is all you will need for your pies. The rest you can store in the fridge for later!
7. Place the small container of pudding in the freezer for 5 minutes to cool it off while you prepare your crust dough.
8. Combine all your dry crust ingredients in a large bowl. Mix.
9. Add in your liquid ingredients and mix until a nice dough is formed. Make sure it is dry enough to roll out-otherwise add a bit more flower.
10. Roll out dough-whatever method works for you. I like to split my dough into two pieces and roll out one while I place the other in the freezer to stay firm for a few minutes.
11. Roll out as thin as possible on a floured surface. Corn tortilla thickness would be perfect.
12. Using a medium sized bowl, cut out pie dough circles. Transfer to a greased baking sheet-carefully.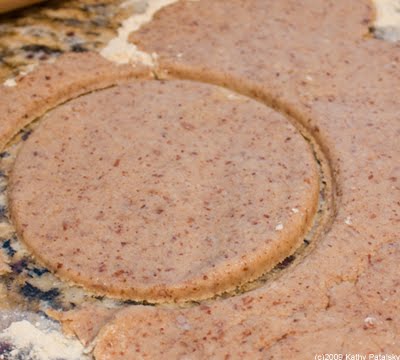 13. Repeat for all your dough.
14. Grab your chilled pudding. Spoon about 1 ½ tablespoon of pudding into each pie circle.
15. Fold over circle into a half moon shape. Crimp the edges with a fork.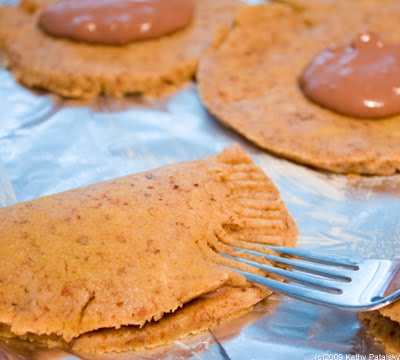 16. Brush outside of pies with a bit of oil/lemon glaze if you wish-optional.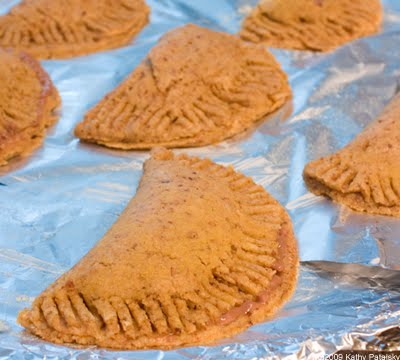 17. Bake at 400 degrees for ten minutes. You want them to be golden brown, but not over-done! As they cool they will harden a bit.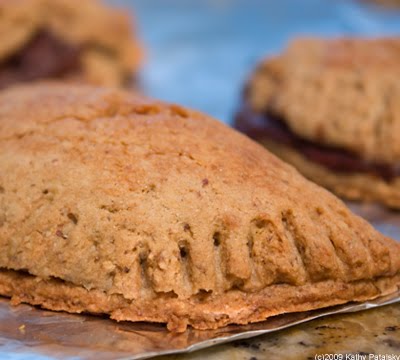 18. Remove from oven and cool. Sprinkle with powdered sugar.