A foamy, sweet, but not too sweet, Cinnamon Soy Latte is my favorite drink for lazy weekend mornings. This is my technique + recipe for getting a super foamy latte that is accented with lovely hints of cinnamon, caramel and of course espresso. Grab a big mug!..
Single Shot Latte.
I switch back and forth between matcha and espresso lattes. I had been drinking matcha every single day, but listened to my body when I started craving coffee again. Something about a single shot espresso latte really sat well with me a few times a week. So now, that's what I do. Moderation on both sides. Matcha is still my dreamy green tea mug of bliss, but it's nice to change things up too.

The reason I switched to matcha in the first place (about four years ago) was because my body just couldn't handle the coffee-style caffeine for a while. My nerves were pretty sensitive at that time, I was having more anxiety than normal and matcha was a much more moderate and slow-producing form of energy. In fact, it actually feels very calming to me, even though it has caffeine in it. But it's actually pretty cool that I can tolerate – and actually enjoy espresso again. Hooray! But one shot. Two still makes me jittery. And it's nice to only need one shot to 'get the job done' and load my morning with some caffeine-fueled oomph.
Every body is so different – you have to listen to your own – and listen when things change too.
And a double shot latte is just to much for me after staying away from coffee and espresso for so many years – just drinking matcha. But one shot and a generous amount of milk and I'm good. Really, the subtle flavor of espresso and cinnamon and caramel (from coconut sugar) is all I need to fall in love with my morning mug.
So today I'm sharing my absolute favorite recipe.
Espresso or Coffee?
We use two types of "coffee" makers when dealing with coffee beans. Number one is our Nespresso machine. We bought our first Nespresso machine (a Romeo model) way back in 2005. And we switched to our Pixie about five years ago. My favorite pods are the Kona, Brazil and Cubano blends. Since I only use one pod, a stronger blend works well for me. ?
The second type of coffee maker we use is a coffee dripper. Ours is from Blue Bottle, but you can find them on Amazon too. You just add a filter and your ground beans and pour the ot water over top and it drips right into the mug – or you can have a separate glass carafe. The drip maker is great for us since we only need 1-2 cups at a time. And it takes up zero counter space.
Cinnamon Latte.
This mug has accents of ground cinnamon that I blend right into the milk and caramel notes from the coconut sugar (which smells like a dream.) I sweeten my milk with coconut sugar and pour a bit extra over top if desired.
Not into espresso or caffeine?
Well you could absolutely use a decaf espresso shot. Or browse my "not coffee" lattes for more inspiration.
Why Soy?
And the last thing I want to chat about is soy. I love soy milk for lattes because I get the best foam from just about any brand – without needing a 'barista blend.' I also love the robust amount of plant protein I get from soy versus say, almond or oat milk.
My vegan milk review is a great resource for all things plant milk. And if you want to know if soy is safe – well Julianna, an amazing vegan dietician has this to say. "Is soy safe?"
This latte is delicious and easy to make any day of the week. I hope you love it as much as we do!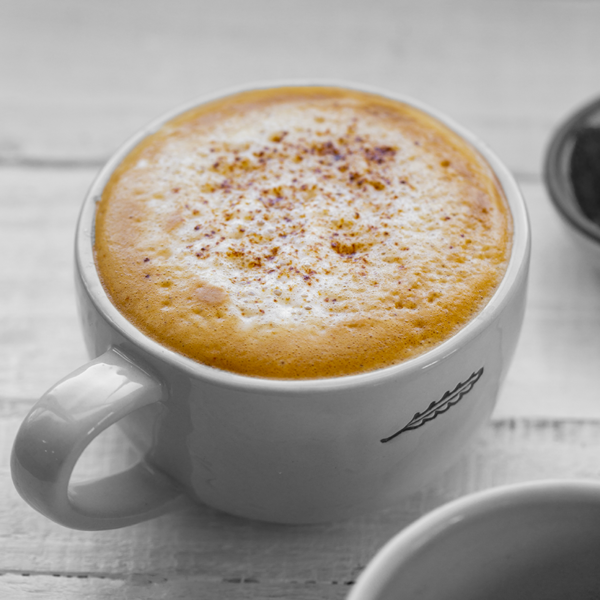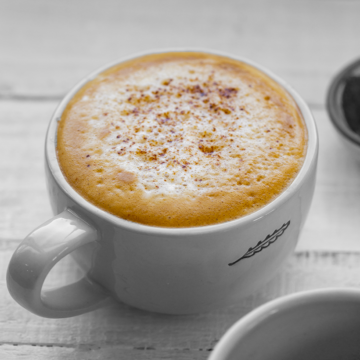 Cinnamon Soy Latte
This foamy cinnamon latte is made with coconut sugar, coy milk and one shot of espresso.
Print
Pin
Ingredients
10

oz.

soy milk

,

original

1

shot of espresso

coconut sugar

,

sweeten to taste

¼

teaspoon

ground cinnamon
Instructions
Warm your milk until very hot. (I use my microwave.)

Pour the hot milk into a blender. Turn blender on lowest speed. Add the cinnamon and coconut sugar to taste – a few teaspoons should do it. You can also use maple syrup, agave or honey. Blend for a minute on low, then thirty seconds at a higher speed. Turn off blender and let the frothy milk sit there for at least a minute. This allows the foam to form at the top.

Add espresso to the empty mug that you used to warm the milk.

Slowly pour the milk over top the espresso. Your milk may not all fit in the mug, since it increased in 'size' from the foamy bits. You can scoop foam over top or pour the extra in a side cup and add it after a few sips.

Sprinkle coconut sugar over top to serve.
Equipment
mug

blender for foamy milk
nutrition estimate | per serving
Calories:
95
kcal
|
Carbohydrates:
5
g
|
Protein:
8
g
|
Fat:
5
g
|
Saturated Fat:
1
g
|
Sodium:
105
mg
|
Potassium:
340
mg
|
Fiber:
2
g
|
Sugar:
1
g
|
Vitamin A:
587
IU
|
Calcium:
352
mg
|
Iron:
1
mg
disclosure: this post contains affiliate links