The best avocado toast.
This Classic Avocado Toast with an easy Citrus Cumin Salt is the perfect anytime recipe. Seriously. You can enjoy avocado toast for breakfast, lunch or a light dinner with a few sides. I love it served alongside a sweet potato soup or a colorful salad. Or maybe even topped with some chickpeas or lentils.
Anyone can make this.
Avocado toast is one of those recipes that pretty much anyone can make. Which is a great thing for newbie chefs and even teens or college students. And bonus, avocado toast is loaded with nourishing healthy fats, fiber and vitamins E, C, K too. Pro-tip: Use a long slice of some hearty bread like whole wheat. This will help you cram on way more avocado goodness. (I used a rye sourdough today.)
Whip up this easy recipe, and try out my bonus topping: Le Pain-inspired salt on top!….
Mash with a fork for those pretty criss-crosses.
Topping optional, but extra-delicious..
Drizzle some EVOO on top too.
5 Avocado Toast Tips:
Mash it with a Fork – When you add it to the bread, smooth things out with a fork instead of a knife. You will get those lovely fork marks.
Use a Good Avocado – No black mushy parts or too hard or too soft textures. Find a firm-ish avocado with some tender give to it when you squeeze it. Smooth outer skin is a good sign too. And if any parts feel hollow under the skin, definitely skip it. And finally, when you find a perfectly ripe avocado, but you cannot eat it right away, stick it in the fridge! I promise it won't kill the flavor and the fridge will help preserve the avocado by stopping the ripening process. Always works for me!
Salt it – Even if you skip everything else on top, try to add a pinch of sea salt. It really brings out the avocado flavor. If you cannot do salt, sub with lemon juice. Same effect!
Toast who? – A few thin slices of avocado are fine, but for the best avo toast ever, be generous with the avocado part. Go with thick slices and thick layers of mashed avocado. Let the avocado be the main show, not the bread.
Make Two – Trust me, if you have anyone nearby when you are serving yourself some avocado toast, they will surely want a slice too. So just go ahead and make an extra toast when you whip yours up. And guess what, if you DO end up having leftovers, you can actually squeeze some lemon over the top, cover with some plastic wrap and store in the fridge for a few hours to enjoy it later that day … ya know, for bfast, lunch, dinner or a midnight snack.
Citrus Cumin Sea Salt.
I have loved making avocado toast for years now. But one of my favorite restaurant-served avo toasts is from Le Pain Quotidien. To me, their toast is extra exceptional because of the sea salt topping they add. And I actually have no idea exactly how they make their Citrus Cumin Salt, but this recipe below is how I whip some up. It has a pretty similar flavor to the one in the restaurant! So that makes me pretty thrilled. The salt and cumin and citrus zest all add a gorgeous depth of flavor to the already yummy avocado toast. It really brightens everything up.
So try avocado toast totally classic, or give the Citrus Cumin Sea Salt a whirl. Happy toasting guys!
Need more Avocado Toast ideas?.. I got you!!
There are so many ways to glam up avocado toast. Some more avo-inspo for you…
– hemp seeds
– diced tomatoes
– balsamic vinegar
– skillet chickpeas
– skillet plantains
– leafy greens or sprouts
– fresh spring peas
– mashed peas in the avocado mixture (with pickled radishes too!)
– chia seeds
– raw or roasted garlic
– strawberries
– chopped nuts or candied walnuts
– tempeh bacon or shiitake bacon
– as a platter
– tofu
– vegan cheese
– pizza vibes
– basil
– diced cucumber
– on homemade bread
– shredded carrots
– mango
– pineapple
– hummus
– extra virgin olive oil
– nutritional yeast
– hot sauce (I love Cholula)
– and finally, Franken-Toast
…I could go on, but I think that is enough for now, yes?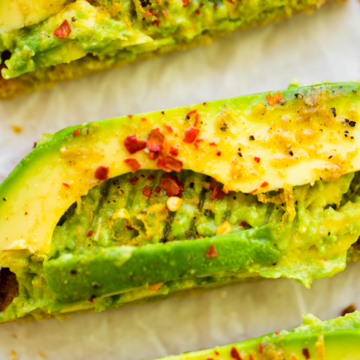 Classic Avocado Toast with Citrus Cumin Salt
This classic avocado toast with lemon and red pepper flakes has an added topping for some fancy flavored flair. Citrus cumin sea salt is inspired by a topping at Le Pain Quotidien.
Print
Pin
Ingredients
1

slice

of rustic bakery bread, long slice

1

medium avocado

1

lemon

red pepper flakes

cumin

coarse sea salt

black pepper

EVOO for drizzling
Instructions
Citrus Cumin Salt: Zest the entire lemon. Place the lemon zest in a small bowl. Add about 1 teaspoon coarse sea salt to the bowl. Then add in about ¼ teaspoon cumin. Add more cumin to taste if you want a bolder flavor. Add a few pinches of black pepper. Using your finger, swirl the citrus cumin salt around in the bowl to combine. It's ok if it clumps up a bit – that is what it is supposed to do. You can actually taste a tiny bit of the salt to check the flavor. It should be sharp, bright and bold! Add more cumin to taste, if desired. Set aside.

Mash ¾ of the avocado in a small bowl along with 2 tablespoon of fresh lemon juice. Mash until mostly silky, but still slightly chunky. Set the other ¼ of the avocado aside.

Spread the avocado over top the bread. smooth out with a fork.

Slice the last ¼ of avocado into four slices. Place the slices on top of the avocado toast, on top of the mash. Then top with a sprinkle of red pepper flakes, the citrus cumin salt and a squeeze of lemon juice. (Add all the toppings to taste.)

Slice into four pieces and serve.

Optional: A drizzle of extra virgin olive oil is a nice touch too!
nutrition estimate | per serving
Calories:
447
kcal
|
Carbohydrates:
42
g
|
Protein:
8
g
|
Fat:
32
g
|
Saturated Fat:
5
g
|
Polyunsaturated Fat:
4
g
|
Monounsaturated Fat:
20
g
|
Cholesterol:
2
mg
|
Sodium:
228
mg
|
Potassium:
1124
mg
|
Fiber:
17
g
|
Sugar:
5
g
|
Vitamin A:
317
IU
|
Vitamin C:
77
mg
|
Calcium:
72
mg
|
Iron:
2
mg
Pin it for later: