Back to basics, with this easy hot cocoa recipe (and video)… When the temperatures cool and the festive holiday music starts singing, I daydream about (plenty of things) but one sip in particular: my Cloud Cocoa.
Mood: Twinkle Lights + Snowflakes + Cozy Everything + Cloud Cocoa. This is how I serve hot cocoa, and I wanted to share it with you guys! I am not reinventing the wheel too much here, but little tweaks in prep and toppings make this cocoa extra fluffy and magical. Perfect for the holiday season!
Cloud Cocoa.
Whipped cream, fluffy, white, thickly swirled like a sparkling snowbank, bouncing on a sea of steamy hot chocolate. A dusting of cinnamon and chocolate and winter holiday magic is served. My Cloud Hot Cocoa is our after-dinner dessert beverage of choice during these cool fall and winter months. Easy to make and totally dairy-free.
A background haze of twinkly white lights and humming holiday music will make things extra cozy..
Cloud Cocoa Technique: Blend it.
Instead of using just a spoon or fork to stir your cocoa, blend it, like in an actual blender. (A wand frother would work too.) Blended cocoa becomes extra foamy. You are looking for those tiny bubbles to let you know your cocoa is nicely whipped.
Looking for super cute mugs? I am obsessed with the designer Rae Dunn (she did the mugs I used in this post, and all my latte posts, really..) You can find some of her other mugs on Amazon. Amazon also makes a basic wide-brimmed white mug.
Store-bought vegan hot cocoa mix?
I switch between DIY-ing my cocoa and using a store-bought brand and giving it a few homemade tweaks. My favorite brand + flavor: Spicy Aztec Cocoa from Lake Champlain. However, I find that store-bought "cocoa mixes" are usually a bit too sweet for my tastes, even my fave brands, and especially if you are adding a generous swirl of sweet whipped cream on top. So I always tweak by adding some unsweetened cocoa OR whole (70-80% cacao) dark chocolate pieces, melted into the blend. My friend Sophie also has an awesome superfood cocoa mix, which is really the only blend I do NOT find too sweet, yay: Cacao Magic. Note though, it usually blends up slightly grainy from the chia seeds and raw cacao nibs, but totally doable if you want your cocoa superfood-boosted.
Curious about chocolate? Check out my Everything Chocolate Guide.
Winter mood… (Pics from Iceland, Sweden and Switzerland! Read my travel posts here)
*Iceland. Land of magical ponies + snowscapes.
*Iceland, land of #cozy.
*Icelandic cutie! Talk about fluffy..
Favorite vegan hot cocoa options:
1) Store-bought Blend. 2 parts Spicy Aztec + 1 part 100% pure unsweetened cocoa powder or 70-80% dark chocolate bars (2:1 ratio) + pinch of cayenne and a few drops of vanilla extract. Sometimes a pinch of pink salt.
2) 100% Homemade blend. See recipe below.
Whip. Did you know that vegan whip in a can is popping up everywhere? I spotted that Whole Foods now has a 365 brand coconut whip, and Soyatoo is a great soy or rice whip option. Or try the 'cool whip' style coconut whip from So Delicious (in the freezer section).
How to make Cloud Cocoa, aka the fluffiest, puffiest, loveliest cocoa ever..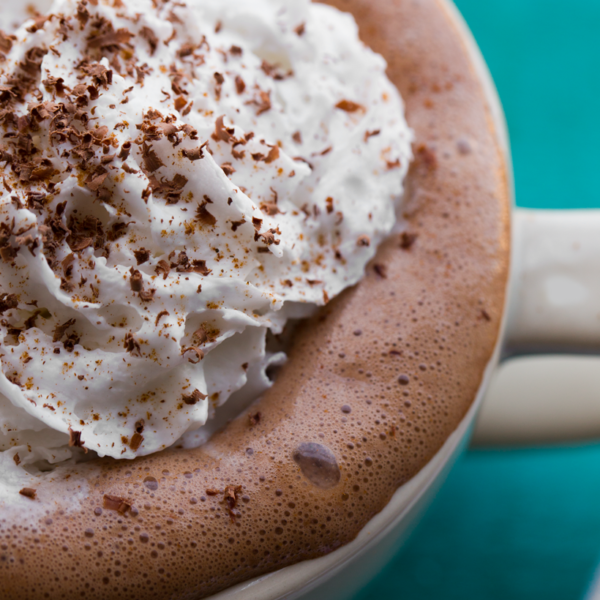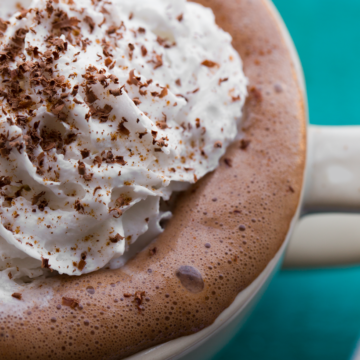 Cloud Cocoa
Fluffy, chocolate and cream Cloud Cocoa is the best way to serve this festive winter treat. Use store bought cocoa mix or try the DIY recipe below.

Print
Pin
Ingredients
DIY Hot Cocoa Mix:
1

cup

organic vegan sugar

1

cup

cacao powder

¼

teaspoon

cinnamon

⅛

teaspoon

salt

⅛

teaspoon

cayenne

,

double if you like spicier cocoa

½

vanilla bean

,

sliced down the center to expose the seeds
Cloud Cocoa Mug:
1

mug

non-dairy milk

hot cocoa mix

,

to taste

vegan whipped cream

1

square

dark chocolate

cinnamon or nutmeg

,

optional
Instructions
Hot cocoa Mix
Sift cocoa if for the least clumpy mix – but this step is optional. Add everything to a small mixing bowl and toss well to blend.

Pour into a glass jar or a baggy and seal for future use. When using, be sure not to add whole vanilla bean to cocoa, it really just infuses a lovely essence. For a stronger vanilla flavor, add a few drops to your hot cocoa when making it.
Cloud Cocoa Mug
Step One: Warm your milk to very hot. Pour into a blender. Add the hot cocoa mix to desired tastes.

Step Two: Blend on low for 1-3 minutes until well combined and frothy.

Step Three: Pour the cocoa into mug(s).

Step Four: Pop cocoa mug into the microwave for about ten to twenty seconds, this helps fluff up the milk a bit more!

Step Five: Swirl the whipped cream on top. Grate dark chocolate over top. Add optional cinnamon or nutmeg too. Serve!
nutrition estimate | per serving
Calories:
200
kcal
|
Carbohydrates:
20
g
|
Protein:
4
g
|
Fat:
14
g
|
Saturated Fat:
8
g
|
Cholesterol:
1
mg
|
Sodium:
299
mg
|
Potassium:
365
mg
|
Fiber:
7
g
|
Sugar:
7
g
|
Vitamin A:
104
IU
|
Calcium:
34
mg
|
Iron:
5
mg
disclosure: This post contains some Amazon affiliate links. Thank you for supporting my blog when you buy some of my fave things!