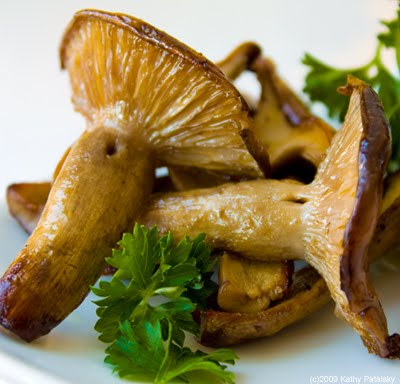 There is an easy way to cook gourmet meals, without breaking your budget or going to culinary school. You're foodie chops, will be in-step with the world's top chefs. Find out my fool-proof secret to cook gourmet, and I'll even give you a jump start list to help you impress your guests. Here's one of my tricks to get inspired…Chefs hat not included…
In-laws visiting? Celebrating a special birthday or anniversary? So this time you want to cook a gourmet meal, "Martha Stewart" "Tom Colicchio" or "Ina Garten" style by dining in and playing host or hostess. Sounds great right? But your everyday menus need to be jazzed up a bit to impress those with 'fancy palates' at your table. Including that worldly aunt of yours who is always bragging about her lunches at Per Se in New York or her dinner at The French Laundry in Napa.

What's the Secret to Cook Gourmet? Foodie trends and seasonal ingredients! You don't need expensive caviar, white truffles, Valrhona cacao or a 2000 Bordeaux wine to cook gourmet. Most of the 'key ingredients' I'll list are wallet-friendly. Example: who knew almonds were a current on-menu gourmet trend? Almonds are budget friendly indeed.
The world's top chefs use produce and flavors that are in season or just plain 'trendy' to accessorize their pricey menus. Simple ingredients including herbs, spices, fruits and veggies turn into gourmet spotlights on the menu. Pair the key ingredients with anything from tofu to pasta, and you will turn your 'everyday menu' into a gourmet meal. (And just like in the fashion industry, the foodie/chef trends change every season, so the inspiration is never-ending.)

Trendy, Seasonal Ingredients. Figuring out the trendiest, hippest, most seasonably tasty ingredients is as easy as this: peruse the pricey tasting menus of your favorite Michelin star restaurant. It's kinda like in the fashion industry, when J.Crew borrows a trendy new color or style from a Prada design.
Last season I posted this article featuring a list of the trendy seasonings and vegetables being used on the tasting menus of the world's best restaurants. This was the overall list of top ingredient trends: Roasted Figs, Creamy Parsnips, Tamarind, Watercress, Kumquats, Candied anything, Poppy Seeds, Earl Grey Tea Desserts, Sunchokes, Exotic Peppercorns (Green and Pink), Retro Soda flavored sorbet, Flavored Caramel, Cauliflower, Pomegranate, Lime-Salt, Exotic Grains (beluga lentils, couscous and quinoa)
But that was LAST SEASON, so I've done it again!
Here's what I found is trendy in the gourmet restaurant scene right now:
Top Trends on Top Menus Now:
Purple Foods (Purple potatoes, purple basil, purple mustard)
Sour or tart cherries
preserved lemon
bean cakes, (ex. chickpea falafel)
exotic peppers and chilies
roasted (anything)
almonds (curried, toasted)
bitter or wilted greens (ex. wilted arugula)
pumpkin
pickled foods (ex. pickled onions, watermelon rind)
radish (spicy, thinly shaved)
infused herb oils (ex. dill oil)
avocado
tapioca pearls
classic herbs: rosemary and thyme
savory-spiced desserts (ex. black pepper ice cream)
mint
ginger
exotic mushrooms (ex. woodear)
*do exotic mushrooms ever go out of style though???
Specific Menu Ingredients featured on a few Top Restaurants:
Daniel, NYC:
fresh almond
bing cherry
purple mustard
radish, shaved
dill oil
purple potato chips
rosemary-vegetable relish
ovoli mushrooms
figs
falafel
minted zucchini
sweet garlic
saffron rice
wilted arugula
chickpea falafel
roasted plum
poblano pepper
Gordon Ramsey at The London
pumpkin
candied cranberries
gingerbread desserts
black figs
candied ginger
Tom's Tuesday Dinner at Craft Restaurant:
lemon thyme
exotic chilies
sour cherries
black pepper desserts
mint
fruit chutneys
bitter greens
Blue Hill, NYC
preserved lemon
pickled onions
smoked eggplant
curried almonds
roasted potatoes
beans
The French Laundry, Napa CA
Pearl Tapioca
Marcona Almonds
Red Radish
Arugula
Sugar Snap Peas
Pine Nut-Maple Puree
Mango-Chili Relish
Cocoa Nibs
TelliCherry Pepper Cream
Cilantro
Greek Basil
Hass Avocado
Mache Sweet Garlic
Rosemary-Olive Oil Sable
Jean Georges, NYC
floral infused cherries
spicy radish
dill
Ginger Marinade
Papaya
Peppermint
Nuts and Seeds
Chili Glaze
Fresh Garbanzo Beans
crunchy potatoes
Le Bernardin, NYC
aged citrus vinegar
sea beans and potato crisps
hazelnuts
sweet peppers
toasted almonds
ginger
avocado
sunflower sprout
garlic chips
purple basil
woodear mushrooms
rosemary
thyme
Double Crown, NYC
pickled watermelon rind
mustard oil
basil seeds
roasted peanuts
garlic-chili-lime dressing
cloud ear mushrooms
pickled eggplant
mint
cilantro
green chili relish
spiced yogurt
pickled lime mustard
chamomile tapioca
black peppermint ice cream
cherry granita