This Vegan Cookies & Cream Cashew-Based Ice Cream is one of the best desserts I have ever made. Cookies and Cream has always been a favorite flavor of mine when it comes to ice cream, but I really could never find a perfectly amazing vegan version at the store. They are good, don't get me wrong, but they lacked some richness or they were too sweet or the creaminess just wasn't there. But this stuff is gold. And I have sweetened it with cookie alone! Meaning no added sugar, just the sugar in the cookies.
Plus, the best part is you get so much cashew goodness in each bite that you *almost* feel like this treat is good for you! Almost.
Scoop a bowl of this rich and super fluffy amazing ice cream!..
What in the world am I doing posting ice cream in the middle of winter? I mean half the country is having a snow day today and here I am with a pea soup thick layer of beach fog out my window, dreaming about dessert later tonight, featuring this dreamy bowl of yum.
So, I apologize for the lack of seasonality here.

But if you are an ice cream anytime of year girl or guy like me, you can absolutely make this soon.
Or if not, save it for the first sunny day that sprinkles on your doorstep. Something to look forward to right?
Cashew Ice Cream. This ice cream is so fluffy! Like it almost tastes like a frozen mousse once it is all thawed out and soft. It holds its shape very well when thawed. Like for a good hour sitting on my countertop! Seriously. I took this out of the freezer to thaw for photo-shooting and completely forgot about it for an hour. I went over to it and it was super soft but still totally scoopable and dreamy-perfect in terms of texture.
So tip #1 when serving cashew ice cream, allow a good amount of time for the thaw! At least twenty minutes, maybe longer. This isn't like store bought ice cream with all the special additives to let it be melty in just a few minutes. Cashews get rock hard in the freezer, so they thaw a bit more slowly.
If you are in a super rush to serve, you can place the ice cream storing container in a warm water bath.
Storage? I store my ice cream in loaf pans. I have been using my Le Creuset Heritage Loaf Pan lately. It's not really a "pan" though. It works very well!
For the cookies, I used Newman's brand, the vegan version.
There were a few vegan options at Whole Foods so that was exciting. And YES Oreos are vegan, although some people think that is still up to interpretation. I say yes. Mostly. I'm not all about promoting perfection here. (Unless you have a serious dairy allergy, I would skip them because they might cross contact with milk.)
Always check the labels because I have heard that they are not vegan in certain parts of the world..
Or if you are not vegan, use whatever cookies you'd like.
Another option would be to use another type of cookie like leftover chocolate chip cookies! I think i need to try that next time for sure.
Sweetness! Since there is zero sugar added to this ice cream you really get to customize things. The more cookies you add, the sweeter the ice cream becomes. I added about two cups of cookies, but add more if you do want a sweeter flavor. Be sure to crumble the cookies very fine so that the sugars from the cookie swirl with the ice cream. If for some reason you really want a sweeter ice cream, you could add in 5 soaked Medjool dates or even another ripe banana.
Hope you love this snow bunnies!! xoxox
The ice cream maker I use is this one from Cuisineart, super simple and around $60. I have completely made back my money from this machine because I can make so much ice cream for just the cost of ingredients! And it is soooo good. (Amazon affiliate link to the product)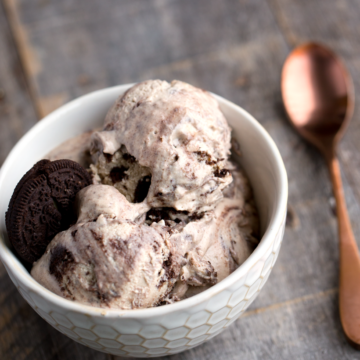 Vegan Cookies & Cream Cashew Ice Cream
This rich and fluffy cookies and cream ice cream is made using cashews and vegan cookies.
Print
Pin
Ingredients
3 ½ cups raw cashews, soaked overnight and drained

¼ cup peanut or almond butter

1 very ripe banana

2 ½ cups non-dairy milk (I used soy, almond works too)

¼ teaspoon salt

1 teaspoon vanilla extract

Fold in: 2 cups crushed vegan chocolate sandwich cookies (I did about 1 cup halves and quarters and 1 cup completely crushed)
Instructions
Prep: have ice cream maker container fully chilled in freezer and have cashews soaked overnight.

In a blender or food processor, add all the ingredients, except the cookies. Blend from low to high until silky smooth.

Pour the mixture into the ice cream machine and allow to churn for at least 15-20 minutes. When ice cream starts to harden into a soft thick swirl, it is almost done. You can add in the cookies a few minutes before turning off the machine. This will allow the cookies to swirl into the mixture without completely changing the color. You want a nice black and white cookie swirl rather than an overall gray color.

Pour the finished ice cream into a freezer-friendly serving container. Cover with plastic wrap and chill for at least a half hour to achieve a firmer more scoopable consistency. When serving from a fully thawed state, allow at least a half hour for thawing. Sometimes longer if the ice cream is rock hard.