Raise your hand if you have tried Disney's iconic swirled frozen dessert, DOLE Whip?
*raises hand*
If you did raise your hand, basically, you will know just why I am showcasing this sensually swirled, perky pineapple, sweet and silky dessert. DOLE Whip is so cravable that you basically need a DIY, made-by-you, copycat recipe.
If you did not raise your hand, well here is a little taste of the wonderment that is DOLE Whip. And I hope one day you can find yourself in line (probably a long, long line) to try the real thing. But for now, this frosty, fresh, pineapple recipe is a pretty fabulous substitute….
DOLE Whip in Hawaii is even pretty magical…
DOLE Whip at Disneyland. Simple + amazing.
Iconic Whip.
DOLE Whip is so iconic and amazing that it has its own T-shirts, its own cult fan following and at Disneyland, usually a line that wraps far around the Tiki Tiki Room, just inside the borders of Disneyland's Adventure Land – a short stroll away from the Indiana Jones Ride, as well as the Walt Disney statue, and Sleeping Beauty's castle.
DOLE Whip + princess or adventureland vibes? Yes, please.
Yup, I love DOLE Whip. The original version is magically vegan, dairy-free, rich in real pineapple goodness and the yummiest thing at Disneyland (in my opinion) … (and that says a lot, because Disneyland has a lot of yumminess.) PS. My second fave vegan thing at Disneyland: The tofu + rice bowls in California Adventure Park. But soon, I think there will be many more vegan goodies to try, based on this new story: Vegan at Disney just got easier. But I digress. Let's get to it.
DIY DOLE Whip.
When you are away from the lovely Disney Parks or hotels or islands where DOLE Whip is served, you can satisfy your pineapple-swirl cravings by making this DIY version. It is amazingly yummy and very close to the real thing if you prepare it properly! (Just don't skimp on using a fresh pineapple for freezing!…)
DOLE Whip Tips:
Fresh Pineapple. To achieve copycat recipe perfection and pineapple bliss, you MUST use fresh, cut-by-you pineapple. Fresh pineapple helps you achieve the bold pineapple flavor that is so imbedded in each DOLE Whip swirl. So head out to your grocery store, buy a pineapple, chop it up and stick it in the freezer.
Fresh Pineapple = must have!
Fresh AND Sweet. Make sure you pineapple is very ripe. You might even only want to chop up the bottom half of the pineapple for your DOLE Whip use, because the bottom half of the pineapple is always sweeter than the top half near the stem! Sweetness and sugars are most concentrated towards the bottom of the fruit.
Ripe Bananas = must have!
Ripe Bananas. The same rule goes for the bananas that you freeze, wait until they are starting to get black-speckled to freeze them. This ensures that your WHIP is as sweet and creamy as possible.
The Liquid. Use a non-dairy milk that has some body to it, and contains some fat. I love soymilk. But for a very decadent swirl, try coconut milk. Just stay away from any of the "fat free" or "low in calories" non-dairy milks. Your non-dairy milk should have at least 60 calories per cup, in my opinion. Anything less is pretty watery, on average. Read my vegan milk review here for ideas.
Bonus Points…
Bonus Points. If you want bonus points via additional intense pineapple flavor, add some pineapple juice in there too. Fresh juice is best, but see what you can find at your grocery store. One fun idea is to freeze pineapple juice into cubes to make pineapple juice ice cubes. Then add a few of those to your blender. Or simply add a few splashes of juice to your recipe. Just be sure to add enough frozen fruit to keep the thickness in tact!
Blender: A high speed blender is a must for super smooth and silky, thick and fluffy whip.
DOLE Whip Costume, anyone?
Yes, we received some free DOLE Whip at the Enchanted Tiki Room in Disneyland .. well done us! And FYI, magical blogger Cat created these adorable Dole Whip hats.
Nutrition Facts. Some fruity fun facts about the ingredients in this recipe.. (courtesy of the Dole Nutrition Institute and Jenn LaVardera, MS, RD)
– Pineapples are a wonder healer. This sweet, tropical fruit is the only source of an enzyme called bromelain, which has been proven to reduce inflammation, provide pain relief and help skin injuries heal faster. It may even alleviate asthma symptoms.
– Bananas: Did you know they come in every color? While the ripeness of regular bananas is rated in seven different shades from dark green to yellow and "cheetah spotted," other varieties are available in a range of color hues, including bright red. Most North Americas are only familiar with the yellow Cavendish variety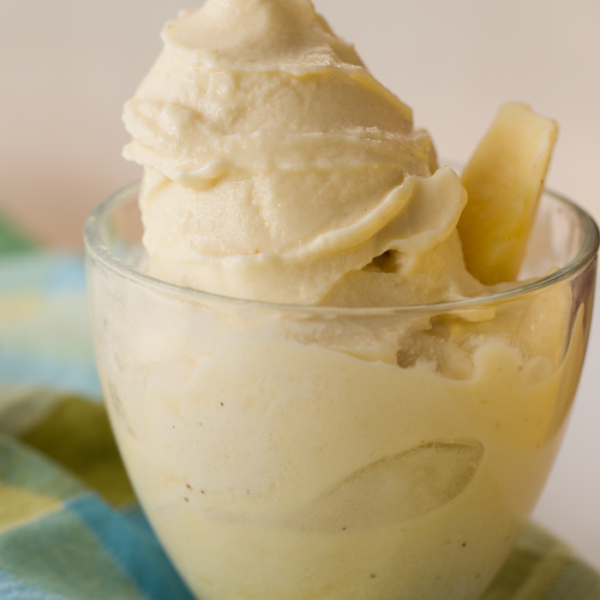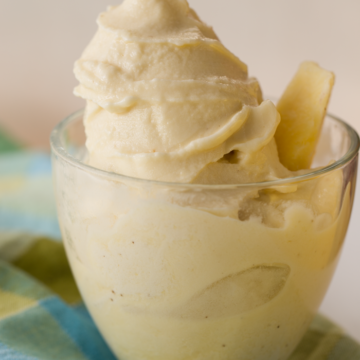 DIY DOLE Whip
Pineapple Whip at home! This is a copycat recipe for the yummiest dessert at Disney Parks, DOLE Whip! Rich in real pineapple flavor and goodness, this dairy-free frozen treat is sure to please!
Print
Pin
Ingredients
2

cups

DOLE pineapple cubes

,

from a fresh DOLE pineapple (cut by you – frozen by you)

1

large

DOLE banana,

frozen

1

cup

soy milk

,

or another non-dairy milk option
Instructions
Freeze your fruit! Buy your DOLE pineapple, wait until it is fragrant and ripe, then chop it into cubes – removing the thick outer skin. Freeze the cubes. Also freeze your own ripe bananas.

Place the pineapple, banana and ½ cup non-dairy milk in a high speed blender like a Vitamix. Place lid on and start blending from low to high. Add more liquid as needed to blend. I usually use one cup, but more can be added if needed to blend. You want to add as little liquid as possible to maintain the frosty thickness, but add more liquid in small splashes as needed to blend.

Pour the frosty whip into a serving cup, swirl on top with the back of a spoon and serve! Garnish with fresh pineapple, if desired. Colorful umbrella, optional but always helps!
Notes
Add more sweetness!.. If you want bonus points via additional intense pineapple flavor, add some pineapple juice in there too. Two ways you can try:
1. Add a splash to the blend – just not too much to mess with the thickness.
2. Freeze pineapple juice into cubes, then add a few of those to your blender. 
Blender: A high speed blender is a must for super smooth and silky, thick and fluffy whip. I love my Vitamix.
nutrition estimate | per serving
Calories:
183
kcal
|
Carbohydrates:
39
g
|
Protein:
5
g
|
Fat:
2
g
|
Saturated Fat:
1
g
|
Sodium:
47
mg
|
Potassium:
569
mg
|
Fiber:
5
g
|
Sugar:
25
g
|
Vitamin A:
391
IU
|
Vitamin C:
85
mg
|
Calcium:
172
mg
|
Iron:
1
mg
*disclosure: this post was sponsored by my friends at DOLE