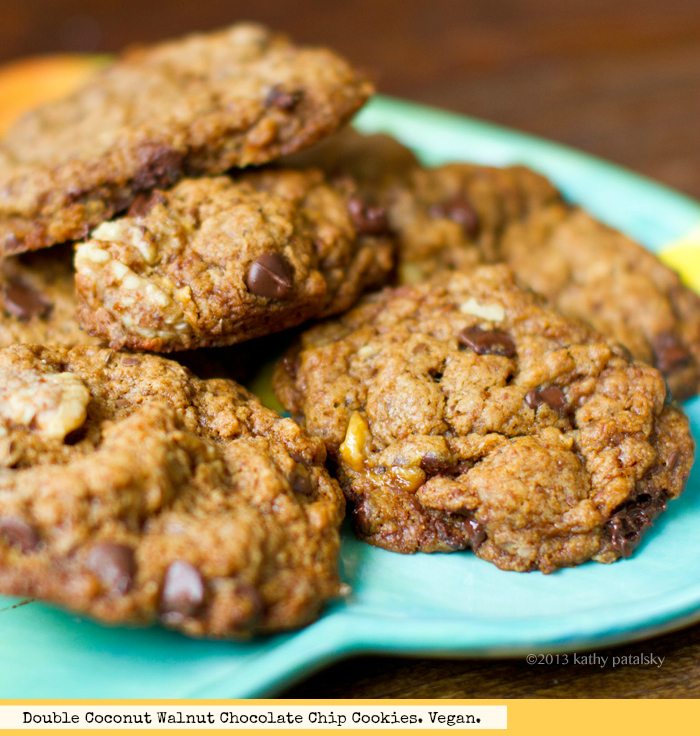 Can you ever have too many chocolate chip cookie recipes? I think not.
These vegan Crazy Double 'Coconut' Chocolate Chip Walnut Cookies have caramelized coconut undertones, a bronzed caramel color and a dreamy tropical flavor from the mingling of (double coconut) – coconut sugar, coconut oil – cinnamon, banana, walnuts and chocolate. I promise that the smell that glides from the oven as you bake these gems is one that will mellow you out in an instant. (Other recipe title: chill out cookies.) These tender cookies were enjoyed with RAVE reviews…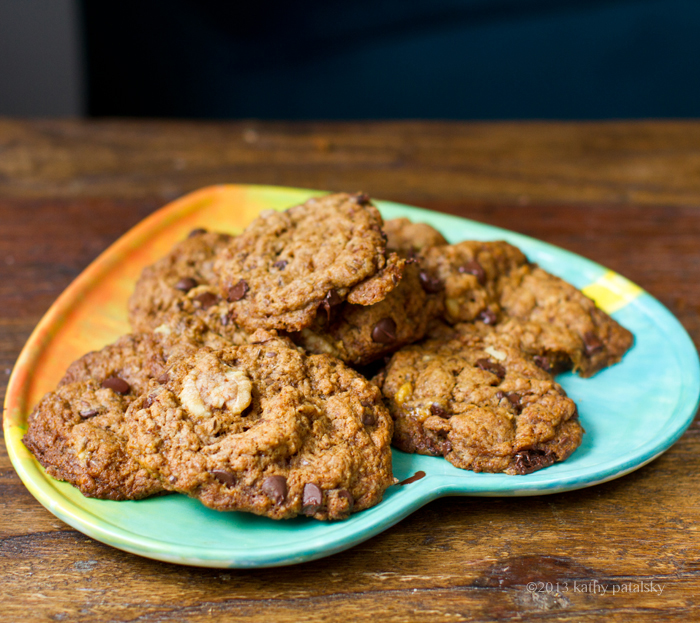 The coconut sugar (which is brown) gives the cookies a bronzed color..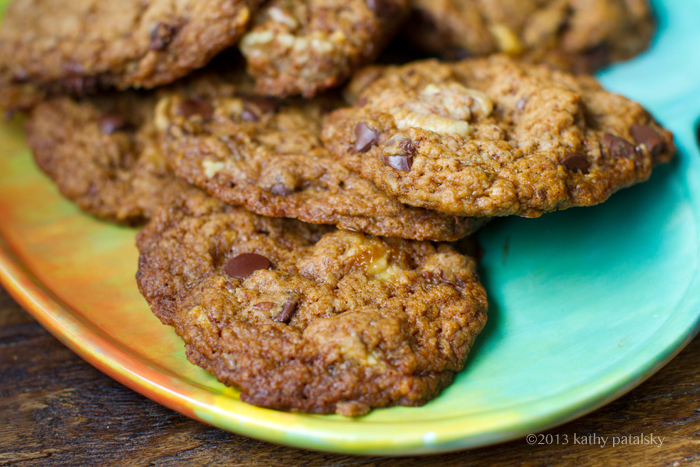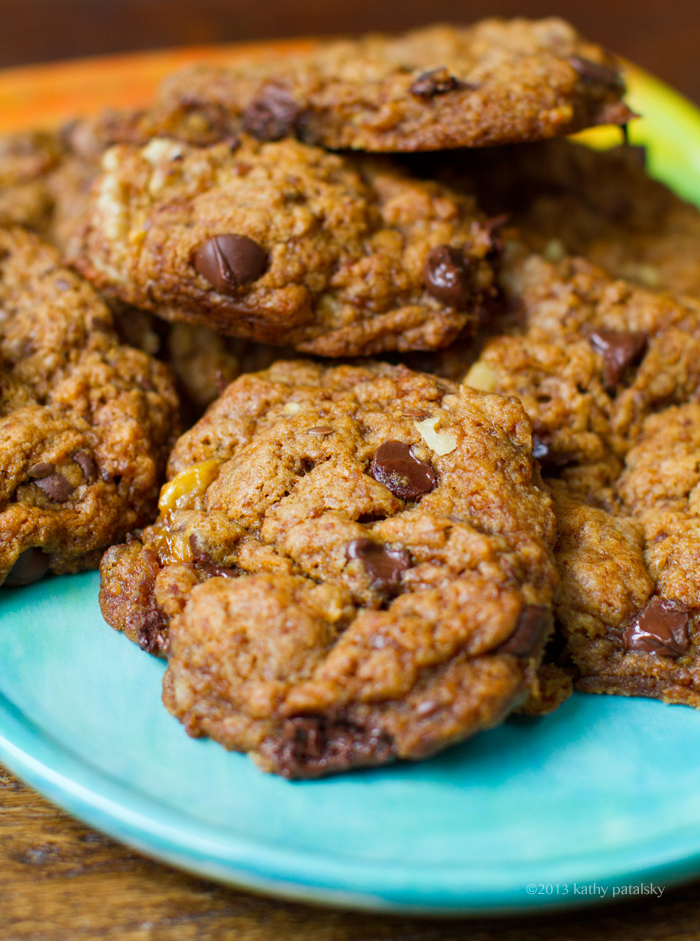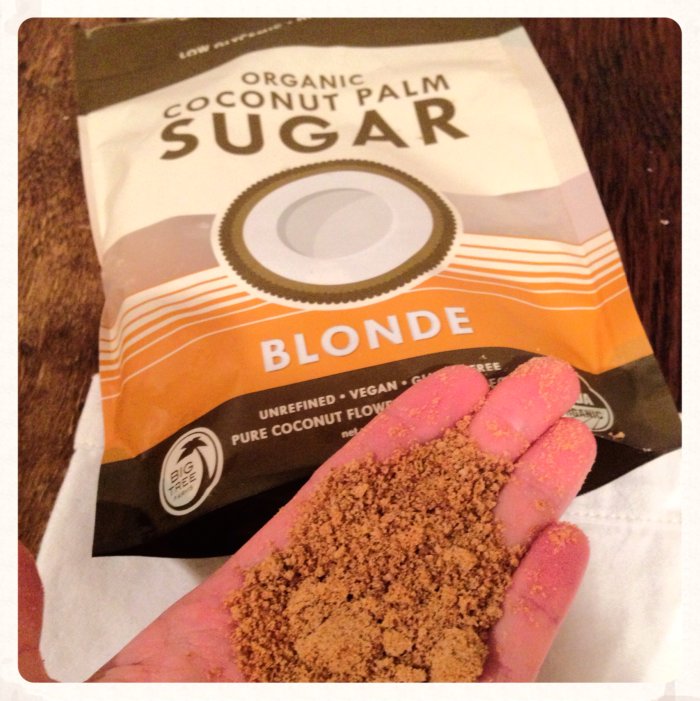 Tweak. Sometimes one or two simple tweaks to a favorite recipe can produce delicious results. I'm sure you have a handful of favorite recipes you make again and again and change things up by modifying a few ingredients…
Adding new ingredients to a favorite stew. Switching up the toppings on homemade pizza night. Adding in a new spice or herb to your favorite pasta or sandwich dish. Or using a different variety of sweetener in your favorite cookie recipe. Well that is just what I did here today. Two or three little tweaks, and my favorite Chocolate Chip Walnut Cookie recipe turned into a brand new blissful dessert that had me swooning with every rich, buttery and caramelized coconut bite.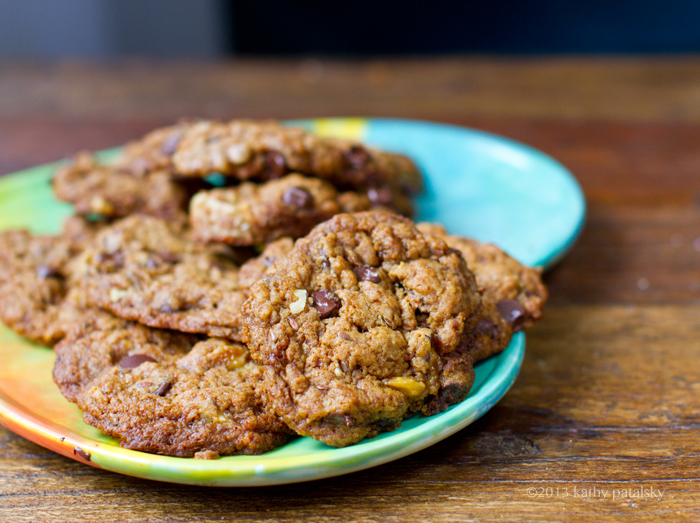 (More ingredient tips and info below recipe!)
Crazy Coconut Chocolate Chip Walnut Cookies
vegan, makes 18-22 cookies
1 ½ cups white flour, organic
1 cup organic coconut palm sugar
⅓ cup virgin coconut oil, melted (measure before melting)
*add an extra tablespoon of oil for extra rich & buttery cookies
¾ teaspoon salt
¾ – 1 cup dark chocolate chips (semi-sweet and/or vegan)
1 banana, mashed
⅓ cup warm water + 1 teaspoon flax seeds (whisked and set aside for 5 minutes to thicken a bit)
⅛ teaspoon cinnamon
1 tablespoon baking powder
¾ teaspoon baking soda
2 teaspoon apple cider vinegar
½ – ¾ cup walnuts, raw
optional: pinch of orange zest and or dash of cayenne
note: I use *unrefined* virgin coconut oil for a more coconut-y flavor
Directions:
1. Preheat oven to 350 degrees, lightly grease or line baking sheet.
2. Combine flour, sugar, salt, baking soda, baking powder, cinnamon. Toss.
3. Melt the coconut oil in the microwave – just a few seconds should soften.
4. Combine the flax/water mixture with the oil and vinegar and the mashed banana. Slowly fold this mixture into the dry mixture. Make sure it is not too hot of it will made the dough chewy.
5. Fold in the walnuts. Last, fold in the chocolate chips.
6. If you want perfectly round cookies, you should fridge the dough for 5-10 minutes and scoop into balls. But I just like to add the dough as is in semi-messy rough balls. Keeping some air pockets in the dough when I place it on the pan. This makes for more bumpy, bubbly cookies … (which I love!)
7. Cook for 15 minutes or until the edges brown and darken a bit. Cool. Serve. Store in the fridge or freezer if not eating within a day.
Nutrition estimate: If you make 20 cookies from this recipe:
calories: 160 per cookie – 8g fat per cookie – 2g protein
What is Coconut Palm Sugar? I bought a bag a few weeks ago and have been testing it out in a few recipes. It reminds me of sucanat (sucanat is minimally refined cane sugar) – only a bit sweeter and with a coconut undertone that is very mild. It almost acts more like brown sugar rather than white sugar in recipes. And it has been applauded for its nutritious qualities as well. I love that my bag says "vegan" on the label and that it is less processed than most sugars.
Pure coconut palm sugar is made from the nectar of the coconut palm tree. My bag says "pure coconut flower blossom nectar" .. which sounds a bit 'flowery' in a description, but you get the point.
But it is still sugar. So don't go overboard on indulging just because it looks and sounds so healthy! I learned that lesson when I plopped two giant spoonfuls in my tea one day. Whoops. It is still quite sweet despite the sand-like appearance. But in terms of nutrition, I do think that it is healthier than most average sweeteners simply because it is less refined than most and does contain some nutrients (in small amounts) like zinc, calcium and potassium. Plus, the brand I bought had its bag labeled vegan. Which I just LOVE to see. (note: not all bags will say vegan.)
So if you love trying NEW ingredients, give organic coconut palm sugar a whirl! .. BUT if you want to use the sugar you have in your pantry. Go for it. Luckily, coconut sugar has about a 1:1 ratio to traditional dry sugar. The flavor is different though and sweetness less intense, in my taste test.
Tip to try! If you like air-y cookies with air pockets – nooks and crannies of melting chocolate and walnuts – add your dough to the baking sheet in a light manner, but crafting loosely packed balls of dough. So often we roll the dough in our hands or scoop it out after it has settled into a firm, stiff state. Well try keeping a few air pockets in each ball and see what you think of the difference in texture!
The cookie aroma mellowed the kitty out! Wait, she always looks like this..