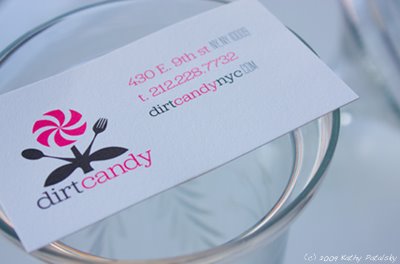 Dirt Candy is the new East Village, NYC vegetarian (vegan-friendly) restaurant from Chef Amanda Cohen. At Dirt Candy, it's all about the veggies. From a bright green spinach soup with smoked tofu dumplings and zing-worthy lemon confit – to a cheerful orange plate of really carrot-y risotto. Chef Cohen pays homage to the delicious things that come out of the ground- the "Dirt candy".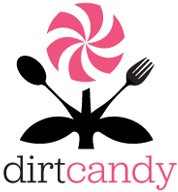 Veggie Guru. Amanda does with veggies what Morton's does with steak, what Morimoto does with sushi and what Batali and Lidia do with pasta. And Chef Cohen is in the Dirt Candy kitchen every service night. She even personally presents most of the entrees to her guests. Multitasker Award! The tiny humming kitchen is just a few feet away from the customers, so you can watch Amanda in action. Dinner and a show. Foodie style.

My Turn for Some Candy. So I wanted to see and taste for myself. Click ahead for more & my complete review of my Dirt Candy experience….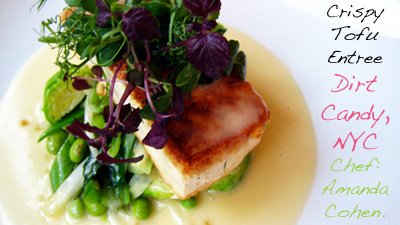 Dirty Business. I've heard a lot of buzz about Dirt Candy in the past few months, and to be honest a lot of it was not so kind. I read one headline on a vegan blog that hinted that Cohen really caters to the lacto-ovo vegetarians. There was even an incident where Dirt Candy's menu box was vandalized a while after opening. Rumors of the East Village Vegetarian Mafia were quickly whispered around the blogosphere. NYC can be a dirty city for a new restaurant on the block. Rest assured, my experience shunned all these silly myths. Chef Cohen was incredibly warm and gracious to each and every customer. And the vegan fare was just as flavorful and delicious as the non-vegan fare (according to my husband-who is very honest!)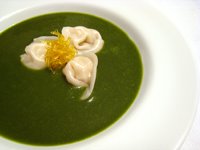 My Review: Dirt Candy, NYC

Shelf Appeal: They say great things come in small packages, right! Well in this case, yes. Dirt Candy is smaller than my apartment, and that says a lot! It's quite a squeeze into the small space, I'd guess about 25 diners were on hand when I was there. But the seating is simple, elegant and modern. Cool modern mood-lit ceiling lights create a warm glow and the bustling kitchen-open to the dining room-creates an energy that not even the dining room at Le Bernadin can match. I was a bit scared to enter the tiny shoe-box dining room. But the staff magically makes you feel at ease. I'm still shocked how pleasant a dining experience it was for me, someone who hates feeling cramped. And the close-knit bunch of diners allowed visual sharing of the served plates. A new dish from the kitchen made every one's heads turn.

Label Check: 100% vegetarian. Most everything on the menu can be made vegan. TONS of the highest quality veggies around. There's no way that Amanda could get the spinach soup that green, the grapefruit that pink and the risotto that orange without using high quality, nutrient-dense, fresh produce. And high quality produce means delicious food (if you cook it right, which she does.) I'll admit I was a bit hesitant to crunch down on three giant fried jalapeno hush puppies, but I had to give them a whirl. Something about this place makes it OK to indulge in a bit of fried gourmet puffs. Yum. But everything else is incredibly light and healthy. Even the sweet potato sorbet at dessert was bright orange and rich in nutrients.

Taste Test: See below for specific reviews. But the flavors were pure, bold and memorable. I was sopping up sauce, soup and dressing with my bread side – it was that delicious.

Price Check: Two glasses of wine, a glass of champagne, two entrees, two starters, one appetizer, one dessert and a coffee for around $100. It was our Easter outings and well worth the price. I could easily go back and get an entree and starter and a half glass of wine for under $40. For the food quality, the prices are reasonable.

Last Word: Get this foodie experience while it lasts! …I don't think Chef Cohen will be in this tiny shoebox forever. Dirt Candy could easily move up and outward. Be one of the first to experience Dirt Candy. It's fun, different, delicious and buzz-worthy. Finally, a place to chat-up brussel sprouts and sweet potatoes not chick'n and fake meat. My kind of vegan bliss!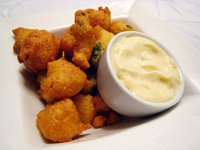 Menu review breakdown.
I ordered:
Glass of Rose Champagne: Light. Crisp. Yum. Bright rose colored pink!

Jalapeno Hush Puppies: Light fluffy cake-like fried nuggets. Not as spicy as I would have liked, but and excellent 'snack' to go with my rose champagne. (Made vegan)

Spinach Soup with Smoked tofu-dumplings and lemon confit: OMG. This was probably my favorite part of my meal. I am a sucker for amazing soup. Bright green nutrient-dense soup that was full of flavor and warmth. My husband who doesn't like 'green juice' tried it and was in heaven. The lemon confit is already famous among bloggers. It sings and zings. I would LOVE this recipe. It is divine.

Crispy Tofu with Green Ragout,kaffir lime beurre blanc: Very fresh, light and flavorful. The tofu appeared to by crisped by a layer of wonton wrappers. My guess. I was expecting more of a fried tofu, but this was very lightly handled. It was on a bed of chopped snow peas and the brightest green brussel sprouts I have ever seen. Very lightly cooked. Almost firm, but in a good way! Less cooking-more nutrients in tact. And that lime beurre blanc was curry-esque and wonderful. I wish the tofu had been soaked in that sauce but I did a good job of soaking it around myself.

Chocolate Cake with sweet potato sorbet: Heaven, I was in heaven.Most of you know my obsession with sweet potatoes. Thus, this sweet potato sorbet really made me swoon. Bright salmon colored and sweet potato deliciousness abounding. I think I ate more than my 'half' of the sorbet part of the dessert-since my husband and I were sharing- but that's OK he ate most of the moist warm chocolate brownie-cake.
My husband (he is not vegan) got the Portobello Mousse and the Stone Ground Grits with tempera poached egg. He was oo-ing and ahh-ing the whole meal through. He loves mushrooms, and so that rich and savory mousse with little crispy bread crackers was perfect for him o munch. And I was shocked to see a man who hates corn rolling his eyes in delight after each bite of grits. He loved it! I suspect anyone would love that dish-even hardcore veggie-phobes. There was just a few sprinklings of greens-it was all about the stone ground corn and that amazing-tasting egg. And his coffee, french-press, was very good.
So, yes I will be back. I need to try that candied grapefruit as well as the carrot risotto. I am a risotto fiend, but was craving some tofu that evening. If it had been sweet potato risotto, I would have given in though. I also need to try another dessert. That popcorn pudding with the caramel corn on the side. So yum. And so healthy. And such a foodie experience. I really want to bring my non-vegan foodie friends and non-vegan chef friends to this place. Too bad it is a tough reservation! Snag one on OPENTABLE if you can.
Dirt Candy. I'm a fan.
images from Dirt Candy's website.