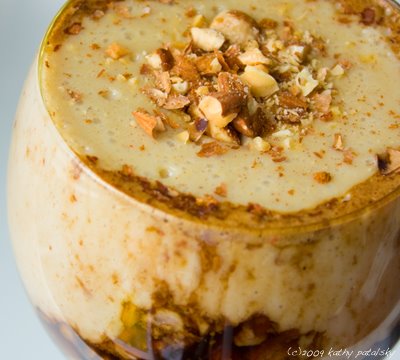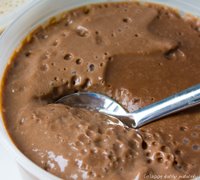 Tofu is the perfect ingredient for making amazing vegan pudding that can have the thickness of a mousse. When I am craving a rich and elegant dessert, I whip up a few of my Diva Tofu-Chino Parfaits. This rich parfait combines cinnamon vanilla and spicy chocolate pudding with a thin spike of creamy espresso (or substitute chai tea if you have nixed coffee). A crushed almond and crumbly 'cookie' crust layer complete the dessert. Click ahead for the decadent recipe…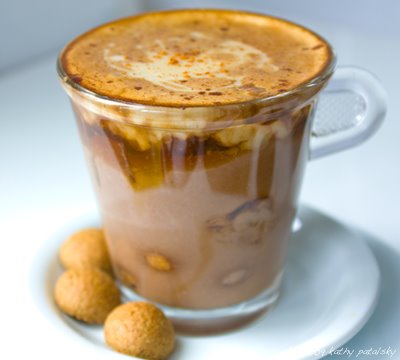 Diva Tofu-Chino Parfaits
vegan, makes 4-8 servings, depending on cup serving size.
Cinnamon Vanilla Mousse
1 box vegan vanilla pudding mix
¼ cup organic evaporated cane juice sugar
1 ¾ cups soy milk
8 oz. firm tofu (½ pack of tofu)
2 tablespoon Veganaise
1 teaspoon vanilla extract
2 teaspoon cinnamon
1 teaspoon salt
1 tablespoon Arrowroot Powder (my substitute for cornstarch)
Spicy Chocolate Mousse
1 box chocolate pudding mix
1 ½ cups soy milk
8 oz. firm tofu (½ pack of tofu)
2 tablespoon tofu
1 tablespoon Veganaise
4 tablespoon sweetened high quality cocoa
1 teaspoon vanilla extract
1 teaspoon cayenne
1 teaspoon cinnamon
1 teaspoon salt
1 tablespoon Arrowroot Powder (my substitute for cornstarch)
*for a richer chocolate flavor melt ½ cup of vegan chocolate chips into the pan when heating pudding mixture.
Other:
2 shots espresso
½ cup crushed almonds
1 cup crushed organic graham crackers or vanilla cookies
Equipment: blender, lidded pan, cappuccino or parfait serving cups.

To make: Add add vanilla ingredients, except tofu to a blender.
Blend until smooth.
Add in tofu and blend again until smooth.
Add blender contents to pan.
Turn stove on med-high.
Stir constantly until mixture begins to bubble.
Continue heating on medium and stirring until mixture thickens a bit and large bubbles break through.
Heat can be turned to medium-low if you are worried about burning the pudding.
When pudding has thickened, remove from heat and pour back into blender.
Re-blend until smooth.
**Be careful, make sure to vent blender and a heated blender can easily build up pressure to explode. Be careful. Never point blender towards face.
Repeat entire process with chocolate pudding.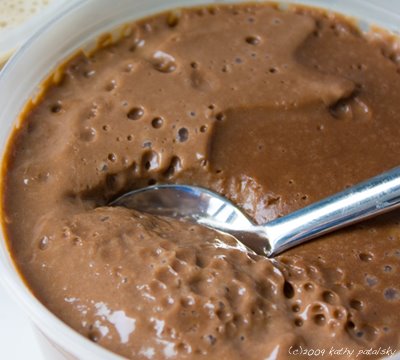 Set puddings aside, but no need to refrigerate yet. A thin, still-warm pour will be better for presentation anyways.
Prepare 2 shots of espresso.
Crush the almonds and crust crackers.
Assembly of cups:
Fill serving cups with a ½ inch layer of 'crust'. (crushed cookie or cracker.)
Pour in a nice layer of chocolate pudding.
Add a thin layer of almonds.
Add 1 tablespoon of espresso to each cup. Use more or less depending on your tastes.
You can even substitute de-caf, coffee or chai tea instead of espresso.
Add a layer of vanilla pudding.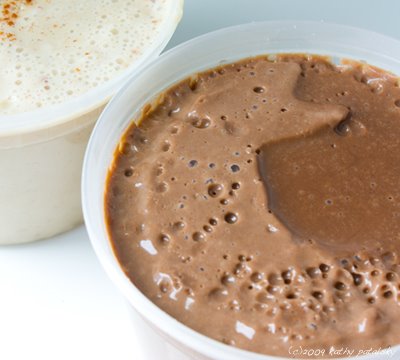 *You can add more chocolate than vanilla or more vanilla than chocolate. Or equal amounts of both. It looks more like a cappuccino if you use more vanilla as top layer.
*pouring the pudding while it is still warm will allow for a more even line-pretty presentation. Cooled pudding can clump more.
The top garnish layer is a sprinkle of cinnamon and a teaspoon of espresso.
A few almonds also looks nice. You can garnish with whatever filling you decide to use.
Filling subs: If you don't eat nuts, or would like a different center layer, try these: peanut butter, dried blueberries, fresh fruit, goji berries, more crushed crackers/cookies, soy cream, sponge cake, pan fried bananas, another type of crushed nut.
**Chill cups until firm before serving.
**Adding more tofu will make a thicker, milder pudding. I actually like this with a bit more tofu-the thicker the better to my taste.
**if you do not have Veganaise, you can sub with a tablespoon of white or apple cider vinegar.