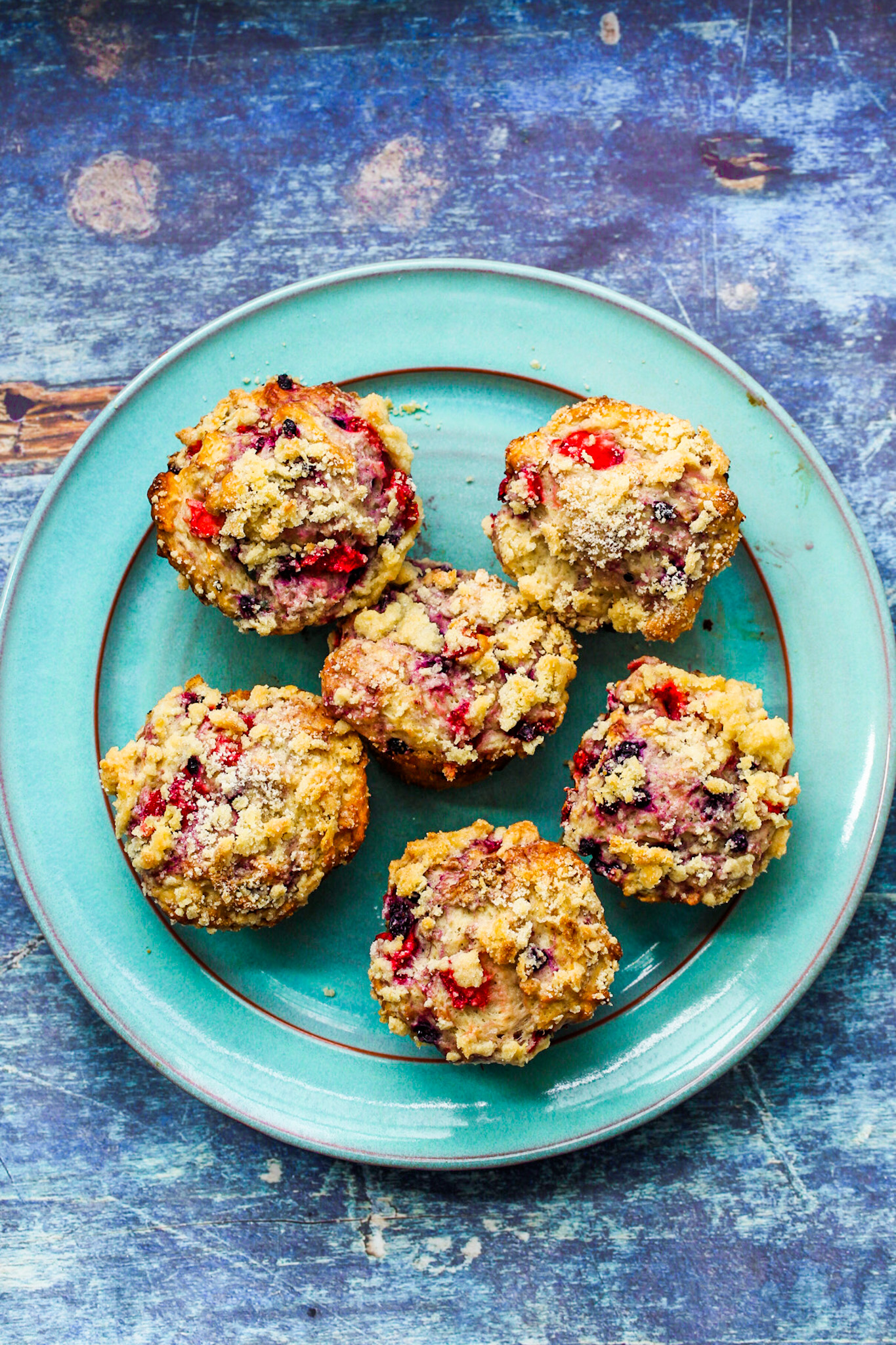 These fluffy, berry-loaded, vegan Double Berry Crumble Muffins taste kinda like the best buttery berry pie – only in muffin form. Two types of berries: fresh strawberries and wild blueberries load up fluffy layers of lemony muffins. Buttery crumble topping on top. If you are craving some homemade muffins this week, give these a try!…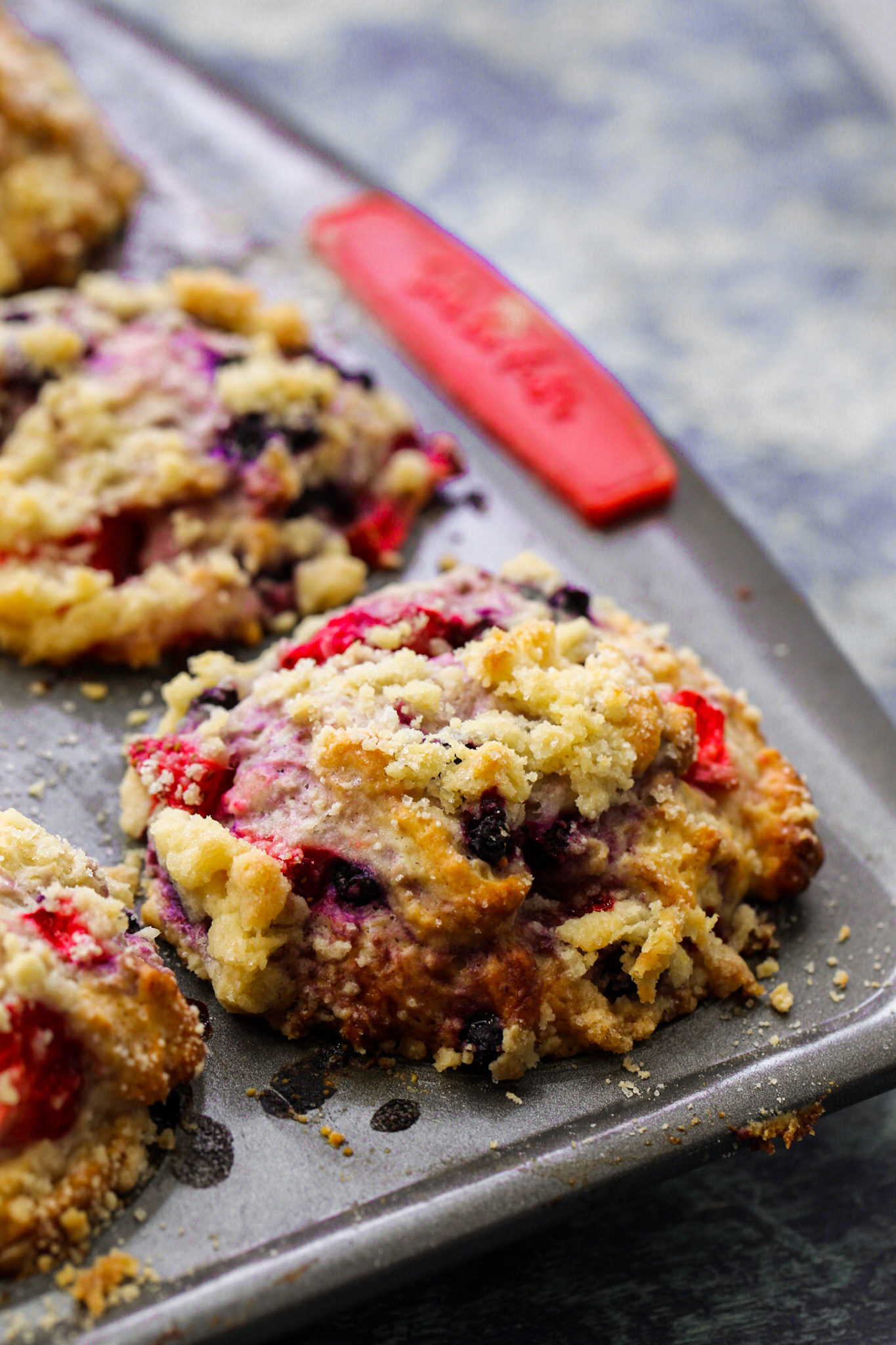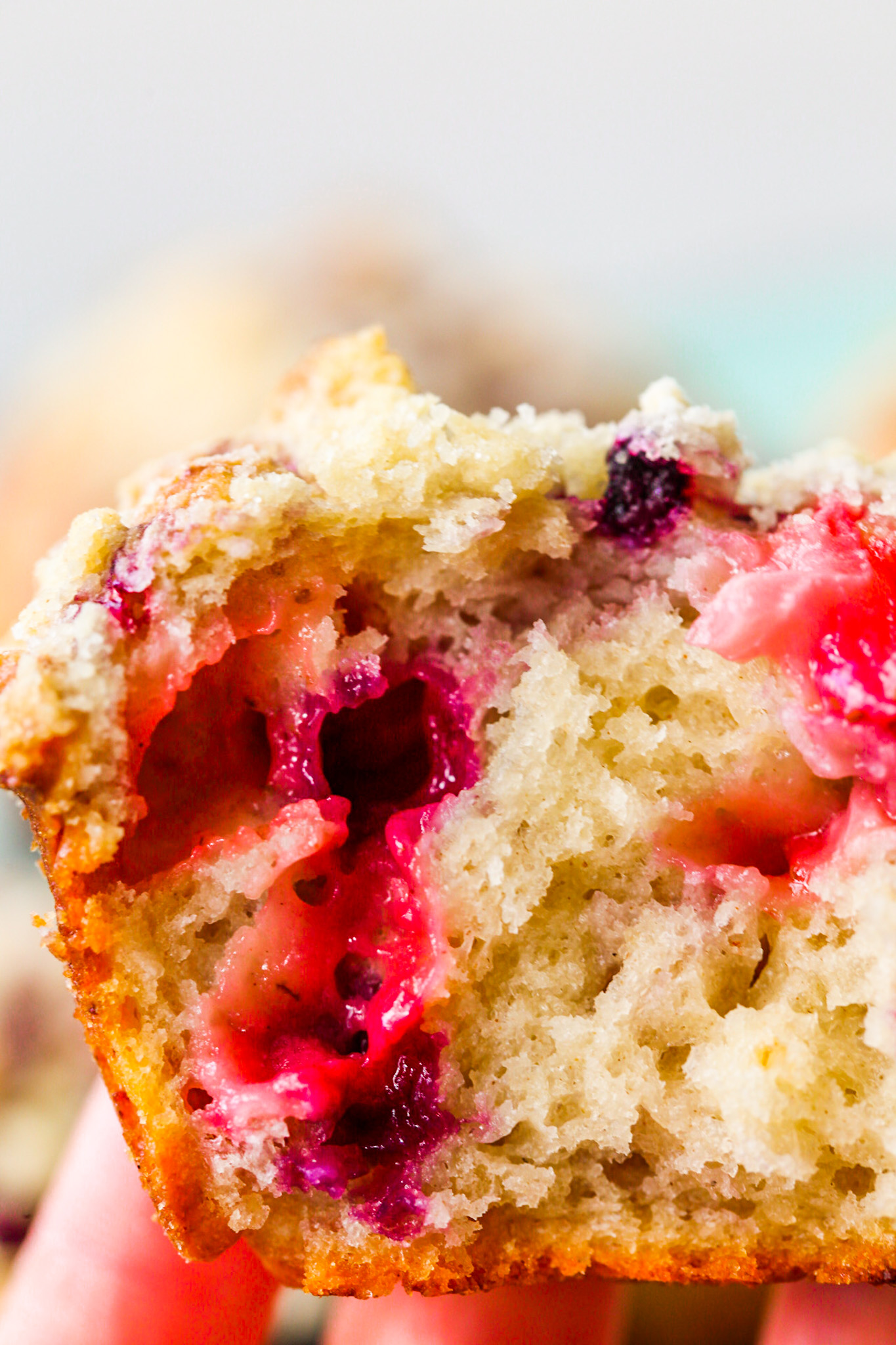 Strawberry Muffins
I absolutely love strawberries in muffins. I'm not sure why blueberries get all the attention because juicy, tender, zingy strawberries bring a fluffy muffin to life! That's why I brought two amazing berries into this muffin recipe.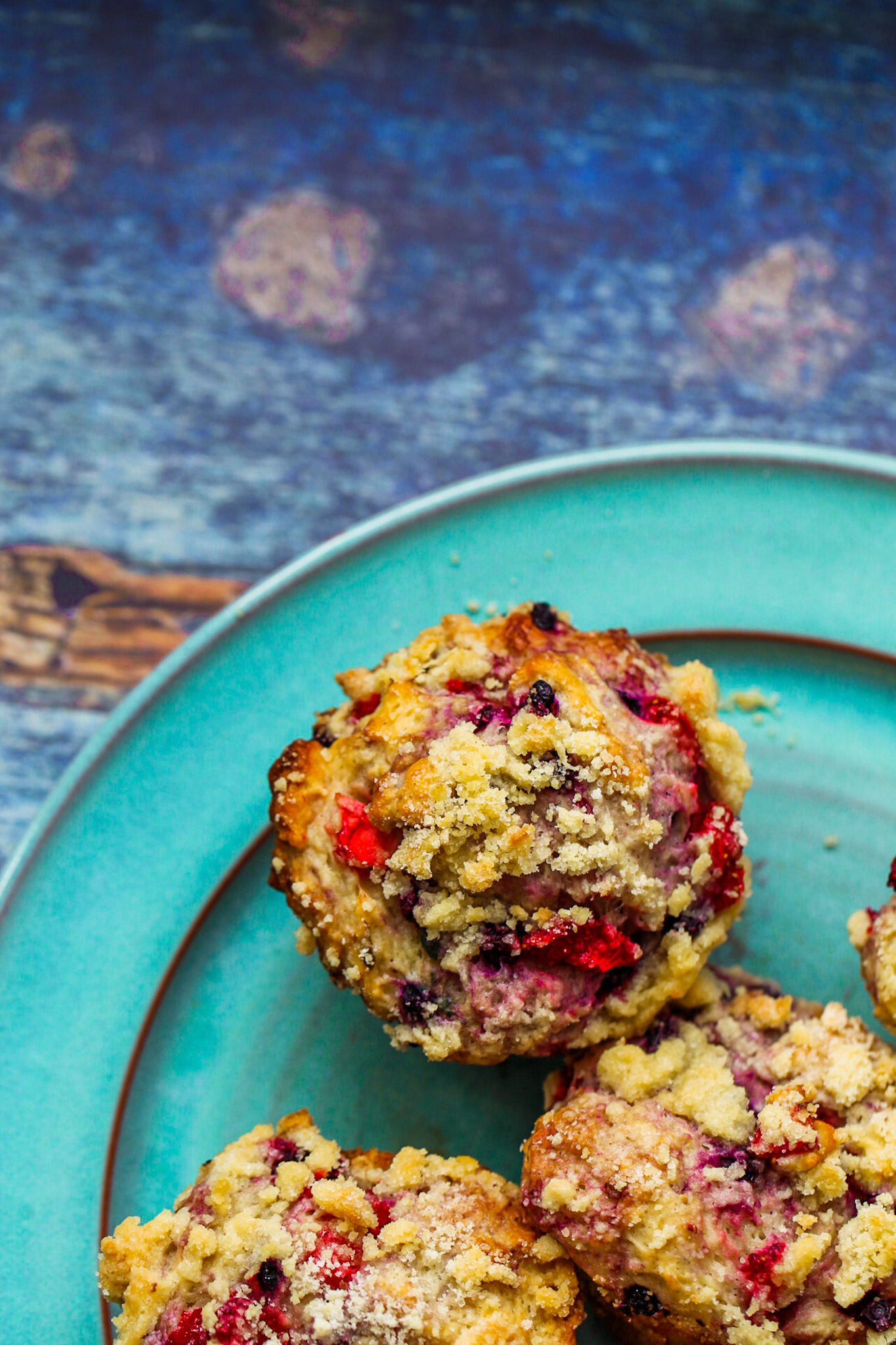 You get a gorgeous swirling of deep purple and vibrant red – so not only are these Double Berry Crumble Muffins yummy, they are pretty to look at too!
They remind me of a bed and breakfast or brunch outside on a sunny day.
Vegan Muffins
These muffins are easily made vegan. I used silken tofu as the main egg replacer as well as the most prominent liquid.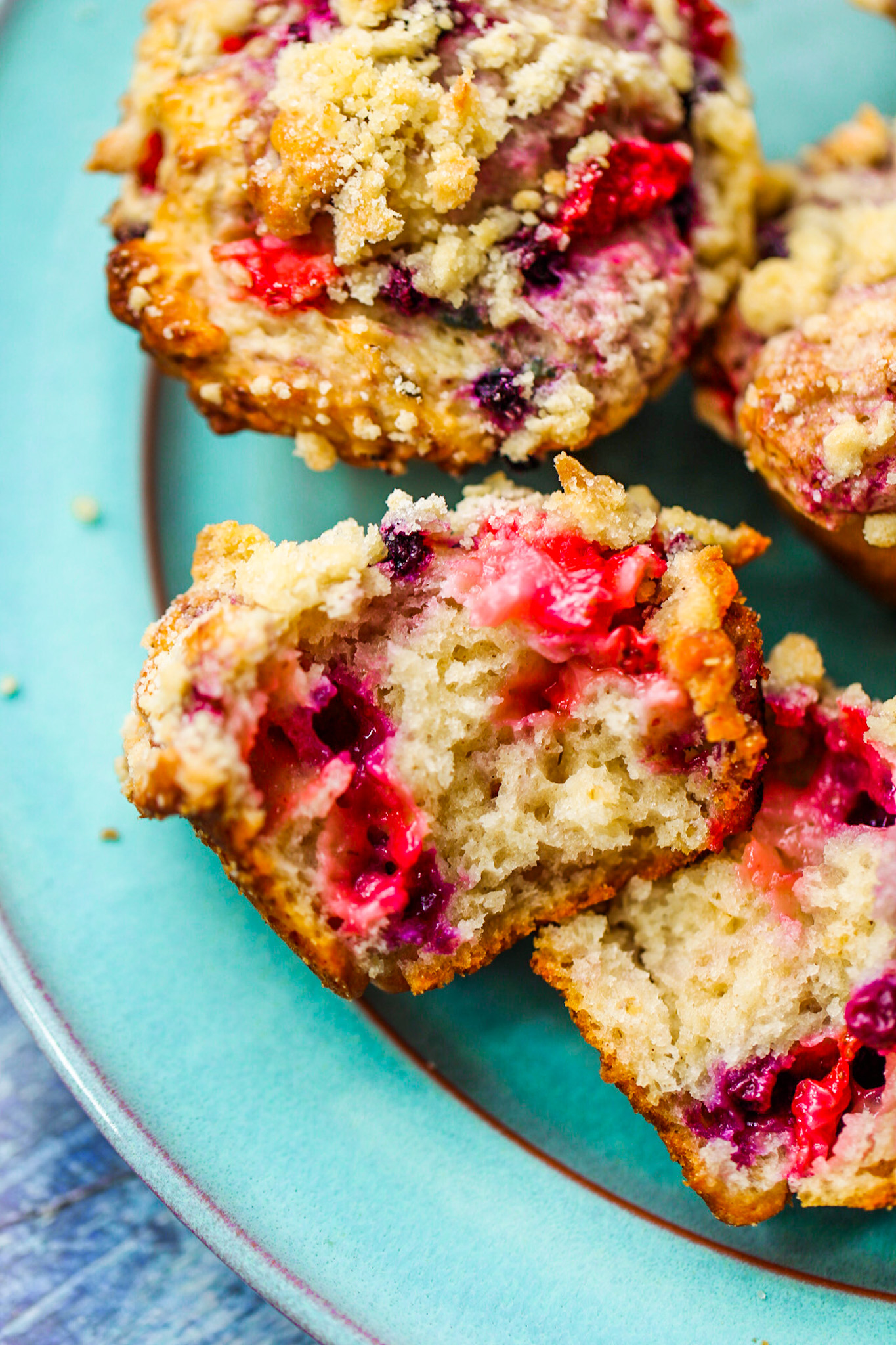 I actually made these muffins TWICE today. Yup. The first ones had two big errors in them. First, I didn't fully thaw my frozen blueberries, so that lead to some uneven cooking in the muffins. And two, I used a bit too much liquid in my first round attempt. I knew that some quick fixes would turn this recipe around though – and they did!
Baking Tweaks
It's kinda amazing how a few tweaks in baking can change everything…
Just another reason to never get discouraged when baking. sometimes one or two variables can be off and mess with your outcomes. From ingredient brands to ingredient and cooking temps. Baking is something you will get better at as you practice!
Ingredients
Some of the key ingredients in these Double Berry Crumble Muffins include…
fresh strawberries
frozen wild blueberries
fresh lemon juice
rolled oats
silken tofu (protein!)
sunflower oil (or sub with coconut or an oil replacer like apple sauce)
These muffins are sweet enough to feel like a treat, but also fruity enough to serve at breakfast, brunch or with hot tea in the afternoon.
That Crumbly Top…
I have to say that the crumble top on these Double Berry Crumble Muffins changes everything. It bakes up crisp and buttery with the most amazing texture for a muffin top. And crumble is so easy to make! I just use this basic ratio of ingredients…
1 part vegan butter + 1 part flour + 1 part sugar (or a little less for less sweet crumble topping)
..It's really all about the flour and butter, and the sugar just adds sweetness and caramelization. See the recipe fro details.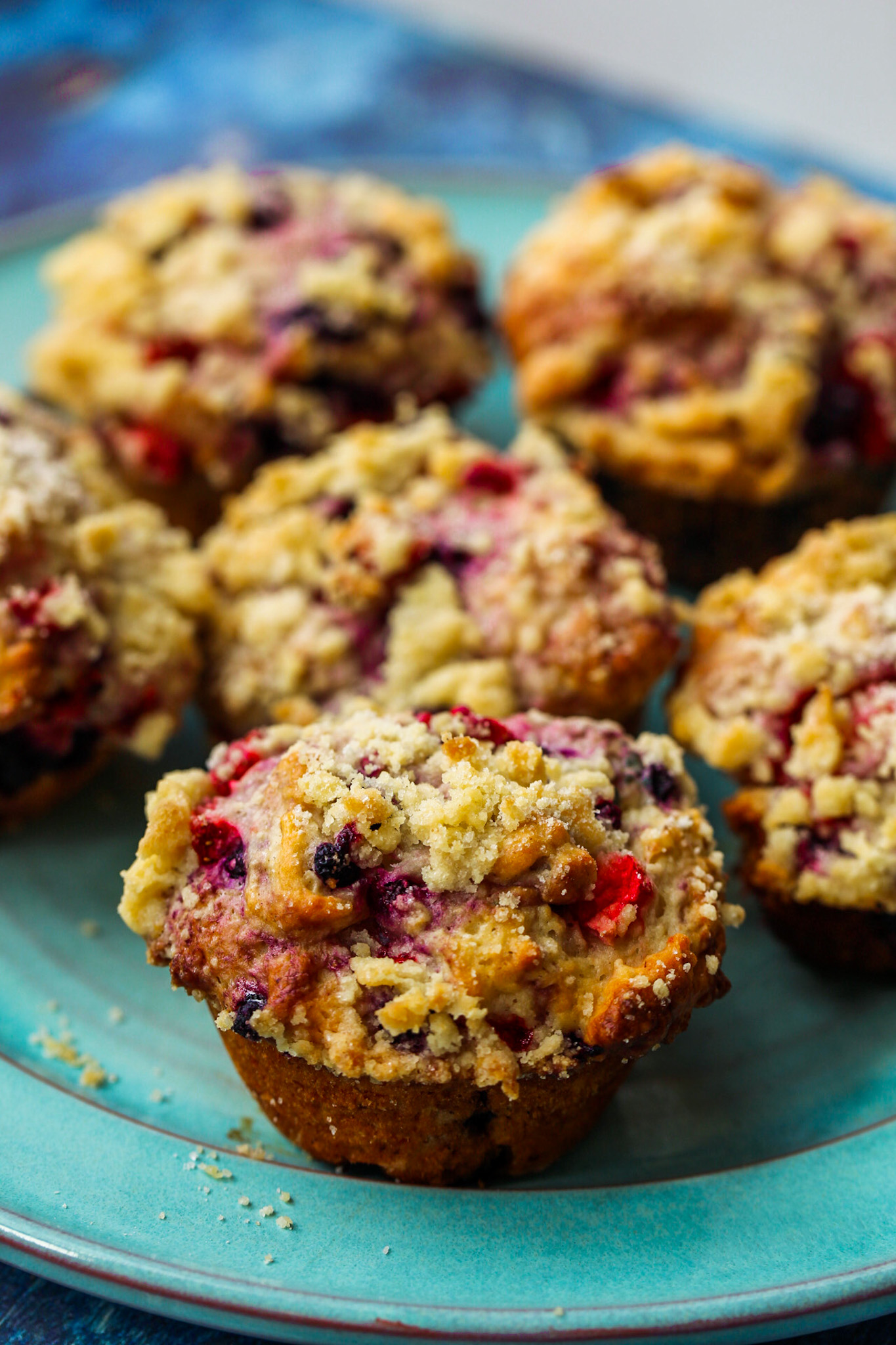 Half Batch Muffins
I also loved this recipe because it makes about 6-7 muffins. So you don't end up with loads of leftovers. I mean, muffins always taste best the day they are made in my opinion. And the day after is good too. But longer than that and I would freeze to preserve them for later.
Muffin Liners vs. Buttered Tin?
One more thing I want to note is that you can use liners of a basic buttered muffin tin for these Double Berry Crumble Muffins. But for me, I actually prefer the flavor and texture of a muffin that comes straight out of the muffin tin! No liner. Just a well-greased and lightly floured tin. I use vegan butter or coconut oil to grease. An oil spray works well too.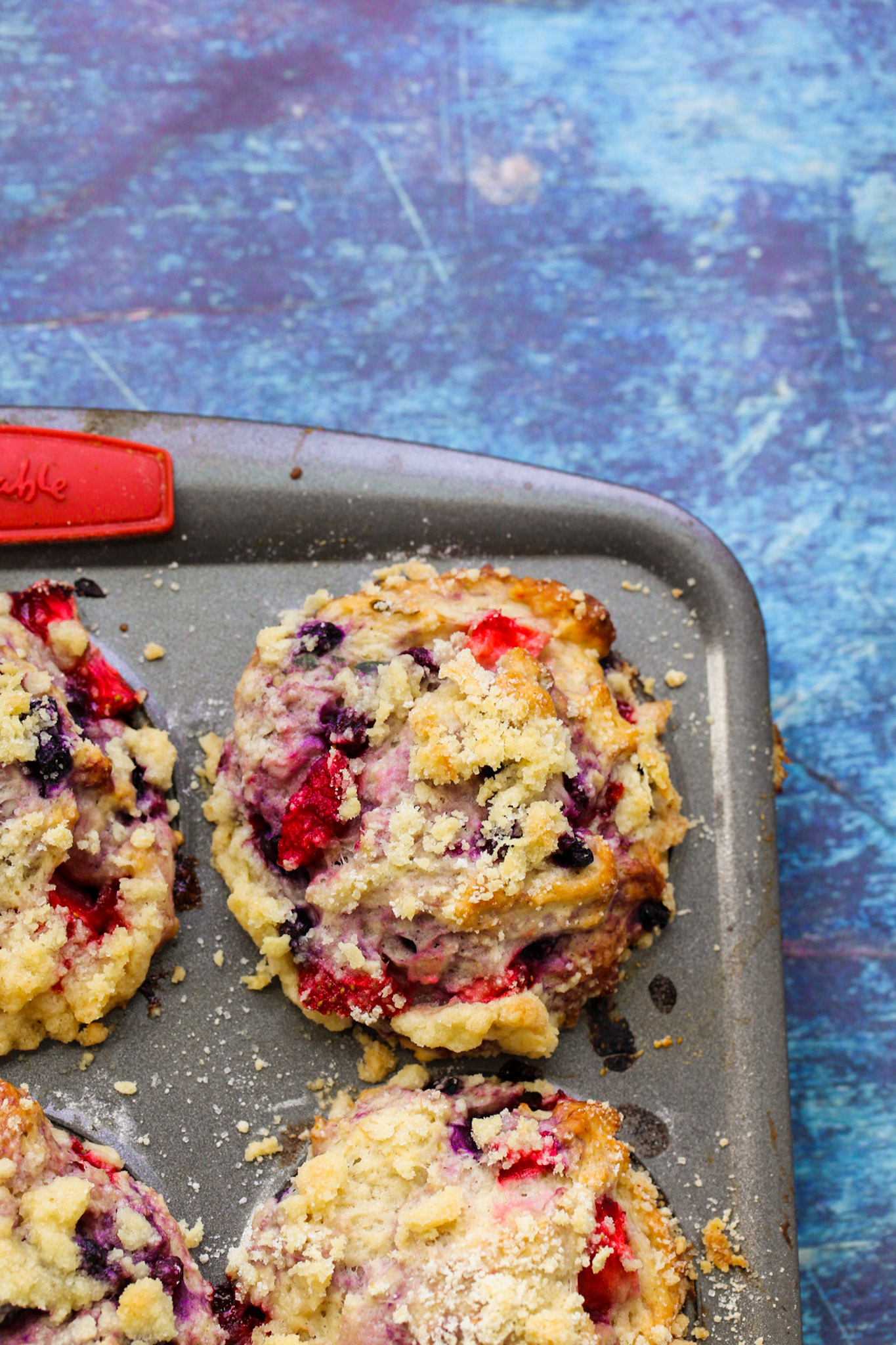 Greasing Tip
TIP! Definitely grease the outside edges of the muffin tin! Because the muffin tops will arch over a bit and the crumble sticks to the tin – so greasing all parts of the muffin tin is advised.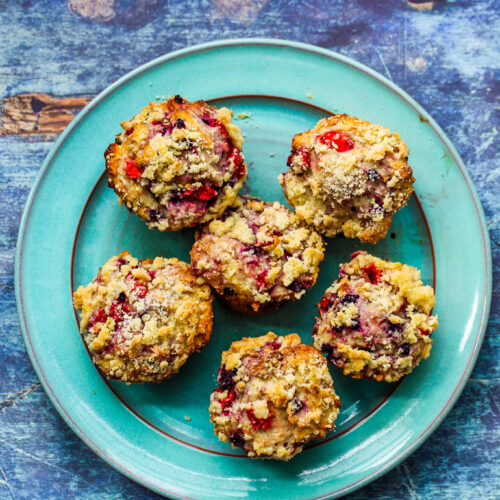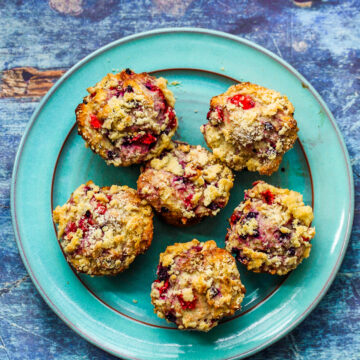 Double Berry Crumble Muffins
These fluffy muffins are loaded with strawberries and blueberries, and a buttery crisp crumble on top.
Print
Pin
Ingredients
Wet to Blend:
1

cup

silken tofu

⅓

cup

sunflower oil

3

tablespoon

fresh lemon juice

1

teaspoon

vanilla extract
Dry Bowl:
⅓

cup

sugar

⅓

cup

rolled oats

¼

teaspoon

salt

1 ½

teaspoon

baking powder

1 ¼

cups

all purpose flour

,

or similar

⅛

tsp

ground cinnamon

,

optional
Fold in:
1

cup

fresh strawberries

,

chopped

¼

cup

blueberries

,

fresh or frozen – bring to room temp
Topping:
3

tablespoon

vegan butter

3

tablespoon

flour

1-2

tablespoon

sugar
Other:
vegan butter or oil for greasing tin

,

or liners
Instructions
Preheat oven to 350 degrees and grease or line your muffin tin. If greasing, grease generously with vegan butter or coconut oil or a spray oil – then add a dusting of flour. (The flour is optional.) Set aside. TIP: See post for details, but definitely grease the entire tin, even the edges of the wells, since these muffins and the crumble will arch over a bit.

Add the tofu, oil, vanilla and lemon juice to a blender. Blend from low to high until smooth and silky – no clumps.

Pour the tofu mixture into your large mixing bowl and add all the dry ingredients, including the sugar, flour, rolled oats, salt, baking powder and optional cinnamon. Beat with a mixer – or a sturdy whisk will also work. This batter will feel heavier and thicker than a usual muffin batter, that is because the fruit gives off so much moisture.

Fold the berries into the batter – watch how it loosens up a bit from the liquid. Tip: Fold in the strawberries first – more vigorously, then gently fold in the blueberries. Blueberries tend to stain the batter a bit more. Especially if using thawed frozen berries like I did.

Add the crumble ingredients to a small bowl and use your hands to squish the crumble together. You are basically squishing the butter with the flour and sugar to form small crumbly bits.

Scoop batter into muffin tins, then top with a generous amount of crumble.

Bake muffins for 28-35 minutes at 350 degrees. Or until the edges of the tops start to brown and the muffins are nice and poofy – yet firm to touch on the top.

Cool in tin for at least ten minutes before carefully removing. They will be delicate and some of the crumble might stick to the edges of the pan.
Equipment
muffin tin

large mixing bowl

mixer and/or blender
nutrition estimate | per serving
Calories:
304
kcal
|
Carbohydrates:
36
g
|
Protein:
5
g
|
Fat:
16
g
|
Saturated Fat:
2
g
|
Sodium:
126
mg
|
Potassium:
245
mg
|
Fiber:
2
g
|
Sugar:
12
g
|
Vitamin A:
229
IU
|
Vitamin C:
15
mg
|
Calcium:
66
mg
|
Iron:
2
mg