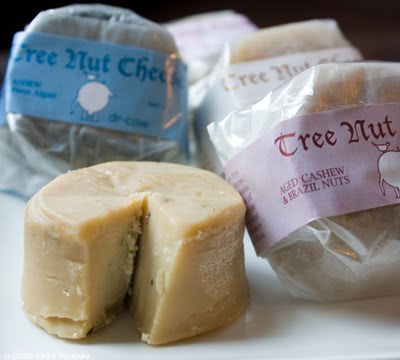 A special purchase I made for my Vegan Thanksgiving Feast 2009 was the Dr.Cow Tree Nut Cheese 6 cheese sampler pack. It was the only item at my feast that I 'outsourced'. The pack included 5 aged cheeses plus one cream cheese. So what did my guests and I think of this gourmet vegan treat? What did the dairy cheese lovers have to say? Find out in my full product review…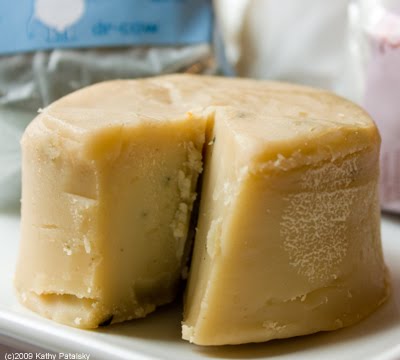 Dr. Cow Discovery. I first tasted Dr.Cow cheese when I went to Pure Food and Wine restaurant in NYC for Valentine's Day Dinner last year. The salad had little balls of Dr. Cow Cashew Nut cheese in it. I was like, "what is that?!" omg. It was the taste of cheese without the dairy. I hadn't experienced those types of gourmet cheese flavors in about ten years. So my discovery was one that I would not let die. I had to find out who made the cheese and how I could get some myself. I later found that PFW uses Dr.Cow cheese, so my further research (and taste testing) began…
Product Review: Dr. Cow Tree Nut Raw Vegan Cheese
*6 cheese sampler pack
Shelf Appeal: I ordered my sampler pack directly from the Dr.Cow website, so the overnight shipping and cold-box packing is included. The cheeses arrived nicely wrapped in a sort of wax paper and plastic wrap. They do not expire until Jan 2010, so I was pleased about that. Leftovers for me! Each cheese is nicely shaped into a little cheese round shape. And a little bite goes a long way, so the size for each cheese is appropriate to the flavor intensity.
Label Check: I was pleased to see the only ingredients in each of the cheeses were tree nuts, pink salt and acidophilus – plus any additional flavors like hemp seeds or algae. Here is the nutrition info for one of my favorite cheeses in the pack (from the Dr.Cow website and my cheese packaging):
"Aged cashew & Crystal Manna Algae Cheese-Is sea-foam or light-blue in color, aged for 3 months, and made from organic raw cashew nuts with Crystal Manna flakes. Made with absolutely no preservatives, stabilizers, artificial ingredients or additives of any kind. Firm, mellow with a hint of tang, you can smear on crackers or vegetables. 100% dairy free, no gluten, no casein, no soy and lactose free, 100% organic and vegan!
Ingredients: Cashew nuts, acidophilus, blue green algae & himalayan pink salt.
One wheel Net Weight 2.5 ounces / 70 grams. –

…Continued on the Dr.Cow website for those who want more info. But overall, nutrition label approved. Good stuff, aka raw nuts and acidophilus, in these raw vegan gourmet cheeses. And obviously, if you've ever tasted this product, you'll know that one serving of this stuff is about a teaspoon of cheese. It's so incredibly flavorful and pungent that even a dime-sized strip does the trick. Less is more. But like I said, you have to taste it first to be able to judge and to believe this delicious flavor.


Update: So pleased that the wonderful 'cheese-makers' over at Dr. Cow provided me with this nutritional info for the cream cheese, cashew based. He said the info would be about the same for the various cheese flavors. And just think, my 8 guests only went through 2 cheese rounds and we were filled to the brim with tree nut cheese goodness. That's only 80 calories per person. We were all convinced that we had nearly done ourselves in on cheese. I guess not.
Lets compare nutrition info of a few "cheeses":
28g serving sizes
Gruyere Dairy Cheese:
116 calories, 9g fat, 5g saturated fat, 10% RDA chol.
Brie Dairy Cheese:
94 calories, 8g fat, 5g sat fat, 9% RDA chol.
Cheddar Dairy Cheese:
113 calories, 9g fat, 6g sat fat, 10% RDA chol.
Cream Cheese, Dairy-based:
96 calories, 10g fat, 5g sat fat, 10% RDA chol. 2g protein
Dr. Cow Cashew Nut Cream Cheese:
80 calories, 7g fat, 1.5g sat fat, 0% RDA chol. 3 gram protein
*best fact of all: Dr. Cow's is 100% animal-product free, cruelty-free*
Taste Test: Well I pretty much already knew that I loved Dr.Cow cheeses. But I had not tried all the flavors yet. I was thrilled and delighted in the different gourmet tastes and textures of the various cheeses. My favorites are the cashew/hemp seed and the green algae cheese. It is a beautiful aqua green color. Love it! But how did these cheeses go over with my non-vegan guests??? Well one of my guests had recently given up dairy and was craving cheese like never before. She couldn't get enough of the Dr.Cow cheese. She raved about the gourmet taste and texture. Everyone raved. Everyone was impressed by the cheese-like flavors. "Does this have cheese in it?" …was my favorite question. Sigh. The taste consensus: Most of the non-veg guests hovered over the cheese plate with wide eyes and full mouths, whispering "OMG. This cheese is so good."
Price Check: Dr. Cow cheese rounds can be bought individually online for around $7-$12. The 6 cheese pack that I purchased was $75. Though it included shipping and packing. It arrived to my house in just over one business day. I looked at other online stores to purchase the cheese, but factoring in their shipping/ice packing costs- I found that ordering directly from Dr.Cow was the way to go. (Unless you are only buying one or two cheeses, then you'll have to choose another vendor.) Vendor info is all on the Dr.Cow website. $75 might seem like a huge price tag, but not if you compare it to traditional dairy-based aged cheeses. Yes it's a splurge, but for a special event I say it is well worth it. Plus, these little cheeses go a long way. All you need is a dime-sized sliver to get the flavor.

Final Word: This is gourmet high quality cheese. Period. (Minus the 'bad dairy cheese' stuff and plus some 'good tree nut cheese' stuff.) Everyone needs to try this cheese at least once.
More info at the Dr.Cow Website.