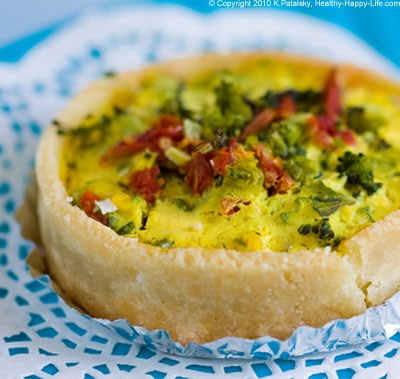 One of my favorite things about living in New York City is the fact that I am constantly stumbling upon inspiring and talented people. Yesterday, I met vegan chef Anita Sharp of Electric Blue Baking Company, for a quick hello and goodie-exchange.
I am a huge fan of networking with independent chefs, bakers and other foodie-artisans. I believe creativity, entrepreneurship and passion will get you everywhere in life. I was thrilled to taste-test and photo-shoot Anita's samples – and pass on my review to you….Electric Blue Baking Company Review…
Goodies in Box: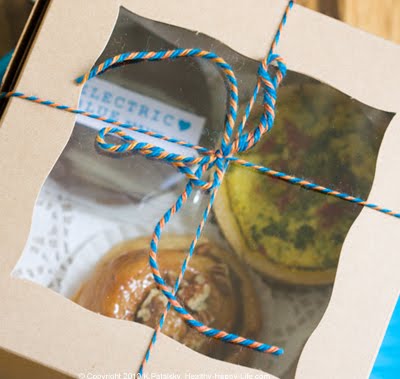 Inside a tiny brown box were three delicious-looking items: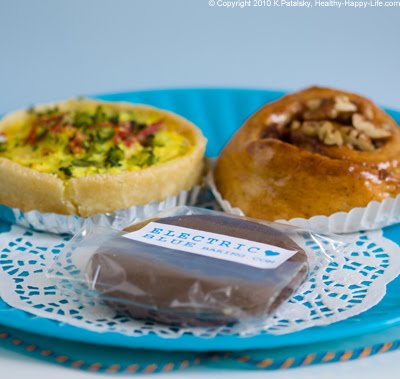 *Broccoli Quiche (gluten-free)
*Cinnamon Roll (sugar-free)
*Chocolate Wafer Sandwich
My reviews…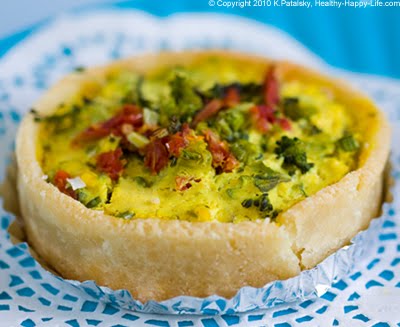 Broccoli Quiche: Wow! This was outstanding. Moist and tender tofu-veggie mixture settled in a flaky rice/lentil flour crust. The spices were delicate, yet mingled with the zesty veggies perfectly. This quiche was filling, yet elegant – the beautiful bright yellow filling dotted with bits of red sun dried tomatoes and broccoli. I would absolutely buy this in a store – or consider it for a catered event. Delicious!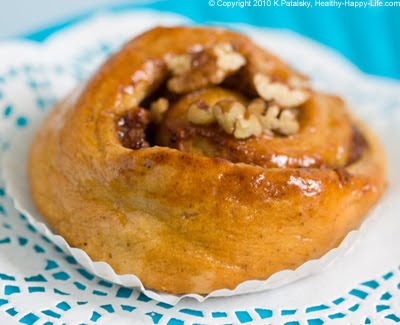 Cinnamon Roll: Light, moist, sticky-sweet in a very subtle light way. Fresh chunks of pecans on top. A warm flavor of vanilla and cinnamon throughout. A light essence of orange and apple brings a complexity to this humble cinnamon roll. Nothing sinful about this pastry treat – even though it tastes like there should be!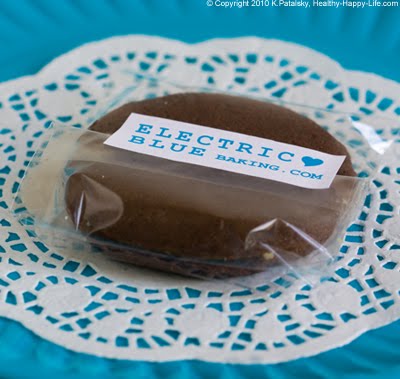 Chocolate Wafer Sandwich: Whoopee pie meets mini brownie. Sweet, moist, strong chocolate kick. This treat was a tad too sweet for me- but overall I'm guessing it will have a lot of fans with sweeter tastes than mine. Loved how soft and creamy the filling was. Like a soft vegan sandwich cookie – nice and fun.
Other Menu Items from Electric blue Baking co…
*Tarts – chocolate mousse, praline mousse, rum and date custard, coconut lime custard, cherry tart
*Breakfast – flaxseed brioche, cinnamon roll, muffins, spelt scones, donuts, filled crepes
*Sweet Things – banana agave brownie souffle, baba rhum, apple dumpling, guava dumpling, madeleines, almond linzer cookie, chocolate wafer sandwich
*Savory Snacks – quiche, pizette, filled buckwheat crepes, spelt empanada, rustic onion tart
I'd love to try that Guava Dumpling, and the filled Buckwheat Crepes! How unique and tasty sounding! I love a creative chef…
About Anita Sharp. Anita began EBB Co. in 2007. Since then she has worked under chefs like Pichet Ong (Village Tart, Spot Dessert Bar, P*ong) and Karen DeMasco (Craft, Locanda Verde). Anita has been busy catering events and making special occasion cakes and pastries.
Anita is currently expanding the wholesale branch of her business and is in the process of bringing her desserts and snacks to a cafe, natural food store or restaurant near you. NYC-area to start…
You can peruse Anita's website: www.electricbluebaking.com
…and keep up with her company news via twitter: @beanstalktalk
Last Word: …that quiche rocked, will be craving that with my Saturday morning soy chai latte I'm sure!…