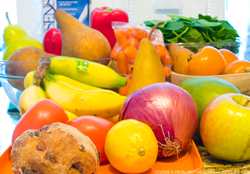 Essex Market on the lower east side of New York City is a produce lovers dream. Essex has been around since 1940. So not only is it a historic landmark, it is an incredibly smart place to pick up a few high quality, low price goodies-produce is my favorite. And in NYC, produce prices can soar. The photo above is all the items I bought for under $20.

Click forward for my official review of Essex Market and read the list of items I bought….
Why Essex?
A shopping trip to an NYC Whole Foods can leave you thinking that being a vegan or vegetarian isn't really a cheap way to eat, as people often say. $2.99 a pound for apples can leave you feeling a bit weak in the knees. Viva Fruits and Veggies in Essex sells three fuji apples for 99 cents. Not organic, but they are delicious.
What I bought for $19 at Essex:
2 roma tomatoes, 4 large bosc pears, a lemon, 2 large red bell peppers, 10 oz. baby spinach, 10 oz. gourmet baby greens, a huge mango, 3 Fuyu persimmons, a jalapeno, a large red onion, 1 lb bag baby carrots, a large bunch of baby bananas, a bartlet pear, 3 fuji apples, a lime, soy milk, and an artisian walnut-raisan roll from Saxelby Farms.
In this economy, everyone needs a money saving shopping secret. Essex is a great secret here in NYC.
Review: Essex Market LES NYC

Shelf-Appeal: Compared to shiny perfect Whole Foods, Essex is a little rough around the edges. But that's part of its charm. And compared to a farmers market-it's covered for rainy day shopping.
Label Check: Merchants include: Saxelby Farms, Essex Farm fruits and veggies, Tra La La Juice bar and muffins, Roni-Sue's Chocolates and many more. You can find everything from plantains and tomatillos to fresh salmon and blueberry muffins.

Taste test: Everything I have picked out at Essex has been delicious. Sweet pears, crisp cilantro, fragrant herbs and gourmet olive oil.


Price: Three huge bags for under $20. Wow. Ten limes for a dollar, two pears for 89 cents, three tomatoes for a dollar. It always amazes me that I can pay five times this much just a few blocks away.


Last Word: Experience Essex and you'll feel like you've discovered a hidden secret.
Not in NYC?
Sorry to tempt you. But the idea of Essex can be found at indoor markets and farmers markets all over the world. I hope you can find one in your neck of the woods. Need help visit:
Farmers Market Listings, USDA
Essex Street Market hours of operation
Monday through Saturday 8 am to 7 pm. Open Sundays in December 10 am to 4 pm.
Individual merchant hours may vary, so we invite you to check our Merchant Directory for individual store hours.
Market Location
Essex Street Market is located at
120 Essex Street
New York, NY 10002
Essex Market