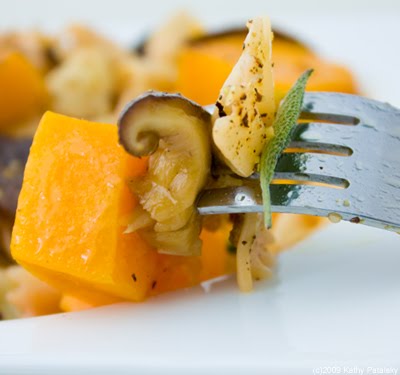 Give me a big bowl of warm pasta on a chilly fall night, and I'm a happy girl. Especially if that bowl contains some big yummy chunks of my Roasted Butternut Squash. This is a great pasta recipe for when 'red sauce' just won't satisfy. I call this dish simply, Kathy's Fall Pasta. It combines the flavors of sweet Roasted Butternut Squash, lightly smoked shiitake mushrooms, warmed fresh sage, plenty of black pepper and one of my all time favorite pasta add-in secret ingredients. Get my totally cravable recipe and find out my secret ingredient!…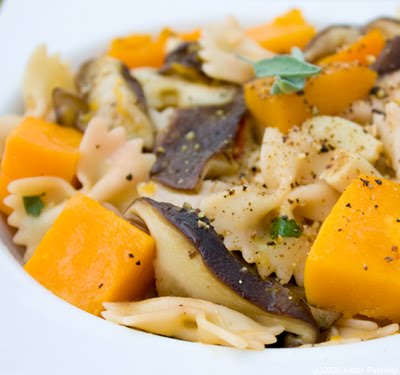 Secret Ingredient: Home-Roasted, Oven Roasted Garlic!
Yes, my secret ingredient is simply, roasted garlic. But not the kind you find in a jar. It has to be at-home-roasted. A big whole bulb smothered in EVOO and sea salt. Yum. Here's how you do it:
1. Chop off the top ⅛ " tip of a fresh garlic bulb. So the garlic cloves are exposed. (Peel is still in tact though)
2. Place whole bulb in a piece of foil.
3. Drizzle 1 tablespoon of EVOO over top of garlic. Pinch of sea salt too.
4. Wrap tightly in foil so oil doesn't spill. Place in 400 degree oven for about 15-20 minutes.
5. Remove from foil, let bulb cool for about 5 minutes.
6. Hand-squeeze the soft roasted garlic cloves out of bulb case and into a bowl. It's that simple! You'll get about 3 tablespoon of roasted garlic per small bulb.
Kathy's Fall Pasta
vegan, serves 4
4 cups cooked pasta (any variety you'd like)
2 cups of Kathy's Roasted Butternut Squash
*use my recipe for best flavor results
1 ½ cups shiitake mushrooms, de-stemmed, cleaned and thinly sliced
1 teaspoon liquid smoke
*I use Colgin vegan brand
2-3 tablespoon fresh orange juice (or 1-2 tablespoon apple cider vinegar)
1-2 tablespoon Vegenaise
3 tablespoon Olive Oil (extra virgin always)
3-5 tablespoon at-home roasted garlic (see above)
palmful of fresh sage leaves, chopped roughly
sea salt
black pepper
optional: half a sweet white onion see below for add-ins
Directions:
1. Prepare the Roasted Butternut Squash. Set aside. If you'd like, you can use less than 2 cups of squash in this dish. I use the full 2 cups, because I love butternut squash. Use my squash recipe to prepare – Link above.
2. Prep your mushroomhttp://www.blogger.com/img/blank.gifs, sage, fresh OJ and optional onions. (You may want to start boiling your pasta water with a pinch of salt as well.)
3. Add 1 tablespoon of olive oil and 1 tablespoon orange juice (or ½ tablespoon vinegar) to a skillet. Saute mushrooms, (optional onions) and liquid smoke on med-high for 3-5 minutes or until the mushrooms are cooked to your liking.
4. Turn skillet heat to low, add a pinch of salt, a few dashes of pepper, a few pinches of sage leaves and toss in pan. Remove pan from heat, set aside.
5. Boil pasta (you can use any variety of pasta you'd like.) You will want about 4 cups of pasta. Drain cooked pasta and transfer to a large mixing bowl.
6. Add 2 tablespoon EVOO, 1 tablespoon orange juice (or ½ tablespoon vinegar), 1-2 tablespoon Vegenaise, a few dashes of black pepper and the rest of your chopped sage to your (still hot) pasta in the mixing bowl. Toss well. Make sure pasta is well coated. The hot pasta will gently heat up the fold-in ingredients (especially the sage) to intensify the flavors.
7. Next, add your oven roasted garlic. Again, use as much as you'd like – I like a lot! I used two small bulbs of roasted garlic. (Remember, roasting garlic greatly mellows out the 'garlic' flavor) Fold garlic into your pasta. It should be creamy, a bit sticky and perfectly translucent-esque cream colored – with a few darker edges around each clove. Smells divine, right? The creamy roasted garlic almost mimics the texture of adding a pinch of Parm cheese.
8. Next, fold the shiitake mushroom (onion optional) saute into the pasta.
9. And finally, gently add into the mixing bowl about half of your roasted butternut squash. Fold it into the pasta. It's OK if it 'mushes' around a bit and coats the pasta. Just don't over-mush. Leave the remaining butternut squash out, to be applied directly to the top of your pasta plated dishes. (Not folded in). Also, those diners who want more squash can easily add it to their plate.
10. Garnish with the leftover squash, fresh sage, black pepper and even a squeeze of fresh OJ/vinegar/EVOO if you'd like.
Eat at once, also tastes great the next day for lunch!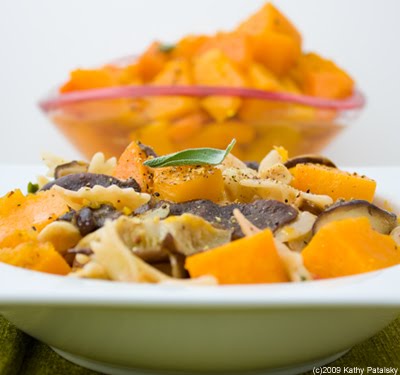 Add-ins:
*Vegan Tempeh Cubes.
*Vegan Field Roast Grain Meat Co. Sausage-Apple Sage flavor.
*Roasted Beets.
*Olives.
*Parsley, chopped.
*Fresh Chopped Spinach or Fresh Arugula
*Beans! Toasted garbanzo beans would be divine.
*Toasted nuts, cashews, pecans, walnuts.
*Sliced apples.
*Fresh Ground White Pepper.
*Cayenne or harissa for spice.